You and I have seen some special Celtic teams. For me, the double winning team in 1977, the Centenary team and, of course, the Martin O'Neill team, were without doubt above anything we've had since the 60s.
I am in no way disparaging Gordon Strachan's remarkable achievement of twice reaching the knock out stages of the Champions League. This was down to Gordon's superior ability as a manager; the wee man didn't have a squad to compare to the others on the list.
By contrast, this team, in its embryonic state, finished fourth in the Champions League group, but that was then. Now, they are within touching distance of winning an undefeated treble. This is the finest Celtic team I've seen.
The '77 team wasn't so much a team as a support act for Kenny Dalglish. A season later, without King Kenny, they finished fifth, without even a Uefa Cup spot as compensation.
It was sheer force of Billy McNeill's personality which drove the Centenary team on, but they returned for preseason without their elixir.
It was like going to school watching Martin O'Neill's team. We learned so much about the game that we'd never seen at Celtic. This was a guy who knew how to get results. But without another King, we discovered that team too was built on a single foundation.
There are no Kings in this Celtic team. They are a team in the true sense of the word. Last night, without Dembele, Armstrong, Tierney, Lustig, Simunovic and Sinclair they rolled around the Firhill surface like a machine from the 22nd century.
It was breathtaking. This is the greatest Celtic team since the one which walked off the Hampden pitch in front of 136,000 fans in 1970.
I saw a preview of the BBC documentary film, Glasgow 1967: The Lisbon Lions, which airs across the UK on Wednesday 24th May. It was heartfelt, entertaining and inspiring. I intended to review it today, but I was so annoyed at the coverage some in the media gave it, I thought I better step back to do the job justice.
They had some of the Lions, of course, and some wives too, but they sat a microphone in front of a few of our more experienced CQN'ers Some of the best things you have read on this site come to life on the screen. We'll talk about it again next week.
Stunned and humbled at the support for the marathon, which takes place on Sunday morning, to benefit the Celtic Foundation. I just don't know what to say. There are spectacular donations (here) there – a simple thank you does not seem appropriate, but I know every donation, large or small, means someone has taken the trouble to spend hard earned money.
It is appreciated, thank you.
If you'd like to get an historic week off to a unique start I hear there's a projector screening of the original live broadcast and whole 90 minutes from Lisbon in a Govan warehouse tonight (Friday, 19th), it'll run from around 6.30 till 9. If interested drop an email to cqnopen@gmail.com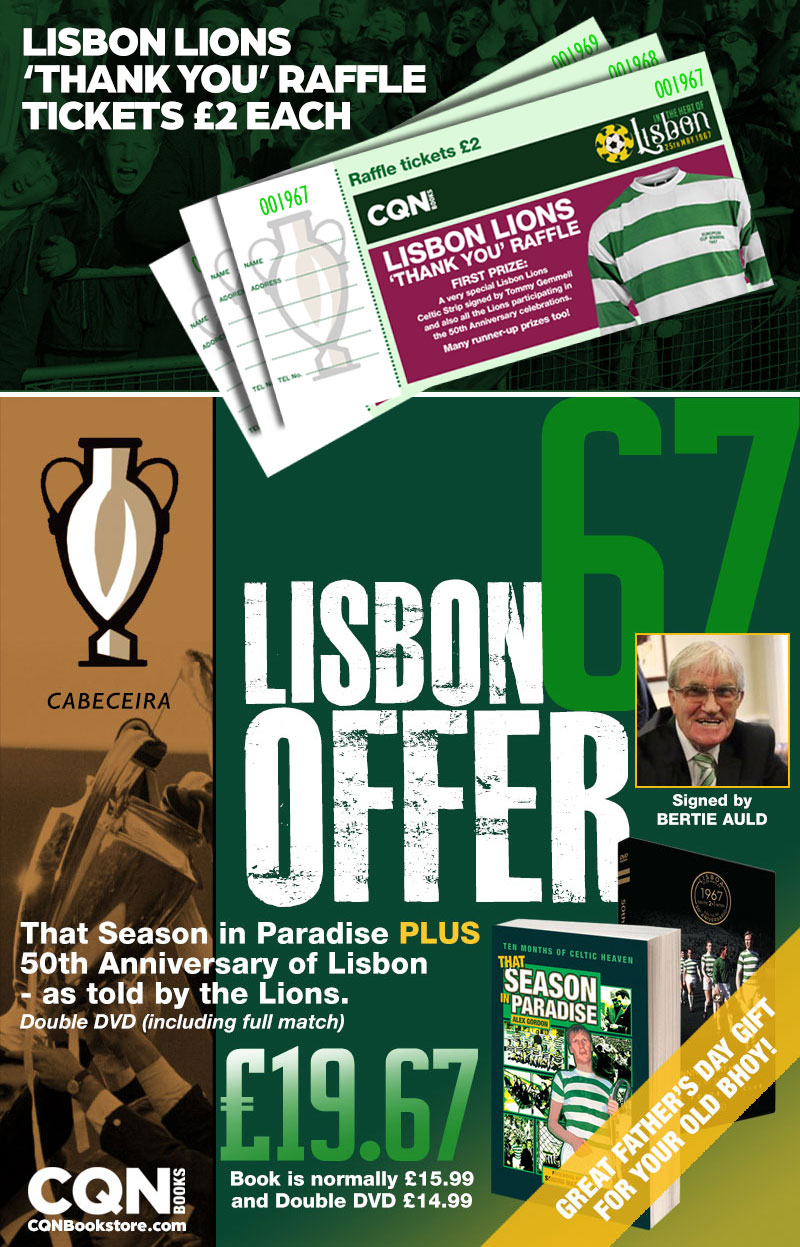 Click Here for Comments >