ONE misguided hack (eh Shug?)was fed information of the identity of the man Celtic were about to unveil as their new Head Coach at Celtic Park on Tuesday, July 1 1997. The journalist, eager to steal a march on his rivals on the newstands, couldn't have followed the time-honoured adage of 'check and check again' as he wrote his yarn.
'ARTUR JORGE IS NEW CELTIC BOSS' was the bold headline adorning the covers of his paper on the morning of the announcement. Jorge, as a matter of fact, was looking for new employment after leaving his post as manager of the Portuguese international team. He may have been surprised to learn he was heading for Glasgow when the groundwork had already been done to take him to altogether sunnier climes at Tenerife in the Spanish top flight. That wayward 'scoop' would no doubt have appealed to McCann's wicked sense of the ridiculous.
Wilhemus Marinus Anthonius – better known as Wim – Jansen was introduced to the nation's press later that day. One Celtic official, blessed with misplaced humour, asked the assembled corps, 'Do you know the identity of this man?' The hapless scribe, still refusing to believe his sensational 'exclusive' was slightly wide of the mark, stepped forward to proclaim, with great pride in his triumphal tones, the individual being presented to the media was, in fact, Artur Jorge.
Evidently, the newspaperman had no inkling that Jorge's most famous trademark was his walrus-like moustache which dominated his features. Jansen, on the other hand, was clean-shaven as had been witnessed by millions in his many appearances for Feyenoord as a ball-winning, industrious midfielder and also his two World Cup Final outings with Holland against host nations West Germany in 1974 and Argentina four years later.
His most distinguishing feature was his explosion of unruly curls that gave him the look of a bumbling, confused Chief Librarian forever looking for a long-lost pen. The national scribes were eager to discover more about the new and, to more than a few, 'anonymous' Celtic Head Coach. Investigations would determine he had a first-class playing pedigree with Feyenoord – where he won a European Cup medal in 1970 against Celtic – two spells at Ajax and a fifty-six game sojourn with Washington Diplomats. He had also won sixty-five caps for an excellent Holland side while his management travels took him back to his Rotterdam roots with Feyenoord, Belgium with SK Lokeren, Saudi Arabia as assistant coach to fellow-Dutchman Wim van Hanagem at the international team and Japan as manager of Sanfrecce Hiroshima for a one-season stint in 1995/96.
It also emerged that Johan Cruyff had taken the trouble to contact Celtic to congratulate them on their choice of Head Coach. Holland's greatest-ever player once admitted Jansen was one of only four people in the world it was worth listening to while discussing football. Jansen did not strike an imposing figure and it was clear during interviews he was far removed from a braggart and had no intention of unduly enhancing his qualities as a coach by talking himself up to exalted levels. He was there to do a job to the best of his ability and be judged where it mattered most – on the football pitch.
However, he hardly had time to take his first training session when a national newspaper dug out a story about his time in Japan. The headline was less than complimentary. It read, 'THE WORST THING TO HIT HIROSHIMA SINCE THE ATOM BOMB!'
Davie Hay, who was now combining the role as Assistant General Manager with the duties of Chief Scout, recalled, 'Of course, the article was offensive and, clearly, wasn't designed to do Wim any favours in a new job in a new country. However, if it bothered him, I failed to detect it. He simply got on with the task of putting together a football team. And I use the word 'team' accurately. We weren't talking about reshaping a squad. Celtic needed tried-and-tested professionals who could go straight into the top side and hit the ground running. Nothing was going to deflect Wim from that and I have to say I admired his single-minded attitude. In fact, I liked him as a person, too, and that always helps when you are dealing with people on a daily basis.'
Murdo MacLeod, the powerful midfielder who spent nine years at the club, had recently returned as reserve team coach, but was quickly appointed as Jansen's assistant. The Dutchman insisted on his No.2 being someone with knowledge of the Scottish game. MacLeod had managed Dumbarton and Partick Thistle and, with the exception of three years at Borussia Dortmund after leaving Parkhead in 1987, had spent his entire career in Scotland. He was in the right age group – thirty-eight years old – and ambitious to make his mark on the coaching side of the game. He ideally suited Fergus McCann's model. Two months later, Eric Black quit his job with the Scottish Football Association to become Football Development Manager, signing a five-year deal.
'Celtic had a new team off the park while assembling a new one on it,' said Hay. 'A fresh campaign was coming up fast and we all realised it was such an important one with Rangers the bookies' favourites to win their tenth successive title. That was unthinkable. So, we wasted no time in the transfer market. Wim, of course, wanted Henrik Larsson and, thankfully, we got him from Feyenoord eventually. However, it must be admitted that a lot of that team which was so hastily put together was down to Tommy Burns. He had identified players the previous season, so we knew who we were looking for. I had scouted them, knew the transfer prices and wages required, so, thanks to Tommy, we had a head start. And, in saying that, I am not taking anything away from Wim who then had to find a system and gel their talents together.'
*Wim Jansen makes a rare visit to Celtic Park this afternoon, he is sure to receive an outstanding welcome. We'll publish more on his time as Celtic Manager after the match and you can read the full inside story in our book, The Winds of Change.
*From The Winds of Change – Managing Celtic FC 1991 -2005, published by CQN Books. We have a handful of copies signed by Davie Hay, if you would like a copy for the reduced price of £13.99 plus p & p then please order
HERE.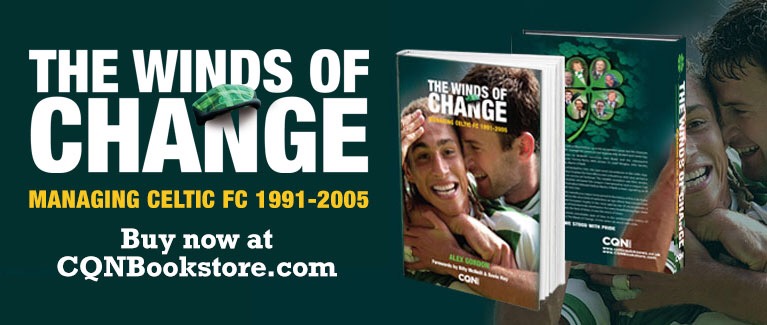 Click Here for Comments >