DAVIE HAY was one of Wim Jansen's closest allies during the Dutchman's solitary season in charge of Celtic in 1997/98.
It was a topsy-turvy campaign that saw massive changes at Parkhead after the former Holland World Cup star had replaced club great Tommy Burns as manager in the summer. However, the upheaval on and off the pitch did not prevent the Hoops from an extraordinary title triumph.
In the third and concluding instalment of CQN's EXCLUSIVE series, we pay tribute to Jansen who passed away on Tuesday at the age of 75 as Celtic legend Hay refelcts on a remarkable period in the club's history.
CELTIC CHAT…Davie Hay and Wim Jansen locked in discussion. 
IT was going all the way down to the wire. There was no hiding place in the countdown to Saturday May 9, an afternoon that would define who would get the winners' medals.
This was it. Celtic had won twenty-one of their previous thirty-five league games, drawn eight and lost six. Rangers, over the same period, had won twenty, drawn nine and lost six. Mathematicians were hard at work with all the permutations.
Wim, I knew, was not interested. He demanded a victory. All the off-the-field difficulties were pushed firmly into the background as Wim refused to be distracted as he prepared his players for that last determined assault on the trophy.
Unfortunately, in my new role, I was at Livingston on the big day. They were paying my wages as a consultant to the club and that had to be respected. My head was elsewhere, though. And my heart, too.
PRIZE GUY…Wim Jansen poses with the championship trophy and the League Cup.
I saw film of the game later on in the Hay household. I could imagine Wim telling the players, 'Now is the time for heroes.' St.Johnstone were in town on judgement day and Wim sent out this team: Jonathan Gould;  Tommy Boyd, Marc Rieper, Alan Stubbs and Enrico Annoni; Jackie McNamara, Paul Lambert, Craig Burley and Phil O'Donnell; Simon Donnelly and Henrik Larsson. It was a good-looking line-up with a lot of attacking options.
The contest had barely started when Henrik Larsson picked up the ball on the left of midfield about thirty-five yards out. He had one thing on his mind as he sped towards the Saints danger zone. Henrik possessed that wonderful ability to wrap his foot around a ball and belt in one those mindboggling efforts that look as though they are going wide until they start to bend viciously and zero in on target.
That's exactly what Henrik produced against the Saints and although their keeper, Alan Main, threw himself flat out to his left there was no way he was going to keep the ball out of the net. Another special delivery from Celtic's very own Special One, long before anyone had ever heard of a certain Jose Mourinho!
THE BREAKTHROUGH GOAL…Henrik Larsson produces a moment of magic to fire Celtic ahead against St Johnstone in the title decider at a packed Parkhead.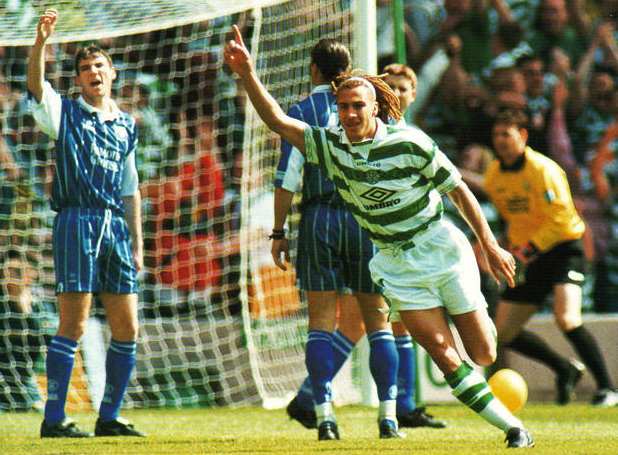 HAIL THE HERO…Henrik Larsson turns away in triumph after netting his excellent opener.
It was clear to me, even watching on the small screen and knowing the result, that Celtic needed that second goal to calm themselves down. Jock Stein, all those years before Wim, made the same point over and over to his team if they had a slender half-time lead. 'Away out and finish the business,' he would say. 'Then you can all enjoy yourselves.'
In games against certain opposition, Big Jock would insist, 'There will be no need for recriminations if you just keep scoring goals. No-one has any answer to the ball being put in their net.'
You would have to accept some dodgy refereeing decisions, of course, and Jock sometimes likened it to a boxer being in the ring against an Italian opponent in Italy. He would joke, 'You've got to knock him out to get a draw!'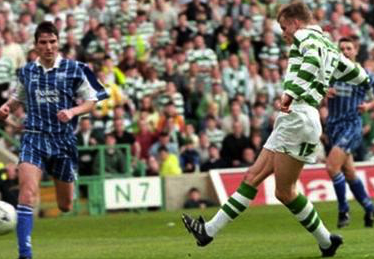 THE CLINCHER…Harald Brattbakk strokes in the second goal – and the title is on its way back to Celtic after a decade's absence.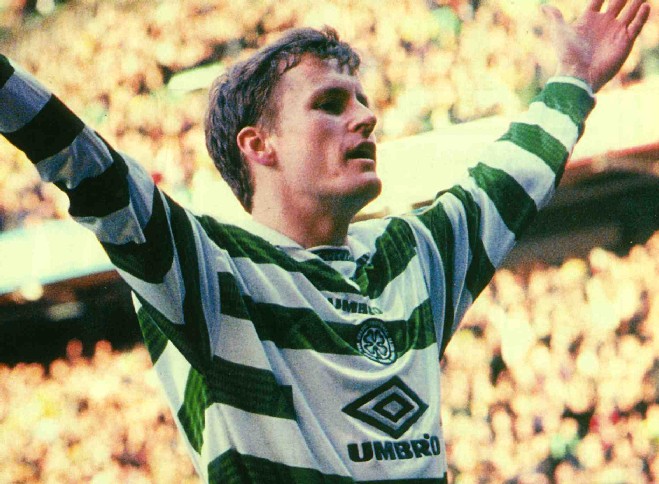 HARALD IN PARADISE…Norwegian shooting star Brattbakk accepts the acclaim of the Celtic fans after his decisive strike.
Wim had left out Harald Brattbakk from his starting line-up and I have to confess I wasn't too surprised. What did intrigue me, though, was his startling lack of consistency in front of goal since his £2million arrival from Rosenborg where he had been a prolific scorer in the Norwegian league. It had taken him nine league games to get on the scoresheet at Celtic – and on that occasion he scored all four in a 4-0 romp against Kilmarnock at Parkhead on February 21.
Four days later he added another two in a 5-1 victory over Dunfermline. Six goals in two games. That was a bit more like the player I had watched in Norway. Had the floodgates opened? Amazingly, he then went another seven matches without a goal. Harald blew hot and cold, no doubt about it. I must have watched him during his hot streaks.
But Wim still believed in the player and knew he could be a vital substitute to have around against St.Johnstone. Once more my little Dutch friend was proved right. Just as the tension was going into overload, Wim sent on Harald and it's history now that the Norwegian did deliver that killer goal. When he knocked that ball over the line from close range there was a collective sigh of relief from the players and the 48,701 fans.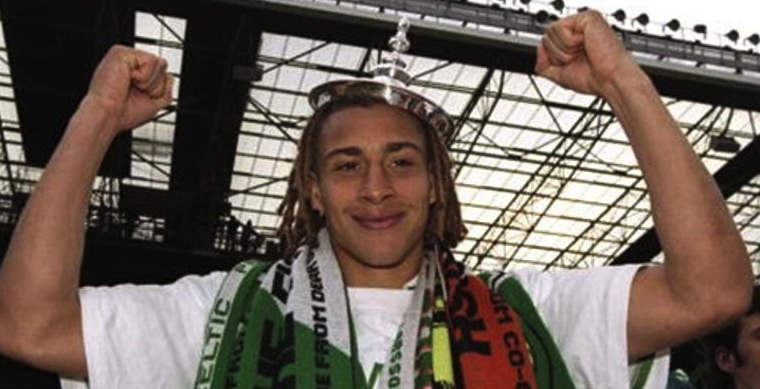 CROWNING GLORY…Henrik Larsson displays some interesting headgear.
How I wished I had been among them. Rangers beat Dundee United 2-1, but that didn't matter, though. The title was back where it belonged and ten years of pain and hurt were wiped away at a stroke. Celtic beat St.Johnstone 2-0 and finished with seventy-four points while Rangers had seventy-two.
Henrik Larsson, the bargain £650,000 purchase from Feyenoord in the summer, played in thirty-five of the thirty-six leagues games throughout the campaign and netted sixteen goals. Those were his first steps on his way to becoming a Celtic legend.
The Celtic support, euphoric on the Saturday, were enraged on Monday as Wim's departure became public. It was all rather bizarre. Celtic had appointed Wim to come in, buy eight new players while overhauling the personnel, and, hopefully, bringing in a trophy or two.
Wim had delivered on all fronts, but he still felt he had to quit the club. The fans were baffled and no-one could blame them.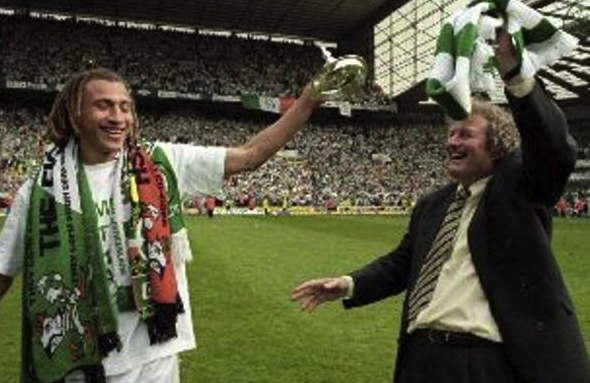 JUST CHAMPION…Henrik Larsson and Wim Jansen celebrate the remarkable title victory.
Intrigued, I watched from the outside. The supporters were not happy and, sadly, that was obvious at the start to the following season when they actually booed during the unfurling of the league flag before the opening game against Dunfermline.
There were 59,377 in the ground that day and a fair percentage of them took the opportunity to let the management know precisely how they felt about Wim Jansen leaving. The same Wim Jansen who had become Celtic's first championship-winning manager since Billy McNeill ten years beforehand.
Doctor Jozef Venglos, who had taken over from Wim, must have wondered what he had let himself in for!
For my own part, I decided to take the club to court to sue for breach of contract. I shouldn't have bothered. I lost and I have to say it was all a colossal waste of time. Celtic parted company with Jock Brown on the morning of November 7 that season – the same day the club hammered Dundee 6-1 later on in the afternoon.
After winning the league the previous season, the team manager, his assistant, the General Manager and the Assistant General Manager had all left the club. As they say in America, go figure!
* PLEASE watch for more big-name EXCLUSIVES – only in your champion CQN.
Click Here for Comments >