EUROPA LEAGUE MATCH REPORT: CELTIC 1 MOLDE 2
CELTIC got lost in a horrendous maze of mistakes as they nosedived to one of the worst European results in history at Parkhead.
The team sitting sixth in the Norwegian League came to Glasgow, won, picked up three points, qualified for the next stage of the Europa League, left Celtic at the bottom and completed an embarrassing double over Ronny Deila's outfit following their 3-1 triumph at their place a fortnight ago.
Remember, remember the fifth of November? The Celtic supporters would prefer to forget all about tonight. They turned up looking for fireworks and got nothing better than a damp squib.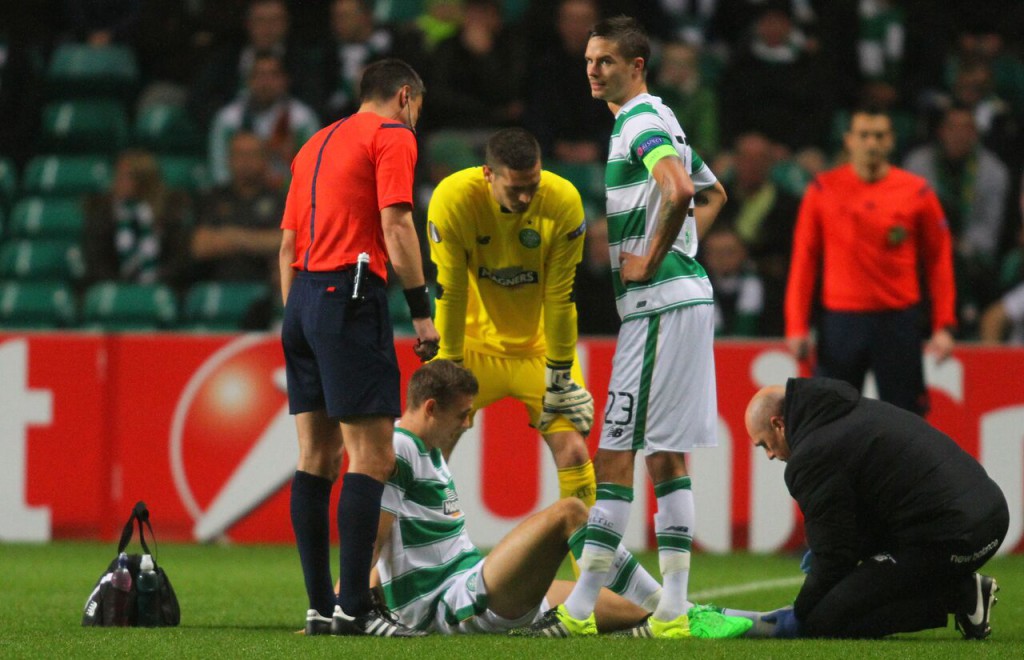 Nothing went right for the Hoops, including having two 'goals' chalked off inside the first 12 minutes, losing Jozo Simunovic in only three minutes and having Nir Bitton sent off in the second-half.
After a bright start, this was as dire a European occasion as the support has witnessed under the floodlights in the east end of Glasgow.
A shapeless Celtic formation, bereft of an obvious game plan and an inspirational figure, were picked off by an average Norwegian team who, once again, exposed a flimsy defence with their ability to break forward intelligently, speedily and in numbers.
Simunovic was the beginning of the bad news when he went down under a heavy challenge from Tommy Hoiland in the opening minutes.
If you were being cynical, you might even allude to the Norwegian being armed with the knowledge the Croatian centre-half had come into the game struggling to overcome an ankle injury.
Certainly, Hoiland's challenge from behind landed on the exposed ankle and off went the defender. Referee Slavko Cincic, from Slovenia, kept his cards in his pocket as match officials tend to do so early in games.
Simunovic was helped off and, eventually in the ninth minute, Tyler Blackett was introduced. The Manchester United loanee became a rarity later in the game when he, too, was taken off.
He wasn't injured, he was just AWFUL.
Nadir Ciftci came on for him in 68th minute, but, by then, it made absolutely no difference.
The Hoops believed they had got off to a wonderful start when Bitton fired in a drive after being set up by Kris Commons, but, unfortunately, the referee's assistant deemed Leigh Griffiths had interfered with play by standing just in front of goalkeeper Ethan Horvarth. TV pictures proved him to be right.
Two minutes later, Tierney flighted over an inviting cross from the left, a Commons shot was blocked and ran to Griffiths who tucked it into the net and, alas, once again was adjudged to be offside. That one was a lot more debatable.
Blackett, looking slow and jittery, came close to presenting Molde with an opening when he fell asleep with the ball loose in the box, but Dedryck Boyata rescued his defensive partner by hooking the ball for a corner -kick.
Next it was Boyata's turn to be caught dozing when Hoiland raced onto a throug ball, but the Norwegian's first touch was heavy and keeper Craig Gordon came out to flop on the ball and clear the danger,
However, Molde did manage to open the scoring in the 21st minute and, yet again in infuriating fashion, it was a gift.
Blackett wasn't convincing with a headed clearance into the air. It could have been cleared by four Celtic players – Lustig, Boyata, Commons and Rogic – but they left it to each other and Mohammed Elyounoussi didn't need a second invitation.
He collected the ball on the edge of the box and fired in a swerving effort that Gordon looked to have given up on far too early as it swept in to his left-hand corner. 
But five minutes later the Celtic support, magnificent throughout and displaying a lot more urgency than the players on the pitch, had something to cheer when Kris Commons scored an excellent leveller.
Tierney got the break of the ball on the left and sent in a right-foot cross. It was headed out to Bitton who attempted a speculative long-range effort. The quick-thinking Commons flicked out a foot and directed the ball low into the keeper's left-hand corner of the net.
Blackett continued to bamboozle his team-mates with his poor decision-making and put Tierney in trouble when he had other options.
In the 34th minute, Tierney rescued his side with a last-ditch tackle after a wretched pass inside from the off-form Stefan Johansen, who was latter booked and will now miss the Ajax match. No-one will probably care too much after his recent displays.
The Norwegian, in fact, set up the winning goal for the visitors when he gave away a needless free-kick after a stupid tackle on a Molde player 25 yards out. That was cleared for a corner-kick. It was worked across to the right, Elyounoussi managed to get it back to the far post and, with Gordon contributing very little and Blackett even less, Berg Hestad got in to force the ball home.
He must have made history – a FORTY-YEAR-OLD player scoring the winning goal against Celtic at Parkhead! Just about summed up the night.
Commons, who had picked up an injury, didn't come out for the second-half and was replaced by James Forrest, but hardly anyone noticed.
Tierney, at least, played with a bit of vim and vigour and came charging in from the left, sped between two defenders and hammered a shot at goal which was touched away by the fingertips of Horvarth.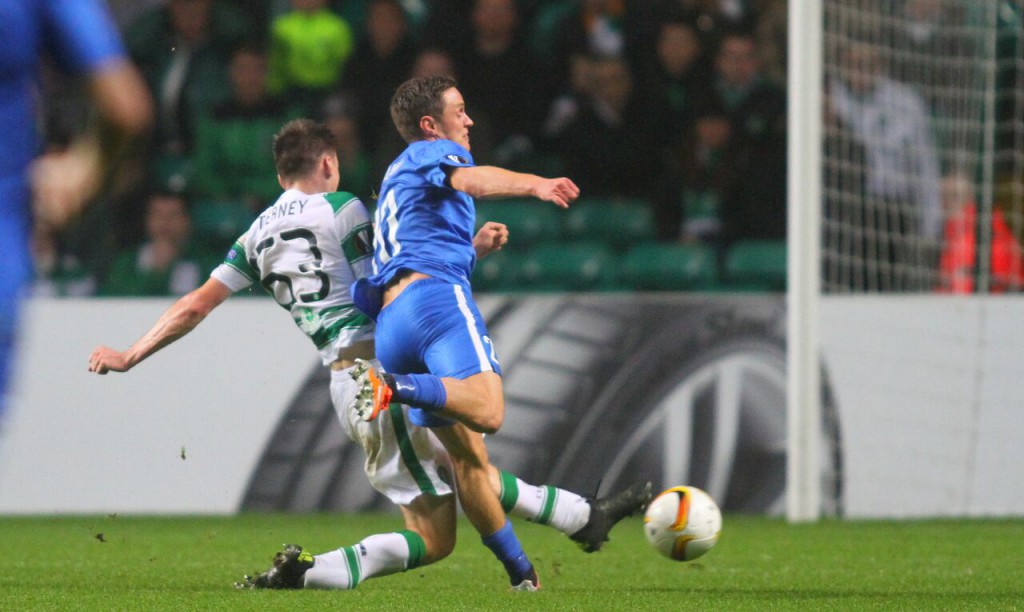 But the Celtic following knew things might not go their way when Boyayta was forced into two last-ditch tackles in the first eight minutes of the second-half to retrieve dangerous situations.
On the hour mark, Stuart Armstrong, who was another who played under the cloak of anonymity, managed to send over a neat cross from the left and Lustig powered a header down towards the left-hand post, but the keeper made a brilliant flying save to paw the ball to safety.
In the space of two minutes two things happened to encapsulate an horrendous evening in Europe for Celtic – Griffiths missed from eight yards and Bitton was red-carded.
One of Johansen's rare passes to reach a team-mate fell at the feet of Griffiths in the 75th minute smack in front of Horvarth. It looked an absolute certainty until the frontman, completely unmarked, screwed a horrible right-foot shot over the bar. He had every right to look disgusted with his wayward effort. A goal at that point might just have opened the door.
And then Bitton, playing as a makeshift centre-half, hauled back speed merchant Kamara. There was no argument – it was a sending-off offence. The Norwegians clipped Gordon's right-hand post with the free-kick.
And, shortly afterwards, Kamara cut in from the left to clatter an effort of Gordon's crossbar as the game plan – if there ever had been on in the first place – fell apart.
It's Celtic Football Club's 128th birthday tomorrow – they will celebrate happier ones. And the only positive from tonight is that with the Turks drawing in Amsterdam, Celtic  can still, on paper, qualify. But it is a very long shot judging by the embarrassment served up as a performance tonight.
TEAM: Gordon; Lustig, Boyata, Simunovic (sub: Blackett 9; sub: Ciftci 68), Tierney; Johansen, Bitton; Commons (sub: Forrest 46), Rogic, Armstrong; Griffiths.

Click Here for Comments >