As Inter Milan walked onto the Estadio Nacional that Thursday evening in May 1967, they were strong favourites to win their third European Cup in four seasons. They had been denied in 1966 by eventual winners, Real Madrid, in controversial circumstances. Revenge would be extracted in the 1967 semi-final, where Inter beat Real home and away.
That team, immortalised as La Grande Inter, were top of the league and expected to win their fourth Italian title in five seasons, their only loss in that period coming after a play-off.
Real Madrid dominated the European Cup for its first five seasons, but they won only two domestic titles in that period. No team had been such a formidable force at La Grande Inter. Real of the 50s were Continental celebrities, Inter were dominant on a whole new level.  Not only were they feared, they were disliked for their oppressive defensive style of play, known as catenaccio.
Across Europe, no one gave Celtic a chance, but thousands in Scotland knew better. Celtic fans knew theirs was a special team. The previous two years were remarkable. Celtic won only three titles in 40 years. They were a novelty team winning little more than novelty titles.
Jock Stein arrived from Hibernian and the world changed. The league was won, then retained for the first time in 50 years, as the club won their first treble. After a long period of desolation, it seemed anything was possible for Celtic. There were no limits.
Celtic didn't just win the European Cup, they destroyed Inter, ripping apart their imperious reputation. Catenaccio, the belief that the most effective way to play the game was to defend, was dead. Instead, pure, beautiful, football, played by a team born entirely in the Glasgow urban area, saved the game as a spectator sport.
You and I know our founding story well, but there is another founding story. Modern Celtic, the confident football club, which wins trophies and builds structures for its future, was born on 25 May 1967. Without Jock and the Lisbon Lions, nothing that we currently know about Celtic would have happened.
They inspired you and me. They also inspired Brendan Rodgers, Neil Lennon and Martin O'Neill. Without them, Fergus McCann would not have imagined what the right management could achieve.
Brother Walfrid put food on the table of impoverished children, but the hundreds of thousands helped by the Celtic FC Foundation in recent decades are a direct product of the Lisbon Lions. They laid foundations for a modern football club which can fulfil its mission.
I was lucky enough to meet them all. Their humility is overwhelming. Unlike imposters who have followed them since, they have time for their generations of fans. They understand the importance of representing Celtic, even now.
It wasn't all humility, though. On the field, they were hard. This was a team who took care of themselves and each other. They were (and are still) also funny, cheeky, guys. Devilment donned the hoops. Their success will be celebrated for as long as football is played.
Your life is better for them and it will remain better until the day you die.  You are a child of the Lisbon Lions.  Thank God for each of them.
Real Betis congratulates @celticfc for their amazing achievement!
Hail, Hail! #inVIncibles#GreenAndWhite pic.twitter.com/2RLg3bfk6a

— Real Betis Balompié (@RealBetis_en) May 24, 2017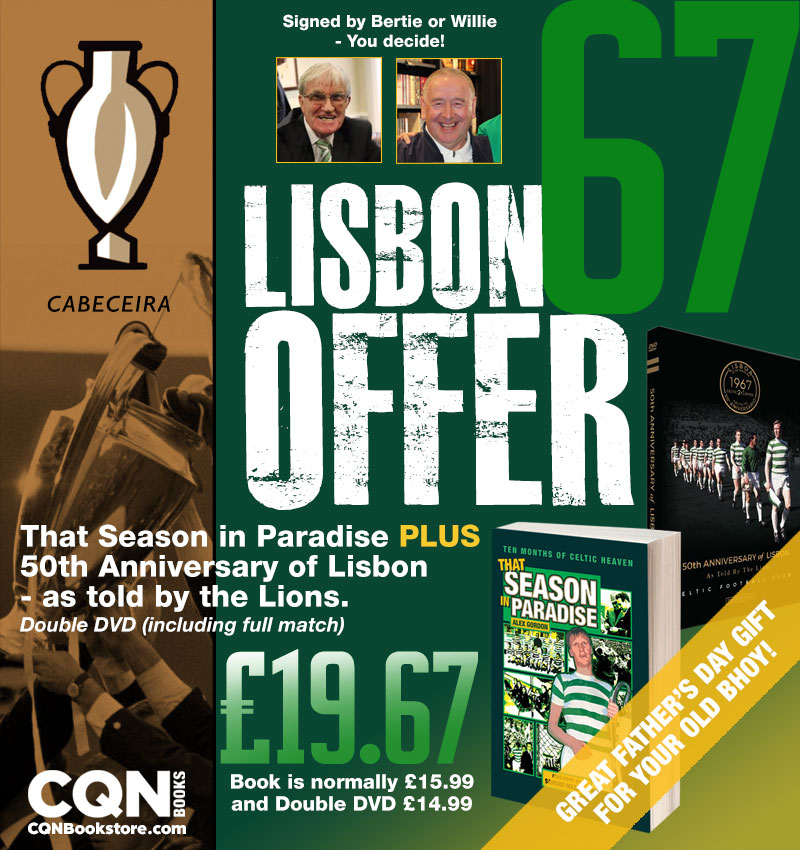 Click Here for Comments >