BRENDAN RODGERS will make a move to ensure the SFA do not push his international players to breaking point on their controversial end-of-season transatlantic trip.
The Celtic manager is poised to contact Scottish football bosses in a bid to excuse some of his men from the trek to Peru and Mexico at the end of May and start of June.
Rodgers is concerned players such as Scott Brown, Kieran Tierney and Craig Gordon, among about five others, will not get the opportunity of a proper break before they prepare for the crucial Champions League qualifiers.
The Hoops are due to return for pre-season training on June 19 – only 16 days after the Scots play in Mexico City.
The Irishman said: "It's not ideal. We'll do a letter to the SFA and it will obviously be easier once there is a manager in place because then that allows for communication.
"It is not just for Celtic, it is a wider issue for the team that is in there trying to represent Scotland in the Champions League format.
"You want to have every chance to get in there. Why? Because you are representing Scotland first and foremost and you are in there as that sole team from the nation.
"When you qualify, as we have done for the last few seasons, the money that is generated from that goes to every Scottish club and sometimes that is the most money that they get.
"Already my feeling is that this seems like a back-to-back season up here. Some of our players got six days off maximum, some of them had three weeks and then they are into a real schedule.
"I am concerned as a Celtic manager with eight players in the squad, but also I am concerned for Scotland as a game.
"Are you going to break young players like Kieran Tierney? These young players who are coming through, they are not robots.
"I know that the game is about stats and numbers and tactics on a computer, but these are human beings and if you are not careful you can break them.
"This is why I have to take players out at times. I have taken Kieran out the odd time. He is a player I want to play in every single game, but I don't want to break him and when they are fatigued is when they are at their greatest risk of injury.
"It is a balancing act between getting them over the hill, but when they are under stress physically and tired mentally, it is tough.
"There might be a different plan in place. There might be a plan to take non-international players. We'll see."
Rodgers will seek talks with the new Scotland boss and is hoping to have the same working relationship he enjoyed with former gaffer Gordon Strachan and stand-in Malky Mackay.
He added: "It is common sense. I had that with Gordon. We always had a good line of communication and when Malky was in for his game there was a line there.
"I am sure that will be the same with whoever comes in."
NEW CQN PODCAST OUT NOW WITH THE ORIGINAL HOLY GOALIE, JOHN FALLON
Paul John Dykes and Kevin Graham are joined by Lisbon Lion, John Fallon, at The Penalty Spot in Glasgow.
The Original Holy Goalie discusses pay disputes, bonus rows, cigarettes & alcohol at Seamill, breaking up The Lisbon Lions and The Quality Street Gang, the battle of Montevideo, his volatile relationship with Jock Stein, and he finally tells the full story behind his European Cup winners' medal.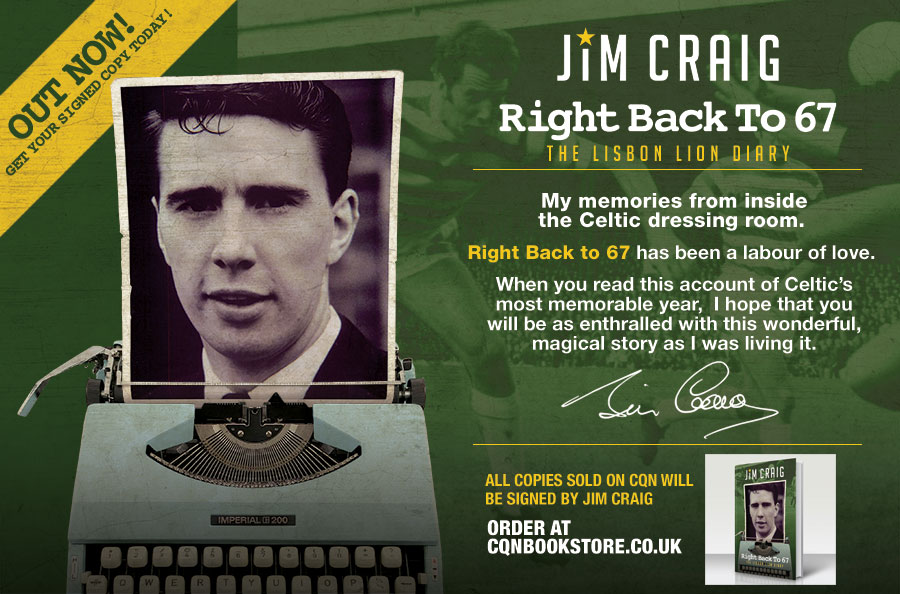 Order Jim Craig's new Lisbon Lion Diary – Right Back to 67 from CQNBookstore.co.uk and you will receive a signed copy from the man himself plus a FREE copy of That Season in Paradise – Ten Months of Celtic Heaven signed by fellow Lisbon Lion Bertie Auld! Simply order Jim Craig – Right Back to 67 and the second book will be sent automatically. Stocks are running very low so hurry! THIS DEAL WILL END IN A FEW DAYS!
Click Here for Comments >