LISBON Lion Tommy Gemmell has told Ronny Deila's players: "You're lucky Bhoys."
The Celtic legend admitted he would struggle to name ONE of the current Ajax line-up that will face the Hoops tomorrow night.
Speaking to Celtic Quick News, Gemmell said: "It's changed days from when we played the Dutch side in the European Cup back in 1971.
"Johan Cruyff is the obvious name that stands out because he was easily one of the best players in the world.
"They also had the likes of Ruud Krol, Johan Neeskens and Piet Keizer as household names. But people so often overlooked the supporting cast.
"I'm talking about the likes of Wim Suurbier, Barry Hulshoff, Gerrie Muhren and Sjaak Swart, players every team requires to be successful.
"Hopefully, I'm not being disrespectful to the present bunch, but if you asked me to single out one, I couldn't.
"And that's why I believe the current Celtic players are a bit fortunate. Ajax clearly don't possess the star quality they had in abundance back in the seventies.
"Like my club, they are a big name in Europe. After they beat us in 1971, they went on to win the European Cup in three successive years to underline their pedigree.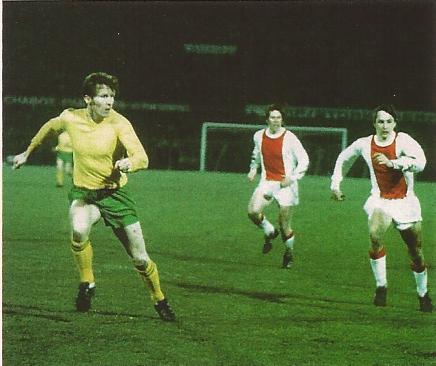 "But, also like Celtic, they are being forced to sell top players every season to balance the books.
"There are a lot of parallels between the clubs. They are both in leagues that do not get TV money thrown at it as happens in England, Spain, Italy and Germany.
"They try to compete at the highest level, but that's not easy when they see their top men leaving on a regular basis.
"That's why both clubs are in the Europa Cup at the moment and not the Champions League. Celtic and Ajax are, of course, attractive names worldwide, but, sadly, both have to cut their cloth accordingly."
Gemmell, 72, also told Deila's outfit to keep their wits about them for the entire ninety minutes – or suffer the consequences.
He recalled: "Back in 71, it was goalless after just over an hour. Jock Stein had set out a team to contain and we were doing fairly well, as I recall.
"Davie Hay was man-marking Cruyff and was doing a thankless task exceptionally professionally. Then there was flash of the Dutch Master's genius, he got away from Davie and the ball was in the net behind Evan Williams.
"That was bad enough, but they then received a dodgy free-kick and centre-half Hulshoff, a big, powerful defender, stepped up to take and his shot flew through the defensive wall and that was us 2-0 down after 70 minutes.
"Losing two goals in eight minutes was bad enough, but Keizer got through and, with virtually the last kick of the ball, stuck a third into our net.
"In those days, Celtic were not used to losing by three clear goals to anyone, so we were shattered by the time we got back to the dressing room.
"Strangely, though, such was the confidence of our team, we thought we could still win through to the semi-final. The second leg was switched to Hampden Park and a full house saw us beat Ajax, but, unfortunately, a solitary goal from Wee Jinky Johnstone wasn't enough.
"That night in Glasgow, they proved they could play defensively, as well. Their flair players – even Cruyff – simply rolled up their sleeves and dug in to protect their three-goal advantage.
"Really, they were a phenomenal all-round side with marvellous individuals who could multi-task all over the pitch."
Gemmell also believes it's time his own club delivered in Europe again – starting tomorrow night in the Dutch capital.
He said: "Obviously, there is pressure on Ronny Deila to produce an acceptable result. The last two Champions League campaigns have been an awful disappointment to myself and all other Celtic fans.
"Losing last season to Maribor and then Malmo this time around – hardly two of Europe's top sides – has cost the club millions of pounds.
"It has also deprived the support of those extra-special Champions League games under the floodlights in the east end of Glasgow.
"So, it is vital to make an impact in this competition. It's imperative to get a good result to get on the board right away.
"I think every point will be a prisoner in this group with Fenerbahce also involved. That improvement has to start against Ajax.
"Like I said, I don't think they have any players who have that x-factor to change games. In 1971, they had an array of such characters.
"The Celtic players must be positive. This is an evening for a lot of them to stand up and be counted."
                           ——————————————————————–
*
Johan Cruyff is named in Tommy Gemmell's All-Time World Football Line-up in his fabulous biography 'All The Best', published by CQN Books.
Who else does Big Tam rate good enough to get in his elite team?
Find out by ordering your copy from
CQN HERE
or by clicking on the image below. Your copy will be SIGNED by Tommy Gemmell and is available from CQN now at a discounted price of
only £10
plus p&p.
The black and white image is featured on the cover of All The Best and the colour image is courtesy of brilliant re-touching work by Barry McGonigle.
Click Here for Comments >