EXACTLY thirty-two years ago today, Mo Johnston turned his back on Celtic, the club he professed to love, to join Rangers.
Author Alex Gordon, whose fifteenth Celtic book, '50 Flags Plus One', is out now, devoted a chapter in his newspaper memoirs, 'Jinx Dogs Burns Now Flu', published in 2015, to reveal the truth behind the astonishing transfer.
It was published under the headline, 'MO JOHNSTON: THE LYING GAME' and is repeated EXCLUSIVELY and in full for CQN readers today.
THERE has been some amount of drivel written and spoken in the many years since Mo Johnston signed for Rangers on July 10 1989. Quite rightly, it has been labelled the most sensational transfer in the history of Scottish football. Also, it proved, without any shadow of a doubt, that some folk are fairly expert at speaking with forked tongue.
A lot that has followed the remarkable deal has been an avalanche of lies, nonsense and baloney. Honesty has been booted around like a burst ball. I'm so sick and tired of all the hoo-ha, I think it's time I set the record straight. What you are about to read is the absolute truth. I will happily go to any court in the land and swear on oath that the following is 100 per cent accurate. Put me through any polygraph test and I'll come through the other end without a blemish.
I was Sports Editor at the Sunday Mail at the time of the drama and I was receiving all sorts of messages from many excellent contacts that the Johnston deal for Celtic from French club Nantes was on the rocks; there was no mention or hint of Rangers at the earliest outset. Celtic manager Billy McNeill, of course, had already paraded the player in front of the press at Parkhead and a beaming Mo was caught on film saying, 'Celtic have come in for me and I'm delighted to be joining them.'
All well and good, but still a lot of my friends – 'people in the know' – were flagging up that it was far from a done deal. Mo sat with one of his mates in the Love Street stand on Saturday, May 13 when a Joe Miller goal gave Celtic a 1-0 victory over St.Mirren on the last day of the league season. The following Saturday, I believe Mo was in the stand at Hampden when Miller netted the only strike of the game to hand Billy McNeill's men the Scottish Cup, upsetting old foes Rangers, who were chasing a domestic treble after lifting the championship and the League Cup earlier in the season.
Apart from the actual football, two separate incidents occurred that May day I found very interesting. On my way through the Hampden car park before the game, I was pulled aside by someone I knew who worked for Radio Clyde. There was no reason for him to indulge in any claptrap. He said, 'There's a problem with the Mo Johnston move. We can't nail it, but I think there might be something in it for you.' I thanked the guy. In fact, that wasn't the first time I had heard something along the same lines, but, of course, we were constantly reassured by Celtic that everything was in order. They had paid a deposit of £400,000 and the fee – in the region of £1.2million – had been agreed with the French club and everything was fine and dandy.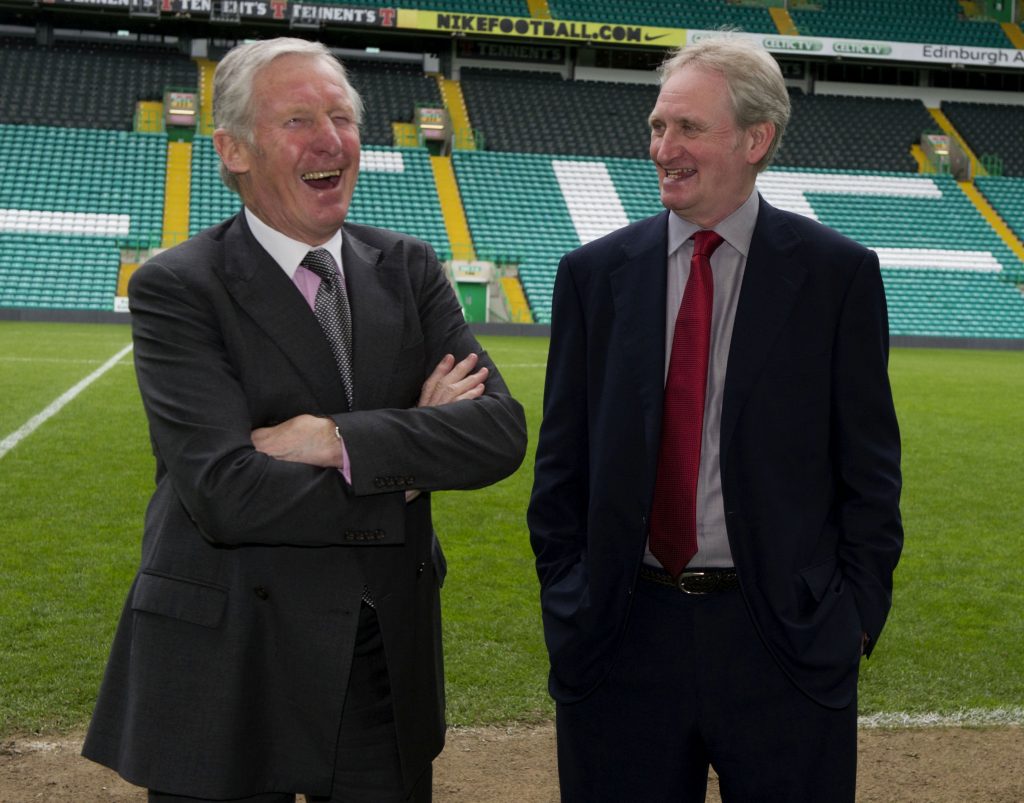 LAUGHING MATTER…Billy McNeill shares a joke with author Alex Gordon. But the Celtic legend failed to see the funny side when Mo Johnston defected to Ibrox in July 1989.
After the Scottish Cup Final, I made my way back to the Sunday Mail offices at Anderston Quay with colleagues Don Morrison and Dixon Blackstock. Later that evening, I received a call at the desk from a very well-placed Rangers mole. He told me Graeme Souness was absolutely livid after the defeat. That hardly surprised me. I was also told the Rangers manager had screamed about having 'something up my sleeve that'll rock Celtic'. My informant from within that dressing room also revealed Souness had said, 'They've got a shock coming.' I was well aware that the Rangers manager possessed a volcanic temper, but he did not spout hot air for the sheer hell of it. Now I was intrigued. What was the 'something' he had up his sleeve? Or, more accurately, the 'somebody'?
Souness, talking twenty years after the historic event, admitted he was ignorant of the fact Johnston had any thoughts of returning to Scotland from France until he noticed the news in the papers and the player wearing a Celtic top and being cuddled by Billy McNeill. He told my old newspaper, the Daily Record, 'I had no idea Maurice was coming back until I saw that.'
I believe him. At the same time, I had also been informed FIFA, the world governing football body, were investigating racism and religious bias in the game. Rangers, with their archaic refusal to sign Catholics, may have been about to come under investigation. A club in Chile, Universidad Cattolica, were also about to be scrutinised for their practice of only signing Catholics. FIFA, I was assured, were about to act and they had the ultimate powers of withdrawing playing licences and shutting down football clubs if they determined such stringent action was required.
That may, or may not, have been a coincidence of timing. What was certain is that Graeme Souness was a man who would not have been frightened to break with Ibrox tradition. As he said, 'I was married to a Catholic, my children were christened Catholics. I was brought up in Edinburgh. Every day I walked with a Catholic friend to school. It was never an issue in our house. I was brought up by very level-headed, right-thinking parents. Maybe I was naive, but religion just wasn't an issue with me.'
So, the timing was right to go for Mo Johnston. Back to Souness, 'It wasn't just signing a Catholic; it was a Catholic who had played for Celtic. It was a double whammy.'
Souness recalled the moment he saw the opportunity to seize the player from under the noses of his club's fiercest rivals. 'I came down the stairs after a game at Ibrox and Bill McMurdo (Johnston's agent) was leaning against a radiator. I said, "You should have told me Maurice was thinking of coming back." It was a throwaway line. I turned to walk away when he said, "Why? Would you be interested?" I stopped in my tracks and turned back to talk to him.'
If that is accurate – and I have absolutely no reason to doubt the word of Souness – that conversation must have taken place at Ibrox on Saturday, May 13 after their last league game of the campaign, a 3-0 defeat from Aberdeen. That was the same day Johnston was in Paisley watching his 'new' club Celtic. So, what happened between Saturday May 13 and the Scottish Cup Final a week later? I have no doubt Souness would have acted quickly after his meeting with McMurdo, who, as a well-known Rangers fan, would have given him every assistance in brokering a deal for his client.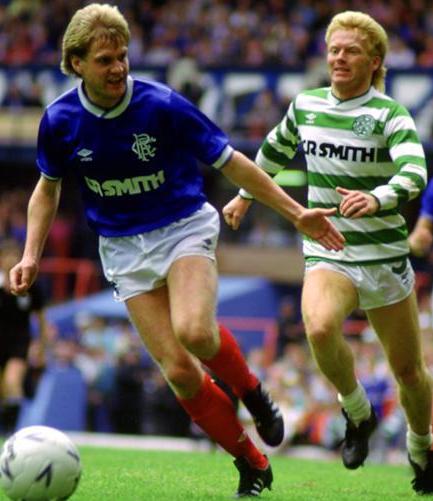 ON THE RUN…Mo Johnston chases after future Rangers team-mate Stuart Munro in an Old Firm encounter.
One of the first to be told of Souness's idea of signing Johnston was his assistant manager, Walter Smith. According to Souness, 'It took the wind out of his sails. He was stuck for words, but, after about a minute, he was fine and he thought it was a great idea.'
If my information is correct, and I have no reason to think otherwise, Souness then drove home to Edinburgh, taking a slight detour to have a word with chairman David Murray. By Souness's own admission, 'At first, he just went silent, but again, within a minute, he, too, thought it was a great idea. They both knew that if Rangers were to be accepted as a proper football club it couldn't have this ridiculous situation hanging over it.'
As Rangers prepared for the Hampden final, Souness secretly flew to Paris for a meeting with Johnston. Souness is now on record as saying, 'I persuaded him to sign for Rangers. I had played for Scotland with him. I had a relationship with him. It was relaxed and there were no difficult moments. It was an exciting time in Glasgow and he wanted to be part of it. He was a Scottish international, we needed a striker and he would complement what we had at the club.'
HAMPDEN HERO…Joe Miller celebrates his Scotish Cup winner.
At least, we now know the 'something' Souness had up his sleeve when he hit the roof after the defeat at Hampden. But there were weeks of denials ahead before the press conference at Ibrox and the unveiling of the player almost two months after the Scottish Cup Final. What happened in between was highly intriguing. If the curse of Pinocchio for telling porkies applied to certain human beings, we might have had to build an extension onto the planet to cope with all the rapidly growing noses. I'm sure more than a few rainforests could have been saved if there had been no requirement for immediate and extended nasal structures. You could have built an entire Viking fleet out of one individual's prominent conk.
The telephone calls wouldn't go away. I met with friends and it was the main topic of conversation. The enquiries we were making were all getting batted back at us. I wasn't convinced and arranged to go over to Celtic Park one morning to meet a club executive. I won't embarrass him by naming him and he has nothing to do with the club these days. I asked if I could see some of the paper work concerning the transfer of Mo Johnston from Nantes to Celtic. Very helpfully, they were fished out of a desk and placed in front of me. I wasn't too bad at French language at school, but I had left Mr Cosgrove's 3A class in May 1967 and this was June 1989. A few bouteilles de Sancerre had been chucked behind my Adam's Apple between then and now. I hoped I didn't sound like Inspector Clouseau as I read from the document.
It was like an old-fashioned parchment with a wax seal. Basically, what I could decipher was that this document was an 'Agreement to a Transfer' and not a 'Transfer Agreement'. It appeared this piece of paper from Nantes Football Club was merely granting permission for Celtic to talk to their player. It meant Celtic's officials were not breaking any rules while approaching a player who was still under contract with another club. Of course, that is illegal and known as 'tapping'.
I was told there was another document from the French team acknowledging receipt of a deposit for their player. I left Celtic Park later on that day with my suspicions well and truly alerted. It was time for the Sunday Mail team to do some good old-fashioned sleuthing. We hit a barrier of lies. I can well understand some folk being sworn to secrecy, but some of the subterfuge that we encountered was simply outrageous. Dealing in balderdash appeared to be a specialist subject for some characters. The situation at the time was simple: Mo Johnston had changed his mind about signing for Celtic, 'the club he always adored as a school kid'.
What seems to have been forgotten over the years was the fact FIFA did intervene in an effort to sort out the mess. They examined the paper work and threw their considerable weight behind Celtic; Mo Johnston was their player, as far as they were concerned. I believe the £400,000 that had been paid up front and had been banked by Nantes swung it in Celtic's favour. The French club were satisfied with the deal and now awaited Celtic's settlement of the balance. Mo didn't have a leg to stand on. He threatened to quit football if he was forced to play for Celtic; a staggering metamorphosis in such a short space of time.
Billy McNeill, I was reassured by the man himself, was quite prepared to call the player's bluff. I can tell you the Celtic manager would have threatened to put Mo Johnston out of football. With FIFA's backing, Johnston would not have been allowed to play in any country under their auspices. The only people who could bail out Johnston were the guys on the Celtic board. They went against their manager's wise advice, cobbled together a statement that basically indicated that if 'the player does not want to play for Celtic then we don't want him.' The sigh of relief from Mo Johnston and around Govan must have thundered around Europe. Celtic called off the transfer – and the rest is history.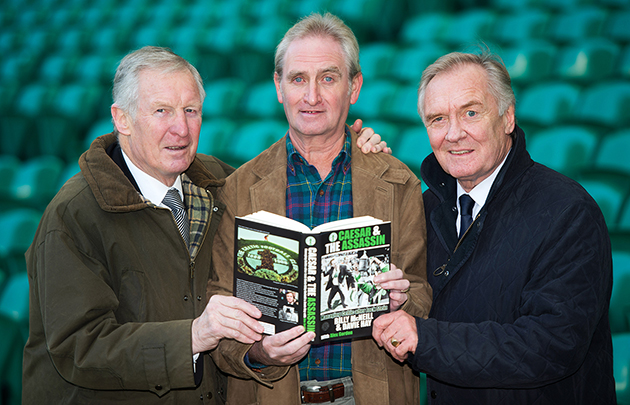 BETWEEN TWO ICONS…Alex Gordon and former Celtic managers Billy McNeill and Davie Hay at the launch of 'Caesar and The Assassin' in 2014.
Right up to the very end, there were lies, lies and more damned lies. Around that time, I spent a Friday evening with a friend of mine – let's just call him an 'entrepreneur' – having dinner at the Granary in Shawlands. Everyone I met that night wanted to tell me about Mo Johnston signing for Rangers. The following morning, I asked Don Morrison to put in a call to Ibrox. 'Let's get this sorted once and for all,' I said.
Don duly did so and I heard him talking to someone in authority at Rangers; not Graeme Souness, I hasten to add. Don replaced the receiver and said, 'Well, that guy doesn't seem to think Mo Johnston will ever be allowed anywhere near Rangers. He's just said, "Remember the traditions of this club and, if we were going to break them, it wouldn't be for that individual."' (Actually, he didn't use the word 'individual', but I'll leave it to your imagination to insert what you believe would be appropriate and more likely). Don added, 'He seemed quite emphatic.'
It seemed like a rehearsed line from the guy within Ibrox I have chosen not to embarrass by naming him. Frankly, I didn't believe him. I asked Don to telephone Bill McMurdo. Again, I listened to the call. Our Chief Sports Writer came off the phone again. 'He has just said, "It's a complete fabrication – you could run that story for ten years and it still wouldn't be true."' That didn't sit well, either. To this day, Don, one of the most honest blokes you are every likely to meet, stands by that recollection.
A couple of days after the categorical denials and weeks of ducking and diving from some prominent characters, Mo Johnston was wheeled out at Ibrox as a Rangers player on Monday, July 10 1989.
Quelle surprise! I didn't reel back in astonishment.
Click Here for Comments >