TOMMY BURNS had won the Scottish Cup in his first season as Celtic manager after his appointment on July 12 1994.
The league title, though, was the legendary Celt's priority target as his second campaign prepared to kick off.
In another CQN EXCLUSIVE series, we chart Tommy Burns' career as the Hoops gaffer during turbulent times on and off the field. Here is the eighth instalment from Alex Gordon's tribute book, The Winds of Change, which was published by CQN in 2015.
Please enjoy.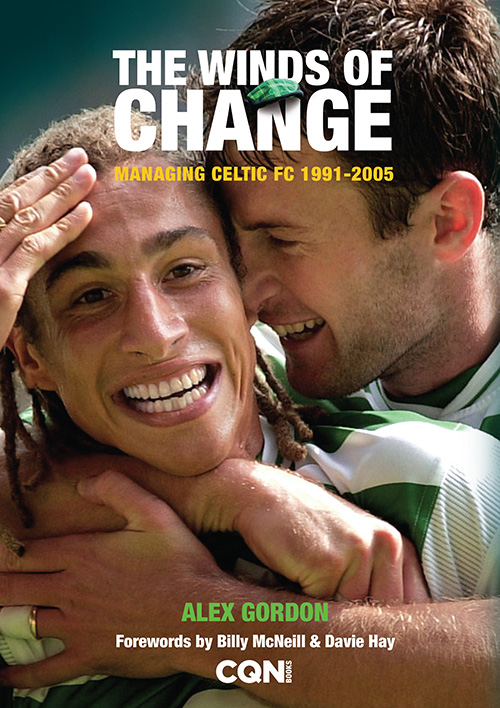 ANDREAS THOM took his bow at Celtic Park on August 8 1995 when Kevin Keegan brought his exciting Newcastle United team, including David Ginola, across the border for an intriguing friendly.
The travelling Geordie fans were as anxious to see the flamboyant Frenchman and their latest signing, £6.5million striker Les Ferdinand, from Queens Park Rangers, as the Celtic supporters were to witness Thom after a fairly spectacular build-up.
The £17million new north stand loomed large while work was still being done on the stadium and it was strange to see the ground minus what had become known over the many years as the 'Celtic End' behind one of the goals. Celtic superfan Rod Stewart was there to kick off festivities as the Hoops returned to the east end of Glasgow after a year at Hampden.
ON SONG…rocker Rod Stewart proudly holds aloft a Celtic scarf before kick-off.
ON SONG…new Bhoy Andreas Thom shows his quality as he holds off a tackle from Newcastle's Rob Lee.
East German Thom impressed with his clever play, zestful, darting runs and his eagerness to get into attacking positions. He lasted 71 minutes before making way, amid rapturous and appreciative applause, for substitute Andy Walker.
The game ended 1-1 with John Collins sinking a penalty-kick following a foul by Darren Peacock on Thom. Ferdinand levelled when he almost took the net away behind Gordon Marshall with a ferocious header. It must be said Ginola did not receive much of a welcome. So much for the 'Auld alliance'.
Keegan had an interesting comment to make about Celtic at the end. "It is fantastic to see a great club reborn," he said with genuine enthusiasm. "It's particularly good to see them starting to get players here. That is the important thing."
A midweek goalless draw with Liverpool followed  – no six-goal walloping on this occasion, just a brisk work-out – and the real action got underway when the League Cup ballot once again pointed Burns and his men in the direction of Ayr United at Somerset Park just as it had done the previous season.
ON TARGET…Andreas Thom slots the ball wide of Ayr United keeper Willie Lamont for his first goal for Celtic.
Unlike 12 months earlier, this was a saunter for Celtic with new signing Thom knocking in his first goal for the club as a satisfied manager watched his side notch up a 3-0 victory. It had taken the club five months to win by three clear goals in the previous campaign, now they had achieved the feat in 90 minutes. Pierre van Hooijdonk netted the second with John Collins slotting in the third via the penalty spot.
Van Hooijdonk heaped the praise on his new team-mate. "Having someone of Thom's ability in the side means the other players will play even better. That's what happened with Rangers and Laudrup – he made them better players. It's much easier to play when there's someone with the ability of Thom or Laudrup looking for the ball.
"All the lads are enjoying having Andreas around. I am not saying Andreas and I will win Celtic the league. It's all about the team and what kind of lift everybody gets from him."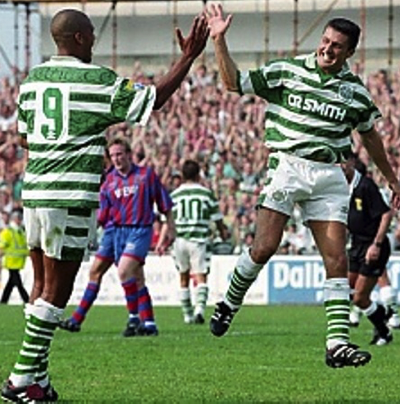 JOY BHOYS…Pierre van Hooijdonk and John Collins celebrate Celtic's third goal against Ayr United.
An injured captain Paul McStay watched from the stand and said: "The bonus of winning in the style we did really is a great boost. That's why Tommy Burns paid the money for Thom. You can see the quality of the guy and the way he takes a goal. His movement can rip teams apart. If they are going to be playing like this, it's going to be tough for me to get back in."
Burns, too, was more than merely delighted. "After the goal, we settled in well and made a lot more chances," he noted. "Another great thing is that our three main goal threats – Thom, Van Hooijdonk and Collins – all scored. From here, we will set our own standards."
Opposition manager Simon Stainrod still believed Rangers would win the league although he admitted: "Celtic are a much better team than they were last year, but Rangers have too strong a squad. I feel Celtic will come up against a Motherwell or a Falkirk and not take three points. Rangers won't let that happen when they face these teams."
UP AND AT 'EM…new centre-back John Hughes displays his aerial prowess.
His words proved to be chillingly accurate. Celtic dropped four points in two draws against Motherwell – 1-1 in Glasgow in September and 0-0 away in March – and two more in a goalless draw against Falkirk at Brockville in February. Six points discarded by a team who lost out on the championship by four points the previous season.
If those draws had been turned into wins, Rangers' title run would have been halted, there would have been no eight-in-a-row. The Ibrox side, on the other hand, took 22 from a possible 24 points from the same teams, their only blip being a scoreless stalemate at Motherwell in December.
That's the wonder of football, though. How many sentences begin with: 'What if…?'
*TOMORROW: Don't miss the EXCLUSIVE ninth instalment of The Tommy Burns Story – only in your champion CQN.
Click Here for Comments >