AFTER winning the Scottish Cup in his first season as Celtic manager following his appointment on July 12 1994, Tommy Burns' driving ambition was to lift the championship.
The Hoops had lost their way in challenges for the title that had last been won in such memorable fashion by Lisbon Lion Billy McNeill in the club's centenary year in 1988.
In another CQN EXCLUSIVE series, we chart Tommy Burns' career as the team's gaffer during turbulent times on and off the field. Here is the twelfth instalment from Alex Gordon's tribute book, The Winds of Change, which was published by CQN in 2015.
Please enjoy.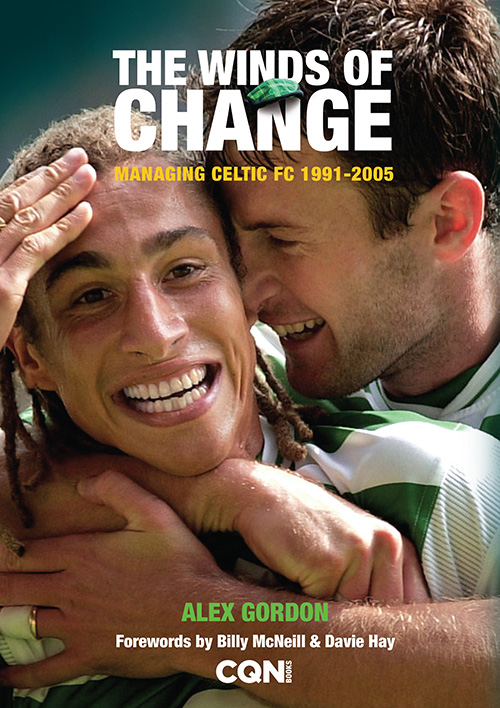 TOMMY BURNS and Celtic had to momentarily take their focus off their quest to reclaim the league title to prepare for the Scottish Cup semi-final meeting with Rangers at Hampden on Sunday April 7 1996.
And there was drama even before the kick-off.
Celtic were informed by Jim Farry, the Scottish Football Association Chief Executive, they would not be allowed to field Jorge Cadete. Apparently, the former Sporting Lisbon striker had not been registered in time for the national competition although the Scottish League had already been satisfied that everything was in order to allow him to make his debut – and score – in the 5-0 win over Aberdeen.
Fergus McCann was not convinced and immediately sought legal advice. It was a courtroom saga that would be drawn out over almost three years.
The stubborn Celtic Managing Director refused to accept any of the explanations put forward by Farry, who was known as an infuriatingly bumptious and punctilious powerbroker within Scottish football's HQ.
MARKSMAN MYSTERY…Jorge Cadete was prevented from playing against Rangers in the 1996 Scottish Cup semi-final by SFA chief Jim Farry who was sacked three years later for "gross misconduct".
The case revolved around the wording of an International Transfer Certificate for Portuguese international forward Cadete. Celtic forwarded the ITC to the SFA on March 7 1996, with all the other relevant paperwork arriving a fortnight earlier. Initially,  the club believed the player was a free agent. He wasn't, but that should have had absolutely no bearing on Farry registering Cadete.
Celtic could not convince him of this because of a 'conditionality clause' within the ITC. Under law, this was an irrelevance, as a fax from the world's governing football body, FIFA, explained.
Yet, it was not until Celtic lodged a third application to register the player at the end of March that Farry was eventually persuaded of the fact. Under the SFA's 14-day clearance rule, that was too late for Cadete to face Rangers. On March 8 1999, Farry was sacked for gross misconduct. McCann had won his argument, but it was too late to help Celtic's Scottish Cup cause three years earlier.
Before the Hampden tie, goalkeeper Gordon Marshall and striker Simon Donnelly both publicly proclaimed that defeat would deem all the hard work during the season as a waste of time. How ironic, then, that both should play significant roles in the downfall of Celtic in the sixth Old Firm meeting of the campaign.
CONFRONTATION…Jackie McNamara has words with Rangers' Paul Gasciogne.
Two minutes from the interval, the keeper presented Ally McCoist with the breakthrough goal after making a hash of trying to deal with a low shot from David Robertson. The left-back, running on the blindside of Jackie McNamara, tried to pass the ball into the far corner and Marshall appeared to collapse instead of diving to his left to deal with the danger.
He looked awkward as he spreadeagled on the ground and could only half-hearedly push the ball in front of the unguarded McCoist a mere six yards out. He couldn't possibly pass up such a gift. The keeper appeared incapable of going through 90 minutes of the most important games without a heart-in-your-mouth moment.
There's no way he could be blamed, though, for the Ibrox side's second goal in the 68th minute. Celtic were laying siege to Andy Goram's goal when Walter Smith's men were awarded a shy halfway in their own half on the right. Alex Cleland threw the ball to Paul Gascoigne who, with one touch, knocked it onto Brian Laudrup who nudged it wide right to Gordon Durie. Without hesitation, he flicked it into the open space behind the Celtic back lot and the speedy Dane chased after it with the burly John Hughes in pursuit.
Unfortunately, it looked as though the centre-half was running on treacle and the Rangers winger had time to head it down and then casually lob an effort over the stranded Marshall, who had strayed to the edge of the box. It was the absolute epitome of a perfect breakaway goal and Celtic must have wondered what had hit them.
PICK IT OUT…Pierre van Hooijdonk races away after scoring in the Scottish Cup semi-final encounter with Rangers keeper Andy Goram left grounded and Alan McLaren crestfallen.
There was a frustrating naivety about Tommy Burns' teams sometimes, but you could never fault their battling qualities. They came back at Rangers who were by now content to filter into deep defence and look for another four-touch movement that could provide a third goal.
They were rocked, though, when Celtic pulled one back eight minutes from time when Jackie McNamara, suddenly finding space to venture forward with his immediate opponent, Laudrup, visibly tiring, sent in angled cross. Pierre van Hooijdonk's timing was impeccable as he raced in front of the hesitating Alan McLaren to glide a header low past Goram.
The Celtic fans were in a frenzy and three minutes later they could have been celebrating an equaliser. McNamara again hit the touchline before swinging over a cross and Donnelly had to stretch to get his head to the ball. Alas, his effort from four yards, went over the bar with Goram isolated at his near post.
With three minutes to go, Donnelly missed a sitter. He raced clear of the ponderous McLaren, drew Goram from his line and then, lacking in composure at the crucial moment, blazed the ball off target.
You just knew a guy called Jorge Cadete might have scored with one, if not both, of those opportunities.
SAD CELT…Andreas Thom failed to spark against Rangers at Hampden in April 1996.
A worrying feature of the semi-final was Andreas Thom's obvious reluctance to mix it with John Brown and Co when the boots were flying in a packed penalty area. Too often he was found wandering in areas where he couldn't possibly hurt Rangers and even popped up in the left-back position at one stage with Celtic two goals adrift and desperately looking for some firepower at the other end of the pitch.
The opposition, apparently, could "persuade" the gifted German to operate away from the danger zone and he was rarely a threat in this encounter.
Facts showed afterwards that Celtic had 60 per cent of possession, had forced 10 corner-kicks to Rangers' two and had 10 attempts at goal to the opposition's six. At the end of the day, though, the only statistic that really mattered was the one that read, Rangers 2 Celtic 1.
Burns, predictably, didn't agree with the pre-match observations of his players Marshall and Donnelly and talked about the progress that had been made since he took over the job. Alas, that advancement would not be measured in trophies.
In the midweek game after relinquishing the Scottish Cup, Celtic were handed another invitation to close the gap at the top and once again they displayed a distressing reluctance to accept. A last-minute goal from Van Hooijdonk gave them a 1-1 draw with Kilmarnock at Parkhead after trailing at half-time to a Jim McIntyre goal.
SO CLOSE…Pierre van Hooijdonk watches as Andy Goram pulls off a wonder save to deny him.
Carelessly chucking away two precious points was difficult enough to accept for the fans leaving the ground that night, but their mood darkened further with the tannoy announcement that informed them Rangers had lost 2-0 to Hearts at Tynecastle. Tommy Burns may have had many qualities, but you would have to argue against one of them being his sense of timing.
With four games to go, Rangers, despite the loss in Edinburgh, knew they could wrap up their eighth successive league championship with a match to spare. On April 13, they beat Partick Thistle 5-0 while, a day later, two goals from Van Hooijdonk gave Celtic a 2-1 win over Hibs at Easter Road after Pat McGinlay had opened the scoring.
A week later, Burns' men eased to a 4-0 triumph at home over Falkirk with Thom (2), Cadete and Donnelly on the scoresheet. At Fir Park, Rangers made no mistake with a 3-1 victory over Motherwell.
Now it was down to the weekend of April 27/28 with Celtic playing Partick Thistle at Firhill while, 24 hours later, the Ibrox side were due to face Aberdeen in Glasgow. Burns winced as his players made it extremely difficult for themselves against less-than-average opponents who were sitting second bottom of the league.
WALLOP…Pierre van Hooijdonk thunders a penalty-kick high past Partick Thistle keeper Nicky Walker.
Celtic had to come from behind twice before two goals from Van Hooijdonk and singles from Cadete and Malky Mackay, the young centre-half getting a rare top team outing, gave them a 4-2 triumph.
However, a runners-up place was the best the Parkhead men could hope for if the Dons failed to win in Govan. Brian Irvine gave the visitors the advantage in the 19th minute, but Gascoigne levelled and then scored two goals – one a penalty-kick – in the last nine minutes and the race was over.
On the last day, a crowd of 37,318 turned out at Celtic Park to serenade Tommy Burns and his players with a chest-thumping version of 'You'll Never Walk Alone'. The football was almost immaterial as the supporters threw a party for a team which had won zilch. It was evident, despite the lack of tangible rewards, the fans had enjoyed what they had witnessed and there was now reason for extreme optimism.
As for the actual game, Jorge Cadete scored in the first minute as the team romped to a 4-1 triumph over Raith Rovers. Stuart Gray and Peter Grant added two more by half-time. Peter Duffield pulled one back before Cadete scored his fifth goal in six games on the hour mark.
PORTUGUESE MAN OF ROAR…Jorge Cadete thumps one past the helpless Nicky Walker in Celtic's 4-2 win at Firhill in April.
At the end, the players, bedecked in green and white scarves, flags and tammies, linked hands in the middle of the pitch and took a collective bow. It was a rousing send off to a barren season which bordered on the surreal.
On the same afternoon, Rangers beat Kilmarnock 3-0 at Rugby Park and completed the campaign on 87 points with Celtic four behind. The Ibrox side were also 11 goals better off than their rivals. They had lost three times – twice to Hearts and once to Hibs – but had drawn only six of their games as opposed to the Parkhead side's 11 stalemates. It was a statistic that damned Celtic to failure.
The initiative for Tommy Burns in the new season was clear. The manager was required to put together a Celtic team that was better than Rangers and would earn the silverware to prove its superiority.
Praise was nice; points were a necessity.
*TOMORROW: Don't miss the EXCLUSIVE thirteenth dramatic instalment of The Tommy Burns Story – only in your champion CQN.
Click Here for Comments >