DAVIE HAY experienced football's rollercoaster during a turbulent, extraordinary period when he led Celtic to the title in 1986 – and was sacked before the 1987/88 season kicked off.
It was a sensational turnaround in the fortunes of the Hoops manager only four years after he had taken charge of the club on July 4 1983 at the age of 35.
In another CQN EXCLUSIVE, Hay, who mastermined a Scottish Cup triumph in his second term, tells the inside story behind his brutal sacking. The Hoops legend tells all in an edited extract from his best-selling 2009 autobiography, 'The Quiet Assassin,' co-authored by his long-time friend and writer Alex Gordon.
Please enjoy Day Four of Davie Hay's revelations.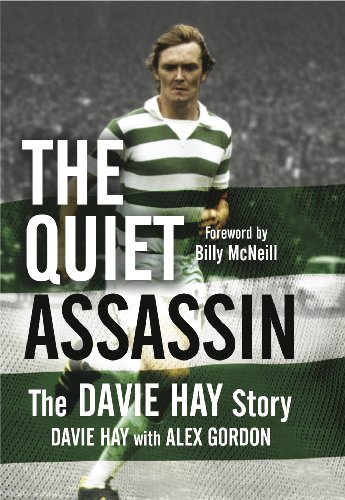 I SPENT most of the morning at Celtic Park on a fateful day on May 20 1987 tidying up a few things, looking at contracts and informing the players that the club's proposed summer tour of Australia had been cancelled.
I talked to chief scout John Kelman and we discussed a few players we might go for in the summer. I wanted to get us straight back into harness after relinquishing our league championship to Rangers.
That was sore and it would be fair to say that I was not happy with the Celtic board at the time when they refused to release transfer cash to strengthen the team while Rangers were buying the likes of England internationals Terry Butcher, Chris Woods and Graham Roberts.
On some occasions, it seemed as though I was in the boxing ring with both my hands tied behind my back and any chance of success was a complete impossibility.
But I was still eager to get things in place for the new campaign. I had at last persuaded the board to loosen the purse strings and they allowed me to buy Republic of Ireland centre-half Mick McCarthy from Manchester City for a club record fee of £450,000. I met Mick at a hotel in Carlisle and the entire deal was done and dusted inside half-an-hour.
Off my own bat, I offered the player £1,000-per-week as his basic wage. I didn't feel the need to run it by the directors because that was the going rate and Rangers were only too happy and willing to sign players on similar or enhanced terms.
I decided Celtic had to move with the times and we needed to shore up a defence that was conceding too easily and too often for my liking. Even Hamilton Accies, later to be relegated from the Premier Division, scored three against us. Mind you, we netted eight at the other end and our defensive deficiences were overlooked by many, but not by me.
A week after the win over Hamilton we lost another three in a defeat against Dundee United at Tannadice. Dundee also scored four against us in another loss on Tayside and I was aware the league was slipping away with Rangers going from strength to strength.
We lost 2-1 in the League Cup Final to Graeme Souness's outfit and a goal from John Robertson, a shot that took a wicked deflection off Paul McStay, ended our interest in the Scottish Cup at Tynecastle. We went out of the European Cup in the second round to a strong and multi-talented Dinamo Kiev side, 4-2 on aggregate.
So, I saw my main task during that pre-season to regroup and regenerate fresh optimism within the club. I never got the opportunity. After returning home from my morning's duties at Celtic Park, I received a call from Jack McGinn's secretary asking me to return to the ground for a meeting with the chairman. No-one had said a thing to me earlier in the day.
I hadn't an inkling of what was to come as I drove back to the east end of Glasgow. I had been having contract talks with Mo Johnston, Brian McClair and Alan McInally who were coming to the end of their deals. Possibly,  I thought something had happened on that front. I got to the park and Jack McGinn was there to meet me. The chairman looked ashen-faced, but I still didn't have a clue as to what was around the corner.
Jack looked at me and said: "We have decided that we must get rid of you as manager of the club. You can either resign or you can be sacked, but we would like you to resign. There will be compensation from the club."
Thirty-eight little words that saw my world cave in on top of me. My immediate emotion was that of disbelief. Why had nothing been said in the morning? Why hadn't there even been a hint of such action? Disbelief gave way to a feeling of being let down by a board I had gone out of my way to protect when the going got tough and the supporters were demanding answers about the lack of new signings and investment.
Eventually bitterness set in. I couldn't help it. I looked at the chairman and he was obviously uncomfortable with what he had just said. I had been very publicly betrayed. I had lost the job I loved.
Celtic prided themselves in never having sacked a manager in their history and they didn't want to do so with their centenary year in 1988 coming up fast. They wanted me to quietly walk away and let everyone think I had quit.
I stared back at the chairman and said, 'No chance. If you want me out you will have to fire me.'
There was a long silence and I added, 'Who's got my job? Who are you going to replace me with?'
Jack was now looking distinctly ill at ease. He didn't want to answer that one.
I wasn't about to drop to my knees and plead for my job. They had made a decision and, only a year after winning the championship, I was no longer the Celtic manager. Could you blame me for feeling bitter? I said at the time that it was like a death in the family. That, of course, was a gross exaggeration.
I was hurt, though; badly hurt and humiliated by a board I had continually warned to look at the bigger picture and see what Rangers were doing across the city. Our age-old rivals were investing heavily in their playing resources and were bringing in quality from England.
No-one could ever accuse me of lacking ambition and there was no-one at Celtic Park more single-minded than me when it came to keeping Celtic at the pinnacle. However, when I needed the board to back me they back-stabbed me, instead.
It's changed days now, of course, and millions have been spent in recent times in bringing in the likes of Chris Sutton, Neil Lennon, John Hartson, Scott Brown, Shunsuke Nakamura and Jan Vennegoor of Hesslink. The club have also been successful in signing players that were on Rangers' radar such as Paul Hartley and Scott McDonald.
The present board are willing to back their managers. I wasn't afforded that luxury by some directors who scoffed at the Ibrox side and believed money couldn't buy success. In football, proper investments will bring their reward. Liverpool won back-to-back European Cups in 1977 and 1978 with players such as Kenny Dalglish, Kevin Keegan, Graeme Souness, Alan Hansen and Ray Clemence in their line-ups.
Hardly anyone came through their youth or reserve teams. I am a great advocate of nurturing your own talent and building for the future, but there are other times when you need a quick fix and you can only do that through sound purchases in the transfer market.
I should have known what was coming when I went to Upton Park on a Wednesday night to see West Ham playing Chelsea. Once again, I had informed the board that I believed we needed urgent strengthening. In fact, I had made my plea after we had won the title the previous season. I was far from satisfied with the depth of our squad. I repeated this throughout that summer, but, alas, no-one was listening.
Initially, I travelled to London to have a look at outside-right Pat Nevin and centre-half Joe McLaughlin, who were doing well for my old Stamford Bridge club and two players I believed would be excellent acquisitions for Celtic. We were lacking a player who could perform wide on the right after losing Davie Provan to illness. Paul McGugan was tried in the middle of the rearguard, but he lacked experience and the authority much needed in that central defensive position.
Nevin and McLaughlin would have filled those voids at Celtic and, with them in place, I believe we could have retained our championship. I also wanted St.Mirren right-back Steve Clarke around that time, but once more the directors didn't stump up the cash and he went to Chelsea, instead. We finished second to Rangers, but there wasn't a lot in it. Money spent on new players would have made all the difference.
I was saddened when I returned from London and picked up my newspaper a day later and Jack McGinn was quoted as saying, 'If Davie Hay wants to bring those players to Celtic then he will have to pay for them himself.'
I thought it was a remarkably silly thing to say. I couldn't imagine Celtic fans being enamoured by those words while Graeme Souness continued to splash the cash at Ibrox and his club were promising to continue doing so throughout the summer. We were very much the poor relations at the time and it wasn't a position in which I was comfortable. Far from it.
I didn't talk to Jack for about a fortnight afterwards and, upon reflection, I know that was wrong. Relations were strained, to say the least, and that cannot be right.
A manager and a chairman should always have dialogue. We were singing from the same hymn sheet, after all.
*TOMORROW: Don't miss Day Six of Celtic Confidential as Davie Hay reveals all.
Click Here for Comments >