TODAY CQN brings you the eighth EXCLUSIVE extract from Alex Gordon's book, 'CELTIC: The Awakening', which was published by Mainstream in 2013.
The book covers the most amazing decade in the club's history, the Sixties, an extraordinary period when the team were transformed from east end misfits to European masters.
We pick up the series where we left off on September 6.
RONNIE SIMPSON, whose father Jimmy was a former Rangers player, made his Old Firm debut on 1 January 1965. New goalkeeper, same old outcome with Jim Forrest claiming the only goal of a fairly drab contest which wasn't helped by the dodgy pitch. Studs crunched on the carpet of frost as conditions deteriorated while the game wore on.
The Ibrox playing surface gleamed under the floodlights and even managed to look very picturesque. A winter wonderland for Celtic fans it was not. Once again, they had little to enthuse over following a derby reverse at the turn of the year.
Nevertheless, the support would be more than a little intrigued by what the club did next two weeks into the new year. Celtic brought back Bertie Auld, sold to Birmingham City for £15,000 in April 1961. They paid £12,000 for a player, who, like his good friend Paddy Crerand, was never slow to voice an opinion in the dressing room. It was an unusual step for the club, but who was behind the transfer?
It was  unlikely to have been chairman Bob Kelly, who must have had a major say in Auld, against his wishes, leaving in the first place. Was it Jimmy McGrory, the manager being given his place, albeit belatedly? Was it Sean Fallon, who took more to do with the coaching and running of the first team than anyone else? Or was there the possibility of Jock Stein, still manager of Hibs, laying down some ground work before returning to Celtic?
Bertie Auld attempts to shed some light on the topic. 'I was at home when I received a telephone call from a guy called Dougie Hepburn who just happened to be a big pal of Jock Stein. He asked, "Would you like to come back to Celtic?" I didn't hesitate, "When? Tonight?" I said. I have to admit I think it was Big Jock who was behind the signing. The following day Birmingham City were due to play West Ham in an English Cup-tie and I was overjoyed to see Sean Fallon with another guy I knew, Tommy Reilly. He had driven Sean down to Upton Park and, as soon as I saw them, I knew it wasn't a wind-up. I was, indeed, heading home. I recall bumping into Big Jock when he was down in Birmingham to take in an English League v. Scottish League game around about that time. He was accompanied by Bob Kelly. The Hibs manager with the Celtic chairman? I'll let you draw your own conclusions.
'Anyway, Big Jock was quite chatty and said, "How are things going, Bertie? Enjoying yourself?" I answered, "I'm having a great time. I've just become a father, too. Everything is wonderful." Big Jock rarely, if ever, indulged in small talk, but, on this occasion, he seemed genuinely interested in what was going on in my life, on and off the pitch. Anyway, history now shows I returned to the club I never wanted to leave in the first place in January 1965. I even agreed to take a £5 drop in my wages, a lot of money at the time. I'm convinced my wife Liz must have thought I was going off my head. So, I came back to my spiritual home and Big Jock was to join up formally at Celtic two months later. It could have been a coincidence, but I certainly was not complaining. I sensed some fabulous things were about to happen.'
BERTIE AULD…the commander of Celtic's midfield.
Auld made his second Celtic debut eight years after the first when he faced Hearts on 16 January at Parkhead. Tommy Gemmell welcomed back a player who would become a lifelong friend with a scorching goal, but the Edinburgh side still won 2-1.  A week later Gemmell, with a shot of resistance-wrecking power, scored again in a 3-3 draw with Morton. Auld had to wait for his first victory – and first goal – with only a day of January remaining. It was a memorable occasion with Celtic hammering Aberdeen 8-0 in Glasgow with John Hughes shredding the Dons rearguard and scoring five. Lennox and Murdoch knocked in the others and Auld, designated as the new penalty-taker, showed his prowess by striking one perfectly beyond John 'Tubby' Ogston.
Twenty-four hours later came the announcement that dramatically changed the fortunes of Celtic Football Club – Jock Stein was to become the new manager. He agreed to succeed Jimmy McGrory, but only after Hibs found a new manager themselves. Bob Shankly, brother of Liverpool legend Bill, got the Easter Road position after leaving Dundee and Stein was officially named the new Celtic boss on 9 March.
However, the jungle drums had been beating long before the news broke. It's not easy to keep secrets in football and Glasgow, it must be said, is a wonderful city of rumour. Stein, a well-known punter, played his cards extremely close to his chest. He had, after all, only become the Hibs manager in April 1964. However, the pull of Celtic was to prove irresistible. Stein was originally asked to become joint manager with Sean Fallon. Stein never intended any disrespect towards the Irishman, a former team-mate, but clearly it was going to be his way or no way. Fallon had taken over the duties as manager during the reign of McGrory and it had been widely acknowledged within the walls of Parkhead that one day the job would be his. Stein, though, stuck to his guns. News was somehow leaked that Wolves, searching for a new manager, were casting a gaze in Stein's direction. Jim Rodger, of the Daily Record, at work again? Very probably. Kelly, as everyone realised, liked to get things his own way. Stein was prepared for a game of bluff and double bluff. He won in the end, as he knew he would. 'FIRST PROTESTANT MANAGER OF CELTIC',blazed the front page of the Scottish Daily Express. And history had been made at the club seventy-seven years after it had been formed by a Marist priest, Brother Walfrid. Jimmy McGrory was appointed head of Press Relations and Sean Fallon became the official assistant manager.
Stein met his new players only twenty-four hours before a league match against Airdrie at Broomfield on 10 March, but it was obvious the main target for Celtic was the Scottish Cup after reaching the semi-final following a real humdinger of a quarter-final tie in the mud of Parkhead four days beforehand. Celtic overcame Kilmarnock 3-2 and suddenly there was a belief about the place, heightened with the imminent arrival of Stein. The new boss had a brief message for his players, 'You work hard for this club and I will work hard for this club. Together we will achieve something.' Auld said, 'It was as brief as that. I knew Jock, of course, and many of the Celtic players had been in the reserves when he was coaching the second string. For a couple, though, it would have been the first meeting with Jock that morning. I'm sure they didn't know what to expect. Jock kept it simple.'
Stein, of course, was welcomed by most. Billy McNeill admitted as soon as the news was confirmed of his return, 'On a personal level, I got a tremendous lift. I knew things would start to happen again at the club.' Ronnie Simpson was less enthusiastic. Stein had sold the goalkeeper to Celtic from Hibs the previous year and, after being told about his former manager's arrival, Simpson is reported to have gone home and informed his wife she should get ready to pack. 'We're on the move again, Rosemary,' he is alleged to have said. Tommy Gemmell was overjoyed. 'I knew Jock actively encouraged his full-backs to drive forward. There would be no more of this, "Don't you dare cross that halfway line" again. Thank goodness. We were going to be given the freedom to express ourselves and I was going to take full advantage. There was no looking back for me the day Jock Stein walked back into Celtic Park. I clearly recall his very first instruction to me. "Remember, you are a defender and your first job is to defend," he said. "But get up that park as often as you can when you see an opportunity." That suited me perfectly.'
In Stein's first  game in charge against Airdrie at Broomfield, Auld slammed in five goals, two penalty-kicks among them, in a 6-0 victory.  Auld laughed, 'I always thought I had good timing.' Gemmell added, 'The remarkable thing about that display was that Bertie actually played wide on the left. He wasn't playing right up front in the middle or just off the strikers. Forget the two spot-kicks, to score a hat-trick from a wide left berth was an incredible feat. It was only when Big Jock settled into the job that Bertie eventually moved into a midfield role, but against Airdrie that night he played as an orthodox left-winger, actually setting up opportunities for the likes of John Hughes and Bobby Lennox. I was playing right behind him and I can remember thinking, "This guy is class; he is giving us a new dimension". Exciting times, indeed.'
JOCK STEIN…the man behind the revolution.
Three days later there was a double disappointment of St.Johnstone winning 1-0 in Glasgow in front of only 18,000 fans. There was a 3-3 draw with Dundee before the next home game and, once again, the fans didn't exactly flock to Celtic Park. This time a crowd of only 19,000 watched Hibs win 4-2, a result that would undoubtedly have wounded Stein. However, he would have been much happier just over two weeks later when Celtic travelled to Easter Road for a rearranged league game that had been frozen off during the winter. Goals from Auld (2), Stevie Chalmers and Bobby Murdoch gave the club a 4-0 victory. The focus was the Scottish Cup, of course. It kicked off in February with a 3-0 win over St.Mirren at Love Street, but Celtic made it astonishingly difficult for themselves in the next round when they had to rely on a Lennox strike to see off the amateurs of Queen's Park. Then came a classic confrontation against an excellent Kilmarnock side that brought goals from Lennox, Auld and Hughes to win the day 3-2 against stubborn, dangerous opponents.
There was the intriguing possibility of Stein leading out Celtic against Hibs in the Scottish Cup Final at Hampden on 24 April. While Celtic were due to play Motherwell in the semi-final at the national stadium, the Easter Road side were preparing to face Dunfermline on the same day at Tynecastle on 27 March. Hibs lost 2-0 and Celtic struggled to a 2-2 draw with the Fir Park side. Joe McBride, always quick to declare his passion for all things Celtic, stuck the ball past John Fallon twice. Bobby Lennox and Bertie Auld, with another superbly-executed penalty-kick, scored to ensure a replay four days later. This time there was no mistake. Celtic piled the pressure on Alan Wylie, in the Motherwell goal, and swept to a comfortable 3-0 victory, Chalmers, Hughes and Lennox on target. The fact that the main aim of Celtic's desire was the Scottish Cup was underlined by an awful 6-2 collapse against Falkirk a fortnight after the semi-final replay win. That was followed by a 2-1 defeat at home to Partick Thistle and the league campaign would come to a close against Dunfermline in a 5-1 flop at East End Park after the two clubs had fought out an enthralling Scottish Cup Final four days earlier.
To this day, Bertie Auld is still convinced that the 3-2 Scottish Cup Final triumph over Dunfermline in 1965 was the most important win of that era. 'Yes, even more so than the European Cup,' he insists. 'Remember, Celtic had won nothing, absolutely nothing, for eight years. I was at the club when they beat Rangers 7-1 in the 1957 eight years earlier. I still found it extraordinary that the club STILL hadn't won anything in between. Eight years without a major success? That's a lifetime to a club such as Celtic. Would everything have fallen into place if we hadn't beaten Dunfermline? We took great confidence from that success. For me, that was the game that turned everything on its head. That broke the spell we  were under. The club had reached other Cup Finals, but had not delivered during that period. Was this going to be another failure? No, we had to win the Cup, simple as that.'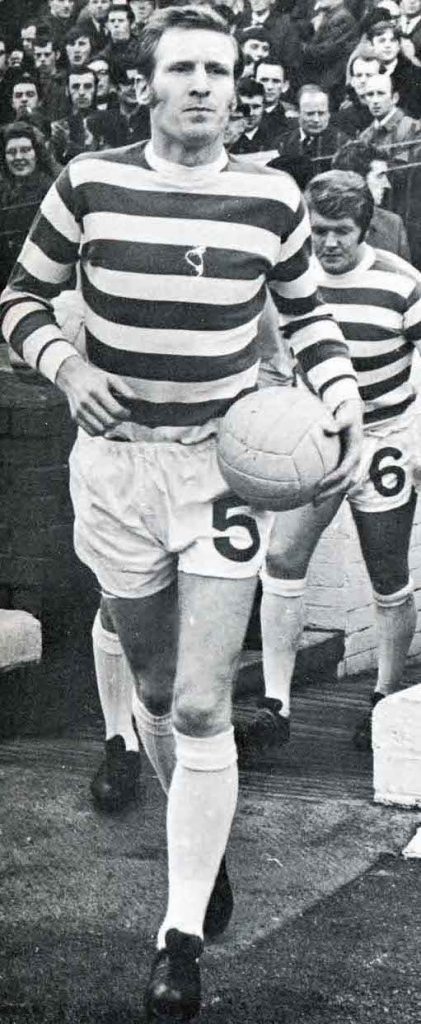 BILLY McNEILL…Celtic's onfield leader.
Stein had tried to relax his players at a hotel in Largs before the game, changing it from the usual haunt at Seamill. He wanted a fresh outlook and he always paid attention to the smallest detail. Billy McNeill recalled, 'Jock knew what he was doing. We didn't go into this game thinking the end of the world was nigh if we were unsuccessful. He made certain he, and not us, absorbed the pressure and the players could actually enjoy the preparation for the Cup Final.'
McNeill and his colleagues John Clark, Charlie Gallagher, Stevie Chalmers and John Hughes might have enjoyed the relaxed atmosphere more than their other team-mates. All five had been in the Celtic line-up that had been outplayed and outfoxed by Stein's Dunfermline in the final of the same competition four years earlier. Stein had actually told his Dunfermline players, 'This lot aren't as good as they think they are. We're better, so go out and prove it.' McNeill, Chalmers and Hughes were also unfortunate enough to be in the team beaten by Rangers in a replay only two years after that. They could become three-time losers. Or first-time winners. If Jock Stein managed to calm these players in the days prior to Hampden he would have performed a minor miracle. Stein would sit them down after the afternoon training session and produce the magnetic board upon which he would illustrate moves he expected the players to follow. John Clark said, 'We had never had a tactics talk of any kind before. This was completely new to us. He would point out something, but never repeat himself. You had to concentrate completely for there were no second chances.' Auld added, 'Sometimes Big Jock would ask for a player's opinion. I would pipe up every now and again and he would listen. Once I had finished he would just wave that big left paw at me and say, "Naw, naw, we're doing it this way!" This happened all the time. He would invite you in and then slap you down.'
There was the usual guessing game before Jock Stein announced his line-up for Hampden. He went with John Fallon; Ian Young and Tommy Gemmell; John Clark, Billy McNeill and Jim Kennedy; Stevie Chalmers, Charlie Gallagher, John Hughes, Bobby Lennox and Bertie Auld. A crowd of 108,803 was in attendance. Gemmell recalled, 'I believe Dunfermline were favourites. On league form alone, that would make sense. They completed the campaign only one point behind eventual winners Kilmarnock who shaded Hearts on goal average. We weren't at the races, but, at the same time, there was a lot of confidence in the team. Jock Stein had brought a belief with him. And we had to show a lot of trust in ourselves, too, when our opponents took the lead in the fifteenth minute. Any time's a helluva time to lose a goal, but it's so important to keep things tight during that sparring spell of the first twenty minutes or so. And now we had conceded and we had it all to do. Harry Melrose was their scorer after a bit of a goalmouth melee when we just couldn't get to the ball to hoof it into the stand.'
Auld remembered, 'I looked at my team-mates and I realised they felt to a man just like me. "We're going to win this one," appeared to be the unspoken, but unified, response. Sixteen minutes later I was left sitting on my backside in the Fifers' net, but I was not one bit upset; the ball was lying there beside me. I had equalised. I remember the goal like it was yesterday. John Clark slid a pass to Charlie Gallagher and he took a couple of steps forward, shaped to play it wide, changed pace and then sent a thunderbolt of a shot towards their goal from about thirty yards. Jim Herriot, the Fifers' extremely competent goalkeeper who would become a team-mate of mine at Hibs later on, threw himself at Charlie's effort, but he failed to divert its course and it thumped against the face of the crossbar. I saw my chance as the ball swirled high into the air. Herriot was on the ground and was desperately trying to get back to his feet as I moved in for the kill. The ball appeared to be suspended by an invisible hand. It seemed to be up there for ages. I was aware of their full-back Willie Callaghan coming in at speed from my right. He was wasting his time – I was never going to miss this opportunity. The ball came floating back down after what seemed an eternity and I launched myself at it to head it over the line. One-one – game on!'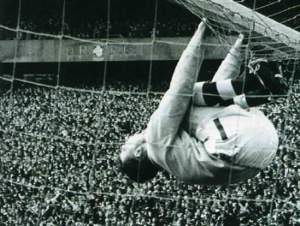 JOHN FALLON…and an unusual celebration after 1965 Scottish Cup Final win.
Fallon, in the Celtic goal, surrendered again just a minute before the interval when Melrose rolled a free-kick in front of John McLaughlin who belted it first-time from twenty yards. The ball went straight through the defensive wall and eluded Fallon on his right hand side. Auld observed, 'It looked saveable from where I was standing. Once again, we had it all to do.' Celtic had had to fight back twice against Motherwell to earn a replay in the semi-final. There was no way this side made life easy for themselves. Bobby Lennox said, 'It was a quiet dressing room at half-time. I think Jock realised he only had us for a couple of months or so and if he lost his temper and bawled and shouted it might have tensed us up too much. That afternoon would not have been the right time to beef into the players. Jock was the big, friendly bear. On another day and on another occasion he might have savaged us.'
Auld looked back, 'As we left the dressing room Jock said, "Get that early goal…get that goal and we'll win this trophy." Seven minutes into the second-half Tommy Gemmell turned the ball to me and I swiftly passed it on to Bobby Lennox on the left. He took off like a sprinter and I chased into the penalty area, hoping to be in the right place at the right time. Bobby couldn't have hit a sweeter pass into the danger area and I arrived on the button to first time a right-foot shot low past the helpless Herriot. Two-two – we're going to win!'
The spectacle could not have been scripted better; the finale more exciting. Nine minutes remained when Celtic won a corner-kick out on the left. Gallagher, a gifted striker of a deadball, trotted over to take it. The midfielder floated in a curling cross that had all the devastating effects of a wrecking ball to the Fife defence. Goalkeeper Herriot hesitated before leaving his line and that was to prove fatal. As he struggled to readjust his shape, Billy McNeill came thundering in with awesome timing to get his blond head to the cross and send the ball thudding into the net between the two helpless full-backs, Callaghan and John Lunn, guarding the posts; the area in between splendidly vacant. I have heard it said that Hampden was actually silent for a split-second as the moment sunk in. I was there that afternoon and I have to say I believe this curiosity could be fact. So many things had gone wrong over so many years and now Celtic were on the cusp of actually winning a trophy. I think a lot of the Celtic support around Mount Florida might just have been brainwashed into believing their team was destined never to be successful. Bertie Auld is right, this victory sent Celtic soaring to a new level.
One of the first things Jock Stein did in the summer of 1965 was scrap the third team at Celtic allowing almost thirty players to move on. Davie Hay was one of the youngsters who was brought to the club as Stein revolutionised the entire playing system. Hay recalled, 'I think I might have been Big Jock's first signing for Celtic. After a meeting with Sean Fallon, I couldn't sign those forms quickly enough and I did so at the start of March, just as Jock was coming in. It may seem a bit harsh in some eyes to free such a large amount of players, but Jock's reasoning, as ever, was sound. He wanted to know the strengths and weaknesses of a smaller band of players. That would give him the opportunity to work with all of them first hand. There would be no-one at Parkhead who hadn't been assessed by him personally, no-one who had escaped his attention. I remember turning up one Tuesday night and there seemed to be about fifty other players of all ages at our training ground at Barrowfield. Jock had organised a special bounce game and it wasn't to see how good an individual was, it was to see how BAD he was. I got on for about twenty minutes at one stage and, thankfully, did quite well. If I hadn't performed reasonably okay during that short spell then God only knows how my career would have panned out. There were a lot of lads at Barrowfield that evening I never saw again.
'Of course, as a youngster I didn't know any better, but I was continually told by the older pros that it was night and day as to what had gone on  beforehand. Jock was a tracksuit boss and that, too, was unusual. No disrespect to Jimmy McGrory, but players back then were telling me they only witnessed him on matchday and rarely in between. Apparently, they always saw him on a Tuesday because that was the day he handed out the wages! No-one witnessed Jimmy without one of his three-piece suits and trademark trilby perched on his head. There is little doubt Big Jock could be ruthless. He didn't waste his time on any individual he didn't think could produce for the club. Jock had the ability to assess players very quickly.'
One player who would be beating a hasty retreat was Hugh Maxwell, bought only six months beforehand. Stein fielded him in two games and Celtic lost them both, 2-4 against Hibs and 1-5 against Dunfermline. Maxwell, after only eight league games, was on his way. A rather cruel observation from one his soon-to-be former team-mates was, 'Hugh would have looked out of his depth in a puddle.' St.Johnstone paid £10,000 for him in the summer of 1965. In transfer cash terms, that meant the lanky midfielder had cost Celtic exactly £625-per-game. It didn't represent good value for money and the bean-counters at Parkhead must have lain in a darkened room for some considerable time as a consequence. A shaft of light, though, was delivered via the £22,000 purchase of Joe McBride from Motherwell in May. If Stevie Chalmers took an unusual route to Celtic via three Junior clubs, it must be said McBride's path to Parkhead was downright weird. The stocky striker, so often a thorn in the side of his boyhood heroes, was only one month short of his 27th birthday when he signed, but had already played for one amateur team, two Junior clubs and five senior outfits – Kilmarnock Amateurs, Shettleston Town, Kirkintilloch Rob Roy, Kilmarnock, Wolves, Luton Town, Partick Thistle and Motherwell. He may have been perceived as a journeyman forward, but Stein was convinced he was worth the money to become his first major signing at the club. If Maxwell's first appearance was that of a whimper, McBride marked his first league appearance with a goal in a 4-0 triumph over Dundee United. Coincidentally, both full-backs, Ian Young, with a penalty-kick, and Tommy Gemmell, scored after Johnny Divers had hit the breakthrough goal.
JOE McBRIDE…striker supreme.
McBride sparked to life big-time in the League Cup, hammering in seven goals in five appearances, including a hat-trick in an overwhelming 8-1 quarter-final first leg victory over Raith Rovers at Stark's Park. Stein took the opportunity of bringing in Jack Kennedy, a former Irish Olympic goalkeeper, for the meaningless second game against the Fifers, a comfortable 4-0 win. Kennedy, despite having a shut-out, joined Willie Goldie and Dick Madden as the third Celtic custodian in the sixties to play one game for the club before disappearing off the radar.
'Jock Stein always had a great distrust of goalkeepers,' recalled Billy McNeill. 'Maybe he had a bad experience with one or two of them during his playing days. It appeared he couldn't get his head round the fact that we were playing FOOTball and these guys were allowed to use their hands. He was tough on them, too. I remember when we were down at Seamill taking it easy before one big game when Jock appeared and summoned John Fallon, our keeper, to get changed into his tracksuit and join him out on the lawn. He placed some paint pots on the ground to act as goalposts and then produced this enormous net packed with balls. "Right, John, we're going to have a wee work-out," he said. We were sitting in the hotel, our feet up, reading books, watching TV or playing cards and there was our unfortunate keeper out there being put through hell. Big Jock walloped balls at him from all angles for what seemed hours on end. John looked absolutely done-in when he returned.'
Stein gave Fallon the nod for the first Old Firm meeting of the campaign at Ibrox in September. Fallon conceded twice, to Jim Forrest and a George McLean penalty-kick, in a 2-1 defeat with John Hughes getting the consolation goal. Johnny Divers, smack in front of goal, missed a pinch in the fading moments and Stein demonstrated that he could be as uncompromising and unforgiving with his forwards as he was with his goalkeepers. Divers, despite scoring in the opening league triumph at Tannadice and collecting two in the League Cup campaign, never played for the first team again. Bertie Auld recalled, 'Johnny was a more than useful inside-right with a lot of skill. He started in the first team in 1957, played over 200 games and scored something in the region of 100 goals. Not bad going at all, but Jock thought otherwise. Johnny has admitted he had a conversation with Jock after The Boss's return from Hibs and agreed he may have lost a bit of enthusiasm. Jock immediately said, "Then you're no use to me." Poor Johnny. He played against Rangers and missed a good chance. If memory serves correctly, Billy McNeill nodded the ball down into his path and it looked a goal all the way. Johnny swung his boot at it, but the ball bounced awkwardly and he connected with fresh air. The opportunity was gone and the game was lost. Jock absolutely abhorred losing to Rangers and he was far from impressed.
'It was then, I believe, he had his conversation with Johnny and, there and then, the player could have packed his bags and left the club. He trained with the reserves for about three months and was then injured when Willie O'Neill accidentally stood on his foot. That was his season wrecked. He always insisted he knew his time at Celtic was over when he picked up a newspaper and there was a story informing everyone that he was to be given a surprise free transfer. Well, it would have been more of a shock than a surprise, I would think. There must be better ways to discover you are heading out the door. However, that was typical of Jock. Personalities meant nothing to him. He wasn't interested in popularity contests. It was all about Celtic and the players he believed could do a job for the club. You might have questioned his methods, but what wasn't up for debate was his success rate. Johnny gave up football altogether shortly afterwards following a spell at Partick Thistle where his heart clearly wasn't in it. He went into the car business and John Clark remembers spending part of his £1,500 European Cup bonus on a car from Johnny's showroom in Bearsden!'
Stein always had his reservations about Fallon and, although he was not to blame for the defeat at Ibrox, he played only one first team game again that season. Clearly, Stein took no prisoners. A story of the time also told of him making a surprise appearance at a reserve fixture. One first team player was performing in the second string at the time and the manager was furious with what he believed to be a lacklustre display from a man still picking up top team wages. Stein appeared in the dressing room and said, 'Enjoy the second-half – it's the last time you'll ever play for Celtic.' People around the club at the time would agree that such a dramatic action from Jock would not have been unusual.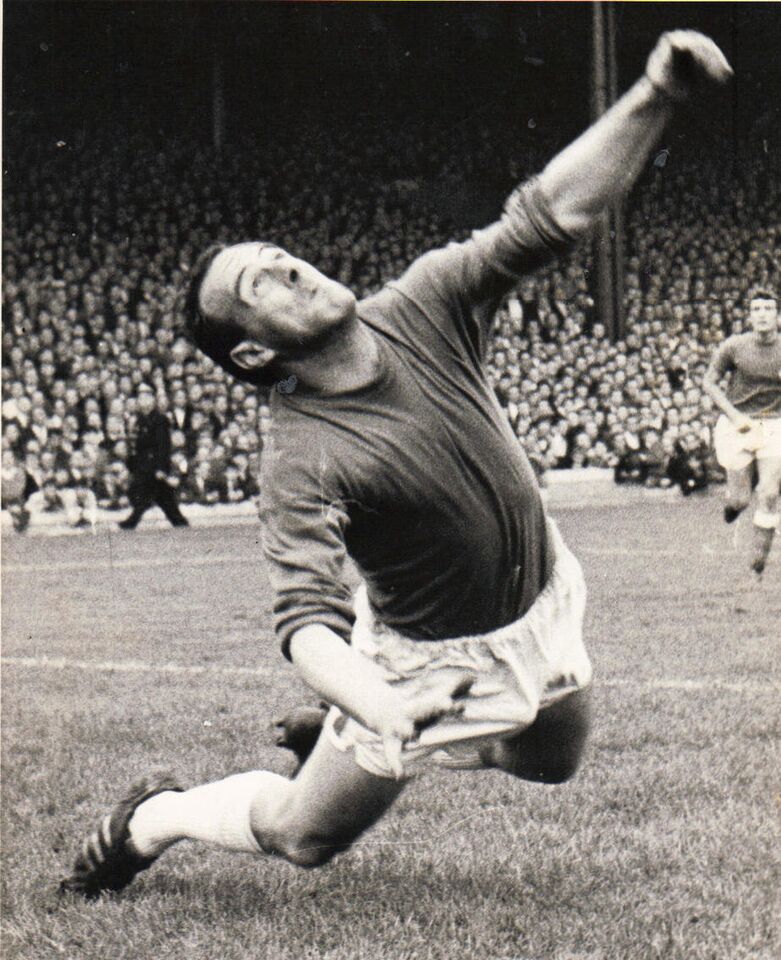 RONNIE SIMPSON…took over from John Fallon.
Ronnie Simpson replaced the unfortunate Fallon a week after the Rangers defeat,  a 7-1 romp against Aberdeen at Parkhead. Simpson, then, had become Stein's third goalkeeper in successive games following Fallon and Kennedy and kept his place for the first game in October, a League Cup semi-final meeting with his former club Hibs at Ibrox with Rangers taking on Kilmarnock in a sensational encounter at Hampden the same day. McBride and Lennox, in the 89th minute, netted in a thoroughly invigorating two hours. While it was deadlocked 2-2 in Govan after extra-time, it was a day when defences took the day off at the national stadium with Rangers triumphing 6-4 in a breathtaking encounter. The Ibrox side had booked their place in the 23 October final and they had also racked up twenty-eight goals in nine games. Jim Forrest seemed to enjoy the early season tournament and had claimed ten of the goal tally.
So, Celtic knew it was their fiercest rivals they could be facing when they returned to Ibrox for the replay against Hibs. Whereas the Easter Road men had erected a solid backline in the first game in front of Willie Wilson, the keeper who had forced Ronnie Simpson out of the Edinburgh club, they were posted AWOL on this occasion with Celtic rampaging to a 4-0 success. McBride and Hughes scored within a five-minute period early on, Lennox swept in magnificent third with the ball being shuttled from the edge of the Celtic penalty area all the way down the pitch without an opponent getting a touch. Murdoch buried the fourth behind the back-clad keeper and there was a moment of controversy when John McNamee, the former Celtic defender, was ordered off. Petulantly, he kicked dirt in the direction of Jock Stein in the dug-out before disappearing up the tunnel.
Celtic and Hibs had protested about Ibrox being the venue for the replay. Both condemned the quality of the floodlights, their concern being shared by both sets of supporters who had difficulty following play, particularly in the first game which was played in a downpour. The Scottish League management committee was approached by Celtic and Hibs to change the venue to Hampden Park which was available for the second game. The Supporters Associations of both teams also formally sent in their protests, but the committee refused to budge and stuck by their earlier decision. Of course, that meant Rangers getting a considerable fee for the rent of their ground.
Simpson kept his place against Rangers in the League Cup Final and the veteran, known as Faither to his team-mates, would remain in charge of the No.1 jersey for the rest of the season. Auld remembered, 'Of course, we were well up for the Rangers match. I never needed extra motivation for any game, but an Old Firm meeting was always special. As I recall, the bookies had us as slight favourites and that was most unusual around those times for a game against Rangers away from Celtic Park. Maybe people were beginning to cotton on to what was happening at Parkhead.'
TOMMY GEMMELL…Celtic's goalscoring full-back.
Gemmell added, 'I loved those encounters, too. I used to get it in the neck from their supporters. They probably thought I was a traitor because I was a Protestant playing for Celtic. I recall when I was an apprentice at Ravenscraig Steelworks and I was about to join up at Parkhead. One of the bosses called me in. "What do you want to join that lot for?" I was asked. To be honest, religion never bothered me and certainly didn't come in to any thought process. I answered, "Why not?" He started to splutter, but never finished his sentence. He didn't need to, I knew the script. He was a big Rangers fan and I shouldn't even have been contemplating signing for "the other lot". You know, my mum never went back to another football game after a match against Rangers when their fans chanted, "Gemmell's a bastard" throughout the ninety minutes. She knew better, of course, but she just couldn't accept the way her son was being treated. Me? It didn't bother me one little bit. Let's face it, they weren't ignoring me, so I must have been doing something right. If I had been anonymous they wouldn't have targeted me. Anyway, I reasoned if they were abusing me they were leaving other players alone so, although they didn't realise it, it was a win/win situation for me.
'Nowadays, I can look back and have a laugh at some of the light-hearted moments in these games. There was a match at Ibrox when a bottle came spiralling towards me from the Rangers enclosure. It dropped at my feet. What was I to do? I picked it up and jokingly went to take a swig. Unfortunately, it was empty. The fans saw the funny side, I'm glad to say. Mind you, a couple of minutes later they were back chanting, "Gemmell's a bastard!" There was also a Rangers player, I won't embarrass him by naming him, who continually called me "a big Fenian bastard." To be honest, I doubt if he knew what the word meant and I couldn't be bothered educating him. I had some memorable jousts with Willie Henderson around that time. The Wee Man was a bit special and, although it would probably have been beyond the comprehension of both sets of Old Firm supporters, we were actually good friends off the pitch. In one game I was a bit late with a tackle on Willie – an accident, honest! – and my wee mate went flying, then got up and ran towards me. "Off! Off!" was the raucous cry from the angry Rangers fans wanting my instant dismissal. They might have laughed if they had heard what Willie was actually saying to me. "Where are we going tonight, Tommy?" he asked. I loved the Wee Barra. Still do.'
Celtic returned to Hampden Park only six months after they had blown apart their silverware jinx. There was a genuine belief among the supporters that they were again witnessing the Celtic of old, a team that refused to roll over, a collection of players with a heart for the battle. No cause was lost until the last shrill of the referee's whistle and that had been borne out in the 2-2 League Cup semi-final draw against Hibs. In dreadful conditions, Celtic relentlessly drove towards the Easter Road side's goal in pursuit of an equaliser and they achieved that with Lennox's last-gasp effort in the regulation ninety minutes. Stein sent out this team against Rangers: Ronnie Simpson; Ian Young and Tommy Gemmell; Bobby Murdoch, Billy McNeill and John Clark; Jimmy Johnstone, Charlie Gallagher, Joe McBride, Bobby Lennox and John Hughes. New striker McBride had scored eleven goals in as many games since the start of the season. Like his Rangers counterpart, Jim Forrest, McBride was a no-frills frontman. 'When I see the whites of those goalposts I just let fly,' he said. 'After that, it's up to the keeper.'
A crowd of 107, 609 – an all-time high for the competition – turned out at Hampden to see if Celtic, after eight years without a trophy, could claim a second inside six months. It would have been a preposterous thought in the early days of the decade. Rangers had been used to bossing these games, but Celtic put down a marker – almost literally – in the early moments when right-back Ian Young sent winger Willie Johnston spinning with a crunching, but fair, tackle. A bruising encounter ensued, no quarter asked or given by either set of players.
Celtic got the breakthrough goal in the most bizarre of circumstances. A long ball from the Celtic defence was sailing serenely out of play when, for no apparent reason, Rangers centre-half Ronnie McKinnon stuck up a hand to pull the ball down. A certain penalty-kick and referee Hugh Phillips duly pointed to the spot. John Hughes took it and sent it straight down the middle as goalkeeper Billy Ritchie launched himself to the right.
UP AND AT 'EM…John Hughes puts pressure on Rangers keeper Billy Ritchie.
'I normally hit them to the keeper's right,' said Hughes, 'but on this occasion I had a late change of mind. I saw John Greig having a word with the keeper moments beforehand and figured he was telling him where I would put the ball. I was the designated penalty-taker and, funnily enough, when I left home that morning I thought to myself, "I hope we don't get any penalties!" It was nerve-wracking enough in normal games, but an Old Firm meeting, especially a Cup Final, was something else.'
The advantage was doubled before the first-half was over and once more it was another stonewall penalty-kick with even the Rangers players failing to protest. Davie Provan, given the runaround by Jimmy Johnstone in the first game of the 1963 Scottish Cup Final, desperately lunged at the winger as he wriggled his way across the 18-yard box. The defender's timing was off, he caught Johnstone just under the knee. Match official Phillips gave the award again without hesitation and Hughes stepped up once more. This time he did strike it to the goalkeeper's right and must have taken a sharp intake of breath when Ritchie guessed correctly and got a hand to the ball.
Hughes said, 'Thankfully, there was enough power behind the shot to force it past the keeper. I was proud of those goals because you're under a lot of pressure taking a penalty, especially against Rangers. I was really pleased with myself.' The Celtic end behind Ritchie once more erupted in delirium. Rangers, as expected, were not about to accept defeat without a fight. They took the game to Celtic after the interval, but the defence in front of Simpson was resolute. There was a fright, though, when Young, panicked by Greig, sent an attempted clearance thumping beyond the helpless Simpson, but Celtic's name was on the Cup, won for the first time since the 7-1 victory over the same opponents in 1957. Unfortunately, the historic ritual of parading a newly-won trophy in a lap of honour to celebrating fans was sabotaged by a pitch invasion from the Rangers end.
Gemmell said, 'We were presented with trophy and, as we had done after beating Dunfermline in the Scottish Cup Final, we were about to take it over to our supporters. There's no way we would have been going all the way round the pitch, that's for sure. Unfortunately, we didn't even get the opportunity to show it off to our own fans. A photograph of me  pulling over a scarf-waving Rangers supporter appeared in the following day's newspapers. Ian Young had been knocked to the ground and a clearly bewildered Billy McNeill was just standing there holding the League Cup. We had earned that trophy and we had earned the right to parade it in front of our loyal support. Sadly, we never got the opportunity. The police eventually arrived on the scene and all the players were ushered down the tunnel. It was an unfortunate ending to a memorable Old Firm occasion.'
The European crusade, now an annual event, had started quietly enough in September, but would end in uproar and controversy in April the following year. As far as the remaining league games of 1965 were concerned, Celtic were on a roll and won eight of their nine encounters with their only falter being a 1-1 draw with Partick Thistle. It was phenomenal football. Celtic reached the turn of the year after scoring fifty-five goals in fifteen league games. Joe McBride had been brought to score goals and he wasn't disappointing, claiming fifteen in his fourteen appearances while rattling in seven in seven League Cup-ties. He added another two from three Cup-Winners' Cup-ties. Twenty-four goals in his first  four months playing for the club he idolised. Now he was on the receiving end of hero worship.
McBride had scored against Dunfermline, Aberdeen, Hearts, Dundee, Stirling Albion, Partick Thistle, St.Johnstone, Hamilton, Kilmarnock, Hibs and Morton in the league and Dundee United, Dundee and Raith Rovers in the League Cup. One name was missing – Rangers. He would get the opportunity to rectify that on 3 January 1966.
* TOMORROW: CQN's exclusive extracts of Alex Gordon's book. 'CELTIC: The Awakening', will continue with the club going in search of the First Division title. Don't miss the next dramatic instalments – only in your champion CQN.
Click Here for Comments >