ODSONNE EDOUARD celebrates his 23rd birthday today and all at CQN wish the Frenchman the very best on his big day.
We also mark the occasion with a question for the talismanic striker: How do you want to be remembered at Celtic?
Edouard is under contract until June 2022, but we all know he will not be at the club next season. There are some who reckon the player won't even see out this month.
However, without getting involved in so-called informed reports or rash speculation, the Parkhead side's costliest player at £9million has some answers to provide.
So, Odsonne, do you want to go out in a blaze of glory? Or a wave of apathy?
Admittedly, there was a colossal weight of expectation on his young shoulders back in the summer as Celtic prepared for a historic crusade on their tenth successive title. Edouard was the main man,  the beguiling individual who had already played his part in guiding the Hoops to a privileged position, sitting on the precipice of unending glory and enduring fame.
NEW BHOY IN TOWN…Odsonne Edouard marks his arrival with a hat-trick against Hamilton Accies in 2017.
It was Edouard, who signed a permanent deal with the club on June 2018 after an impressive season-long loan arrangement from Paris-Saint Germain, who clipped in the Scottish Cup Final winner against Hearts at Hampden on the iconic date of May 25 in 2019.
As the ball sailed towards its destination, the club were minutes away from sealing an unprecedented treble treble, nine consecutive domestic honours.
And it was Edouard who flummoxed his former Parkhead team-mate Craig Gordon with a deft penalty-kick a la Panenka to put Neil Lennon's men two goals ahead in the delayed silverware showdown in the national competition at Hampden on December 20 last year on their way to completing the truly phenomenal quadruple treble.
It was a rare moment of celebration in a season littered with mistakes, on and off the field. Celtic got to the turn of the year after being brutally dismissed from the Champions League, the Europa Cup and the Betfred League Cup while trailing well off the pace in the pursuit of the coveted tenth crown.
Edouard's reputation and sheen had somewhat become diminished amid the mediocrity.
His Premiership goal tally is nothing short of abysmal – a paltry seven goals, four from open play and three via the penalty spot.
The Frenchman has gone from awesome to awful in a bewildering change of fortunes. CQN held a readers' vote on the forward recently. We asked a simple question: Should he stay? Or should he go? We wanted to gauge the feelings of the people who mean the most, the supporter.
JOY BHOY…Odsonne Edouard shows his delight after a superb free-kick against Motherwell.
Astoundingly, 77 per cent in our exclusive poll voted for Edouard to go. In the space of four months or so – and, please remember, he did kick off the league season with a hat-trick in the 5-1 romp over Hamilton Accies on August 2 – the player's standing among the fans had dipped alarmingly.
Celtic book author Alex Gordon reviewed the situation and remarked: "Odsonne's languid style can often lend itself to looking as though he isn't firing on all cylinders.
"However, it must be said there have been some games that appear to have passed him by, where he has done very little of note.
"The Celtic fans with whom I am acquainted would never tolerate a player not giving their all in that green and white jersey. Jock Stein's advice to his team before every game was: 'If your team-mate isn't playing well, give him a hand. He could be the guy helping you in the next game'. Simple and effective.
"Bertie Auld has always insisted the Celtic support was the side's twelfth man. I've known Bertie Auld for decades and was fortunate enough to co-author his autobiography, 'A Bhoy Called Bertie'.
OH NO…Odsonne Edouard holds his head after a missed opportunity in the Euro exit against Cluj.
"He was told by his dad Joe way back in the fifties when he signed for Celtic for the first time to go out on that pitch and show those fans he was one of them. His father pointed to an empty Jungle, the old area where the followers used to make the most noise, and say: 'Get these lads on your side, son, and you'll be halfway there'.
"Bertie Auld never cheated those supporters. He didn't always turn in a world-beating, headline-grabbing performance, but no-one could ever point a finger at him and accuse him of not giving 100 per cent during a match."
Alex, whose fifteenth Celtic book, '50 Flags Plus One,' has just been published, added: "Davie Hay had exactly the same outlook. He came into the team as Big Jock freshened up the Lisbon Lions and introduced home-grown talent such as Davie, Kenny Dalglish, Lou Macari, George Connelly and Danny McGrain.
"Each and every one of them knew what it meant to be a Celtic player. I was honoured to also co-author Davie's autobiography, 'The Quiet Assassin', and in it he emphasises the requirement of playing to the point of exhaustion in the team's cause.
READ ALL ABOUT IT…Bertie Auld's autobiography.
"Davie would reason: 'There were days when the ball just wouldn't run for you. It didn't matter what you did and what you tried, that little sphere just wasn't responding to your promptings. It happens, you just get days when the fates conspire to make life difficult for you.
"All I did in these circumstances was to hitch up the sleeves another notch or two. I may not have been playing particularly well, but no-one would ever be given the opportunity to question my commitment.
"Big Jock knew it, too. If he thought one of his players was not dedicated to what we were trying to achieve they were out in their ear. They would find themselves in the reserves the following week or, even worse, sitting in the stand.
"The competition for those first team shirts was ferocious during my day and there was a genuine loyalty to the club and the supporters."
Alex continued: "There have been no fans to encourage Edouard in what we all hoped would be a landmark season. Possibly, some vocal backing may have spurred the player.
"You cannot accuse him of not giving it all he has. He does possess that nonchalant style, he appears to glide rather than run, and that may be misinterpreted. He comes across as a laidback character, too.
"He may even be perceived as a luxury in a team that is struggling from back to front. One thing is certain, his presence was sorely missed in the match against Steven Gerrard's side back in October. Covid-19 had claimed him for the first time this season and the loss against the visitors that afternoon certainly shook the champions.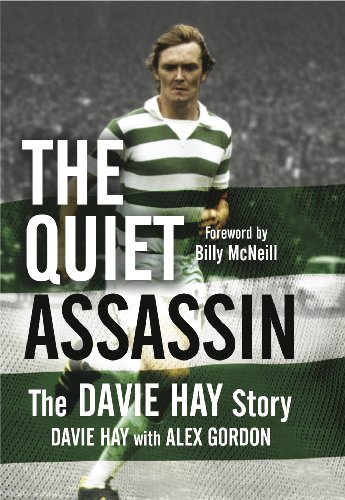 READ ALL ABOUT…Davie Hay's autobiography.
"It seemed to drain their confidence and points were dropped in unaccomplished performances against Aberdeen, Hibs and St Johnstone while the Ross County defeat in the Betfred League Cup remains inexplicable.
"One of the best opportunities that awful afternoon fell to Edouard who hooked the ball over the bar from 12 yards. It was goalless at the time and the breakthrough strike was crucial. You couldn't help but wonder what would have happened last season if the same chance had presented itself to the player. The odds would have been Ross Laidlaw being invited to fish the ball from the back of his net."
As the champions go into action today against Livingston, Edouard will be at home, one of 13 Celtic players ordered to self-isolate following Christopher Jullien's positive coronavirus test after the squad's return from the ill-fated trip to Dubai.
The champions are 21 points adrift with three games in hand. In total, there are still 18 Premiership encounters to play, unless football is forced into cold storage during the pandemic.
Leaving that aside, 18 games equals 54 points. No-one should be in too much of a rush to write off Celtic's title credentials. Of course, it's a monumental ask to hope the team can win every single league confrontation between now and mid-May.
It may be Mission Improbable, but certainly not Mission Impossible.
READ ALL ABOUT IT…Alex Gordon's latest Celtic book, a tribute to 51 title triumphs.
The challenge is there for the current players to accept while meeting the obstacles head on with the same spirit, courage, fortitude and determination that have made the name Celtic synonymous with winners.
Odsonne Edouard has a massive role to play. The ball is at his feet – or, at least, it will be in West Lothian in midweek when he is likely to return for the second part of the double-header against today's opponents.
So, we ask the question again of Odsonne.
Do you want to go out in a blaze of glory? Or a wave of apathy?
Over to you, birthday Bhoy.
* DON'T miss the unbeatable match report from Celtic v Livingston at Parkhead this afternoon – only in your champion CQN.
Click Here for Comments >