CELTIC legend Jock Stein made an extraordinary immediate impact on the Parkhead club when he returned as manager in March 1965.
In another CQN EXCLUSIVE series, author Alex Gordon, who has written fifteen books on Celtic, has opened his publication files on the Parkhead great.
Today, in Part Three of our fascinating look back at these landmark times in the annals of fame at a momentous football club, we turn the spotlight on Big Jock's guidance as the team successfully defended the title they had won the previous year for the first time since 1953/54.
Here are Six of the Best league results as the Hoops swept all before them on their way to a second successive crown in the historic 1966/67 campaign.
CELTIC 2 RANGERS 0 (September 17, 1966)
CELTIC, who had beaten their ancient rivals 4-0 in a Glasgow Cup-tie at Ibrox the previous month, were warned of a backlash from a team who had splashed £100,000 – a remarkable sum of money at the time – on two players to emphasise their ambitions for a new season.
Dave Smith, a skilful left-sided midfielder, arrived from Aberdeen in a £50,000 deal and old-fashioned inside-forward Alex Smith, no relation, was purchased for an identical fee from Dunfermline. They were both ready for their Old Firm league debut.
It was one they were unlikely to forget. Within four minutes, Jock Stein's men were two goals ahead and the contest was as good as over.
The 70,000 fans were still settling into Parkhead when Celtic scored a quickfire opening goal. John Hughes pushed the ball to Bobby Lennox whose breathtaking acceleration took him past a couple of challenges before he flashed a cross into the penalty area. Joe McBride swung at the ball and missed completely, but Bertie Auld, following up, made perfect contact and keeper Billy Ritchie was motionless as the midfielder's effort ricocheted into the net off the base of the upright.
BEST FOOT FORWARD…skipper Billy McNeill clears from Rangers midfielder Alex McDonald.
Referee Tiny Wharton's watch had just nudged beyond the third minute when the home side were awarded a free-kick following a foul by Jimmy Millar on McBride twenty-five yards out.
Lennox touched it sideways to the masterful Bobby Murdoch who thundered a first-time shot at goal. It rebounded from the Rangers defensive wall back to the midfielder. This time he checked his stride and nonchalantly lofted the ball towards Ritchie's top left-hand corner. The frantic custodian pawed fresh air as the effort unerringly zeroed in on its target.
Celtic's superiority shone through as they strode through the following eighty-six minutes. It was only the second league game of the 1966/67 campaign, but Jock Stein's men had already put down their marker.
Simpson; Gemmell, O'Neill; Murdoch, McNeill, Clark; Johnstone, Lennox, McBride, Auld and Hughes.
***
CELEBRATIONS…another game another goal. Bobby Murdoch, Bobby Lennox, Tommy Gemmell and Bertie Auld after a strike against Rangers at Ibrox.
HIBS 3 CELTIC 5 (October 8, 1966)
THE Easter Road encounter was one of the most electrifying and entertaining of an unforgettable campaign, splendidly slugged out by two fierce and gifted combatants in front of a spellbound audience of 43,256.
Celtic had just returned to a heroes' welcome after overwhelming FC Zurich 3-0 in the second leg leg of their European Cup first round confrontation in Switzerland. With the team winning 2-0 in the first game in the east end of Glasgow, it represented a handsome five-goal winning margin.
The travelling fans arrived in fine voice, but they were rendered silent in the tenth minute when Peter Cormack gave the Edinburgh side the lead following Celtic's inability to deal with a straightforward corner-kick. Five minutes later, parity was restored when Joe McBride zipped one low past valiant keeper Thomson Allan at his far post.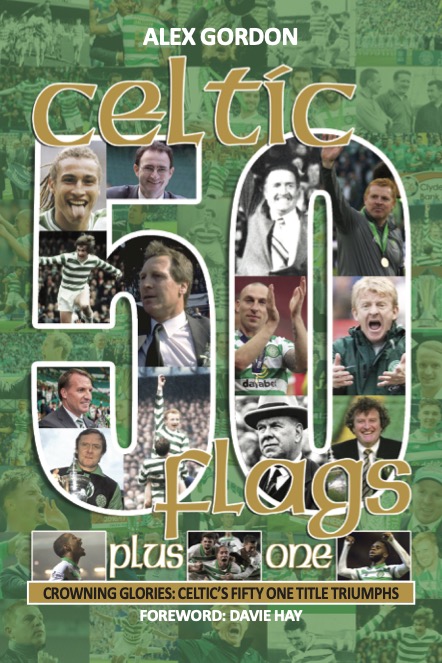 On the half-hour mark, McBride again left Allan helpless, but on this occasion the ball clattered off the woodwork. However, before the Hibs defenders could breathe a sigh of relief, Stevie Chalmers emerged to ram home the rebound. But it was all-square again a mere seven minutes later when Billy McNeill was adjudged to have brought down flying winger Eric Stevenson in the box. Left-back Joe Davis made an excellent job of the penalty-kick.
Remarkably, McBride, an alert and lively predator, scored twice before the interval to swing the advantage back in favour of Jock Stein's team. He was a centre-forward who insisted: "When I see the whites of the goalposts, you can be absolutely sure I'll always have a go." He lived up to his maxim on this occasion, as goalie Allan would surely testify. Just to make sure, the marauding McBride netted his fourth and Celtic's fifth goal in the seventy-fourth minute.
Allan McGraw hit a third in the fading moments for a gallant Hibs side, but the points were heading back to Glasgow after another stirring performance from a team who knew the route to goal – and had the players to punish opposing rearguards.
Simpson; Gemmell, O'Neill; Murdoch, McNeill, Clark; Johnstone, McBride, Chalmers, Auld and Hughes.
***
THE BOSS AND HIS BHOY WONDER…Jock Stein and Jimmy Johnstone.
DUNFERMLINE 4 CELTIC 5 (November 19, 1966)
CELTIC were on the brink of their first domestic defeat of the season until they produced the most amazing and courageous comeback of a memorable campaign.
East End Park was a mudheap on a rain-lashed afternoon and it looked as though the Parkhead side's hopes of survival were disappearing in the swamp. After just over an hour of entrancing football that defied the elements, the Fifers were leading 4-2 and the visitors and reigning champions appeared on the verge of capitulation.
Celtic had walloped their opponents 9-4 on aggregate in their two-legged League Cup quarter-final earlier in the season and their foes clearly sought revenge. And it looked as though they were about to enjoy the privilege of becoming the first team to derail the Jock Stein juggernaut. Ronnie Simpson was beaten twice in the space of three first-half minutes by Hugh Robertson and Pat Delaney.
Bobby Murdoch responded immediately, but Bert Paton restored his side's two-goal lead seven minutes from the turnaround. However, Jimmy Johnstone pulled one back when he pounced on a rebound from keeper Eric Martin.
The 22,000 crowd enjoyed the welcome half-time respite before the hectic action restarted. Within three minutes, the home side were two goals to the good again when Alex Ferguson blasted past Simpson. And that's the way it stood until the sixty-second minute. Bertie Auld, a performer who would never become famous for accepting second best, slid a third beyond Martin and the fight was now on for at least a point.
Celtic lay siege to the Fifers' goal and, seven minutes after Auld's effort, Joe McBride powered his way through the treacherous underfoot conditions before shelling an unstoppable drive high over the shoulder of Martin into the back of the net. Would the champions settle for a hard-earned draw? Not this team.
Centre-half Roy Barry blatantly punched away a crossball in the fading moments and a penalty-kick was awarded. Up stepped McBride and, without the trace of nerves, banged in the winner.
Simpson; Gemmell, O'Neill; Murdoch, McNeill, Clark; Johnstone, Chalmers, McBride, Auld and Lennox.
***
THE PENALTY-BOX PREDATOR…Bobby Lennox puts the pressure on Hearts keeper Jim Cruickshank.
CELTIC 6 PARTICK THISTLE 2 (December 17, 1966)
ALL eyes were on Willie Wallace, the club's £30,000 signing from Hearts eleven days earlier, as he lined up to make his debut against the men from Maryhill.
The stocky raider – only Jock Stein's second signing for the club following his £22,000 purchase of Joe McBride in June 1965 – lined up in an adventurous forward line that simply guaranteed goals. McBride led the attack that crisp afternoon, on a frost-covered playing surface, with Wallace and Stevie Chalmers beside him and Bobby Lennox as back-up.
It took the new signing a mere two minutes before he scored the first of his 135 goals in the green-and-white hoops. Bertie Auld sprung a surprise on the Firhill outfit by abandoning his role on the left to race down the right wing before delivering a peach of a cross into the danger zone. McBride knocked the ball across the face of goal and Wallace headed into the inviting net from six yards.
Chalmers claimed a second in the fourteenth minute following a corner-kick and the 25,000 audience had more to cheer shortly afterwards when Wallace rattled in No.3. Bobby Murdoch hammered in the fourth before Arthur Duncan pulled one back before the interval.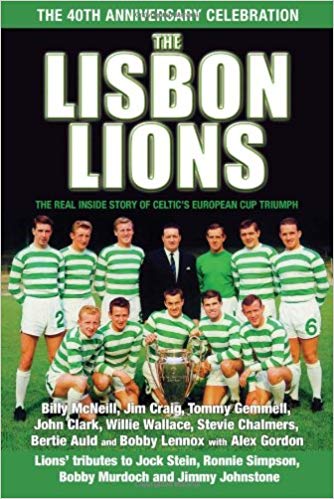 Winter's chill was accompanied by swirling rain and an angry wind at the restart, but it failed to knock the Celtic players out of their stride. McBride, after only eight minutes, netted the fifth – his thirty-sixth strike in a campaign that would be wrecked by injury later in the month. Tommy Gibb, an elegant left-sided midfielder, scorched in a second for Thistle, but, once again, the champions discovered the perfect reply with a sixth and final goal from Chalmers fifteen minutes from time.
The speedy attacker, due to celebrate his thirty-first birthday on Boxing Day, was thought to be the likely candidate to drop out to make way for the incoming Wallace, who, at that time, was the most expensive acquistion in Celtic's history. It was clear Stein hadn't paid top dollar for the versatile performer to occupy a seat in the stand.
Chalmers had been at the club almost eight years since arriving from Shettleston Juniors in February 1959 and wasn't keen to step aside for anyone. On May 25, 1967, he would score Celtic's most famous goal.
Simpson; Gemmell, O'Neill; Murdoch, McNeill, Clark; Chalmers, Wallace, McBride, Lennox and Auld.
***
MIDFIELD MASTERMIND…Bobby Murdoch in control against Aberdeen's Davie Robb and Stevie Murray, who would later become a Hoops team-mate.
CELTIC 5 DUNDEE 1 (January 7, 1967)
THIS was a crucial triumph in a season when winning had become a welcome habit. Celtic had carelessly surrendered their unbeaten record in an untypically poor performance against Dundee United at Tannadice on Hogmanay.
Jock Stein's men were leading 2-1 through strikes from Bobby Lennox and Willie Wallace with seventeen minutes left to play on Tayside when the roof caved in on them. Dennis Gillespie launched a long-range drive high past Ronnie Simpson for the equaliser and, remarkably, only two minutes later, the home side took the lead through Ian Mitchell and held on to earn the distinction of becoming the first team to inflict a league defeat on the champions in nine months.
So, after the games against Rangers and Clyde had been frozen off in Arctic Scotland as a merciless 1967 made its introduction, it was vitally important to witness how the Celtic players would respond to a shock reversal. A crowd of 37,000 hardy souls turned out on a chilly afternoon to welcome the players to another year laced with hope and expectation. Their concerns were swept away in a gloriously-orchestrated triumph over a strong Dens Park line-up.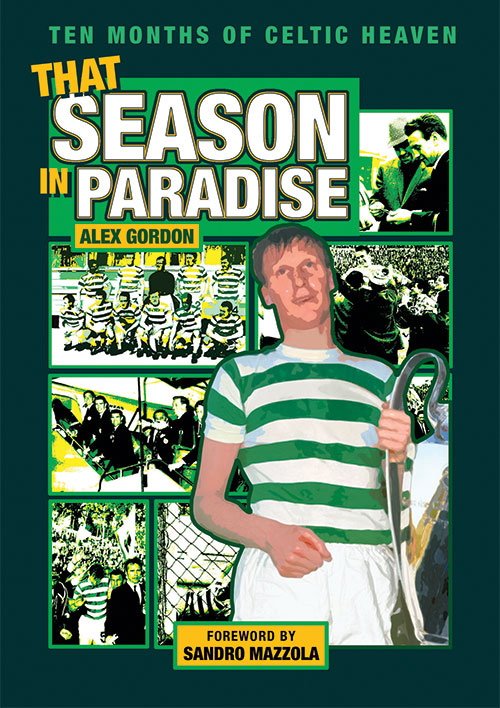 A determined Celtic outfit didn't require any assistance from their opponents, but they got it, anyway, when the unfortunate Bobby Wilson diverted a Bobby Murdoch effort beyond his own goalkeeper, John Arrol. Ninety seconds later, Murdoch split the visitors' rearguard with a penetrating pass straight to the feet of Wallace and he blitzed a second into the net. In the twentieth minute, it was Jimmy Johnstone's turn to join the cavalcade as he got on the end of Charlie Gallagher's sweet free-kick.
Gallagher, who for so long performed in the shadow of Bertie Auld, was a gifted midfielder with outstanding poise and he demonstrated that quality in the twenty-eighth minute when he tamed the ball, turned neatly and struck a shot of awesome power and precision. Once more, Arrol had no answer.
After the interval, Kenny Cameron pulled one back, but, with fitting timing, Wallace fired in the fifth and final goal in the last minute to bring down the curtain on the first game of a momentous year for Celtic and the supporters.
Simpson; Craig, Gemmell; Murdoch, McNeill, Clark; Johnstone, Wallace, Chalmers, Gallagher and Lennox.
***
HIP, HIP, HOORAY…Jock Stein and Billy McNeill celebrate another triumph.
RANGERS 2 CELTIC 2 (May 6, 1967)
CELTIC were singing in the rain at storm-lashed Ibrox Stadium as they fought all the way for the point they required to retain the Scottish First Division title. Not too many fans in attendance that soaking and eventful afternoon, even the most optimistic among the Parkhead following, could have predicted their favourites would win it on another seven successive seasons.
As raindrops the size of golf balls incessantly pelted Glasgow that day, Celtic were about to make absolutely certain their crown would not be swept away. Jimmy Johnstone, in particular, was in a defiant mood as he skimmed over the quagmire that doubled as a football pitch. Unstoppable Jinky gloried in the Govan glaur, a wondrous sight for the beholders wearing green-and-white favours.
The downpour, with the heavy, menacing clouds bursting over the city early in the morning, created chaos with travel and the crowd was a 'mere' 74,000 when 90,000 fans were anticipated. Jock Stein's champions went into the foray with two clean sheets in the previous Old Firm games that season – the 2-0 victory in the league at Parkhead and the 1-0 triumph in the League Cup Final at Hampden.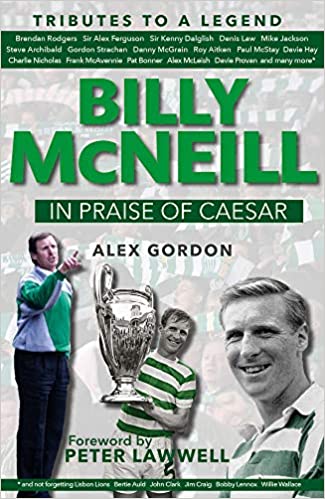 However, with only four minutes remaining in the first-half, Rangers broke the barrier and there was little Ronnie Simpson could do to prevent a thunderous 25-yard drive from Sandy Jardine from exploding into his top right-hand corner of the net. Amazingly, Celtic levelled in an instant when Bobby Lennox squeezed an effort under keeper Norrie Martin. The ball struck the post and Johnstone gleefully arrived to thump in the rebound.
In the seventy-fourth minute, the wee wing wizard scored a spectacular solo goal that left team-mates, opponents and supporters gasping with delight and dismay in equal measures. He picked up a right-wing throw-in from Stevie Chalmers midway in the Rangers half.
No danger threatened as he ambled forward, with left-back Davie Provan pushing him inside onto his so-called weaker left foot. Jinky picked up momentum as the defender trailed behind him and, without warning, hit a shot of devasating power that rocketed from twenty yards high past the astonished Martin. The ball arrived at its destination with a thud that sent showers of rain water from the rigging spraying in all directions.
Rodger Hynd forced in a late equaliser, but it meant little. The championship prize would be extending its stay in the Parkhead trophy cabinet for another year where it later threatened to take up permanent residence.
Simpson; Craig, Gemmell; Murdoch, McNeill, Clark; Johnstone, Wallace, Chalmers, Auld and Lennox.
* TOMORROW: THE JOCK STEIN YEARS (PART FOUR): Hampden hoorays as Celtic overcome Rangers to clinch the League Cup. 
Click Here for Comments >