CQN today conclude our EXCLUSIVE extracts from Alex Gordon's tribute book, 'The Lisbon Lions: The 40th Anniversary', which marked the greatest achievement in Celtic's glorious history.
Fifty-three years ago this month, Jock Stein's all-conquering team became the first British side to win the European Cup when they overcame Inter Milan 2-1 with goals from Tommy Gemmell and Stevie Chalmers in the Portuguese capital on May 25 1967.
Here are some remarkable facts about that record-breaking line-up that take pride of place in the annals of Celtic fame.
* IT cost exactly £42,000 to assemble the Lisbon Lions. The only two players who cost transfer fees were Willie Wallace (£30,000 from Hearts) and Bertie Auld (£12,000 from Birmingham City). Goalkeeper Ronnie Simpson arrived from Hibs in a deal that cost "sweeties", according to the-then boss Jimmy McGrory. Jim Craig, Tommy Gemmell, Bobby Murdoch, Billy McNeill, John Clark, Jimmy Johnstone, Stevie Chalmers and Bobby Lennox came up through the ranks.
* CELTIC had an astonishing 42 goal attempts against Inter Milan with 26 on target. There were 19 efforts inside the penalty area with 23 outside the box.
* CELTIC forced 10 corner-kicks against Inter Milan who didn't have a single one. Jock Stein's side were caught offside seven times as against the Italians' two. Both sides committed 20 fouls each.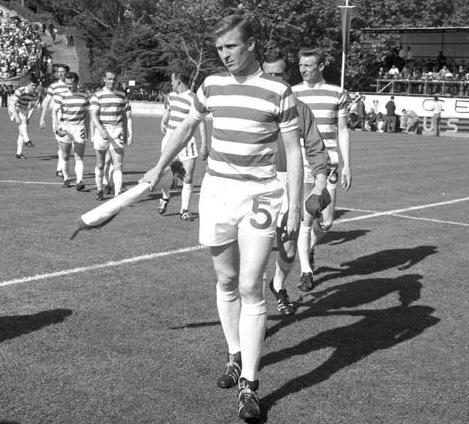 THE WALK OF FAME…Billy McNeill leads his Celtic players onto the pitch for the most unforgettable experience in the club's history.
A WORD IN YOUR EAR…Jock Stein has a chat with Inter Milan boss Helenio Herrera before the kick-off.
* THE Celtic coach travelling from Estoril to Lisbon for the Final was delayed because of traffic congestion. It eventually got to the Estadio Nacional just 45 minutes before kick-off.
* BILLY McNEILL made 69 European appearances for the club between 1962/63 and 1974/75.
* JIMMY JOHNSTONE scored 16 goals in 64 European games between 1963/64 and 1974/75.
* WILLIE WALLACE claimed 13 goals in only 26 European appearances between 1966/67 and 1971/72.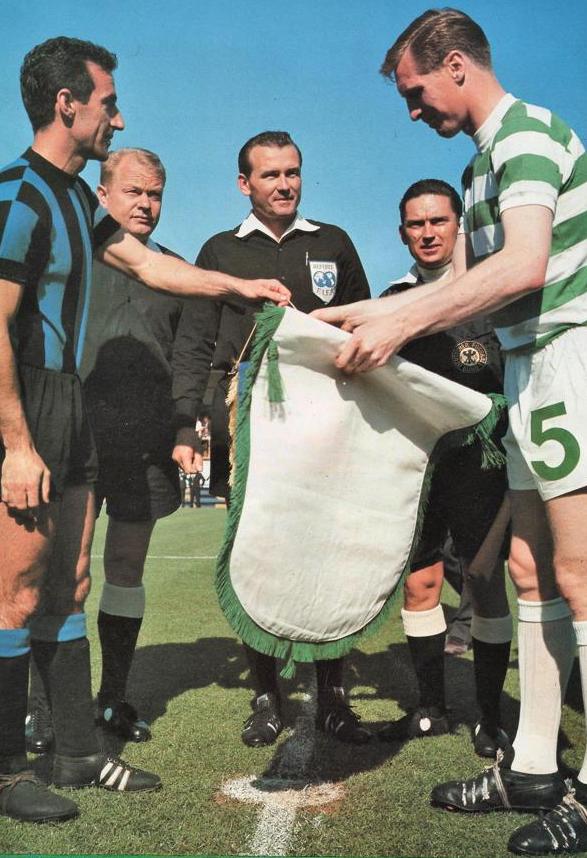 NINETY MINUTES FROM HISTORY…Billy McNeill exchanges pennants with Inter Milan skipper Armando Picchi.
AIR WE GO…Jimmy Johnstone flies through the air as he fires a shot past keeper Giuliano Sarti that flew just over the bar.
THE ITALIAN JOB…Tommy Gemmell and John Clark keep an eye on dangerman Sandro Mazzola.
* BOBBY LENNOX became the last of the Lions remaining at the club after Billy McNeill, at 35, announced his retirement following the 3-1 Scottish Cup Final win over Airdrie in 1975.
* IT is a popular misconception that Rangers were the first team to beat the Lisbon Lions. The Ibrox side did, indeed, win 1-0 on their own ground in a league game on September 18, 1967 with a goal from Orjan Persson. However, David Cattenach was in the Celtic line-up that afternoon in place of Jim Craig.
* KIEV DYNAMO were the first side to overcome the Lions when they won 2-1 in Celtic's first defence of the European Cup at Parkhead. Celtic had Bobby Murdoch sent off as they drew 1-1 in Russia, but still went out on a 3-2 aggregate. Bobby Lennox scored both goals. John Hughes replaced Stevie Chalmers for the second leg.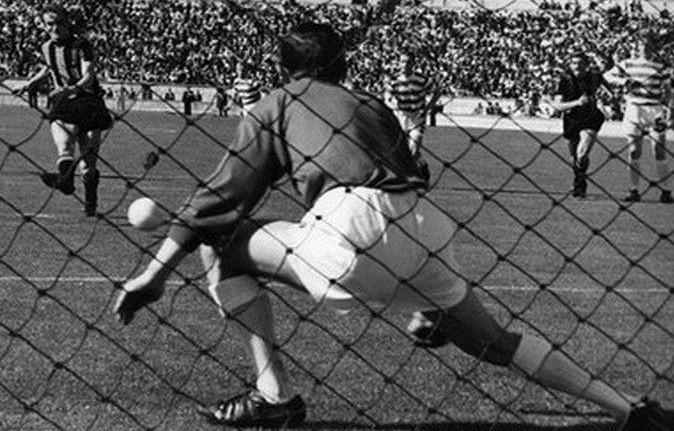 SPOT OF BOTHER…Ronnie Simpson goes the wrong way as Sandro Mazzola strokes home a perfect penalty-kick.
BERTIE ON THE BALL…Celtic's ace midfielder Bertie Auld poses a threat.
OFF TARGET…Willie Wallace fires in a shot that flies wide with Armando Picchi getting a close-up view.
* AN end of an era was witnessed at Celtic Park on May 1, 1971 when the Lions appeared together for the last time. Ronnie Simpson, who had already announced his retirement, was in the line-up as it was led out by Billy McNeill, but he was replaced before the start by Evan Williams. Celtic beat Clyde 6-1 with three goals from Bobby Lennox, two from Willie Wallace and one from Stevie Chalmers.
* BERTIE AULD, praised by many as Celtic's architect-in-chief of their win over Inter Milan, left the club on a free transfer for Hibs on May 6, 1971. Shortly afterwards Stevie Chalmers and John Clark left for Morton and, within a year, Tommy Gemmell had joined Nottingham Forest, Willie Wallace and John Hughes moved to Crystal palace and Jim Craig signed for South African side Hellenic.
* JOCK STEIN bought Willie Wallace from Hearts as a direct replacement for the unlucky Joe McBride who was ruled out for the remainder of the campaign after injuring a knee against Aberdeen at Pittodrie on Christmas Eve, 1966. The prolific McBride still finished the season as Scottish football's top scorer with 35 goals in all competitions.
THREE CHEERS…Tommy Gemmell, Bobby Murdoch and John Clark celebrate with an unknown interloper.
BEAR NECESSITIES…goal heroes Stevie Chalmers and Tommy Gemmell celebrate with a 'friend'.
* TOMMY GEMMELL and John Clark were Celtic's only ever-presents in the triumphant 1966/67 season. They played in all 62 games. Captain Billy McNeill turned out 61 times.
* A TOTAL of 21 players were used during the season. In all five competitions won by the club, they scored 196 goals in 62 games. They won 51 and drew eight. They lost three times – to Vojvodina in the first leg of their European Cup quarter-final in Yugoslavia and twice to Dundee United, 3-2 home and away. They conceded 48 goals in total.
* CELTIC claimed 111 goals as they retained their title. Goalscorers: Stevie Chalmers (23), Joe McBride (18), WIllie Wallace (14), Bobby Lennox (13), Jimmy Johnstone (13), Tommy Gemmell (9), Bertie Auld (7), John Hughes (6), Bobby Murdoch (4), Charlie Gallagher (2). There were two own goals from George Miller (Hearts) and Bobby Wilson (Dundee).
S-T-R-E-T-C-H…Bobby Murdoch cuts out a cross intended for Mario Corso.
* CELTIC claimed the Scottish Cup with a 2-0 win over Aberdeen at Hampden on April 29, 1967 where Willie Wallace hit both goals. They played six games in all, including a semi-final replay against Clyde. They scored 20 goals and conceded three. Celtic team in final: Simpson; Craig and Gemmell; Murdoch, McNeill and Clark; Johnstone, Wallace, Chalmers, Auld and Lennox. Attendance: 127,117.
* A GOAL from Bobby Lennox gave Celtic a 1-0 triumph in the League Cup Final over Rangers at Hampden on October 29, 1966. The club played 10 games in all in the competition, winning them all and scoring 35 goals in the process. They conceded seven. Celtic team in final: Simpson; Gemmell and O'Neill; Murdoch, McNeill and Clark; Johnstone, Lennox, McBride, Auld and Hughes. Stevie Chalmers replaced Hughes in the second-half. Attendance: 94,532.
HOOP HOOP HOORAY…the European Cup is on its way to the east end of Glasgow.
HEAD BHOY…Bobby Murdoch diverts in a cross, but Inter Milan keeper Giuliano Sarti is alert to the threat.
HOWLING SUCCESS…Bobby Murdoch and physio Bob Rooney get caught up in the moment.
* CELTIC won the Glasgow Cup with a 4-0 victory over Partick Thistle on November 7. Bobby Lennox (3) and Stevie Chalmers were the goalscorers. George Niven was in goal for the Firhill side – he had been the Rangers keeper beaten seven times when Celtic won the League Cup in 1957/58. Celtic team in final: Simpson; Gemmell and O'Neill; Murdoch, McNeill and Clark; Chalmers, Gallagher, McBride, Lennox and Auld. Attendance: 31,000.
* BOBBY LENNOX started the Glasgow Cup competition with a hat-trick in the 4-0 victory over Rangers at Ibrox where Billy McNeill opened the scoring. Celtic also beat Queen's Park 4-0 in the second round at Parkhead with goals from Joe McBride (2), Bobby Lennox and Charlie Gallagher.
* THREE goalkeepers turned out for Celtic throughout the season – Ronnie Simpson (60 appearances), John Fallon (1) and Bent Martin (1).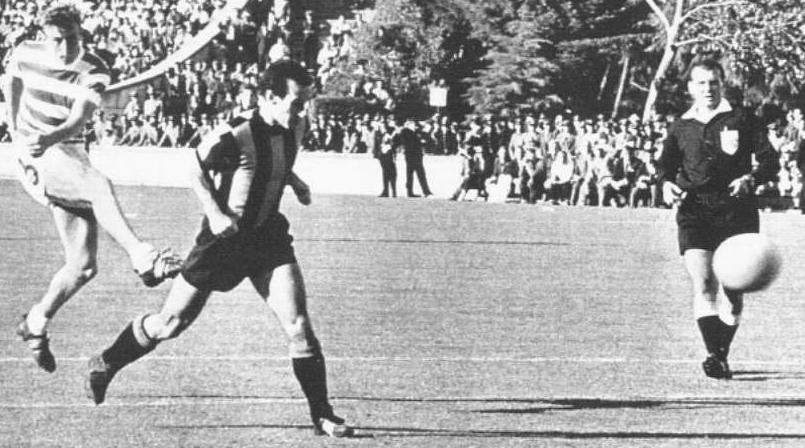 THE EQUALISER…Tommy Gemmell sizzles in the pulverising first-time effort that made it 1-1.
THE WINNER…Stevie Chalmers touches home a Bobby Murdoch left-wing cross and Guiliano Sarti is beaten for the second time.
HALLELUJAH…the Celtic players erupt in joy at the full-time whistle in Lisbon.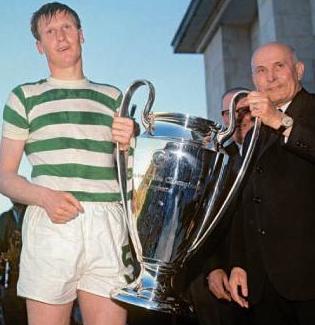 HAIL CAESAR…Billy McNeill with the ultimate prize, the glittering European Cup.
* STEVIE CHALMERS netted Celtic's first league goal of the season when they beat Clyde 3-0 at Shawfield on Saturday, September 10, 1966. He also got the club's last competitive goal of the season with the winner against Inter Milan.
* BOBBY LENNOX brought the curtain down on a marvellous season when he netted the winner in the 1-0 triumph over Real Madrid at the Bernabeu Stadium in Alfredo di Stefano's Testimonial Match on June 7.
ALL GOOD THINGS COME TO THOSE WHO WAIT…
CQN would like to thank our readers for their patience in the interruption to the launch of Alex Gordon's latest Celtic book, 'Fifty Flags', which was due to be published in March.
Unfortunately, production of the tome, which thoroughly examines the glorious half-century of seasons in which the Parkhead men were crowned Scotland champions, came to an unfortunate halt due to the coronavirus pandemic lockdown.
The support for 'Fifty Flags' has been overwhelming and author Alex said: "The response to the book has been utterly astonishing and I can only say how totally grateful I am to CQN readers for their backing. I can only hope it will be worth the wait.
"We are depending on the printers letting us know when the run will commence and we are in their hands at the moment. It will be published this year and CQN will keep the readers up to date. Thanks for your patience, folks. It's much appreciated. 
"Main thing, though, in these testing times is to take care and stay safe. See you all when we get the green light."
Click Here for Comments >