TOMMY BURNS was just 90 minutes away from his first silverware in his debut season as Celtic manager after returning to the club on July 12 1994.
The League Cup had been lost in a sensational penalty-kick shoot-out to Raith Rovers in November, the league was blown, but the Scottish Cup was tantalisingly close.
In another CQN EXCLUSIVE series, we chart Tommy Burns' career as the Hoops gaffer during turbulent times on and off the field. Here is the sixth instalment from Alex Gordon's tribute book, 'The Winds of Change', which was published by CQN in 2015.
Please enjoy.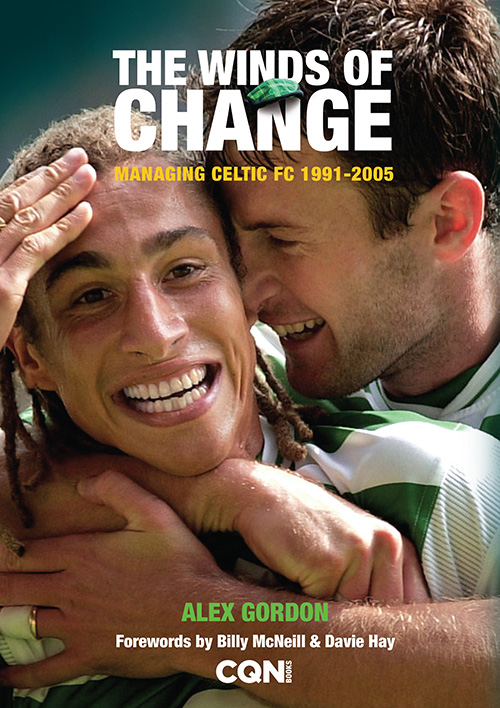 THE days ticking down to the Scottish Cup Final must have been agonising for Peter Grant.
The grim reality was that he would be unlikely to be fit to take his place in Tommy Burns' selection. However, no-one who knew Peter Grant would ever write him off. Burns was aware of the player's single-minded determination, but, with just under two weeks to go to the grand finale, he confided in friends: "Peter's got no chance."
It may have been a surprise to many, then, when the Celtic manager read out the 11 players entrusted with bringing the first trophy to Parkhead after six years entrenched in football's wasteland. Grant, somehow, had magically reached a level of fitness that persuaded Burns that he could play his part at Hampden. He got the nod and it was a decision the Celtic boss would never regret.
He went with this line-up: Pat Bonner; Rudi Vata, Tommy Boyd, Mark McNally, Tosh McKinlay; Peter Grant, Paul McStay, John Collins; Brian McLaughlin, Pierre van Hooijdonk and Simon Donnelly. It showed four changes from the formation which had kicked off the competition with a 2-0 win over St Mirren at the same venue back in January.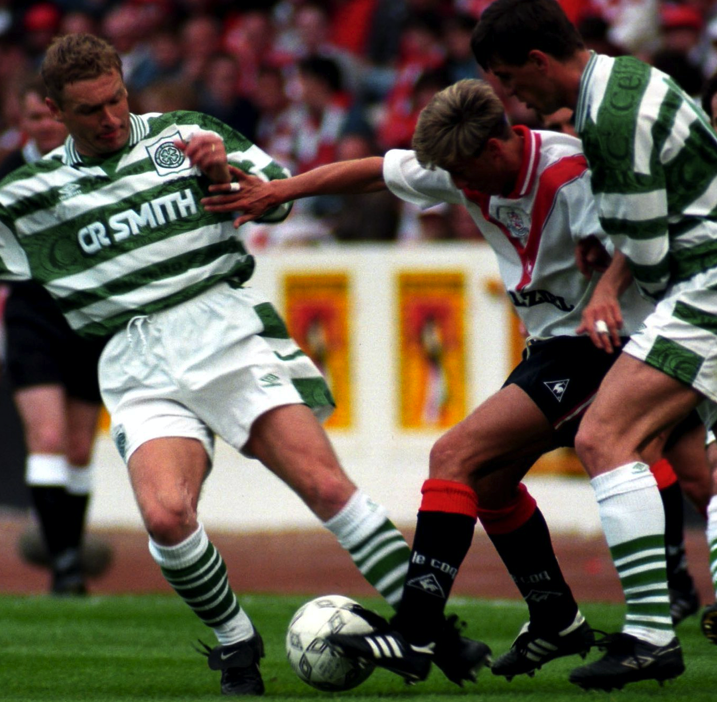 MY BALL…Peter Grant goes in determinedly to challenge Airdrie striker Andy Smith while Phil O'Donnell looks on.
Brian O'Neil, Stuart Gray, Phil O'Donnell and Willie Falconer were out. O'Neil would almost certainly have played, but, unlike Grant, his leg injury didn't respond to treatment and he was in the stand that eventful afternoon. McStay returned after being suspended for the opening tie while Vata, Donnelly and McKinlay, signed from Hearts for £350,000 the previous November, also came into the reckoning.
Tony Mowbray had missed the St Mirren match while on compassionate leave following the tragic death of his wife Bernadette and, although he had returned to playing, he was serving a ban by the time the Cup Final arrived.
With O'Neil out, Burns brought Boyd in from the flank to partner McNally, who had last started a game back in February against Hearts in a 1-1 draw at Tynecastle. Vata was given the right-back role. McStay was the most experienced Cup Final exponent on the day, making his sixth appearance on the campaign's most glittering occasion. He had been successful in 1985, 88 and 89, but a loser in 1984 and 89.
McStay was also well aware of the fact that the club hadn't won a trophy in his five years as captain.
RISE AND SHINE…Pierre van Hooijdonk leaps high to get to a Tosh McKinlay left-wing cross.
PICK IT OUT…Airdrie keeper John Martin sprawls in vain as the Dutchman's header eludes his grasping fingers.
It was a day for those performers who possessed a backbone to stand up and be counted and no-one wore the badge of courage more resolutely than Grant, an absolute colossus in midfield and defence. And his qualities were required during what turned out to be a difficult, nervy afternoon for Celtic.
It was a bright, windless day at Hampden when Donnelly tapped the ball to Van Hooijdonk to get proceedings underway. Celtic actually began the encounter with a praiseworthy verve and gusto. In the opening minutes, McKinlay curled in a right-wing corner-kick with his cultured left foot. McNally was totally unguarded as he got on the end of it, but wastefully headed wide of the post from 10 yards.
Billy McNeill, once again adopting his match summariser's role for TV, could only utter: "McNally's not got an awful lot to do to meet the ball. He should have hit the target."
McKinlay also supplied an inviting left-wing cross which was hastily cleared by Kenny Black from six yards while McStay lurked with intent. The Broomfield outfit were under pressure and McKinlay was invited to take another right-wing corner-kick. Once again, the danger was cleared, but it was evident the left-back was finding his range.
HOOP HOOP HOORAY…Pierre van Hooijdonk celebrates his Cup Final matchwinner.
Tommy Burns and Billy Stark stood side-by-side at the dug-out and surely must have been satisfied with that they were witnessing. Bonner, at this stage, was a virtual spectator; nothing had been seen of the twin threat of Steve Cooper and Andy Smith. Early on, the keeper had come off his line in confident fashion to swallow up a long hanging cross as Cooper clattered into him. Bonner kept his concentration, crashed to the ground, but still held onto the ball.
Burns had urged his players to get an early goal and they obliged in the ninth minute. Unsurprisingly, the wholehearted Grant played a significant role in the lead-up. A ball was hoofed up the park deep into Airdrie defensive territory on Celtic's left wing. Jimmy Sandison, believing he had all the time in the world, practically jogged over to retrieve the misplaced pass.
However, Grant embarked on a lung-bursting 50-yard sprint to put pressure on the defender. Sandison was slow to react and his hasty clearance was picked up by Collins who immediately switched play across to the right with Vata running into space and he toe-poked the ball to McLaughlin.
THE CUP THAT CHEERS…Tommy Burns holds aloft the newly-won Scottish Cup.
Black was forced to push the ball out for a throw-in which the Albanian defender took swiftly, lobbing the ball to McLaughlin. His cross into the box was watched by the hesitant keeper John Martin and was scrambled clear by back-four operator Jimmy Boyle who must have thought he had taken care of the immediate threat as his clearance soared out of the danger zone.
However, it fell at the feet of McKinlay, who took a touch before angling over an exquisite left-wing cross. Van Hooijdonk seemed to hover in the air as he climbed above the defence to meet the cross with absolute perfection. The ball smacked off his forehead and the effort was directed down and away from the sprawling Martin.
As the net swished behind the goalie, Hampden erupted into pure and unbridled green-and-white joy; scarves and banners swaying in glorious technicolour. It was another 'Oh-Hampden-in-the-sun' moment and it had been a long time coming.
The trick now was to prevent Airdrie sourcing an equaliser. Bonner helped considerably when the nippy Alan Lawrence got clear of Boyd in the box to thump a right-foot drive at goal, but the irishman got down well to block the effort. The fans groaned when it became obvious Van Hooijdonk would play no further part in the contest as he limped off before the interval with Falconer sprinting on to take his place.
JOY BHOYS…Pierre van Hooijdonk and John Collins celebrate with Rudi Vata about to join in.
It can come as no surprise that palpitations were in evidence throughout the Celtic team in the second-half. McStay and Collins did their best to bring a veneer to the play, but it was all far too hectic and frantic with Airdrie, admittedly, forcing the pace. Alex MacDonald's team chased every ball, harried their opponents and rarely stopped for a breather.
Boyd and McNally didn't look comfortable against Cooper and Smith. Grant noted the situation and dropped back to play in front of them, mopping up threats before they reached the penalty area.
Collins underlined why he did his best work with the ball at his feet when he squandered a glorious opportunity to deflate Airdrie's spirit. Falconer caught out his opponents with a superb left-foot cross from the right wing and Boyle failed to pick up Collins as he sprinted into acres of space. The midfielder threw himself at the ball only 10 yards out and sent a careless header wide of Martin's right-hand post.
Burns attempted to seal the midfield when he took off Donnelly and replaced him with Phil O'Donnell. There was an ugly moment when Black caught Grant from behind with the ball long gone. The Celt went down writhing in agony and the Airdrie man could count himself lucky he found referee Les Mottram in a lenient mood. It was nasty and Grant needed treatment to his right knee before he could unsteadily get back to his feet.
DUTCH OF CLASS…Pierre van Hooijdonk with the Scottish Cup.
There is no way you can keep a good man down, though, and the moment that epitomised Grant's desire to bring success to Celtic that afternoon was perfectly caught in a split-second of raw courage when he thwarted Lawrence and the genuine threat of an equalising goal.
McNally was eliminated when he misjudged a high kick-out from Martin and the ball bounced to Lawrence, running clear in the penalty box. He was about to pull the trigger when Grant took off on a do-or-die mission. He blocked the shot with his right boot and the danger was snuffed out in an instant. Once again, though, he thrashed around in obvious distress and it looked as though he might not be on the pitch to savour the final whistle and the spontaneous eruption of happiness at the national stadium.
A wounded warrior, he got to his feet and a minute or so later there came the tannoy announcement that he had been named the sponsor's Man of the Match. It could have gone to no-one else.
Grant burst into tears at the end as did his skipper McStay. Burns hugged Stark and then went in search of rival manager MacDonald to offer his hand in condolence. And then the party got into full swing.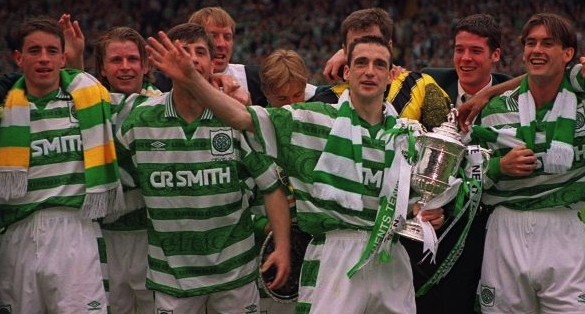 HAMPDEN HEROES…captain Paul McStay with the Scottish Cup as his team-mates celebrate their silverware success after a tense Hampden encounter.
Burns looked around the bouncing, singing supporters, waved an expansive arm in their direction, and said: "This is what Celtic Football Club is all about. We're only here to do a job. They're the guys who pay the money, they pay the wages. We're their servants and I'm absolutely delighted for them.
"I'm now going to give Peter Grant a big kiss. I thought he was unbelievable today. I don't know what we would have done without him. He was magnificent. I'm happy, too, for Paul McStay. The captain has had a hard time of it and I'm so proud of him."
Burns looked at the actual game and said: "Airdrie competed well and they did the things they're good at. I don't think we played well at all. But, to be fair, we were under a helluva lot more pressure than them."
Later on, at the celebrations at Celtic Park, Tommy Burns reflected: "I know the players we want to bring to this club and we'll do business in the summer to get them here. Now we have won a trophy and we are going back to our own home to play our football."
He smiled and added: "It's a new start for Celtic Football Club."
*TOMORROW:  Don't miss the seventh EXCLUSIVE instalment of The Tommy Burns Story.
Click Here for Comments >