TODAY is a special anniversary in the glorious history of Celtic Football Club.
It was on this day in 1888, the team played Rangers for the first time in a competitive match at the original Ibrox Park and the visitors romped to a landslide 6-1 triumph with Mick Dunbar firing in a double and Tom Maley, Johnny Coleman, Jimmy Kelly and Willie Groves adding the others.
A crowd of 4,000 witnessed the Glasgow Cup spectacle and the east end club rallied in great fashion after conceding the opening goal.
Celtic, of course, had played their first-ever game against the same opponents on May 28 the same year and had emerged victorious, this time on a 5-2 scoreline. Back then, relations between the Glasgow neighbours were somewhat more cordial.
In another CQN EXCLUSIVE, author Alex Gordon looks back at the landmark moment in the life of one of the world's greatest sporting institutions in his fifteenth Celtic book, '50 Flags Plus One', which covers the first fifty-one untainted championships won by the famous old team.
Please enjoy a trip down football's memory lane.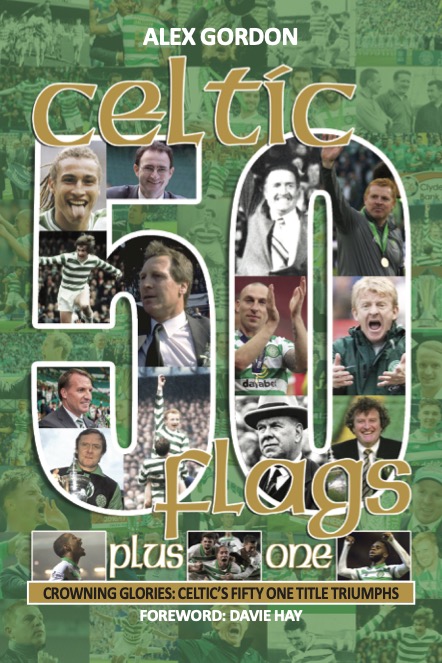 CELTIC took their first steps onto the football pitch at their recently-completed ground for an intriguing fund-raising encounter on Monday, May 28 1888 and Neil McCallum scored the club's first-ever goal after ten minutes in a 5-2 victory over Rangers. In a crowd of around 2,000 spectators, the males paid sixpence each to witness the spectacle. Women were allowed free admission.
On May 9 1893, Celtic collected their first championship, three years after the Scottish League had been founded. Celtic were late starters with Rangers coming to life fifteen years ahead of them, Hibs were thirteen years in advance and Queen's Park, Scotland's oldest club, had been playing since 1867. But the team from the east end of Glasgow were destined to make up for lost time in their quest for silverware.
The League was formed on April 30 1890 and Celtic were among the eleven founder members along with Abercorn, Cowlairs, Cambuslang, Dumbarton, Hearts, Rangers, St Mirren, Renton, Third Lanark and Vale of Leven. It didn't take long before they celebrated their first flag success when two goals from Jimmy Davidson and one from Johnny Madden overcame Leith Athletic 3-1 at Celtic Park.
They were up and running in the title-collecting business. One hundred-and-twenty-six-years later, they clinched the half-century with a 3-0 triumph over Aberdeen at Pittodrie on May 4 2019. Number fifty-one arrived a year later in extraordinary circumstances. In between, there were more than a few thrills, spills and controversies among the celebrations.
Strange as it may seem, winning the First Division title back then was not greeted with quite the emotion and enthusiasm it generates today. The Scottish Cup was seen as the more prestigious competition and Queen's Park, in fact, initially declined the opportunity to play in league football. However, as their fixtures dwindled through lack of competition, the amateurs reluctantly came on board in 1900.
Some clubs' insistence of offering financial inducements to their players for their skills and efforts on the playing field was perceived to be a genuine concern. Celtic treasurer John McLaughlin, in his guise as secretary of the Scottish League, spoke at the 1893 Scottish Football Association annual meeting and, rather eloquently, put it this way: "You might as well attempt to stop the flow of Niagara with a kitchen chair as to endeavour to halt the tide of professionalism."
Even jolly, old Queen's Park, who have rejoiced in the nickname Spiders since the first ball was kicked, eventually caved in to the call to pay players and passed a vote to reassess their model. That overwhelming ballot was carried out on November 14 2019 – one hundred and fifty-two years after their birth.
John McLaughlin, it must be acknowledged, was a visionary when football was in its infancy. The Glaswegian, of Donegal stock, lived for part of his life in the city's Duke Street, a short distance from where Celtic Park would be built, and, at a mere twenty-four-years of age, one of the youngest founding fathers. To many, he was without doubt the best football legislator in the country who was devoted to Celtic and played an outstanding pivotal role in the early years. His contribution to the club should never be overlooked.
In Celtic's landmark debut championship success, with ten teams competing in an eighteen-game league with two points for a win and one for a draw, they had been performing at the new Celtic Park, an arena that was the envy of many. It was clear the players were comfortable at their spacious ground and the team reached the turn of the year without a defeat on home soil. The form had been consistently good and only a 3-1 reverse against Hearts in Edinburgh and a 2-2 draw against Rangers at Ibrox saw them stumble. They exacted revenge on the Tynecastle side when they walloped them 5-0 in Glasgow in front of a superb crowd of 10,000. Celtic were heading in the right direction on and off the field.
The team, as would become the traditions, was laced with characters. Dan Doyle was a free spirit at left-back and was Tommy Gemmell before Tommy Gemmell. The half-back line consisted of Willie Maley, James Kelly and Tom Dunbar and was the best in the division while Sandy McMahon, known as 'The Duke', was a gifted goalscorer and a lover of literature when he took time off terrorising opposing goalkeepers and defenders.
On March 18, Celtic posted their intentions with a 5-1 win over Dumbarton at Parkhead and away victories followed over Renton and Third Lanark. McMahon was unstoppable at Cathkin Park and thumped in a hat-trick in a 6-0 success. The title was now in focus and there was a decisive encounter with Rangers looming at home on April 29. Their Glasgow neighbours brought a huge following across the Clyde in a vociferous crowd of 14,000. Back then, the rivalry was confined to deeds on the football pitch.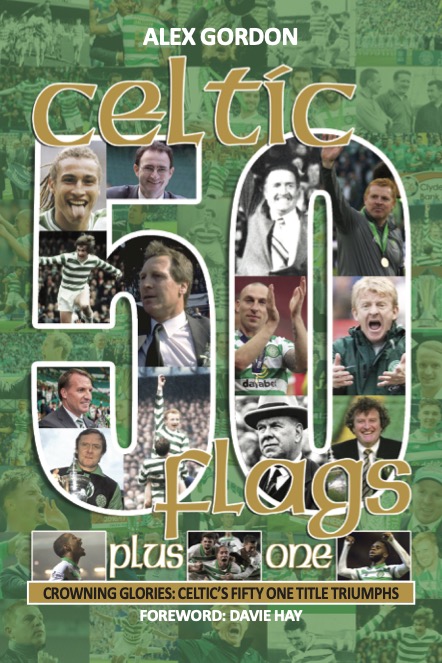 Sectarianism had yet to raise its ugly head. In ancient times, the clubs were quite cordial and Celtic secretary McLaughlin actually played piano with the Rangers Glee Club! It was Celtic who were in fine tune, though, in the game as they raced to a two-goal half-time advantage with long-range efforts from James Kelly and Johnny Campbell eluding the Rangers keeper on a windy afternoon. The third goal came from the redoubtable McMahon.
So, the first championship was on its way to its new home at Celtic Park. Interestingly, Celtic were actually trailing Rangers at the time with twenty-five points from fourteen games, a point adrift of their Ibrox rivals. However, their Glasgow neighbours had played three more games and, after their loss in the east end of the city, they were reported be "crestfallen". They acknowledged the advantage had been passed to Celtic who had to play St Mirren, Leith Athletic and Third Lanark at their seemingly-impregnable fortress.
The other encounter was at Clyde. Only a monumental collapse would see Celtic failing to get their hands on the crown. Their grip tightened with a 4-1 victory over the Paisley Saints where McMahon and Campbell each grabbed a double. Clyde scored first in the next match, but the prolific McMahon and newcomer James Blessington retaliated with strikes after the turnaround. The silverware was in sight.
On a wet Tuesday night on May 9, a double from Jimmy Davidson, playing against his old Leith Athletic team-mates, and another from Johnny Madden secured a 3-1 triumph and the crown by a solitary point.
One down, fifty to go. And counting.
Click Here for Comments >