DAVIE HAY was appointed Celtic manager EXACTLY 40 years ago today.
The popular former player, a competitive performer at full-back or in midfield, was tasked with taking over from fellow-legend Billy McNeill after the Lisbon Lion sensationally quit for Manchester City.
Hay, who was only 35 at the time of his appointment, led the team to a Scottish Cup in 1985 and the league title a year later – before departing in the summer of 1987 with McNeill returning for the Hoops' centenary year.
In another CQN EXCLUSIVE, Davie Hay, now 75, tells his own version of the day he took charge of the Parkhead club.
Here is an extract from 'The Quiet Assassin', the 2009 autobiography co-authored by his friend Alex Gordon, writer of fifteen Celtic books.
Please enjoy.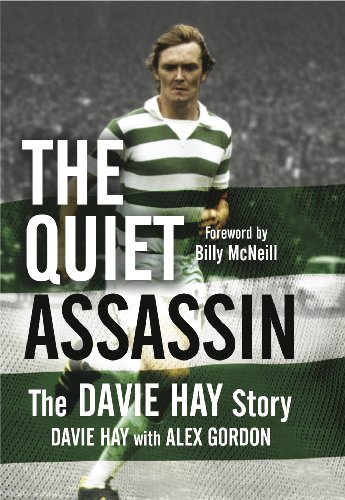 I HESITATED for all of a heartbeat before agreeing to become manager of Celtic Football Club in the summer of 1983. I am well aware of a story that continues to do the rounds that I asked for a few days to think over my decision before succeeding Billy McNeill.
Not true. I met chairman Desmond White at director Jimmy Farrell's house in Newton Mearns, in Glasgow's south side, and I said yes in an instant. What was there to mull over? I saw it as an honour to even be asked in the first place.
Some folk might be a bit confused because I did ask for the weekend to get business matters sorted out regarding my pub in Paisley. Believe me, though, there were no second thoughts about accepting the post of what I regarded the best job in football. I loved the club, its magnificent support and I relished the challenges that lay ahead. Davie Hay, Celtic manager. It had a nice ring to it.
I was thirty-five-years-old when I moved into the office that had once been occupied by the great Jock Stein, the man who had had such an influence on my career. I looked around the place, took a deep breath and then started to get on with the job.
Obviously, I am not one to put myself under pressure, so I promised the Celtic fans at least one trophy in my first season or I would resign.
READ ALL ABOUT IT…Davie Hay signs copies of Alex Gordon's 'Caesar and The Assassin', the tribute book to the former Celtic player and manager and his fellow-legend Billy McNeill. 
I revealed that to a couple of newspaper reporters and the following day there were massive headlines informing everyone, 'Hay will quit if he flops!' I hadn't even been involved in a competitive match as Celtic boss and I was already under awesome strain.
Actually, I believed by making that revelation that I would be taking some of the weight off the shoulders of the players. I would become the target, the focal point and they could get on with getting their game in order.
Everyone at Parkhead realised we were in for a long, hard season. There was a lot of work to be done. I knew, too, that the Celtic support would be expecting big things from their new manager. Billy McNeill was – and still is – a legend to those fans. He was going to be exceptionally difficult to replace.
For his own reasons, Billy had decided to leave the club and pursue his managerial career in England with Manchester City and then Aston Villa.
But I was aware that he was still seen, quite rightly, as a 'Celtic man'. On top of that, there was Europe to contend with and, naturally, expectation levels are always high on this front. Celtic had conquered Europe in 1967 and the supporters saw no reason why we couldn't do that again. There was the ever-present threat from our old foes Rangers.
WELCOME BACK…Davie Hay at the front door at Celtic Park.
And there was the menace from the two teams who had become known as 'The New Firm' – Aberdeen, bossed by Alex Ferguson, and Dundee United, managed by Jim McLean. I left Celtic nine years earlier when they were wiping the floor with the opposition on their way to nine successive championships. A lot had happened in those nine years and the fortunes of the club had slipped somewhat.
Celtic had won the League Cup, beating Rangers 2-1 in the Final with goals from Charlie Nicholas and Murdo MacLeod, in Billy's last crusade, but Dundee United had lifted the title while Aberdeen had ended Celtic's interest in the Scottish Cup at the semi-final stage. Europe didn't last too long, either.
The club had a memorable 4-3 aggregate triumph over mighty Ajax – winning 2-1 in Amsterdam – but they went out at the next stage to Spanish side Real Sociedad, losing 3-2 over the two legs.
The charismatic Nicholas had followed Billy through the Parkhead exit as he, too, decided to try his luck across the border. Arsenal paid £650,000 for him and, suddenly, the fans found themselves without the manager they adored and the player who was their favourite. Who said it was going to be easy?
CUP THAT CHEERS…a jubilant Davie Hay after the 2-1 Scottish Cup Final win over Dundee United in 1985.
I thought about signing a young lad who was making a bit of a name for himself at Partick Thistle, a certain Mo Johnston, but I knew I needed experience up front and I paid £100,000 to Coventry City for Jim Melrose, who had also first come to prominence at Firhill. We kicked off the league campaign against Hibs at Easter Road on 20 August. I looked around the dressing room before the game and I liked what I saw.
I witnessed a lot of determination and belief in those players. Pat Bonner, Danny McGrain, my old mate from The Quality Street Gang, Roy Aitken, Murdo MacLeod, Davie Provan, Paul McStay and Tommy Burns were the backbone of the side; every one of them an international.
We went into the Edinburgh meeting confident of getting a victory and so it proved with goals from MacLeod and Melrose giving us a 2-0 triumph. The League Cup kicked off four days later with a decidedly dodgy tie up at Glebe Park against Brechin City. Things can go terribly wrong on these occasions, but another goal from Melrose gave us a winning start in that competition.
In fact, we won all our opening games in the four tournaments – beating Berwick Rangers 4-0 in the Scottish Cup at Shielfield Park and Danish side Aarhus 1-0 in the UEFA Cup at our place. And we defeated Rangers 2-1 in my Old Firm managerial debut.

THE QUIET ASSASSIN…Davie Hay takes the field as a Celtic powerhouse.
We had a 100 per cent record in my first five league games and I could sense the Celtic fans were coming around to my way of thinking. I had always set out my teams to attack and entertain. It was my philosophy that it was better to win a match 5-4 than 1-0 and that thinking would probably upset a lot of the purists out there. Jock Stein had brought me up believing attack was the best form of defence.
I was talking to Tommy Gemmell some time ago and we were reminiscing about the both of us playing full-back together at the club for a few years, me on the right and Tommy on the opposite wing. Tommy reminded me that Big Jock would hit the roof if our first move when we received the ball was not to go forward. There was no holding the ball and playing it inside to Big Billy or John Clark in the middle of our defence.
There were occasions, obviously, when you were forced to do so, but, in the main, Jock wanted to see you immediately go on the offense. It got to the point that the opposition used to put wingers on Tommy and I, more so my big mate because of his spectacular long-range goalscoring ability. We were being man-marked by our rivals! That being the case, it freed more space for the likes of Jimmy Johnstone, Stevie Chalmers, Willie Wallace and Bobby Lennox to move into.
MINUTES FROM TITLE GLORY…Davie Hay remains calm as Davie Provan signals to his team-mates that it is 2-0 for Dundee against Hearts on the day the Hoops overcame St Mirren 5-0 in Paisley to clinch the championship in 1986. Masseur Jimmy Steele and Mark McGhee share the dug-out.
I agreed with Jock's thinking and I wanted every one of my players to be comfortable on the ball. I wasn't content with it being constantly blootered into the stand by my defenders. Yes, I realise no-one has ever scored a goal from Row Z, but such actions break the rhythm of your own side. It means you are not building from the back and the consistency in your team goes to pot.
I had Tom McAdam in central defence and he had been converted to that position after starting his career as a striker at Dumbarton and then Dundee United. In fact, he was bought for £60,000 after Kenny Dalglish had moved to Liverpool for £440,000 in 1977. He was never going to be a direct replacement, though, for Kenny. Tom was excellent in the air, strong in the tackle and could pass the ball. And he still popped up every now and again with a goal. What more could I ask?
Our winning start was halted by St.Mirren, the team I watched as a kid growing up in Paisley. Brian Whittaker, a player I signed from Partick Thistle, got our goal, but we could only manage a 1-1 draw. I hoped it was just a hiccup. Unfortunately, it wasn't. We lost 2-1 to a strong Dundee United side at Tannadice and were then held 1-1 by Hearts in Glasgow a week later. Black October continued when we went down 3-1 to Aberdeen at Pittodrie.
It's in times like these that you find out a lot about yourself and your players. I rallied the troops. I asked them to have a good look at themselves. They were Celtic players, but they weren't performing like Celtic players. There were no fall-outs, no bust-ups, no tantrums and I wasn't pointing the finger at anyone.
As far as I was concerned, we were all in it together. We all had the same goal and that was to make the club successful. We could never waver for a moment from that thought.
*TOMORROW: Don't miss Day Two of Celtic Confidential as Davie Hay reveals all.
Click Here for Comments >