THE airwaves are usually infested by a superabundance of hoo-ha, hullabaloo, duplicity and deception when unscrupulous agents get to work to promote the availability of their clients.
Foxes could take lessons in cunning from these shameless, exploitative characters when they hit overdrive and the neon dollar signs are flashing before their eyes.
The players they represent are commodities; nothing more, nothing less. They are promised the most lucrative, life-changing financial deals and, naturally, it follows the blizzard of extra zeroes on the end of a prime number which the principal asset stashes away in his offshore funds, the more Mr Ten/Twenty/Thirty/Whatever Per Cent can deposit in his high interest account.
That's the way the game is played. Agents, in their many guises, have been around since someone thought it was a reasonable idea to kick a pig's bladder around in the pursuit of an athletic past-time.
STARTER FOR 100…debut Bhoy James Forrest scores his first goal for Celtic in a 4-0 win over Motherwell at Parkhead in May 2010. 
By the way, I don't think all negotiators are money-grasping, mercenary creatures just as all doctors are not quacks and all journalists are not hacks. I have broken bread with a few who do their clients proud, but there is another element who are not quite so savoury and the mighty buck is the be all and end all of their reason for getting out of bed in the morning.
Back in the fifties and sixties, there was a redoubtable newspaperman by the name of Jim Rodger. I got to know this extraordinary individual quite well in my early days as a sub-editor on the sports desk of the Daily Record.
Jim was one of the most authoritative journalists of the day and was with the Daily Express, the Record's main rival on the newsstands at the time.
He was an eccentric little chap and obviously not an enthusiastic disciple of the Weight Watchers organisation (or whatever they were called back in the day). Jim favoured the portly look – I soon discovered it was never a clever manoeuvre to get between Jim and the gateaux trolley – and, rain, hail or shine, he was normally adorned in an enormous gaberdine overcoat.
Jim sported a trilby hat, planted squarely on his head and never tilted sideways a la Sinatra, and possessed a pair of shifty, darting beady eyes behind dark-rimmed spectacles. Some misguided souls may have innocently identified this unconventional newsman as a figure of fun. It wouldn't be too long before their original impression would be corrected.
Thankfully, for reasons that will remain forever unknown, Jim quite liked me. I shared a carriage on a train one Saturday afternoon as we both travelled to Rugy Park to cover a Kilmarnock versus St Johnstone game in the old First Division. We were from different eras, different planets, you may have thought, and our newspapers waged a daily circulation war. Fortunately for me, we knocked it off.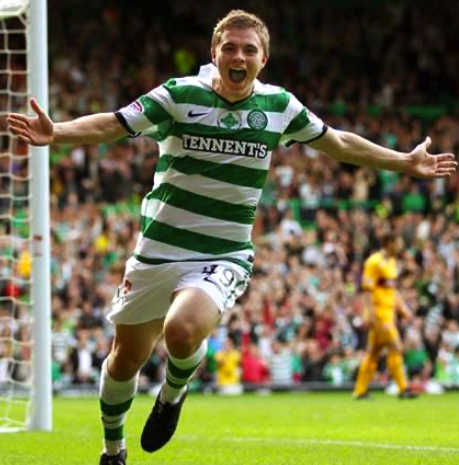 FIRST IMPRESSIONS…a delighted James Forrest races away after opening his goalscoring account for Celtic against Motherwell over 13 years ago.
I didn't possess a car at the time and Jim never drove, so these chance meetings on Saturdays became more and more frequent. It reached the stage when we would wait for each other at the completion of our reporting stints in press boxes up and down the country and we would spend an interesting train journey back to Central Station or Queen Street.
We may even have been viewed as the newspaper world's answer to The Odd Couple, a marvellous piece of celluliod from 1968 starring Walter Matthau and Jack Lemmon, but I found 'Jolly' – who said hacks didn't possess a sense of humour? – to be endlessly fascinating. He no longer eyed me with his inbred suspicion.
He opened up in my company and it was obvious he was no advocate of spinning ripping yarns or telling tall tales.
Jim, it transpired, had become something of an undercover agent, hiding in plain sight, for clubs and players. He had an Open Sesame to most boardrooms on both sides of the border and was in the unique position of being able to make the surreptitious phone calls and arrange the clandestine meetings.
Everyone utilised Jim's services – yes, Jock Stein, too, but that's another story for another day – and one of his most famous transfers was that of Scotland international legend Denis Law from Torino to Manchester United in July 1962 for £115,000, a phenomenal amount of money and a British record fee at the time.
Old Trafford manager Matt Busby had enlisted the assistance of Jim to get the landmark deal over the line. The newsman hooked up with an Italian agent called Gigi Peronace and the outcome was The Lawman, one of my all-time favourite footballers and a genuinely good guy, being paraded in the famous scarlet shirt of the Manchester club in time for the kick-off to the new season.
CELTIC FOR ME…James Forrest is happy to be a home Bhoy.
Pre-Stein, Jim, who was a confidante of Spurs manager Bill Nicholson, had been involved in two intriguing transfer tales involving a couple of Celtic's future Lisbon Lions, Jimmy Johnstone and Billy McNeill.
Contact was made, but neither the winger nor the centre-half took the bait. The club's legendary captain later admitted it had been tempting as he had been growing frustrated and a bit restless at the lack of success – please remember McNeill had been at Celtic for eight barren years before he won his first medal in April 1965 – but any thoughts of leaving his spiritual home were erased the moment Jock Stein returned to Parkhead.
You can believe Jim would have made the pitch to the Celtic double-act on behalf of the North London club, but he would never have forced the issue. Money was not his god. Jim was no high roller and this may surprise you, but he never took one brass penny for putting these extravagant transfers together.
His was a frugal existence and he lived for the exclusive story. To trump his rivals on the back pages was enough for this idiosyncratic individual. I was so mesmerised by this bloke I devoted an entire chapter to him in my first newspaper memoirs, 'Jinx Dogs Burns Now Flu', published by Ringwood in 2015. (Available, of course, in all good bookstores).
Jim was honoured with an OBE in 1989 for services to charity and, alas, passed away in January 1997 at the age of 74. A Who's Who from the world of sport and politics – Jim had been on first-name terms with former PMs Harold Wilson and Margaret Thatcher – attended his funeral.
GLASGOW BELONGS TO ME…James Forrest races away after scoring a late derby winner in March 2019. Opponents Connor Goldson and Allan McGregor don't share the joy.
As we awaited outside the church on a brutally cold winter's morning, I chatted briefly with Sir Alex Ferguson. Guess who got Fergie to Aberdeen as managerial successor to the aforementioned Billy McNeill in 1978? Guess who got Fergie from Pittodrie to Manchester United in 1986?
In January 2012, some fifteen years after Jim Rodgers' final farewell, a rather bizarre scenario was played out in the living room of my home. A friend of mine, a former Celtic footballer I will not embarrass by naming, had popped in for a cup of tea and a quiet natter.
He was now working as the chief scout in Scotland for a big-name English club.
At the time I owned 7 Day Press, a sports/news freelance agency with links to all the UK national newspaper titles.
"Looking for a good story, Alex?" I was asked.
"Always," I answered.
"James Forrest could be on his way to England," I was told.
GOAL-DEN BHOY…James Forrest is bathed in the Paisley sunlight as he puts Celtic ahead against St Mirren on January 21 2012.
I knew the information was kosher, the guy sitting on my setee was no wheeler-dealer out to get a client a big-money shift and make a sheckle or two for his labours. The bloke, in fact, was the top man for spotting genuine football talent in this country for Harry Redknapp, then the manager of Spurs.
I nodded my head. "Care to elaborate?"
"I watched Forrest at the weekend against St Mirren in Paisley. I prefer to watch players away from their comfort zone. Forrest was Man of the Match. No argument. He's 21 years old and he's got it all ahead of him. I can't see Celtic holding onto him. I've recommended him to Harry. It's up to him now."
The game to which the chief scout referred was Celtic's 2-0 league win where Forrest scored the crucial breakthrough goal 19 minutes from time and Scott Brown added the second in the fading moments. That match took place on January 21. I received the information three days later. Spurs had a week in which to work before the transfer deadline.
It was tempting to fire the tale round the houses, I had enough detail to substantiate such a claim. Realising the story was unlikely to be leaked elsewhere, I decided to sit on it for the time being. I was eager to get Celtic's take on the possibility of such a deal being struck.
Unsurprisingly, I was told the club would not welcome such a revelation concerning one of their key players at a pivotal stage of the campaign. If there was to be any movement over the next few days, I was promised I would be the first to know.
Yes, the story could have unsettled a young James Forrest and the money may have proved to be irresistible.
Of course, no such transfer ever took place. A few months later, I went for a beer with my Spurs Deep Throat. I asked him for his take on the transfer that never was.
BHOY WONDER…James Forrest celebrates in Paisley – the day he caught the eye of Spurs' chief scout.
"I can only recommend the players, Alex," he said. "After that, it's down to Harry and the club's negotiators. My information is that Harry didn't receive any encouragement. He was given the distinct impression Forrest was perfectly happy at Celtic. It didn't even get to talking terms. Unusual these days, maybe, but it happens."
This is the same James Forrest who came through the Celtic Academy, has played more than 400 games, scored over 100 goals and won twenty-two honours with his only club.
The same James Forrest who will receive a Testimonial Match against Athletic Bilbao at Parkhead on Tuesday with a 7.30pm kick-off.
The same James Forrest who will be donating a "substantial amount" of the finance generated on the night to two worthy charities, Kilbryde Hospice and the Celtic FC Foundation.
The same James Forrest who deserves to pack out Paradise with tickets still available to buy online.
So, let's hear it for the Bhoy who said no.
James Forrest is certainly worth it.
Click Here for Comments >