I CONFESS I have followed James McCarthy's career with a fair degree of diligence for one very good reason – his dad was one of my best pals as we both grew up in Castlemilk.
My schooldays were not quite around the time fire was invented, but I admit they were a long time ago.
My family – mum, dad, sister Betty and me – lived in a three-apartment council house, two up at 54 Dougrie Road, in the colourless and sprawling housing estate that was hastily constructed in the fifties to get people out of the crumbling, decaying Gorbals.
Wullie – never William or Willie – McCarthy was brought up by his grandparents in their ground-floor abode at No.52. We kicked off our scholastic careers (?) on the same day at Dougrie Terrace Primary School before we went to St Margaret Mary's Secondary which was ideally situated across the road from where we lived.
ON THE BALL…a teenage James McCarthy in action for Hamilton Accies.
Didn't stop either of us regularly coming into contact with an irate and unforgiving scoolteacher's instrument of pain, the dreaded strap, for being tardy for the 9am commencement as the unfortunate tutors tried to cram knowledge into our craniums. No easy task, my friends.
The school team manager stuck me in goal because I was tall and nothing to do with my ability to keep one of those hurtling boulders called Mouldmasters out of the net. I still tremble uncontrollably at the fleeting recollection of these solid, unyielding spheres which were probably bulletproof.
Wullie played in midfield and was a superb passer of the ball, but, alas, had not been gifted with pace. He was far from lazy and was just as committed as any of his team-mates during those heady Saturday morning extravaganzas dotted around Glasgow in exotic locations such as Easterhouse, Drumchapel and the aforementioned Gorbals.
I recall those wonderful days of a bunch of kids jumping on and off buses with our gear crammed into Woolworth's and C&A plastic carrier bags – no designer kitbags for us, I'm afraid – and doing our best in the good name of St Maggie's.
Celtic fans of a certain vintage may recall the name of Tony McBride, another pal from school. He played for Scotland Schoolboys in a 2-0 win over their English counterparts at Wembley and had every team in the UK chasing him. Matt Busby, the Manchester United manager, and one of his club scouts turned up on the McBride family doorstep.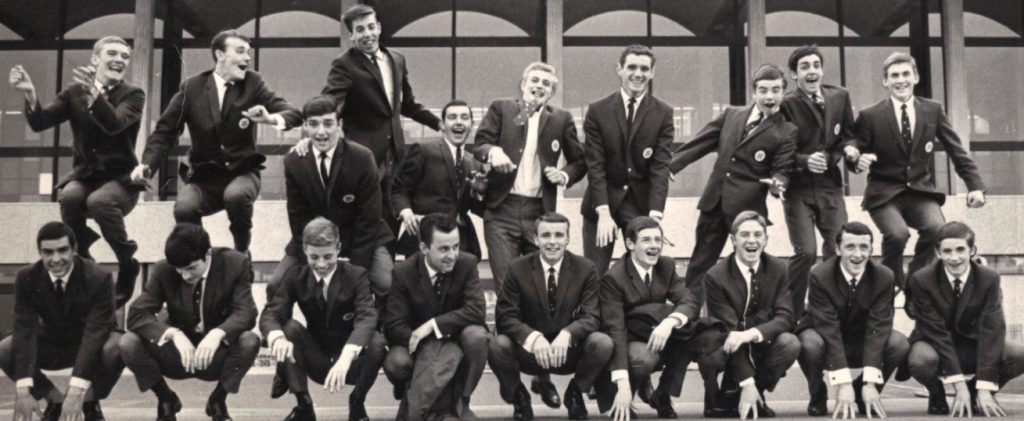 ONE THAT GOT AWAY…Tony McBride (back row, third right) prepares to fly out to Malta for a pre-season tournament with Celtic team-mates including Kenny Dalglish, Davie Hay, Lou Macari, George Connelly, Vic Davidson and Danny McGrain. Also in the pic is Tony's former St Margaret Mary's schoolmate Tommy Livingston (front row, third right). 
The cunning old fox, as wily as his ally Jock Stein, was armed with flowers and chocolates for Tony's mum and a bottle of the finest Scotch whisky for his dad. That may have been an Open Sesame to the McBride front room, but the gestures cut no ice with my mate.
"I'm signing for Celtic," he said with some emphasis and Busby and his assistant had to admit defeat as they headed back across the border with a lucrative contract remaining unsigned.
We should all know of Tony McBride today. He was truly talented and was afraid of nothing. Unfortunately, Tony's lifestyle choices were not the wisest and he very quickly drifted into oblivion.
I have been told by Davie Hay, who was at the club at the same time as Tony, that Big Jock went out of his way to nurture Tony, who could play on either flank or through the middle. That was not the Celtic manager's style. It was usually his way or the highway.
Sadly, Tony eventually exhausted his last chances and was shown the door. At the age of seventeen, his career was over. Tony wasn't interested in playing for anyone else. On a particularly sad note, Davie and I paid our final respects at his funeral at Linn Crematorium on a wet and miserable Saturday morning in November 2019.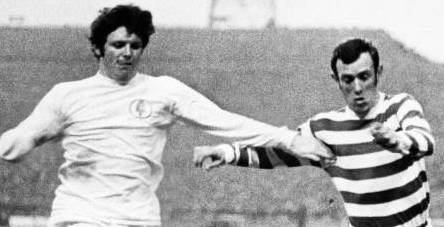 HOLD ON…Eddie Gray in action against boyhood idols Celtic with Bobby Lennox threatening the Leeds United goal. 
Back then, Castlemilk was a fertile breeding ground for football talent. Eddie Gray, of course, went on to have a stellar career with Leeds United and Scotland as did his young brother Frankie, who also attended St Maggie's. Our paths didn't cross with Frankie three years younger than yours truly.
Like his elder sibling, Frankie had an excellent journey through the beautiful game and played with some distinction at Elland Road and for his country. Arthur Graham, a prolific outside-left, should have gone to Parkhead, but he was lured to Aberdeen and, like the Grays, played for the Yorkshire club as well as Manchester United and Scotland.
Wullie McCarthy had the skills to join them at a high level. There are other names that will remain unknown for a variety of reasons. In the St Maggie's school team, we possessed a reliable and trustworthy right-back by the name of William Beaton – imaginatively nicknamed Beatnik – and he was probably ahead of his time.
He took it upon himself to surge up and down the wing, whip over over an assortment of inviting crosses, on the deck or in the air, he could tackle, cover, anticipate and could read the danger signals.
We went our separate ways as we left school in May 1967 and I was always a little surprised the name Beaton did not surface. Bobby Houston and Archie Lochrie, two fine prospects, went to Partick Thistle while Tommy Livingston, who played for the Glasgow Under-14s while I was at the Under-15s, went to Celtic. Alas, it didn't happen for him.
William Beaton's name never cropped up and I discovered later on that injuries had not been kind to my old team-mate. At the same age as us, another Castlemilk lad was making a bit of a stir, a chap by the name of Willie Donachie. You may have heard of him. He was a teenage left-back who signed for Manchester City, made 35 appearances for Scotland and was part of the World Cup Finals squad in Argentina in 1978.
If Dame Fortune had smiled on a certain individual, Donachie could have had a bloke called Beaton for company in the full-back positions.
SCOTLAND THE RAVE…Castlemilk boy Willie Donachie who played 35 times for his country.
My apologies, folks, for the detour through all my yesterdays. Like his dad, James McCarthy attended St Maggie's and I recall bumping into Wullie at a garage in Croftfoot, an area that skirts Castlemilk. By this time, I owned a freelance sports/news agency after leaving the Sunday Mail where I had been sports editor for a decade. My old mate was driving a taxi for a living.
We hadn't seen each other in far too many years. He dug into his pocket and produced one of those football cards I used to collect in another era. "That's my boy," said Wullie with immense pride.
He handed me the card. There was the image of a beaming James McCarthy in his Hamilton Accies strip. To be honest, I had never associated the player with my pal.
There and then, I decided to keep an eye on the youngster. "He's got a chance, Alex," Wullie informed me.
McCarthy junior did have the opportunity to sign for his boyhood idols at the age of 18 in July 2009 and I am aware Peter Lawwell, then the club's chief executive, made him a fabulous offer. Before Wullie and his son could realise the dream, his agent held up proceedings as Wigan came late to the table.
Their financial terms for a young and untested player were ridiculously exorbitant. The unfashionable club were throwing money at gaining a foothold in the top flight and manager Roberto Martinez made it clear he wanted James McCarthy in his squad to link defence with attack with his subtle promptings from the engine room.
STAR IN STRIPES…James McCarthy during his Wigan days.
Celtic could match the £1.2million transfer fee, but couldn't better the personal terms. It would have set one helluva precedent. Plus Martinez's club were willing to take the overall transfer outlay to a staggering £3million if the player maintained his progress.
The young McCarthy did not disappoint and played a sterling role in the club's success, including their remarkable FA Cup Final triumph over Manchester City at Wembley in 2013.
I was enjoying a break on a glamorous island (Millport) that May weekend and I phoned Wullie later that evening. My Sherlock Holmes qualities led me to detect my old chum had been celebrating somewhat. And quite right, too.
A few months after the success over the Etihad outfit, Martinez moved to Everton and one of his first actions was to spend £13million on McCarthy.
The player was a resolute performer at Goodsion until, with the utmost horrible timing, he suffered a broken leg in a game against West Brom in January 2018.
I can exclusively reveal – as my old and much-lamented former Press colleague James Sanderson used to whine over the airwaves – a certain Sir Alex Ferguson had been planning a megabucks move to take the cultured midfielder to Manchester United in the summer. I can also tell you Everton would have received more than double their initial outlay for the middle-of-the-park performer.
Football can be a cruel profession. McCarthy did shift from the Merseyside club in August 2019, but, instead of capacity 70,000 crowds at Old Trafford it was to the more sedate Selhurst Park, home of Crystal Palace.
Eventually, his path led him to the east end of Glasgow and he signed for Celtic on August 3 2021. Alas, Wullie, my schooldays' buddy, had sadly passed away earlier in the year and missed the moment.
And that takes us up today, apologies once again for the rather circitious route to reach our destination.
McCarthy did not start a solitary game for the champions last season and we must ask now what lies in store for Celtic's missing link.
HOOP HOOP HOORAY…James McCarthy realises his dream as he signs for Celtic in August 2021. 
The one-time Republic of Ireland international still has two years to run on his contract and is walking the soccer tightrope.
Brendan Rodgers could yet provide a safety net for a player who is eager and determined to make his late father proud.
The returning manager, speaking in an interview with The Herald, said: "I have known James since he was a young player at Hamilton and he spent a lot of his career in the Premier League.
"I know his qualities and, sadly for him, since coming back to Celtic, that has been hindered by injuries he's had.
"At this moment in time, I am assessing the squad to see where they all fit and where it's at.
"This is a chance to see up close, but I saw a lot of James down south and I know his qualities."
Maybe there is still a chance of a last hurrah at Celtic for the experienced campaigner.
Wullie McCarthy would have loved the sight of his boy strutting his stuff in the green and white hoops.
ALEX'S ANGLE: ANGE'S LONELY WALK, BUCKET LIST AND THE LOST CHALLENGE
Click Here for Comments >