LEGENDARY captain Billy McNeill played his last game for Celtic EXACTLY 48 years ago today.
The Hoops great led out the team for the 1975 Scottish Cup Final against Airdrie at a sunkissed Hampden on Saturday May 3 1975.
Two goals from Paul Wilson and a penalty-kick from Pat McCluskey made certain the silverware would be bedecked in green and white when it was presented to the club's inspirational central defender.
McNeill's retirement from playing at the age of 35 took the football world by surprise. It had been one of the best-kept secrets in the game as the season edged towards a conclusion.
Sir Kenny Dalglish played his role in the 3-1 triumph over the Broomfield club and was also taken unawares by the bombshell news the Lisbon Lion was calling it a day.
In another CQN EXCLUSIVE, the Celtic icon recalled the afternoon at the national stadium as he spoke to author Alex Gordon in his Billy McNeill tribute book, 'In Praise of Caesar,' which was published in 2018.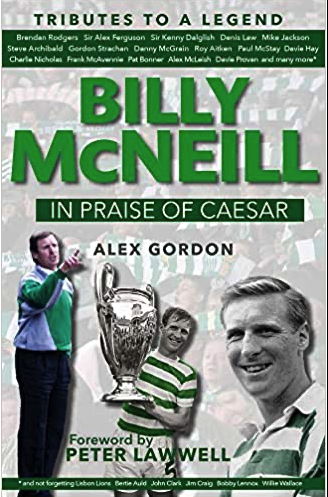 Here is how King Kenny remembers the fateful day.
MY WIFE Marina and I used to babysit Billy's girls, Libby, Susan, Paula and Carol and son Martyn. We got on well and he could not have been more helpful in so many ways. I was in his car on the day of the Scottish Cup Final against Airdrie in 1975 when he took me by surprise again.
'This is going to be my last game, Kenny,' he said.
'Not before time!,' I joked and then I realised he was deadly serious.
'No, the boots are getting put away after this one. That's it for me.'
Just like that – the end of a glittering era for one of the most famous players in Celtic's history.
HAIL, CAESAR…captain Billy McNeill is held aloft as the triumphant Celtic players – with Kenny Dalglish among them – give the club legend a fitting farewell after the Scottish Cup Final win over Airdrie on May 3 1975.
In that season leading up to the Hampden Final, Billy, at the age of thirty-five, had hardly been injury prone. He missed only six games, with Roddie MacDonald taking over on five occasions and Frank Welsh on one. But it was obvious he had made up his mind and I don't think for a moment it would have been a decision he had made lightly.
He would have discussed it fully with his wife Liz and the family. There will have been major factors, of course. The league had been blown and Celtic finished in third place, which would have hurt Billy after winning the title for nine successive years. All these things would have weighed on his mind.
Remarkably, the press never got a whiff of his retirement, everything was kept inside the dressing room. Naturally, there was no-one at Celtic who was going to allow Billy McNeill to go out as a loser. Airdrie may not have been one of the game's most glamorous names, but they could make life difficult for you.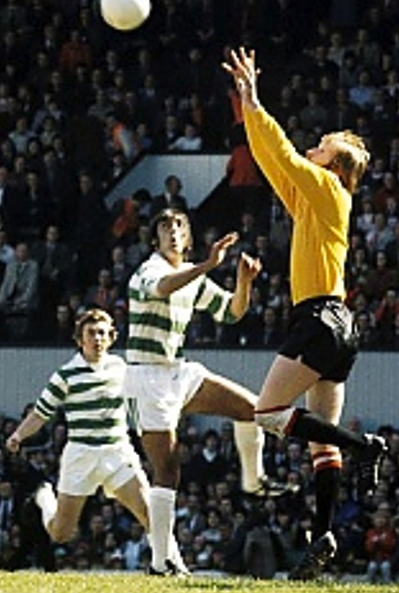 HIGH HOPES…Airdrie keeper Derek McWilliams prepares to catch a high ball as two-goal Paul Wilson challenges while Kenny Dalglish looks on.
They were a big, tough team. We were the holders after beating Dundee United 3–0 the previous season, but we all knew strange things could happen in these sort high-profile games.
We didn't require reminding of the afternoon when Billy McNeill was injured and missed the League Cup Final against Partick Thistle. His worth to the team was emphasised again when we lost 4–1 after trailing by four goals at the interval. There was no way we were going to allow Airdrie to stage an unexpected and unwanted action replay.
We won 3–1 with two goals from Paul Wilson and a penalty-kick from Pat McCluskey and the only flutter was when Airdrie equalised briefly with a fine effort from Kevin McCann.
Billy, as he had done on six other occasions, went up to collect the Scottish Cup. Amazingly, a decade earlier, Billy had scored the winning goal against Dunfermline to lift the same trophy and end the barren years for Celtic. Somehow it seemed so apt that his last action as a player would be to triumph once again in the competition at the national stadium.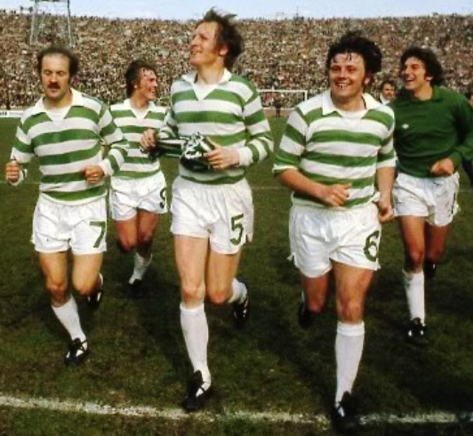 FINAL FAREWELL…Billy McNeill and victorious Celtic team-mates Harry Hood, Kenny Dalglish, Pat McCluskey and Peter Latchford take a lap of honour at Hampden afer the 1975 Scottish Cup triumph.
That wasn't the end of the surprises, though. Jock Stein didn't give anyone a hint of who would be Billy's successor as Celtic captain. There were a few contenders, of course. Danny McGrain, for a start. We came back from our summer break and Big Jock summoned me. He was never one to mess about, so he cut to the chase.
'I want you to be the new Celtic captain,' he said. My initial reaction was to say something like, 'What an honour, Boss'.
And then you realise the big shoes you have to fill.
Somehow, though, it seemed inevitable Billy McNeill would return to Celtic. Although he had businesses to run, it was obvious football – and the only club he had ever played for – were in his blood.
After a couple of months at Clyde, he moved to Aberdeen to succeed Ally MacLeod who had taken over as Scotland international manager in time for the 1978 World Cup Finals in Argentina.
Big Jock would have chartered Billy's progress closely. He had left as Celtic's reserve coach to become boss at Dunfermline and then go to Hibs before coming back to Parkhead in March 1965. So, Billy was taking a similar detour back to the east end of Glasgow.
I had joined Liverpool the year before Billy returned to Celtic, but it would have been interesting to play during his reign as manager.
I'm sure he would have had a surprise or two for me!
* DON'T miss the big-name EXCLUSIVES – only in your champion CQN.
Click Here for Comments >