TOMMY BURNS was preparing for his third year in charge of Celtic since returning as manager on July 12 1994.
A Scottish Cup had been won in his first campaign in the dug-out, but the following term had seen the team fail on the domestic and European fronts.
In another CQN EXCLUSIVE series, we chart Tommy Burns' career as the team's gaffer during turbulent times on and off the field. Here is the thirteenth instalment from Alex Gordon's tribute book, The Winds of Change, which was published by CQN in 2015.
Please enjoy.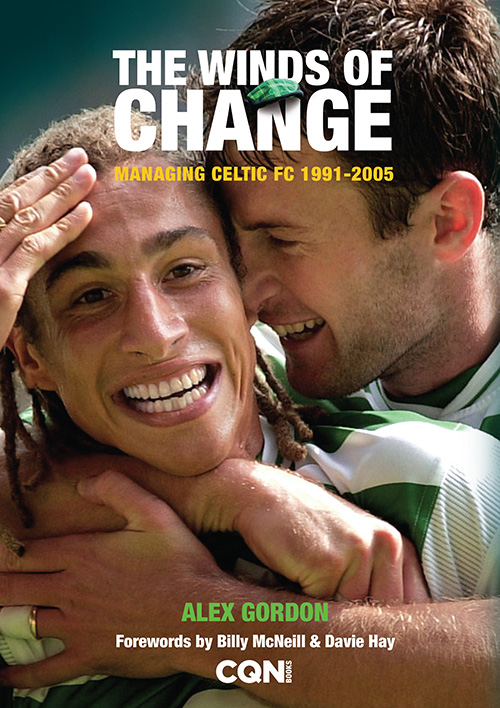 A PASSIONATE, emotional and proud human being, Tommy Burns was conspicuously fired up as season 1996/97 loomed into view.
Rangers were embarking on another sensational spending spree that would peak at almost £11million as they attempted to equal Celtic's nine successive league titles. Burns was charged with the task of making certain such a dreaded prospect was beyond the scope of his club's fiercest rivals.
As a Celtic man, he heaped awesome pressure upon himself. He was under no illusion and there was no blurred focus; Rangers had to be stopped.
Even in the most trying of circumstances, Burns often remarked that managing Celtic was "a labour of love". His affection must have been strained during John Collins' interminable contract extension negotiations with the club throughout the summer. Fergus McCann refused to budge on his final offer to the midfielder and Burns realised it wasn't a bluff from the managing director. So, too, did Collins.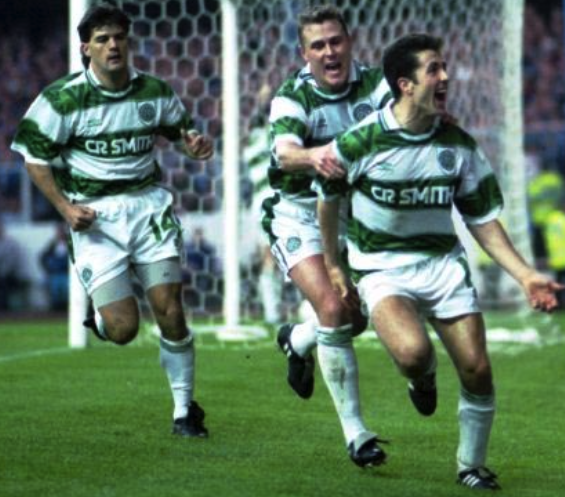 THANKS FOR THE MEMORIES…John Collins scores a winning goal at Ibrox in November 1993 with Paul Byrne and Pat McGinlay joining in. The Hoops won 2-1 – but the player was on his way in the summer of 1996.
Celtic risked losing their first £1million player for nothing under the new Bosman Ruling. Collins was spirited out of Parkhead on Freedom of Contract and signed a lucrative three-year deal with AS Monaco.
McCann, as anyone with a single digit IQ would have anticipated, fought vigorously through the courts to obtain a transfer fee for the midfielder, who would have been at least rated in the £4million bracket. The new FIFA ruling left McCann frustrated and Celtic without a penny in exchange for a key player.
McCann argued the Bosman Ruling did not did not apply to this case because AS Monaco were based in a principality and outside European Union jurisdiction. It was a good try, but no cigar. The compensation claim collapsed and the court's decision would rebound big-style on Burns with dire consequences during the forthcoming campaign. McCann would not be caught twice.
THREE CHEERS…Jorge Cadete, Andreas Thom and Paolo di Canio celebrate a win over Kilmarnock at Rugby Park in 1996.
On the plus side, Burns had added more flair to his already-adventurous line-up by bringing in £1.5million Paolo di Canio, from AC Milan. The 28-year-old extrovert, who had also played for Lazio, Napoli and Juventus, would prove to be something of a mercurial Italian genius who, more often than was comfortable, veered towards eccentricity. Life was never dull with Paolo around.
Jorge Cadete was virtually a new signing after making only six appearances due to his transfer saga the previous season that would, ultimately and justifiably, topple Jim Farry from his SFA seat of power. Burns, too, had no hesitation in obliterating Celtic's transfer record by shelling out £3.5million for Bolton's ball-playing centre-half Alan Stubbs.
Jobbing defender and honest toiler John Hughes' days at Parkhead were numbered.
AIR RAID…Jorge Cadete puts the pressure on Aberdeen keeper Michael Watt.
However, one who escaped Burns at the time will no doubt surprise Celtic followers. It certainly made me sit up me when I received a phone call from an acquaintance, who, I knew, was a close confidante of the manager. He was giving me the nod in the right direction of the club's interest in a young forward.
I was sworn to secrecy until the time was right. My version of 'Deep Throat' was very enthusiastic about the ability of the player on Burns' radar. "The lad's got everything," I was assured. "He's big, strong, can hold the ball up, good in the air and can score goals. And he can run like a gazelle."
The name of the rookie centre-forward? None other than Emile Heskey, at that time only 18 years old with just one full season behind him at Martin O'Neill's Leicester City.
Davie Hay confirmed: "Yes, I watched Heskey a couple of times and gave him the seal of approval. He looked a Celtic player to me." Of course, nothing came of the club's initial interest and that certainly would have come down to finances. The future England international later joined Liverpool for £11million in March 2000.
WANTED MAN…Emile Heskey was on Tommy Burns' list before his £11million move from Leicester City to Liverpool in March 2000.
Burns realised Celtic had relied far too much on the goals from Pierre van Hooijdonk, who completed the season as the Premier League's top scorer with 26 strikes. Contrast that with the eight collected by Collins the previous year or the 10 from Pat McGinlay during the campaign before that.
The manager was confident Jorge Cadete would also supply goals, but he still wanted to add firepower and Heskey, even at that tender age, was the one he had in mind. A three-pronged attack of Van Hooijdonk, Cadete and Heskey would have been a terrifying proposition for any defence to even attempt nullifying.
Burns, eagerly anticipating the opening day of the campaign, must have wondered if Paradise was about to be regained. The Celtic manager would have looked around the away dressing room at Pittodrie on August 10 and would have seen the quality in his squad ranging from captain Paul McStay to his signings Andreas Thom, Phil O'Donnell, Van Hooijdonk, Cadete and Stubbs and the unsung stalwarts such as Tommy Boyd, Jackie McNamara and Tosh McKinlay.
He must have believed he was on a solid foundation as he prepared to take his team forward.
Instead, the Celtic manager was destined for quicksand.
* TOMORROW: Don't miss the EXCLUSIVE fourteenth dramatic instalment in The Tommy Burns Story – only in your champion CQN.
Click Here for Comments >