CELTIC will play Atletico Madrid in the Champions League at Parkhead tomorrow night.
And everyone hopes there won't be echoes of the past with bitter memories of a European Cup semi-final first leg collision against the Spaniards still vivid for some of the Hoops players involved that notorious April 10 1974 evening in the east end of Glasgow.
Club legend Davie Hay played in both games against Atletico and the former manager and player, now 75, recalled how team-mate Jimmy Johnstone was booted all over the pitch in one of soccer's all-time shame games.
The Celtic great revealed all in his best-selling autobiography, 'The Quiet Assassin,' co-authored by his long-time friend Alex Gordon, which was published in 2009.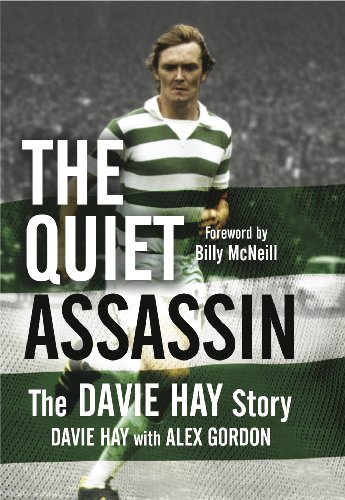 In another CQN EXCLUSIVE, we bring you edited extracts on those explosive games in Glasgow and Madrid.
"WE were involved in the infamous brawl with the odious thugs who masqueraded as footballers in the name of Atletico Madrid.
"They arrived in Glasgow for the first leg of the European Cup semi-final and right from the start they showed they had not come for a game of football. That was way down their list of priorities.
"They started kicking Jimmy Johnstone all over the place straight from the off. Some of the tackles were simple assaults. If they had been committed out on the street the offender would have been jailed. It was farcical. The Turkish referee hadn't a clue how to deal with these 'animals', as Wee Jinky labelled them forever afterwards.
BEDLAM BECKONS…Davie Hay leads out Jim Brogan, Kenny Dalglish and Harry Hood before the 1974 clash with Atletico Madrid.
"They were managed by an Argentine called Juan Carlos Lorenzo and Jock Stein had come up against him in 1967 when this loathsome individual was in charge of the ruthless Racing Club in the three World Club Cup games.
"The last of those descended into outright warfare as battles erupted all over the pitch with the Celtic players, unfortunately, losing their cool under extreme provocation.
"Lorenzo was facing Big Jock again and, sadly, his rival's mindset was still the same. He sent out his players to hack at everything in sight. Jinky was their No.1 target, but I was getting kicked, too. Everyone was getting kicked.
"Three Atletico Madrid players – Ayala, Diaz and Hernandez – were sent off and seven were booked by a harassed match official on a night of shame. If Atletico had performed like that today I have no doubt whatsoever that they would be booted out of Europe by UEFA.
"Unfortunately, television coverage isn't what it is today and the cameras missed a lot of what was going on off the ball. As it was, they did receive a small fine and a warning about their future conduct. Big deal.
FREE-KICK…Davie Hay prepares to take the deadball effort after another foul on Jimmy Johnstone as the referee admonishes an Atletico culprit. 
"It was a brutal evening when football took a backseat as far as the Spaniards were concerned. This collection of hooligans with blood on their studs actually managed to keep the game scoreless. In fact, it was a non-game.
"We had been well warned by Big Jock not to get involved. Actually, I think we treated our opponents too well.
"A crowd of 74,000 watched in horror that evening and couldn't believe or take in what they were witnessing. Jinky was kicked black and blue and he was also their target at the final whistle. No-one was going to be shaking hands with this lot as we made our way to the tunnel.
"Then I saw Jinky being walloped again by one of their players. Deep in the tunnel, away from prying eyes, I decided to exact some retribution for my wee pal. I got 'involved', for the want of a better word, with a couple of their players and punches were thrown.
"I could hear one of them squealing and by the time I reached the dressing room I had a clump of someone's hair in my fist. I wonder how that got there!"
* TOMORROW: Don't miss 'Death threats in Madrid': Part Two of the Shame Game.
Click Here for Comments >