CELTIC legend John Hughes has paid a tribute to Leeds United and England great Jack Charlton who passed away last night at the age of 85.
The Hoops goal hero, the seventh highest scorer in the club's history with 189 strikes, played against the charismatic centre-half several times in the sixties and early seventies.
Hughes told CQN: "I had some fabulous duels with Big Jack. He dished it out, but he could take it, too. Hard, but fair I believe is the accepted expression.
"He was the backbone of their defence and a good, old-fashioned centre-half who was unfussy on the ball. He was no Franz Beckenbauer, but he got the job done.
"I played against him a few times, but, naturally, the one everyone mentions was the unforgettable encounter at Hampden in front of over 130,000 fans when I was fortunate enough to score our first goal in a 2-1 victory. My good pal Bobby Murdoch netted the second and, of course, George Connelly had netted the only goal at their place in the first leg.
"So, Big Jack played a part in my own memories in football. I liked the big chap.
"My thoughts today are with his family. Rest In Peace, Big Jack."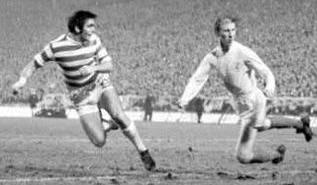 HEADS I WIN…John Hughes soars through the air to head in Celtic's first goal against Leeds United with centre-half Jack Charlton getting a good view.
In the Celtic icon's autobiography, 'Yogi Bare', co-authored by his friend Alex Gordon, here is how the juggernaut forward remembered the titanic tussle in Glasgow.
"Dame Fortune was snarling in Celtic's direction, I didn't think for a moment we would fail to win. Sometimes you just get the feeling that it will come right in the end. I didn't believe for a moment they could withstand our assaults. We were coming at them from all angles and something had to give. I could hear the Leeds players shouting at each other, they realised they were on the ropes.
"Wee Jinky was striking terror into their rearguard every time he got the ball. Cooper was the England international left-back at the time and was rated as one of the best in the world. However, Jinky was tying him up in knots as he weaved his merry way down the right wing.
"I could hear central defender Norman Hunter shouting at Cooper, 'Kick that little b*****d.' Cooper screamed back, 'You come over here and try to kick the little b*****d yourself.' Jinky just smiled and maintained his special brand of torture.
LORD OF THE WING…Jimmy Johnstone takes on left-back Terry Cooper.
"Down the middle, I was giving their World Cup-winning centre-half Jack Charlton a hard time, too. Big Jack had played against me a few times, but really didn't know how to handle me or my style. If he stepped off me, I would attempt to push the ball past him and take him on for speed.
"It must be said he wasn't the quickest on the turn. And if he wanted to attempt to out-muscle me, I was more than happy to mix it in there, too. We gave them a first-half battering, but had nothing to show for our efforts which was tantamount to unbelievable. Something had to give, though.
"Thankfully, it did two minutes after the interval when I scored with a rare header. Jock had given Jinky the go-ahead to roam around because he believed he would scare the life out of them all over the pitch. Jinky was deep in his own half when he picked up the ball and rolled a pass towards Bertie on the right.
"Our irrepressible midfielder had been involved with their big, burly centre-forward Mick Jones just before the half-time whistle. His 'tackle' – if it could be called that – left Jones in a heap, writhing in agony in the centre circle and there was a doubt if he would be able to make an appearance in the second period. He receovered and was in place for the second period.
DUEL OF THE GIANTS…John Hughes and Jack Charlton in action as Norman Hunter fails to cut out a right-wing cross.
"Some of the Leeds players had words with Bertie in the tunnel as we waited to come out for the remaining forty-five minutes. I'm pretty certain they weren't asking for his address to send him Christmas cards. It was a waste of time threatening my team-mate. We were all aware he could look after himself.
"Anyway, as Jinky's pass made its way towards Bertie, Billy Bremner appeared to take it upon himself for a bit of retribution on behalf of his team-mate. I don't think for a moment he attempted to get the ball as he launched himself at Bertie. He really should have known better.
"Bertie was cuter than any fox. He saw it coming , touched the ball to Davie Hay, going down the right, before skipping a couple of feet into the air and Wee Billy missed by miles. Bertie had the presence of mind to look back at the grounded Leeds captain and say something like: 'You'll have to do better than that.'
"Davie was a lot faster than most people might have thought because of his straight-backed running style, but he could cover the ground. Hunter eventually caught up with him and was only too happy to prod the ball out for a corner-kick.
HAMPDEN HOORAYS…future Celtic bosses Billy McNeill and Davie Hay celebrate the famous victory.
"My mate's speed of thought was every bit as quick as his legs and he took a swift short corner to Bertie who had followed up in support. Bertie took a touch, looked up and swept in as delightful left-foot cross as you will ever see.
"Charlton was practically wearing the same shirt as me, but I took a couple of steps away from him and threw myself into the air at an angle. I flicked the ball off the side of my head and Sprake didn't have time to move a muscle.
"What an incredible feeling. The roof came off Hampden, the din was deafening. The power surge through my body was totally exhilarating as my team-mates rushed to congratulate me. We were back in front on aggregate and the Leeds players knew there would be no lifeline this time.
ON THE RUN…John Hughes races past Leeds defender Norman Hunter.
"Unfortunately, I collided with Sprake five minutes later which led to the keeper being stretchered off. It was a complete accident and no-one ever suggested otherwise. I dummied Hunter as I turned to run into the penalty box. Sprake, very bravely, sprinted out to meet me and threw himself at my feet. It was a fifty/fifty ball and we both had to go for it, there could be no pulling back.
"There was a crunch as the ball went out for a goal-kick. I didn't think any more about it as I trotted back up the field to get into position. However, it was obvious the goalie wasn't going to resume and I went back down to have a closer look. Neither he nor his colleagues even thought to point the finger of blame at me.
"The Hampden crowd sportingly applauded the keeper as he was taken from the field. I was grateful to discover at the end that it was nothing more than bruising.
YOGI STARE…John Hughes and George Connelly watch as Bobby Murdoch's drive zips past David Harvey for the second goal.
HOOP HOOP HOORAY…Bobby Murdoch takes off in celebration after his goal.
LAP OF HONOUR…John Hughes (with Jack Charlton's shirt) leads the way with Bobby Murdoch, Tommy Gemmell and Billy McNeill with Davie Hay, Jimmy Johnstone and George Connelly in attendance.
"David Harvey, a future Scotland international goalkeeper, came on as substitute and the first thing he had to do was fish the ball out of the net. Bobby Murdoch surged forward to play a neat one-two with Jinky and then lash a low drive from the edge of the box under the body of the diving and helpless Harvey.
"Bobby leapt as high as I have ever seen him as he celebrated and there was no way back for our opponents after that.
"The final whistle went when Tommy Gemmell propelled the ball somewhere towards the Hampden floodlights. I swapped my jersey with that of Jack Charlton. I thought that was only fair – he had wanted to hold onto it all night.
"Seriously, he did say something like, 'Good luck in the Final.' He must have been hurting like hell and I really appreciated the sentiment."
Click Here for Comments >