TOMMY BURNS had won the Scottish Cup in his first season as Celtic manager after his appointment on July 12 1994.
The league title, though, was the legendary Celt's priority target as his second campaign prepared to kick off.
In another CQN EXCLUSIVE series, we chart Tommy Burns' career as the Hoops gaffer during turbulent times on and off the field. Here is the ninth instalment from Alex Gordon's tribute book, The Winds of Change, which was published by CQN in 2015.
Please enjoy.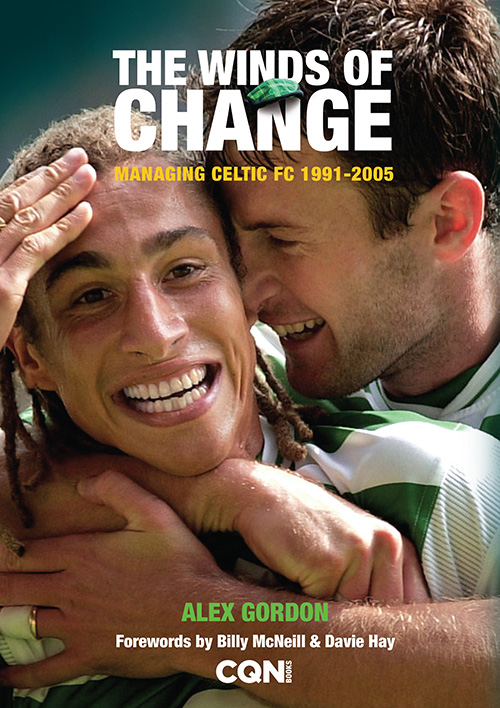 CELTIC didn't exactly come sprinting out of the blocks when the 1995/96 league season kicked off on August 26.
They had to rely on a headed goal from Pierre van Hooijdonk 11 minutes from time to give them a 1-0 win over League Cup tormentors Raith Rovers at Stark's Park.
Fate had also decreed that last season's finalists would be paired in the draw for the start of the new term's competition and echoes of a dismal November afternoon at Ibrox were beginning to reverberate around Celtic Park with the game tied at 1-1 in extra-time and heading for penalty-kicks.
Van Hooijdonk had put Celtic ahead, but Tony Rougier smashed a free-kick past Gordon Marshall for the equaliser. With the minutes ticking down, the giant Dutchman turned provider when he curled over a right-wing cross, substitute Andy Walker, on for the limping Thom on the hour mark, headed goalwards. Scott Thomson touched the ball away, but Simon Donnelly pounced to fire the winner into the inviting net.
MATCHWINNER…Simon Donnelly slots the second goal past Raith Rovers keeper Scott Thomson.
Tommy Burns sighed wearily: "I am delighted to get through, but it's difficult to understand how we can make life so hard for ourselves."
On the tenth anniversary of the death of Jock Stein, Burns may have repeated those very words. Celtic were two goals down after 10 minutes against Aberdeen at Pittodrie, had John Hughes sent off and came back to triumph 3-2.
Big Jock no doubt would have approved of the fighting spirit displayed by his old team that afternoon. Tommy Boyd put through his own goal in the seventh minute and Eoin Jess walloped in a second. Celtic, though, underwent a startling transformation in response to the double setback.
John Collins hauled one back with a spectacular left-foot effort in the 21st minute and Andreas Thom equalised 12 minutes later with an angled shot that completely bamboozled Dons keeper Theo Snelders. And, as half-time approached, Thom zipped in a low drive that was fumbled by the Dutch No.1 and in swept Collins for what turned out to be the winner.
Hughes saw red in the 72nd minute after two bookings, but Celtic, battling heroically, held out for a crucial away victory and three points from Roy Aitken's new side.
UP IN THE AIR…John Hughes and Aberdeen's Scott Booth in a chase during Celtic's dramatic 3-2 win at Pittodrie.
Burns was enthusiastic on this occasion. He said: "My players performed in a manner for which Celtic are renowned. To be 2-0 down after 10 minutes was daunting, but the way we came back was simply fantastic. John Collins' first goal was sensational and Andreas Thom also scored a great goal.
"He produced skill that you just can't coach into a player. He was a joy to watch, but there is better to come from him with more games."
Opposite number and former team-mate Aitken took nothing away from his old team and added sportingly: "Everyone saw a classic."
Frustratingly, Celtic surrendered two points at home to Motherwell in a 1-1 draw the following week, as soothsayer Simon Stanrod, the Ayr United manager, had foreseen. In the countdown to the league game, Burns had piloted the team to a 3-2 Cup-Winners' Cup first leg win over Dinamo Batusi in Georgia, the club's first success on their European travels since a Murdo MacLeod goal gave them a 1-0 victory over Shamrock Rovers in Dublin nine years earlier.
MAKING A POINT…Ally McCoist has something to say to Peter Grant as Paul Gasciogne looks on.
However, it came at a cost and Thom, who scored twice against the Georgians, and Van Hooijdonk both sustained injuries and were in the Celtic Park stand by the time the match against the Fir Park side got underway. Their attacking presence and guile were missed in a largely nondescript 90 minutes. Phil O'Donnell thumped Celtic into the lead against his former team and Dougie Arnott levelled midway through the second-half after being set up by ex-Celt Tommy Coyne.
Now Burns could prepare for the crucial first meeting of the season against Rangers, due at Parkhead on Tuesday, September 19, to contest an intriguing League Cup quarter-final tie. Tosh McKinlay crystalised the feelings of the Celtic dressing room perfectly: "A win against Rangers could set us up for the season. We also know that a defeat would knock us back down."
Unfortunately, Van Hooijdonk wasn't considered fit enough to start the game and had to settle for a place on the substitutes' bench. He came on for Andy Walker on the hour mark. Thom got the green light to start, but struggled to make any sort of impact on his Old Firm debut and was eventually replaced by Brian McLaughlin in the 71st minute.
Right from the kick-off, Paul Gascoigne had a full head of steam and was charging around recklessly laying down markers, mainly on Paul McStay and John Collins. He clattered into the Celtic captain in only SEVENTEEN SECONDS, but escaped a booking from referee Jim McCluskey.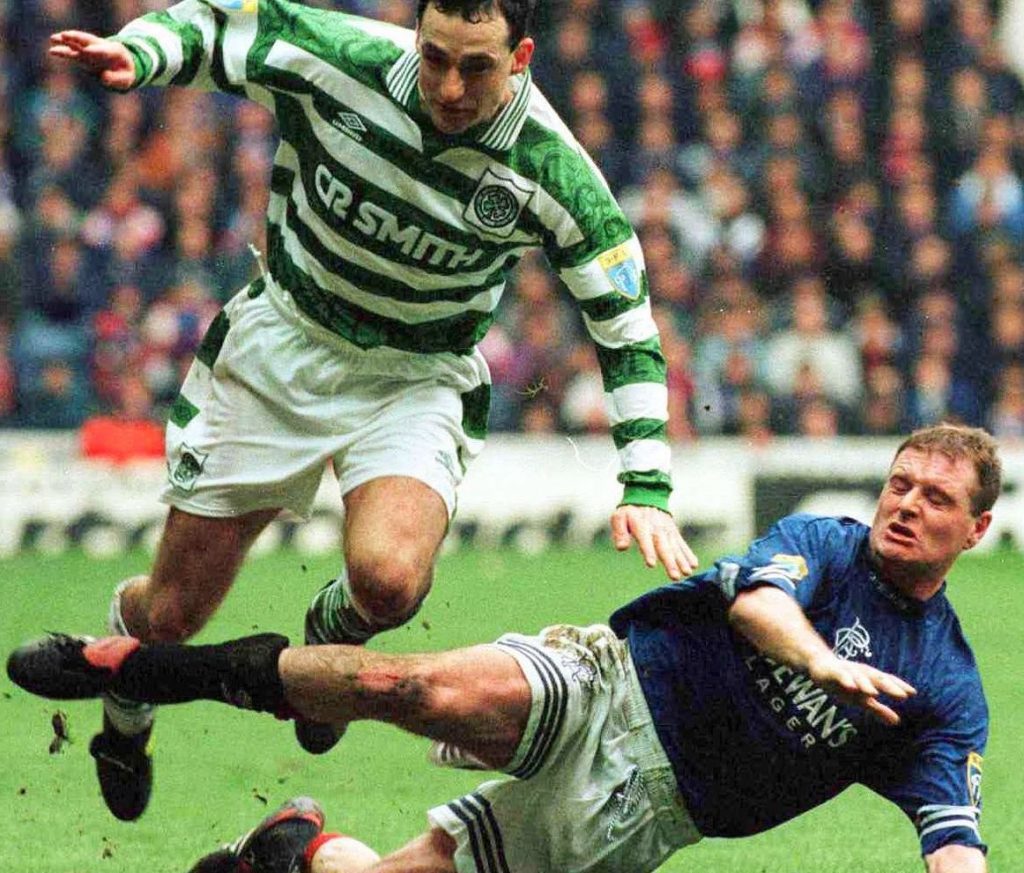 CRUNCH…Paul Gasciogne hurtles into a challenge on Paul McStay.
The English international, a strange mixture of the wild and the wonderful, calmed down after the interval and concentrated on actually playing football. Alas, a piece of individual composure from Scottish football's record signing undid Celtic with only 15 minutes remaining. He picked up a Charlie Miller pass in the old inside-right channel and strode forward purposefully.
Given far too much time and room in which to work, he had the opportunity to gaze up, locate Ally McCoist lurking at the back post and his delicate lob eliminated Tommy Boyd and John Hughes as it arrowed towards its target. McCoist, totally unchallenged, rose to knock the ball past Gordon Marshall who also looked slow to move his feet to counter-act the initial danger posed by Gascoigne.
Andy Goram, at the other end, had defied Celtic throughout the evening and he capped a memorable performance right at the end with a gravity-defying save from a McStay piledriver. A right-wing cross from Rudi Vata was knocked clear by Richard Gough and the ball fell sweetly for the Celtic skipper to hit first-time full on the volley from 25 yards.
His effort was screaming towards the top left-hand corner until the Rangers keeper, with bewildering reflexes, got across his goal and pushed it away with his left hand. Tommy Burns said: "Goram broke my heart at that moment."
Walter Smith added: "That save proved that our keeper is a winner and his influence gets through to the team."
HELPLESS…Gordon Marshall looks on in dismay as Ally McCoist heads in the winner.
There was an interesting turnaround in fortunes four days later when Celtic went to the top of the Premier League with an outstanding 4-0 thumping of Hearts at Tynecastle while Rangers collapsed 1-0 at home to Hibs. After failing to score four goals in one game the previous season, Burns saw his team rack up another four-goal triumph on the Thursday against Dinamo Batusi in the second leg of their Cup-Winners' Cup confrontation.
Thom notched another two to take his tally to four in the satisfying 7-2 aggregate romp. Unfortunately, the European excursion came to a halt in the next round when Burns' team were mercilessly picked off by Paris Saint Germain. After losing only 1-0 in Paris, Burns was reasonably confident as he prepared for the return leg. Alas, it turned in to a 3-0 massacre with the French aces destroying the Scots with their pace on the break.
Once again, Rangers made a quickfire return to Celtic Park on league business. Tommy Burns got his tactics absolutely spot on for 44 of the first 45 minutes before witnessing his team lose a goal just on half-time to go in trailing at the interval.
Goram was defiant again and made excellent saves from McStay and Collins while Celtic dominated. With match official John Rowbotham looking at his watch, the Ibrox side sneaked upfield in a rare foray into enemy territory and Oleg Salenko clipped a high ball to the back post. Left-back Alex Cleland, who wouldn't score another goal all season, chose that moment for maximum impact.
Unhampered by any sort of challenge, he rose to head down and across Gordon Marshall. The keeper dived to his left, but the trajectory was accurate enough to escape his outstretched left hand.
HEAD BHOY…Pierre van Hooijdonk puts pressure on the Raith Rovers rearguard as John Hughes looks on.
Paul Gascoigne, as he had done in the opening 45 minutes of the League Cup-tie, had been charging around like a wounded rhino and had been booked for one swipe too many. But, remarkably, what was said in the dressing room at the break once more seemed to do the trick.
Richard Gough put it this way: "I told Paul to make sure he stayed on the park because if he got sent off he would be letting the other 10 players down. You shouldn't really have to tell an experienced player that, but you can get carried away in these games."
It was the Englishman who netted the second goal to wipe out Celtic resistance three minutes from the hour mark. Burns' troops were storming the Rangers penalty area in gung-ho fashion when a ball was hacked downfield in the direction of Ally McCoist, running clear with the freedom of the east end of Glasgow.
His Geordie team-mate kept pace with him and, with the defence in total disarray, McCoist rolled a pass across the penalty area and Gascoigne deftly lifted it over the outrushing Marshall and the ball bobbled into the empty net. It was a killer blow.
Unusually, Tommy Burns fired a verbal volley at some of his players afterwards, such was his obvious disappointment. He said: "I felt we were looking for our young players to turn it round in the second-half yet they should have been getting help.
"They've been doing well, but you can't expect them to take all the responsibility when things are going against us. Mind you, I couldn't believe we were a goal down at half-time, although it was a shocker to lose.
"After that, it was disappointing and we could use Thursday's European tie against Dinamo Batusi as an excuse, but we won't."
*TOMORROW: Don't miss the EXCLUSIVE tenth dramatic instalment of The Tommy Burns Story – only in your champion CQN.
Click Here for Comments >