JIMMY JOHNSTONE, the Greatest-Ever Celtic Player as voted by the Hoops supporters, was born on this day in 1944.
In another CQN EXCLUSIVE, author Alex Gordon takes a look through his files for tales of the Hoops legend.
Alex co-authored Tommy Gemmell's autobiography, 'All The Best', published by CQN in 2014, and talked about his memories of the colourful winger.
Here is a recollection of Jinky from his fellow Lisbon Lion during his spell as manager of Dundee.
Please enjoy.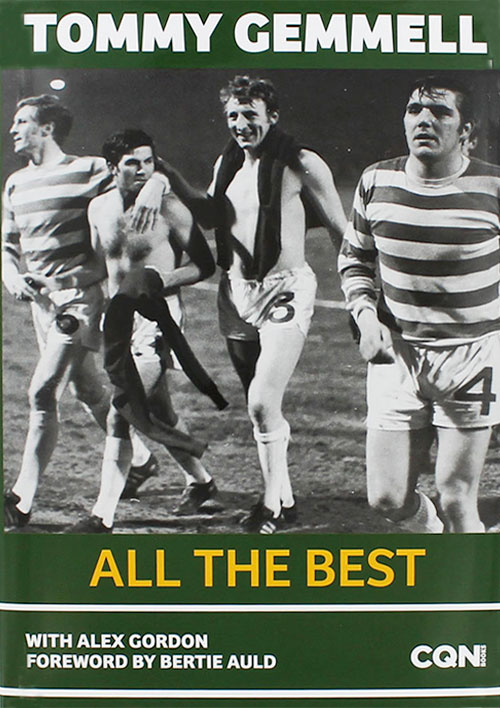 JIMMY JOHNSTONE awakened me from a deep sleep by rattling on the door of my hotel at around 1.30 in the morning. There was no point in taking him to task at that particular moment because reason had been washed away in a sea of alcohol.
He swayed from side to side, looked at me, focused and mumbled, 'Hi, boss.' With that, he trundled off to his room. I was more frustrated than angry. The following morning I grabbed Jinky.
Normally, I drove him to our training ground at Strathmartin Hospital where they had excellent facilities, including a lush playing surface. There were also a big hill. Guess where Jinky was heading that morning?
The Wee Man was still half-drunk and reeking of booze when I virtually threw him into my car. I knew Jinky could take a cargo, so I wondered what on earth had he been drinking to leave him in this condition. It would have to have been substantial, that's for sure.
I've got a fair idea of what I'm talking about because I was known to quaff an ale or two with him and he possessed an exceptional tolerance level to booze.
WELCOME TO DUNDEE…Tommy Gemmell greets his former Celtic team-mate Jimmy Johnstone to Dens Park.
My heart sank. This just wasn't a convivial pint or two after training. This was a full-blown bevvy session. I got him to the training ground and said to Willie Wallace, 'Work that wee bastard to a standstill today. Put him through the wringer. I'm not letting him away with murder.'
Wispy didn't hold back. After the players had gone through their normal routines, Jinky was called back for some extras.
Wispy handed him a medicine ball and told him to carry it up to the top of the hill and back again five times. Jinky took the ball and completed the chore before handing it back to his former team-mate. Wispy gave it back to him.
'Let's have another five, Jinky,' he ordered.
The Wee Man groaned, but he knew what it was all about. I almost felt sorry for him. Almost. Somewhere in between those runs Jinky was violently sick. He was coughing and choking, but stuck to the task.
After his session on the hill, he thought that it was over for the day. No chance. Wispy gave him the medicine ball again. 'We're going through another routine, I'm afraid, Wee Man. We need to get you fit.'
Jinky was told to run from the eighteen-yard line to the goal-line and back five times. He glowered at the wretched weight that was the medicine ball and did as he was told. He looked as though he was about to expire at the end of that routine.
'Now do it five times from the halfway-line to the goal-line and back,'smiled Wispy, who, if he hadn't made it in football, would have fitted in quite nicely to a role with the Gestapo.
LISBON LION…Jimmy Johnstone puts the  pressure on the Inter Milan defence during his halcyon days.
Jinky must have been aching all over, but he said nothing. Off he went to complete that particular task. When he returned he looked at Wispy and asked, 'You want me to run the full length of the pitch now with this effin' thing, don't you?'
'Got it in one, Jinky,' replied my No.2. 'Off you go.'
His lungs must have been burning and his legs must have been in terrible distress. He did as he was told, though. He must have been on the point of collapse when I told him to go and get a shower. Sounds drastic, I know, but I was absolutely desperate for the Wee Man not to let anyone down, especially himself.
He didn't utter a word in the car on our way back to Dens Park. I didn't even get a 'See you later, boss' as he left. I wasn't bit surprised to later learn that he bodyswerved the local hostelries that afternoon. He headed straight back to the hotel, didn't even have a quick one at the bar with the regulars, went to his room and crawled under the bed sheets.
Lesson learned? Remember, it's Jimmy Johnstone we're talking about.
I have to be completely honest here and say I was heartbroken that things did not work out for my wee pal at Dundee. It could have turned out to be a grande finale to a wonderful career. That would have been fitting after all Jinky had contributed to the game.
He deserved sustained applause at the final curtain on what really wasn't a job of work but his vocation. Alas, it wasn't to be. He started only two games for us and made a substitute appearance in another. We knew it was all over after about three months.
HAPPIER TIMES…Jimmy Johnstone and Tommy Gemmell celebrate Celtic's goalless draw with Dukla Prague in Czechoslovakia to go through on a 3-1 aggregate to the European Cup Final and a historic date with Inter Milan on May 25 1967 in Lisbon.
I had the secretary draw up a waiver stating that Jinky's contract with Dundee Football Club was being terminated with immediate effect. I promised to pay him the second part of his signing-on fee.
I don't think he was even thinking about the money when he signed the form. We had been through so much together, going way back to the days when I trained to be an electrician at Burnbank Technical College and Jinky took a course in welding. That was in 1960. This was 1977. There had been a lifetime in between.
He signed the waiver, handed it back, looked at me, smiled and said, 'Thanks, anyway, Big Man.'
My heart plummeted like a stone. We had a wee cuddle and he was on his way. His taxi arrived at the front door of Dens Park and, with that trademark cheeky grin, he glanced back at me, smiled again and waved.
I felt my eyes welling up. There was a strange feeling in the pit of my stomach. If an individual can't get emotional at a time like that then they should check and make sure they still have a pulse. As the vehicle took off, I couldn't help but wonder about the Wee Man's destination.
Would he get a chance at another league club? He had just turned thirty-three and I knew a focused Jimmy Johnstone could still play on for another couple of years. After turning out in nine games for Shelbourne in Ireland, he had a short spell in the Highlands with Elgin City and then spent six months with Junior side Blantyre Celtic.
It was all over in 1979, two years after I had taken him to Dundee. Two dreadfully wasted years in the career of a footballing genius.
Click Here for Comments >