EVEN the persuasive tongue of Martin O'Neill could not convince Mark Viduka to hang around Celtic and play a part in his revolution in the summer of 2000.
The Irishman had just arrived to take charge of the Hoops a year after the introduction of the so-called 'Dream Team' of Kenny Dalglish and John Barnes hadn't quite gone according to plan.
The Hoops idol and the former England international winger, one-time team-mates at Liverpool, had been ushered in the previous summer to a resounding fanfare, but the explosion of optimism didn't quite match the exploits on the field.
FIRST APPEARANCE…Mark Viduka prepares to replace Harald Brattbakk in a match against Dundee United at Parkhead on February 27 1999.
Barnes was sacked after the unacceptable and appalling 3-1 Scottish Cup loss to Inverness Caley Thistle, then in the second tier, at Parkhead in February and Dalglish took over in a caretaker capacity until the end of a campaign that saw them out of the title race in March.
The one ray of sunshine was a 2-0 League Cup Final win over Aberdeen with Viduka leading the line while Vidar Riseth and Tommy Johnson claimed the goals.
Viduka had refused to come out for the second-half of the national trophy disgrace against the Highlanders with the Hoops 2-1 adrift at the time. Former Arsenal veteran Ian Wright took his place and it was clear all was not well within the walls of Celtic Park.
O'Neill arrived from Leicester City and insisted everyone would be given the opportunity to impress him. The Australian international frontman, signed for the club by Josef Venglos from Croatia Zagreb for £3.5million in December 1998, decided not to take up the offer of the incoming gaffer.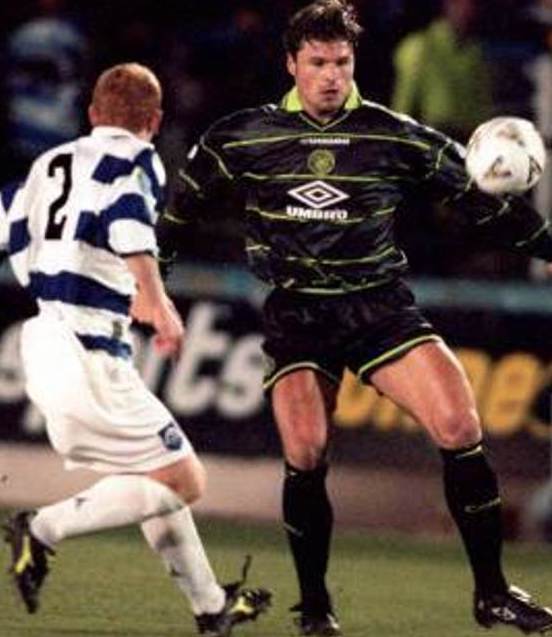 IN ACTION…Mark Viduka takes on a Morton defender in a Scottish Cup-tie on March 8 1999.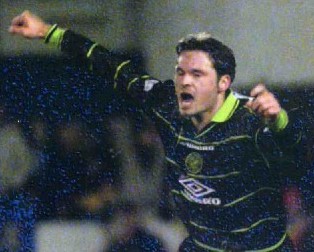 THE FIRST GOAL…Mark Viduka celebrates the opening strike of a double against Morton.
Controversy surrounded Viduka even before he had kicked a ball for Celtic. In the same month as his signing, the Hoops announced that the striker had quit football to return to Melbourne, citing stress as his reason.
A week later, Croatia Zagreb complained they had not received the agreed fee for the player. These issues were eventually resolved and Viduka made his first appearance in a Celtic shirt on February 16 1999, scoring for the Under-21 team as an over-age player in a 4–2 victory against Motherwell.
Following his first-team debut against Dundee United on February 27 1999, his first goals came against Morton in a Scottish Cup encounter when he fired in a double on March 8 1999.
The elegant frontman was voted Scottish Player of the Year in 1999/2000 after scoring 27 goals in his first full season at the club.
However, he wanted out after the Caley Thistle debacle and, following a face-to-face showdown with O'Neill, it was decided his leaving would be the best option for all concerned.
Looking back on his time in Glasgow and the false start to his Hoops career, Viduka observed: "I went through hell in Zagreb. I told Celtic: 'I need a break. I don't want to come and hide and take the money'.
"I was honest with myself and with them. But it backfired."
POWERHOUSE…Mark Viduka storms past an Aberdeen opponent on his way to goal.
Despite the eventual and inevitable departure, Viduka added: "I worked my arse off at Celtic. The club was in turmoil, but I was top scorer and Player of the Year.
"I really left my heart there. I refuse to accept it when someone says otherwise."
Viduka joined Leeds United for £6million and the new man in the Parkhead dug-out brought in Chris Sutton from Chelsea for an identical fee.
It wasn't long before the Celtic fans were saying: 'Mark Who?' as the Enlishman dovetailed perfectly with Henrik Larsson and the club won only their third domestic silverware clean sweep in history, following the remarkable achievements of Jock Stein in the all-conquering campaign in 1966/67 and then repeating the feat two seasons later.
Viduka, meanwhile, hit the headlines at Elland Road when he thumped in four goals as the Yorkshire side came from 2-0 down to overcome Liverpool 4-3 on a memorable Saturday afternoon in November 2000.
Viduka was top scorer in each of his four seasons at Leeds, but he quit when the club hit money obstacles and there was a fire sale of their top players and he had a fall-out with manager Peter Reid.
BY THE RIGHT…Mark Viduka thumps in a first-time drive.
He said: "We didn't have a clue of the financial problems, but then the likes of Jonathan Woodgate were sold. It was a disaster. I was sent off in my last game and that was frustration.
"The team wasn't being run how it should be. After David O'Leary was sacked (in 2002), we lost that aura. There wasn't the same discipline.
"It wasn't just Peter Reid, the whole club became lawless. If you have a squad worth millions, like ours, get a good coach. Someone who knows what he's doing. Look at Marcelo Bielsa now. He has proved what a coach can achieve."
Three seasons at Middlesbrough – and a UEFA Cup final – were followed by two injury-stricken years at Newcastle. Under caretaker boss Alan Shearer, the Geordies were relegated.
At the age of 33, Viduka, who scored 269 goals during his UK club travels, decided to retire. The one-time Celt admitted: "Roy Hodgson wanted me at Fulham. We met in the Chelsea Harbour Hotel. 'You're gonna be my No.9, bring players in'.
"I said: 'Roy, I would love to be that guy for you, mate. But I can't do it'. In my head I was there, on the end of the cross. In reality, I was a split-second late. I thought: If I keep playing, I'm gonna look like an idiot'.
"I had to be honest with myself, and Roy. I didn't want people to remember me as someone sticking around just for the money."
HOOP HOOP HOORAY…Mark Viduka celebrates with Jackie McNamara and his Celtic team-mates after the League Cup Final win over Aberdeen at Hampden in 2000.
These days, Viduka, 47, is as far removed from the hurly burly of football as you could imagine. Now 45 years of age, he owns a coffee shop in the hills north of the Croatian capital of Zagreb.
He is happy with his lot and stressed: "I wasn't obsessed with fame, at all. I didn't like it. I still don't. I wasn't obsessed with money, that came as a by-product.
"You've seen what football is like, a lot of arse-lickers and climbers, dishonest people who try to shaft you. But I always tried to stay true to myself.
"I was born and raised in Australia, but my parents were Croatian. I have that Aussie tolerance, but I also have my Croatian side, I'll stand my ground if I believe in something. It's about being honest with yourself.
"I left Australia to sign for Croatia Zagreb aged 19 and fell in love with the lifestyle. And we'd always wanted to run a cafe, for fun really, one where everyone was welcome. So here we are.
"Listen, my missus does all the work, I just sit here and drink coffee!"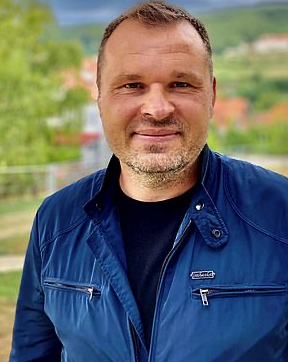 COFFEE SHOP OWNER…Mark Viduka is happy with peace and quiet away from the spotlight.
Asked if he missed playing, he replied: "No. Everyone has their time. I've had mine. I'm fine with that. I enjoy the peace. I'm happy to be anonymous now.
"I play the guitar. My son, Oliver, is a drummer in a band. When one of his mates can't make it, I jump in. We use our basement.
"The neighbours aren't very happy about it! Me and the boys love Arctic Monkeys. The lyrics, man, genius."
It is clear, though, that Viduka still keeps an eye on Celtic and he recently took the time to send a message to Ange Postecoglou via Greek media outlet Nova Sports.
"I just wanted to say congratulations on the job you've done so far at Celtic," said Viduka. "You've done a great job and I know it's a big responsibility, it's a big club and a lot of pressure.
"Keep flying the flag for Aussies in Europe, we're very proud of you."
And with that, Mark Viduka went back to sipping his espresso in his quiet little cafe somewhere in the hills above Zagreb.
* TOMORROW: Don't miss the adventures of another former Celt in CQN's EXCLUSIVE series.
Click Here for Comments >