GORDON STRACHAN didn't hesitate in breaking the transfer record between two Scottish clubs when he agreed to pay £4.4million to Hibs for Scott Brown on May 16 2007.
The Celtic manager saw the tenacious, determined, competitive 21-year-old midfielder as part of his jigsaw as he prepared to defend the title he won on his two previous campaigns after replacing the iconic Martin O'Neill in the Parkhead dug-out in June 2005.
It would be fair to say the player who became known as Broony to his adoring legions repaid Strachan's faith – and the fee – countless times over in a spectacular 14-year career in the east end of Glasgow that brought in a truly astonishing TWENTY-TWO honours while playing his part in 10 title triumphs.
Broony, of course, pulled down the curtain on his extraordinary stay at the club when his contract expired last summer to move onto the next phase in his career.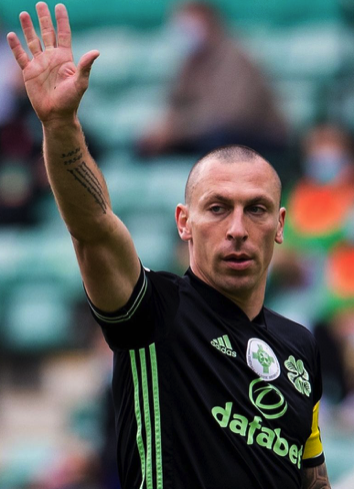 END OF AN ERA…Scott Brown waves farewell after playing his final game for Celtic, the goalless draw against Hibs at Easter Road last May.
Long-time friend and former Hibs team-mate Stephen Glass, who had taken over from Derek McInnes as manager of Aberdeen, persuaded the 36-year-old stalwart to take his leadership qualities to the north-east in a player-coach capacity.
The plan was dynamited when the rookie boss was sacked by the Dons last month following the Scottish Cup exit at Motherwell and the club yesterday announced their captain would lso be leaving as they terminated his contract which still had over a year to run.
So, is it the end of the road as an onfield performer for Broony? Or is there more to come? Will he now concentrate on coaching?
Trying to provide some of the answers, Strachan said: "The game is going to miss having a player like Scott around.
"Whether it was great moments on the pitch – good fun, daft or sometimes stupid – he's been a real giant over the years and guys like him don't come around too often.
"Scott may have arrived at Celtic in baggy jeans and kicked-in trainers on the day he signed, but, absolutely, he went on to achieve legendary status at the club.
CLUB LEGEND…Celtic's tribute to Scott Brown.
"Look, there will be people who will ask the question: 'Well, how good a footballer was he?' – and that's open to debate.
"But when it comes to being a giant of the game there can't be a conversation. Absolutely none.
"I've played with a lot of fantastic footballers, terrific footballers, probably technically more gifted than Scott.
"But out of all of them, none of them comes anywhere near the amount of trophies that Scott's got or the kind of legacy that he has left.
"Scott and I have conversations, talking about systems and coaches, but I keep saying to him that every manager has their own style. The secret is getting good people and good players around you.
"Any time I see a club not doing so well it's usually because the recruitment has brought people to the clubwho are causing the problem.
"Then you get the good people, guys who play their part and who want to get better.
THE FIRST OF TEN…Scott Brown celebrates with his team-mates after the 1-0 win over Dundee United that made certain of the crown in 2008.
"And then, every now and then, you get the gem. The gem is a guy who can make people around him great players. That is a gift.
"Scott has the ability to make the people around him great. That's what he's done over the last 15 years or so."
Sixty-five-year-old Strachan, speaking to the Daily Record, added: "The thing about Scott is, he likes people. He likes being with people and he likes to see people doing well which is a wonderful thing when you are going into coaching.
"A lot of people go into coaching for themselves, but the secret to being a great coach is being a bit like a doctor. You're there to make other people better, not yourself.
"And that looks like being Broony's next step.
"He's great in the dressing room and that's massively important. But he's also great on the training field and the pitch.
"Some guys are only any good to you in one of those three places. The great ones can do it on all three.
"That's Scott Brown all over."
Click Here for Comments >