CQN is turning the spotlight again on the Celtic players who never had the honour of playing for their country. Evan Williams, the keeper with the Welsh name who was born in Dumbarton, never got the nod to get into a Scotland squad. He was constantly overlooked, but was good and consistent enough to satisfy the meticulous Jock Stein.
Here is his story in another EXCLUSIVE CQN series.
EVAN WILLIAMS has the odd distinction of mixing his greatest performance with his biggest disappointment during his five years as Celtic goalkeeper.
Jock Stein bought the netminder from Wolves in October 1969 as he continued his search for the ideal replacement for the legendary Ronnie Simpson. And it was Williams who helped to bring stability to the back line with his steady, if unspectacular, displays.
The likeable Williams, now 80, came into the side, taking over from John Fallon, at the quarter-final stage on the Hoops' way to the European Cup Final against Feyenoord in Milan in 1970. The Parkhead side, the first British team to conquer Europe three years beforehand, were runaway favourites after beating Leeds United home and away in the semi-final.
S-T-R-E-T-C-H…Evan Williams dives full-length to grab the ball at his near post as Tommy Gemmell looks on during the ill-fated European Cup Final against Feyenoord in Milan in 1970. 
"We had done the hard work and we were confident of achieving a second success," recalled the shotstopper. "It didn't turn out that way, unfortunately. The Dutch side surprised us and they really played well. We never got to grips with the game, although, of course, we took the lead with one of Tommy Gemmell's 'specials'.
"That was probably my busiest game as Celtic goalkeeper. There were occasions when I really hard to work hard on my concentration because the guys in front of me were dominating the opposition and the ball was rarely in my penalty area.
"Not that evening, though. I would say that was my best game for the club. It's just a pity it is also my biggest disappointment. We really wanted to win that trophy again for the most wonderful fans in the world.
"They got the winner only a couple of minutes from the end of extra-time when it looked as though the Final was heading for a replay.
"I've no doubt we would have beaten them in a second game. We had been warned about their ability in the San Siro and we would have reacted to that."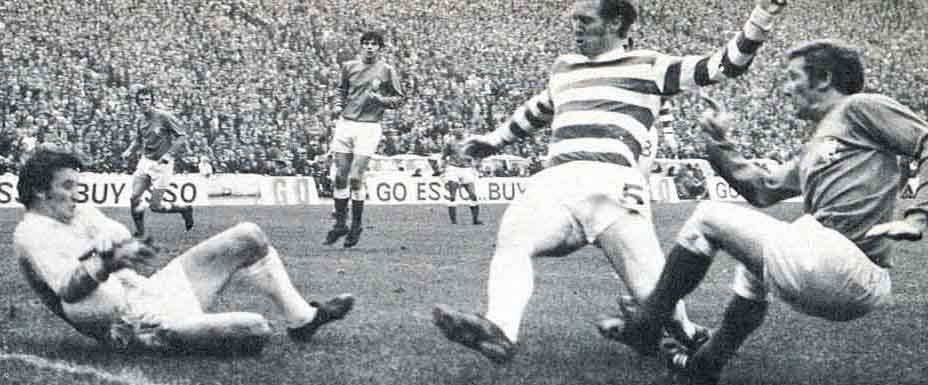 WELL SAVED…Evan Williams foils Rangers' Alex MacDonald as Billy McNeill fails to block the shot.
Williams, calm and confident between the sticks, was good enough to play 148 times for Jock Stein's side while winning four championships and two Scottish Cups.
Curiously, though, he never got a look-in at international level. It must be said that Scotland were hardly blessed with high quality custodians back in the early seventies and Tommy Docherty even brought in Englishman Bob Wilson, of Arsenal, for two games against Portugal and Holland in 1971.
Rangers' Peter McCloy even got caps in preference to Williams and, with absolutely no disrespect to the man known as 'The Girvan Lighthouse' because of his skyscraper height, the Celtic keeper was by far the better of the two.
McCloy had his merits, but he was hardly technically gifted. You got the impression he had been chosen as a goalkeeper simply because he was well over the 6ft mark. But, as one observer noted, he used to go down for low shots "in instalments".
Williams will shrug when he is asked about his lack of caps for his country. "As long as Big Jock was satisfied that I was doing a job for Celtic, that was all that mattered," he says. "But, yes, it would have been nice to play for my country."
That occasion never occurred for a goalkeeper who was so highly rated by team-mates such as Billy McNeill, Davie Hay, Tommy Gemmell and Bertie Auld.
But not, it seems, by Scottish international managers.
Click Here for Comments >