RYAN CHRISTIE has welcomed back Leigh Griffiths and insists the striker will again become Celtic's lethal weapon in their firing squad.
The 28-year-old Scotland international made his first appearance at Parkhead this year during the 0-0 stalemate with French Cup winners Rennes on Saturday.
Griffiths, returning to lead the attack after battling personal issues, looked lively and sharp, as CQN pointed out in the match report.
The frontman claimed only six goals in the last campaign, but Christie is backing his team-mate to hit the ground running in the weeks ahead and assistant boss John Kennedy has already hinted the player could figure in the second leg against FK Sarajevo on Wednesday with the Hoops already 3-1 ahead after last week's Champions League qualifier in Bosnia.
The gifted playmaker, also returning to action after his term was abruptly interrupted after he suffered multi-facial injuries following a brutal aerial assault by Aberdeen defender Dom Ball in the Scottish Cup semi-final on April 14, reckons his colleague is determined to make up for lost time.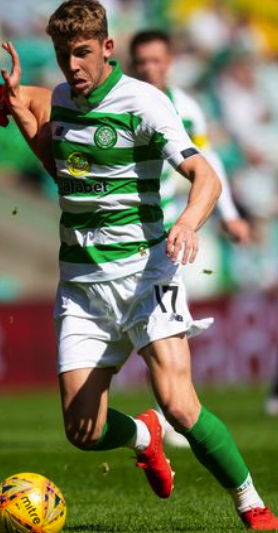 ON THE BALL…Ryan Christie gets ready for the new season.
Christie, speaking to the Daily Record, said: "Towards the end of last season, we did well to try and fill the void left by Leigh, but to have someone like him who can create a goal out of nothing is priceless.
"Since he's come back, he's been brilliant. He's worked as hard as anyone trying to get himself fit again so fair play to him. He's now benefiting from that and getting his rewards because as you could see he did look very sharp.
"It's only a matter of time before he starts scoring goals again, too.
"He's back training as well as ever and he's certainly not lost his finishing ability that's for sure. Come the start of the season, he will be firing on all cylinders."
Christie added: "Now that's he's back, it's like he has never been gone. He certainly doesn't look like he has got any problems any more. So ,I am delighted with him.
"He's just working with the boys – towards the end of last season he started training again and doing drills himself, which I always think is harder.
"When you are doing it with a squad of players it's always easier because you are working towards the same goal."
Click Here for Comments >