TOMMY BURNS had a massive moment to celebrate as he attempted to guide Celtic to success in the turbulent 1996/97 crusade.
The fans' favourite had returned to the club on July 12 1994 and had won the Scottish Cup in his debut campaign. That was followed by a barren term and all eyes were on the boss during a third challenging season.
In another CQN EXCLUSIVE series, we chart Tommy Burns' career as the team's gaffer during testing times on and off the field. Here is the twenty-first instalment from Alex Gordon's tribute book, The Winds of Change, which was published by CQN in 2015.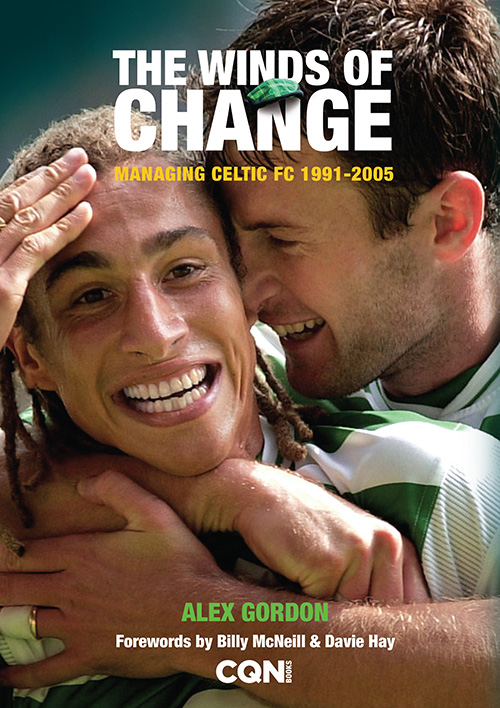 ENRICO ANNONI kept his place for the visit of Rangers on Scottish Cup business on March 6 1997. In the days counting down to the tie, Tommy Burns was to be found situated in that extremely uncomfortable place between a rock and hard place.
The manager, deservedly, had received credit for making the team a highly watchable entity again, as attendance figures proved on a weekly basis. But – and it was a massive but – Celtic had failed to beat Walter Smith's team on their previous nine meetings, irrespective of how the final results were achieved.
It was a record that hardly enhanced Burns' CV.
On a grey, gusty late winter's evening of high tension in the east end of Glasgow, Celtic set about dismantling the liability that had engulfed them for far too long. A crowd of 49,519 filtered into Parkhead to witness a spectacular role reversal.
Malky Mackay and Paulo di Canio physically lifted the two-year-old monkey – some said gorilla – off Celtic's back and, at the same time, eliminated the holders from the competition.
RISE AND SHINE…Malky Mackay outjumps Rangers keeper Andy Goram and team-mate Alan Stubbs to thump in Celtic's opening goal in a dramatic Scottish Cup triumph in March 1997.
As the players took their positions for combat, Tommy Burns was incarcerated in the directors' box, starting a six-month ban from the touchline for misconduct after the spat with fourth official Eric Martindale during the previous provocative Old Firm confrontation. The manager was also hit with a £2,000 fine for good measure.
Inside four minutes the tone of a fiercely-contested game was set. Rangers' tough Australian defender Craig Moore lost possession in midfield before launching a furious assault on Tosh McKinlay. His boot was high and the studs were showing as it thudded into the left-back's right ankle. Referee Jim McCluskey, six yards from the incident, awarded a free-kick, but Moore went unpunished.
It could have been worse only three minutes later when Brian Laudrup, racing onto a Jorg Albertz pass, eluded Annoni to set up a shot at goal, but keeper Stewart Kerr reacted in an instant to race from his line, narrow the angle and beat away the Dane's low drive. Moments later, Phil O'Donnell, completely unmarked, put the ball over the bar from eight yards. It had to be placed in the 'Miss of the Season' category.
In the tenth minute, Andy Goram was required to do something that was becoming alien to the Rangers qoalkeeper; pick the ball from the back of his net in the east end of Glasgow.
Goram had gone four games at the home of Celtic without being asked to undertake the deed, but, on this occasion, he could have no room for complaint. Di Canio, who launched into the confrontation like a man possessed, swung in a corner-kick from the left and centre-half Mackay was surprisingly unmarked inside the six yards box.
HEAD BHOY…Malky Mackay gets in front of  Rangers keeper Andy Goram to score the first goal in a tense Old Firm duel with Alan Stubbs and Jorge Cadete getting a close-up view.
He rose in front of the frantically grasping Goram to nod in the simplest of goals. Afterwards, he said: "Only my dad would have bet on me to score. I was 50/1 for the first goal and nobody but him would have had a bit of those odds. It shocked me to get a free header, but I wasn't complaining."
Eight minutes later, the Rangers custodian was wrestling with the rigging behind him again to retrieve the ball after a superb Di Canio penalty-kick.
McKinlay angled in a dangerous ball from the left, Jorge Cadete's turn and run caught Swedish defender Joachim Bjorklund, a £2.7million summer buy from Vicenza, totally on his heels and he halted the progress of the dashing attacker with an awkward tackle with his right foot  across Cadete's left leg and McCluskey pointed to the spot while waving away some half-hearted attempts at a protest from a Rangers contingent.
Di Canio snatched the ball, placed it strategically on the spot, meandered forward and sold Goram a glorious dummy. The Italian shaped to put it to the keeper's left, but at the last possible moment of impact, turned his right foot and rolled the ball in at the opposite corner. Goram looked flummoxed.
SPOT ON…Paolo di Canio doubles Celtic's advantage with a smartly-taken penalty-kick.
There were two other legitimate calls for penalty-kicks in a testosterone-charged first-half, but the match official denied both claims. One was a stick-on and the other was in the 'I-have-seen-them-given' category. The first, was an assault on Di Canio by a panicking Alan McLaren as the Celtic tormentor took him on for pace and was getting away from his opponent before he was bulldozed to the turf.
McCluskey, amazingly, indicated it was a fair shoulder charge. That would certainly have been true if Di Canio's right shoulder had been situated somewhere near the centre of his chest. David Robertson then caught Peter Grant as he stormed into the box. It looked a good call, but the referee clearly believed the midfielder had taken a dive.
Having been awarded one spot-kick, it was obviously absurd to believe another would be forthcoming from the match official without someone actually losing a limb in the penalty box.
As the half wore on, it looked a case of how many Celtic would score. Di Canio was immense, but Rangers' indiscipline transformed into an epidemic as they tried to curtail him. Iain Ferguson cynically cut down the waltzing matador and was booked for his actions. Just before the interval, Gordan Petric launched into a challenge on the Italian from behind. It was reckless and dangerous, but he escaped a booking.
WALLOP…Simon Donnelly takes one on the chin from Paul Gasciogne as David Hannah challenges during a hectic moment in a Glasgow derby confrontation.
On another evening with another referee, it could very well have been game over for the Serbian defender. Tragically, from Celtic's point of view, anyway, it was the last that would be seen of Di Canio. He grimaced as he held his left ankle and it was no surprise when he didn't reappear for the second 45 minutes with Andreas Thom taking his place.
There was the surreal sight of two Celtic players writhing in obvious distress only yards from each other minutes into the second-half. Robertson clattered into Jackie McNamara off the ball and then collided with Thom, leaving both flattened. McCluskey brandished the yellow card as the encounter entered its untidiest phase.
McLaren was booked for a late challenge on Alan Stubbs and then Stubbs and Annoni, almost inevitably, joined him in the growing list of miscreants. It had been a boisterous, frenzied encounter that was laced with a hint of nastiness, but, when McCluskey blew for full-time, the shrieking peep of his whistle also signalled the end of an awful run for Burns against Walter Smith.
It had been two years in the making and how the Celtic supporters lapped it up. "We're going to win the Scottish Cup," was the joyous acclamation from the green-and-white bedecked followers. No-one bothered to point out that Celtic had knocked Rangers out of the national competition TWELVE times in the past before the Cup Final and had failed to lift the silverware.
HAPPY DAZE…Tommy Burns all smiles after a great result.
Burns said: "I'm thrilled for our fans – they can now go to work with a smile on their face. The players gave all they could and we had the breaks we needed at the right time. The team followed my instructions perfectly.
"We've shown we can play more than one way against Rangers. But it is only one win. The fact that it came against Rangers makes it a bit more special because it's a first for a lot of our players. We now need to get ourselves ready for our most important game of the season – not a week on Sunday against Rangers, but against Kilmarnock on Tuesday."
His opposite number Smith, still unhappy at the award of a penalty-kick against his team, said: "Celtic claim they never get any decisions, but they got this one. Tonight shows Celtic can win if they play well enough. Celtic competed better than we did and deserved the victory.
"Strangely, they probably created fewer chances than in recent games against us when they've come away with nothing. Losing the first goal from a setpiece was poor from our point of view and it was always going to be an uphill climb after that."
Skipper Paul McStay chipped in: "We had the self-belief we needed. Beating Rangers was a hurdle we had to overcome. We've now got to believe we can go on to win the Scottish Cup AND the Championship. The pressure was on us to turn this thing around.
"We put in a lot of effort and our attitude was bang on. We went ahead early on and contained them well after that. It was a double hurdle – to get into the semis and also to get rid of that jinx."
* TOMORROW: Don't miss the EXCLUSIVE twenty-second dramatic instalment in The Tommy Burns Story – only in your champion CQN.
Click Here for Comments >