CQN continues its EXCLUSIVE look at Celtic's biggest day in history – the 2-1 European Cup Final victory over Inter Milan exactly 56 years ago today.
Author Alex Gordon, who has written fifteen Celtic books, spotlights selfless striker Stevie Chalmers in an edited chapter from his tribute tome 'That Season in Paradise', which was published by CQN in 2016.
Please enjoy the walk down memory lane.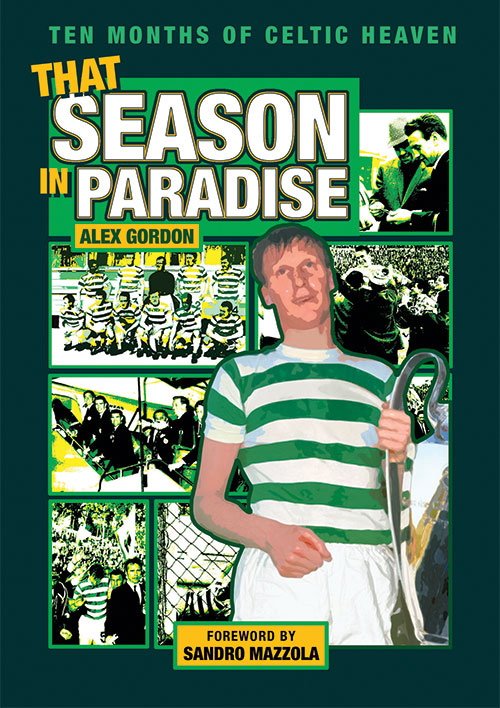 STEVIE CHALMERS has always been the first to admit his matchwinner wasn't quite in the same category as Gemmell's cracker.
The livewire raider insisted: "I might be the guy who got the winning goal, but, believe me, being involved all the way through and playing in every game is something that will live with me forever.
"Okay, how did I feel when I netted against Inter Milan with only five or six minutes to go? Exhausted! Cramp was coming on, but that evaporated as soon as that ball hit the back of the net. It may not have been as spectacular as Big Tommy's effort, but, for me, it was special because it was part of a routine we worked on day in, day out at training at Barrowfield.
"Big Jock would get myself, Joe McBride, Willie Wallace, Bobby Lennox and John Hughes to line up around the six-yard line and he would get Big Tommy, Bobby Murdoch, Bertie Auld, Jim Craig and Charlie Gallagher to hammer over crosses from the left and, after that, the right.
"Then he would vary the routine with Big Tommy playing the ball back from the line to, say, Bobby to hit the ball diagonally across the face of the goal. He would then do the same on the right with Cairney laying the ball back for someone to hit a similar effort into the penalty box.
THE WINNER…Stevie Chalmers turns away in joy as keeper Giuliano Sarti claims for offside.
"This would go on for hours until you knew off by heart where you were expected to be in the penalty box whenever a move was developing. It was no fluke, believe me, that I was standing where I was when Big Tommy pulled the ball back to Bobby to thump in his shot from the edge of the box.
"People have said they thought Bobby's effort might have found the net without my help, but Bobby himself would have told anyone his shot was heading for a shy! I simply sidefooted the ball past Giuliano Sarti, Inter's superb goalkeeper, and the European Cup was heading for the east end of Glasgow.
"You'll see pictures of Sarti appealing for offside – well, he would, wouldn't he? – but there was no way I was off. I was well onside when I got my touch to the ball. Big Jock always hammered into us the importance of being aware of where you were in the opposition's box. He didn't want a move breaking down because of a lapse of concentration on anyone's part.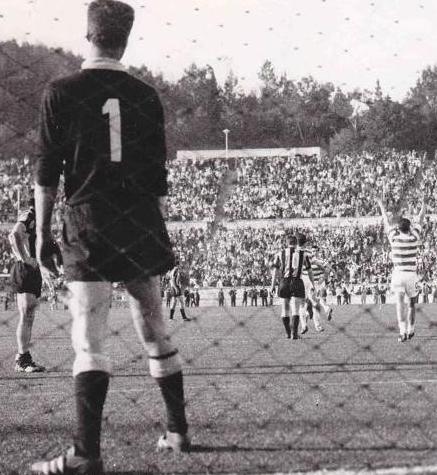 THE VICTOR AND THE VANQUISHED…Stevie Chalmers walks away with his hands in the air while gallant Giualiano Sarti can only look on helplessly after the winning strike in Lisbon.
"Lisbon was made all the sweeter because I had been at the club eight years before then, signing from Junior club Ashfield on February 6 1959, and there was absolutely no way I could have ever believed Celtic would one day conquer Europe.
"After putting pen to paper, I made my debut just a month later, an instantly forgettable 2-1 defeat from Airdrie at Celtic Park. Possibly not surprisingly, that was my only league appearance of that particular campaign.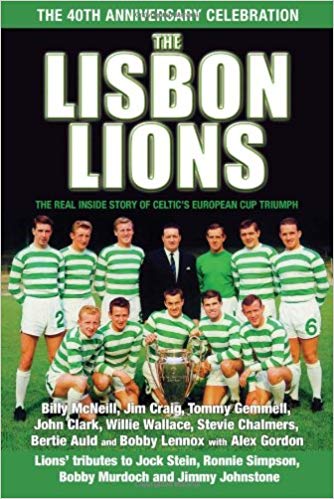 "After Lisbon, I came home to spend my bonus money. To be honest, I can't remember too much about my so-called spending spree. My  wife, Sadie, would have got something, of course, and I probably spent the rest on things around the house. Not exactly Flash Harry, eh?
"But winning the European Cup was not all about money. It was about football and putting Celtic's name on the European map. We managed that and, of course, Big Jock was smiling afterwards because we did it in the Celtic manner.
"Ach, I suppose we weren't a bad side."
Click Here for Comments >