CQN continues its EXCLUSIVE look at Celtic's biggest day in history – the 2-1 European Cup Final victory over Inter Milan exactly 56 years ago today.
Author Alex Gordon, who has written fifteen Celtic books, spotlights hard-working goalscorer Willie Wallace, a £30,000 arrival from Hearts who had notched a double against Dukla Prague in the semi-final, in an edited chapter from his tribute publication 'That Season in Paradise', which was published by CQN in 2016.
Please enjoy the walk down memory lane.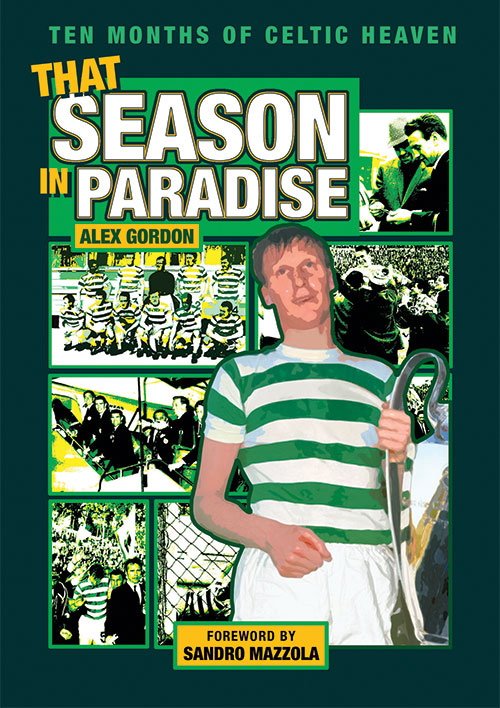 WILLIE WALLACE revealed the part Inter Milan's left-back Giacinto Facchetti, a genuine sportsman, unwittingly played in the lead-up to Tommy Gemmell's wonder strike.
The stiocky and versatile forward said: "I am glad to say I had a hand, quite literally, in big Tommy's equaliser. I took the shy that moved the ball around the field before it finished behind the redoubtable Sarti. I recall I was going to throw it into the penalty box, but their giant defender Facchetti blocked my view.
"Big Jock used to hammer it into us to play the ball into the opposing team's box because you couldn't be offside at a throw-in. If you had a guy, for instance, standing right on the bye-line your opponents would be forced to cover him because he would be onside.
"By that reckoning, their defence would fall back and that would give someone else the opportunity to be played onside if there was a flick on or a rebound. So, in effect, I should have pitched the ball into the mix.
"But Facchetti prevented that and I actually threw it back to Big Tommy. I thought, if nothing else, it would be better for us to keep possession. And from that came our leveller."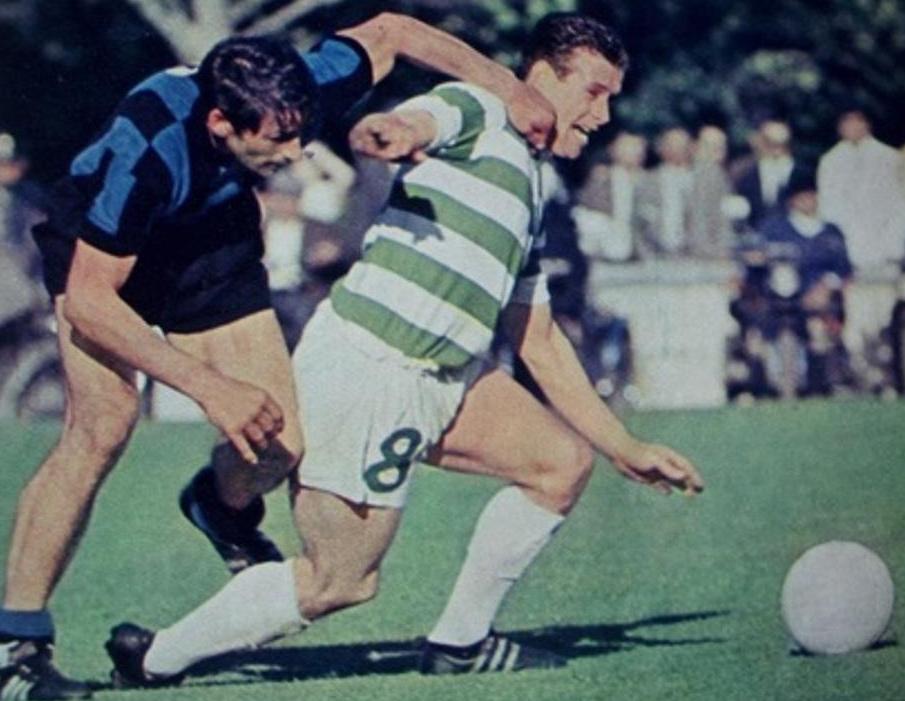 PUSH OFF…Willie Wallace moves away from an Inter Milan challenge to set another attack in motion.
Gemmell knocked the ball across to Jim Craig on the right and it swept through to Bobby Murdoch, Jimmy Johnstone, John Clark, Murdoch again, in front of Craig racing in from the right and across to Gemmell who clubbed an unstoppable drive high into the net for the crucial leveller.
Stevie Chalmers put the finishing touches to a fine evening in the Portuguese capital later in proceedings.
Speaking about the contribution of Jimmy Johnstone, Wallace added: "'Wee Jinky, of course, was an unbelievable character. I've always thought someone should write a Harry Potter-style book about a wee footballer who could do all these magical things as he grows up. You could base it on the life and times of Jimmy Johnstone.
"He was a special player and Lisbon was an ideal setting for him. He told me and all the other Lions afterwards that he wished he could have contributed more that day. We told him to behave himself and stop looking for compliments.
"Inter MIlan stuck a bloke called Tarcisio Burgnich on him that day and he was one of the best man-markers in the world, if not the best. But Jinky stuck at his task throughout the ninety minutes. Burgnich never left his side and Jinky took him into areas that opened up the way for Bobby Murdoch and Wee Bertie to come through.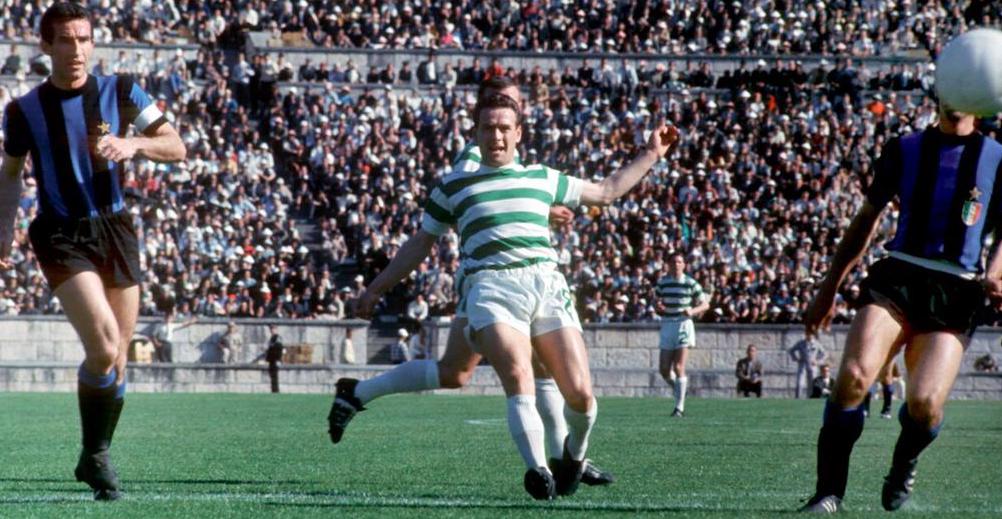 WALLOP…Willie Wallace fires in a shot as two Inter defenders close in.
"It's not the stuff that is immediately noticeable, or even appreciated by some supporters, but players know what it is all about. Anyway, I will always remember Wee Jinky coming so close that day with a header, which wasn't bad for a bloke who stood 5ft 4in.
"Cairney dinked one in from the right and, for once, Burgnich was nowhere to be seen. Jinky just took off and made perfect contact with his head. The ball was hurtling high into the net until Giuliano Sarti, who might have thought it was going over under its own steam, suddenly reacted to the danger and sprang high to get a hand to the effort to turn it over the crossbar.
"If he had hesitated, Wee Jinky would have scored. With a header!"
Click Here for Comments >