CQN continues its EXCLUSIVE look at Celtic's biggest day in history – the 2-1 European Cup Final victory over Inter Milan exactly 56 years ago today.
Author Alex Gordon, whose has written fifteen Celtic books, spotlights wing wonder Jimmy Johnstone, voted the Greatest-Ever Celtic Player, in an edited chapter from his tribute tome 'That Season in Paradise', which was published by CQN in 2016.
Please enjoy the walk down memory lane.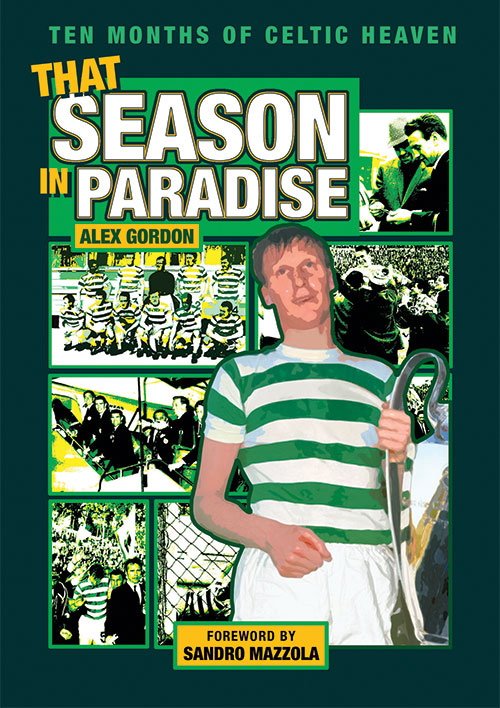 IT took the rest of the newly-crowned Lisbon Lions a fair bit of time amidst the euphoric aftermath to convince Jimmy Johnstone he hadn't let the team down. The little winger figured he hadn't played to potential as Inter Milan were swept aside.
There can be little doubt that the man who was daubed Mickey by Jock Stein after the famous Walt Disney cartoon mouse, but known as Jinky to his team-mates, was a complex character who continually sought reassurances – even minutes after being part of a historic Celtic team that had just claimed the glittering European Cup.
Bobby Murdoch, in his 1970 memoirs, gave an interesting insight into the psyche of his good friend. He said: "You won't find a bigger worrier anywhere than Jimmy Johnstone. We came into the Celtic team during the same season and played on the right-wing together.
"Because of this, I have got to know him really well and I really do understand him. As a footballer, I rate him as one of the best I have ever seen anywhere.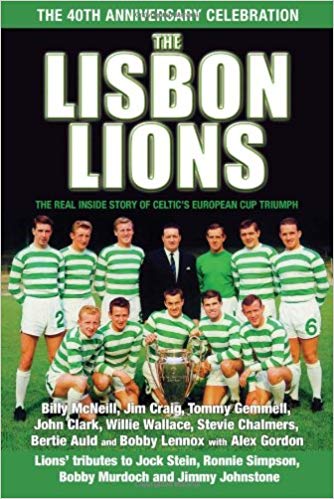 "He is positively brilliant on the ball, yet in those early days when we were both trying to create an impression with our rather immature standard of play, Wee Jimmy just wouldn't believe he was any good.
"He had no faith whatsoever in his own ability and I used to shout myself hoarse telling him that he could take the full-back any time he wanted. He had to be encouraged all the time.
"I was almost a private coach to the Wee Man, shouting stuff like: 'The full-back is scared stiff of you, Jimmy' or 'You can take him any time you like' or 'You've got this team worried sick'. And so on for ninety minutes. He had to be kidded and coaxed all the way.
ON THE RUN…Jimmy Johnstone, watched as ever by Tarcisio Burgnich, moves menacingly into attack.
"In the years since, however, he became steadily more confident and now demands the ball from all of us. It is always his plan to make a fool of the full-back so that he will lose his composure and panic into mistakes. When he is on form there are times I almost feel sorry for the opponent."
Former Celtic manager and player Davie Hay, now a distinguished and worthy ambassador of the club, was closer to Jinky than most and accepted he was the Wee Man's unofficial off-the-park 'minder'. He said: "Jinky possessed a self-destruct button. He could be a complex personality if he perceived there was an injustice being done to him. It could be real or imagined, but you could always detect that Jinky was fretting about something."
Many years after Lisbon, Jimmy Johnstone, in a reflective moment, commented: "I'm proud that I was part of the greatest club in the world. To be the first British team to win the European Cup, but more so to be part of the greatest Celtic team ever. That's something else, isn't it?
"Picture it, though. Who were we? We were nobodies, just a bunch of guys. Here we were in Lisbon, playing against the mighty Inter Milan. If you remember, they had won the European Cup and the World Championship twice in three years. Big Jock always said we'd win, but, to be honest, I thought we'd get a right gubbin'.
"I can see them yet standing alongside us in the tunnel waiting to go out onto the pitch – Facchetti, Domenghini, Mazzola, Cappellini, all six-footers wi' Ambre Solaire suntans, Colgate smiles and slicked-back hair. They even smelt beautiful.
WALKING ON AIR…Jimmy Johnstone tries an acrobatic effort with Inter Milan keeper Guiliano Sarti in attendance.
"And there's us midgets. Ah've got nae teeth, Bobby Lennox has'nae any, either, and old Ronnie Simpson's got the full monty, nae teeth top and bottom. The Italians are starin' doon at us and we're grinnin' back up at 'em wi' oor great, gumsy grins. We must have looked like something oot o' the circus.
"But, somehow, we knew within ourselves, our own ability and we started to believe in ourselves, but we never, ever for a minute thought that we would win the European Cup. Afterwards? We all got drunk, I think. For a week after it, we just got drunk."
Tommy Gemmell recalled: "Wee Jinky used to tell me how disappointed he was with his own performance in Lisbon. He really wanted to go out there and just take over. As we all know, he was a cocky, capable little character when he was in the mood and he knew this was his sort of platform.
"The European Cup Final was invented for Jinky; that was his sort of stage. But it is to his eternal credit that he sacrificed himself that day for the team. He roamed here, there and everywhere taking the Italian team's tough guy Burgnich with him.
"It wouldn't have been how he thought or dreamed how it would turn out, but he saw the team as being a lot more important than himself and he just got on with putting in a marvellous shift."
Click Here for Comments >