ONE of the most unselfish displays by a Celtic player was witnessed live by only a handful of Hoops fans – and helped to propel the team towards legendary status in Lisbon the following month.
It was April 25 1967 – exactly 56 years ago today – that Stevie Chalmers waged a one-man crusade against the Dukla Prague defence in the vast Juliska Stadium in the Czechoslovakian capital.
Celtic were protecting a 3-1 first-leg advantage after Willie Wallace, with a crisp double, and Jimmy Johnstone had netted in front of 74,406 fans at Parkhead a fortnight earlier.
Jock Stein, on the solitary occasion in his time as all-conquering manager, ordered his team to defend in depth. Even Jimmy Johnstone and Bobby Lennox were deployed as auxiliary full-backs to assist Jim Craig and Tommy Gemmell.
UNDER SIEGE…Stevie Chalmers incurs the wrath of the Dukla Prague players during a flashpoint incident in the second leg.
It ended goalless and, of course, the shackles were lifted a month later in the Portuguese capital city when Stevie Chalmers claimed the winner in a breathtaking, one-sided performance against the much-vaunted Inter Milan.
It was a different story, though, for Stevie and his team-mates against Dukla Prague in front of 19,157 spectators in their crucial European Cup semi-final confrontation.
In another CQN EXCLUSIVE, author Alex Gordon turns back the clock with a reminisce from his tribute book, 'LISBON LIONS: The 40th Anniversary', which was published in 2007.
In an interview with the Hoops hero, Chalmers told Alex: "I will always remember our semi-final against Dukla Prague in Czechoslovakia. That was the one and only time I was BANNED from entering my own team's half of the field.
LISBON, HERE WE COME…John Fallon yells with delight as Jock Stein congratulates his backroom Bhoys.
"Big Jock laid it on the line: 'Keep busy, Stevie. Let them know you're out there'. I was never afraid to put myself about and, as I recall, a few players bumped into my elbows that afternoon! It's a man's game, after all.
"I just kept going for the entire 90 minutes and the Dukla back lot weren't pleased. It was one of the hardest shifts I ever put in, but we were 90 minutes away from the European Cup Final and if that doesn't give you momentum then nothing will."
Stevie's lung-bursting endeavours that afternoon is the stuff of which heroes are made. It was unlike Stein, and he vowed never to repeat his tactics, but he put out a defensive formation to frustrate the Czechs. It worked, but it could have backfired if Ronnie Simpson hadn't been alert in the early minutes of the match.
CZECH MATES…the team that drew with Dukla and went on to beat Inter Milan: Back row (left to right): Jim Craig, Tommy Gemmell, Ronnie Simpson, Bobby Murdoch, Billy McNeill and John Clark. Front: Jimmy Johnstone, Stevie Chalmers, Bertie Auld, Bobby Lennox and Willie Wallace.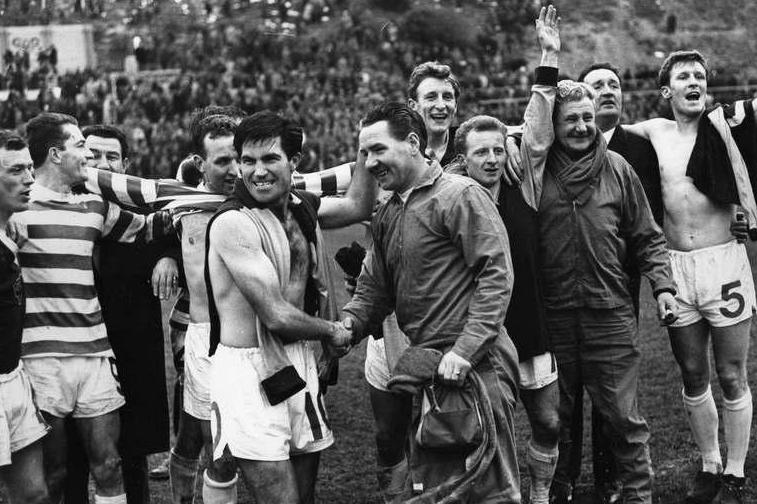 THE FINAL SAY…Bertie Auld and trainer Neilly Mochan shake on it as the Celts whoop it up after the goalless draw. Jock Stein, second right with Billy McNeill, takes a back seat on this occasion.
Beanpole striker Stanislav Strunc had a shot blocked and it dropped in front of Josef Nedorost about 10 yards from goal. He first-timed a vicious volley goalwards and had to step back in horror as Simpson took off to his left to touch the ball over the bar. It was the closest Dukla came to a goal that day.
Celtic, with Billy McNeill in commanding form, soaked up everything the Czechs could throw at them while Chalmers raced around chasing everything that dropped in Dukla's half.
The Hoops captain and inspiration recalled: "What a game Stevie had in Prague. We felt a bit sorry for him. At one stage he got into a bit of bother and suddenly he was surrounded by about four of their players.
"We were too far away to lend him some support. Thankfully, the referee sorted it out."
Stevie Chalmers certainly had the last laugh in Lisbon on an unforgettable evening on May 25 1967.
Click Here for Comments >