'REGRETS?' smiled Billy McNeill. 'I've had a few.'
I half-expected my lunchtime companion to regale me with an impromptu version of the Frank Sinatra classic 'My Way',which, when you think about it, wouldn't have been totally inappropriate.
The Celtic fans celebrating the 3–1 Scottish Cup Final victory over Airdrie on Saturday, May 3 1975 didn't realise they were witnessing the last performance from skipper supreme
Billy McNeill. The thirty-five-year-old icon had decided to get out at the top after serving eighteen years and making 790 appearances for his one and only club.
FOLLOW THE LEADER…Billy McNeill and his Celtic team-mates troop onto the Lisbon pitch on May 25 1967.
It's maybe just as well the supporters in the 75,457 crowd hadn't a clue about their captain's momentous decision. It may have taken a day or two of encores from McNeill before the fans dispersed.
At least, now a loyal servant might have some spare time to visit his version of Fort Knox and count his medals, all twenty-three of them and, remember, he won the sum total of zilch in his first seven years as a top team mainstay. Not bad for a late starter.
McNeill collected nine league championships, seven Scottish Cups, six League Cups and, of course, the coveted European Cup. He also picked up twenty-nine international caps, turned out nine times for the Scottish League and made five appearances as a freckle-faced youth with the Under-23s.
Any regrets? 'Actually, I do,' answered McNeill. 'I think I quit playing a bit too early. I felt fit enough to go on for at least another year, maybe two. I discussed it with Big Jock and he thought I should go out a winner. I took his advice. On that occasion, I wish I hadn't.'
This train of thought is in stark contrast to the one made by McNeill only days after his sudden decision. Then he went on record with, 'I do not regret my announcement to retire from football. I only hope the timing of it did not detract in any way from the team winning the Scottish Cup, that was the last thing I intended. Naturally, like everyone else at the Park, I was disappointed we did not make it ten-in-a-row in the Scottish League.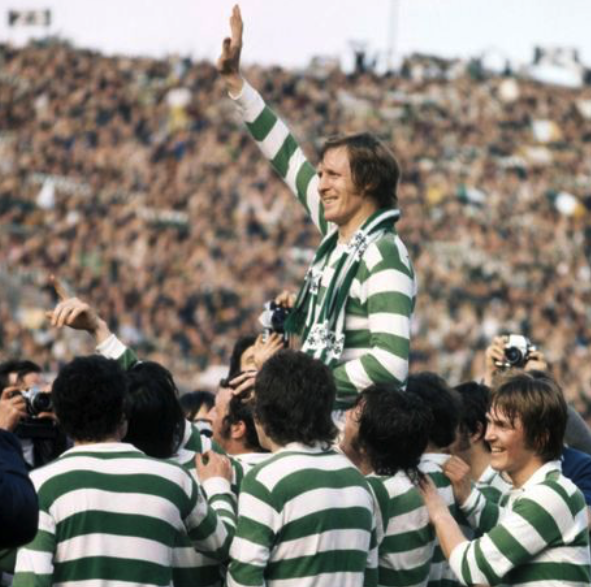 JUST CHAMPION…Billy McNeill is lifted shoulder high by his team-mates after another day of triumph.
'But even if we had won the league championship it would not have changed my mind, I would still have quit playing. I always said that when the training began to seem difficult then I would know it was time to give up and I must be honest and say I have found it hard at times in the last season.
'I have also had a succession of niggling injuries and they have taken longer and longer to clear up. This is something that no amount of training can help. I reckon it is just one of the burdens any footballer faces late in his career.
'Also, I have business interests outside football at the stage I really have to devote all my time to them. So, I could not think of a better time to bow out than now, when I know myself I have made the right decision. Naturally, I was glad it ended in a successful Cup Final, a game in which I feel I played well. But I was not fooled by that game. I think I have enough experience and ability and the old Cup adrenalin pumped through to help me.
'I have been fortunate that the happier days in my career at the end of it all far outnumbered the disappointments that come to any footballer.'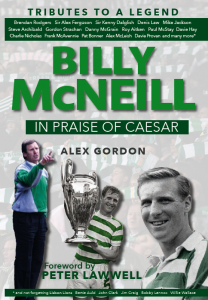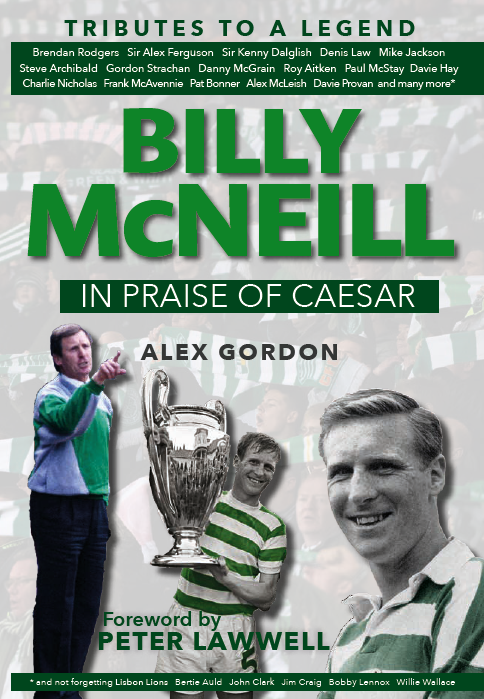 Jock Stein had an interesting take on his skipper's decision to put away the football boots. 'Billy has been the cornerstone of the team for such a long time, a player I have known personally since he was a schoolboy and I was coach at Celtic Park. His departure is the end of an era for he has been a wonderful example as a player and as a club captain for so many years.
'But I said at the time of his retirement that I felt he had made the right decision and I am sure Billy knows that, too.
'When Celtic won the Scottish Cup in 1965 and we then swept on to even greater success, Billy McNeill was twenty-five years of age and an experienced, established international player. If a young player eventually takes over, he will play his own game, do things his own way and that is how it should be.'
A week before the Scottish Cup triumph, Jimmy Johnstone played in the final league game of the season, a 2–1 defeat against St. Johnstone in Perth. It was the last time the famous green and white hoops would adorn his 5ft 4in frame and it was hardly the fitting end to a scintillating career for a born entertainer who had thrilled the world with his exclusive box of tricks.
The winger, at the age of thirty, took his skills across the Atlantic to enthral a whole new appreciative audience at San Jose Earthquakes in the North American League. He left with a similar medal haul as his skipper; nineteen in all. He won nine leagues, four Scottish Cups, five League Cups and, of course, the precious prize from Lisbon. It's impossible to mention his name without smiling at the legacy he left behind. Wee Jinky was a complete one-off.
LAUGHTER IN PARADISE…Billy McNeill and author Alex Gordon share a joke at Parkhead.
Johnstone, voted the Greatest-Ever Celtic Player by the supporters, also left at the same time as his big buddy. Stein was not quite so charitable in his send-off speech for the winger. 'I feel he has climbed too many mountains with us,' remarked the manager. 'The challenge for him has gone, the spark can be rekindled elsewhere, just as Bobby Murdoch did so successfully with Middlesbrough.
'It is better he gets a new challenge now at thirty years of age, when he can still make something of it, rather than hang around until he would be of little value to any new club. I once said that no player during my time as Celtic manager has caused me more trouble. I do not withdraw that remark. There were many occasions when I leaned over backwards to help him and yet at times we seemed to move from one crisis to the next with him.'
In a slightly more mellow vein, Stein added somewhat wistfully, 'Yet it is also true to say that, just like the fans on the terracing, there was no player who could give me such delight when he was on form than the wee red head.'
There was no sign of Johnstone, though, for a curtain call with McNeill on that emotional day in the south side of Glasgow.
Billy McNeill, for the last time ever, led out the Celtic team alongside Airdrie skipper Derek Whiteford on a fine May afternoon in 1975. Referee Ian Foote blew to begin the confrontation and McNeill, and not too many others, had the knowledge his Celtic career had only another one-and-a-half hours to go.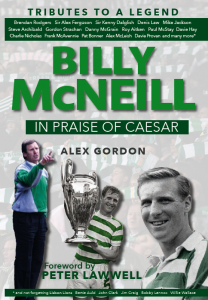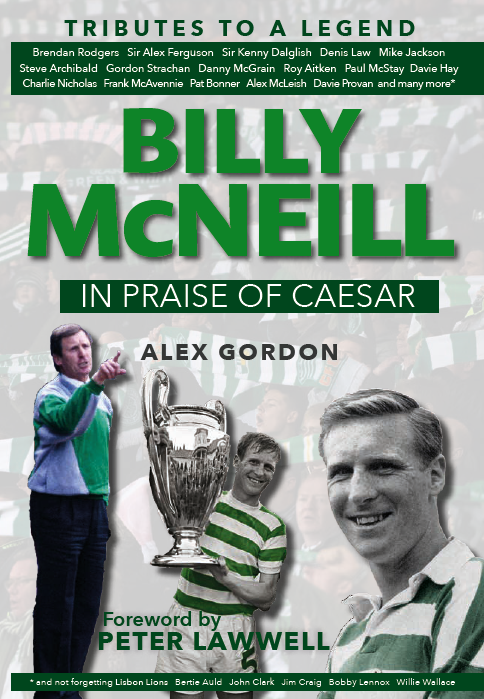 In the fourteenth minute, nerves were settled when Paul Wilson expertly headed a cross from Kenny Dalglish beyond keeper Davie McWilliams. In two incredible minutes just before the break, the Broomfield part-timers glimpsed glory only for it to be snatched away in quickfire fashion. Right-winger Kevin McCann followed up with a blistering drive high into the net after two efforts from teammates had been blocked.
Celtic replied by racing down the pitch and forcing a left-wing corner-kick. Bobby Lennox swung it in and Wilson was unmarked to dash in and head a second goal.
Eight minutes after the turnaround, Lennox was sent tumbling in the box and the match official had no hesitation in pointing to the penalty spot. Pat McCluskey drilled the award wide of the diving McWilliams.
At full-time, Billy McNeill raised his arms to the heavens and accepted the cheers of the joyous fans – just as he had done ten years earlier against Dunfermline. In the space of a decade, he had started – and ended – an era.
Click Here for Comments >