Monday, December 8 2014, Glasgow
I WAS aware Billy McNeill was being cursed with bad days as well as being blessed with good ones. The random fluctuation and hopelessness of the illness was challenged on a daily basis with the individual's usual doughtiness.
'Will you be able to make the book launch?' I asked as I checked my wristwatch: 10.06 a.m.
'Don't start without me,' came the remarkably jolly reply. Billy McNeill, obviously, was enjoying one of his better mornings.
I had been in touch the previous week to place the initial request. My new book, majoring on the Celtic managerial careers of Billy McNeill and Davie Hay – entitled Caesar and the Assassin – had just been published. Now it was time to go through the rigmarole of the required publicity for the tome.
READ ALL ABOUT IT…Celtic legends Billy McNeill and Davie Hay flank author Alex Gordon at the book launch of his tribute publication, 'Caesar and The Assassin', dedicated to the club greats.
Peter Lawwell, chief executive of Celtic, had kindly agreed for the use of Parkhead for the promotion. The wheels had been set in motion for a noon presentation at the ground on Monday, December 8 2014. Iain Jamieson, the club's PR boss, could not have been more helpful or courteous.
I emailed my colleagues in the media, newspapers, television and radio, and a freelance photographer was notified, too.
The only tricky bit was to ensure Billy McNeill and Davie Hay made an appearance.
I am fortunate enough to have known both these gentlemen for decades and I would unhesitatingly include them in my best friends' list. Not just for their Celtic connections, their allegiance or even for what they achieved at the club. Simply because both are such damn fine human beings.
These are guys you want in the trench beside you when the flak begins to fly. They are undoubtedly men's men, both without a trace of conceit. Neither McNeill nor Hay could ever be accused of narcissistic tendencies.
CAESAR AND THE ASSASSIN…published in 2014.
Egos and arrogance, those two irritating imposters, have never been welcomed into the psyche of these luminaries. They hailed from working class backgrounds and their success in football, on and off the field, had been the accomplishment of two human beings determinedly pushing themselves to the absolute zenith of their abilities in their chosen profession.
They never cheated their teammates, the supporters or themselves.
Davie Hay informed me he had a prior arrangement on the day of the book's unveiling, but he had a window of opportunity which he would use to be at Celtic Park at midday. I was not in the least surprised by his magnanimous gesture. I knew with every confidence he would be there at the appointed hour.
Given the circumstances, I would have understood completely if Billy McNeill, in a delicate condition at the age of seventy-four, had declined the invitation. It would be another two years and two months before his family would go public to declare this legend's momentous and courageous struggle against dementia.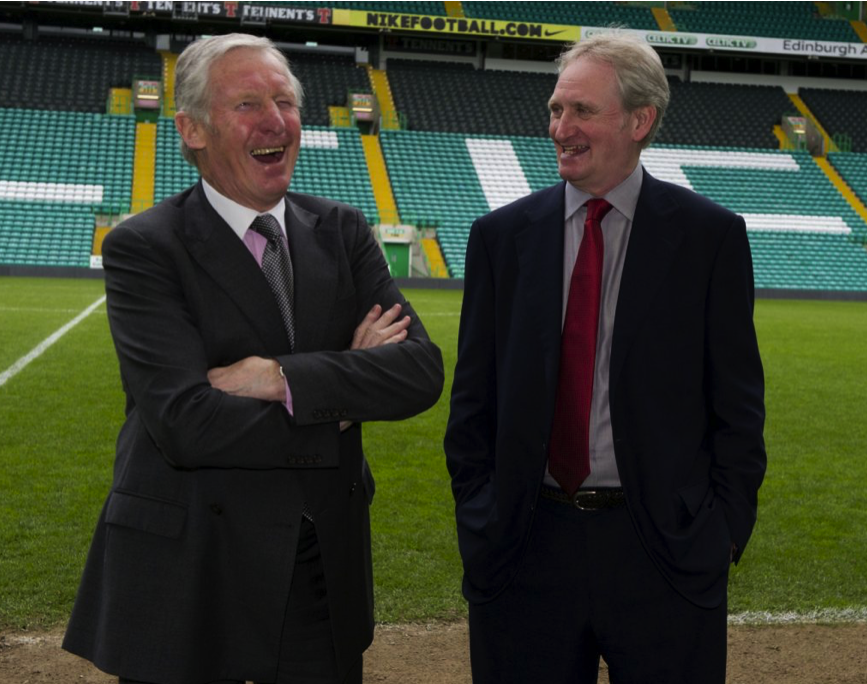 PARADISE…Billy McNeill and Alex Gordon share a joke at Celtic Park.
I knew at the onset of the fragility of his health, but, naturally, it had not been anything I deemed worthy of splashing over front pages of newspapers. For me, it was a private, family affair and would remain that way until his redoubtable wife Liz decided otherwise. And that, of course, had been the case on Sunday, February 26 2017.
However, back in December 2014, I hoped Billy would be able to grace the occasion with his considerable presence. There would not be the semblance of pressure, I held the man in far too high esteem for that. If Billy had said no, he would have been free of coercion. With a fair bit of trepidation, I put in the call. Any fears I may have entertained were dispelled immediately.
'It would be a pleasure, Alex,' came the welcome response. 'I'll ask Liz to look out my best bib and tucker.'
We chatted for another ten minutes or so and, although a bit forgetful on occasion, it was clear Billy, mercifully, had been bestowed another good day. I realised, though, I would have to put in a check call on the morning of the launch. Situations could take an unexpected downturn through no fault of anyone's. Billy didn't disappoint. 'I'll be there,' he confirmed.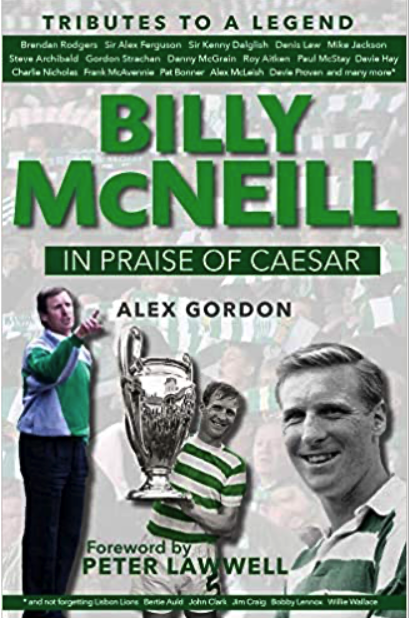 IN PRAISE OF CAESAR…published in 2018.
Noon rolled around at Celtic Park and Billy McNeill, along with his lifelong friend and former Celtic teammate Mike Jackson, had arrived some thirty minutes earlier. They sat upstairs in the Jock Stein lounge, sipping coffee and chatting with some of the Celtic Park personnel. Davie Hay arrived at the same time as my wife Gerda and me.
The media were beginning to mill around in a room just off the main entrance. I looked at Billy and, unless you had known differently, he appeared in mint condition. Impeccably dressed, as ever, he smiled, 'Right, what time do we kick off?'
Fifteen minutes or so later, on the touchline at Celtic Park, I was flanked by two Celtic legends, Billy on my right and Davie on my left, as we posed for the images to promote the book. Billy grinned at the camera and whispered in my ear, 'The things I do for a free lunch.'
Once the publicity work had been taken care of and the photographer was satisfied, Davie departed for his scheduled assignment and Gerda, very helpfully, fetched her vehicle from the car park to give Billy, Mike and me a lift to the White Cart bar/restaurant on the south side of the city, about equidistant from where Billy and I lived.
On a quiet Monday near the beginning of the month, the dining room was fairly tranquil, a welcome hiatus as the bar and kitchen staff prepared for the onslaught of the festive season. The four of us ordered bowls of piping hot Scotch broth and crusty bread to be followed by hand-battered fish and chips with garden peas.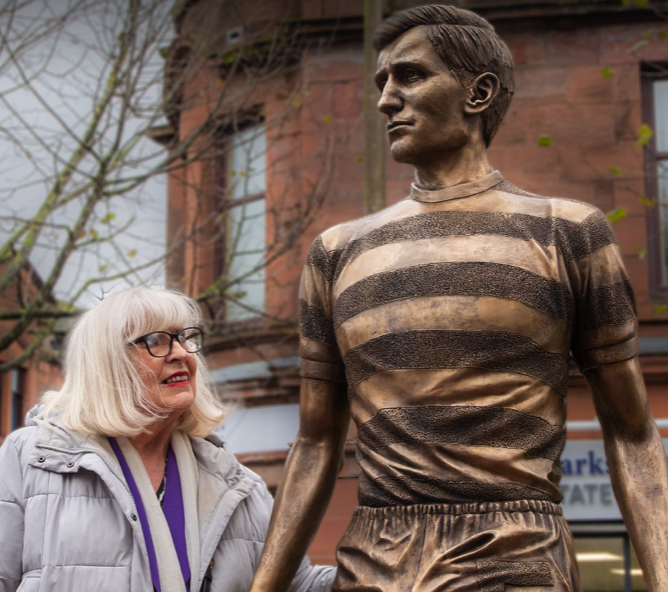 IMMORTAL…Liz McNeill looks at the bronze statue of her husband Billy which was unveiled in his birthplace of Bellshill in November 2022.
A pleasant afternoon ensued and we chatted about everything from politics to ping pong, majoring, of course, on football. I was always amazed at the colourful anecdotes Billy could produce. Just when you believed you had heard them all and he had exhausted his treasure trove, he would unwrap another marvellous reminiscence and, once again, you were spirited off on a magical carpet ride into unforgettable territory.
In truth, I found Billy endlessly fascinating. Maybe the detail wasn't quite so sharp, possibly the delivery might not be quite as precise, but, as you would expect, Celtic's greatest-ever captain could serve up a tale or two. With personal clouds dispelled, at least temporarily, he sparkled over his repast that afternoon, the raconteur of not so long ago.
Mike received a call on his mobile phone to remind him to pick up his grandkids from school; time had raced away, as usual. Billy was happy to stay in our company and Mike got in touch with Liz to inform her of the situation. I vowed to make sure a Celtic great would be home, safe and sound, between 5pm and 6pm.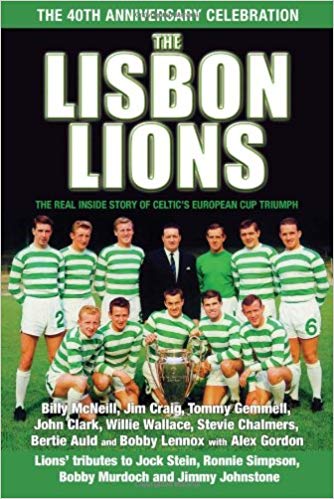 THE LISBON LIONS…published in 2007.
Thankfully, Liz took me at my word. We whiled away the remaining hour or so – it was never a burden to spend time in this gentleman's company – and when it reached just beyond 5pm, we knew it was time to make a move.
'Have I got my keys?' asked Billy.
Before he made his exit, Mike had told me to reassure Billy his house keys were in his inside coat pocket. I told him where they would be found. Billy fumbled a bit before they were located. He had looked just a tad anxious for the first time that day.
Gerda drove the car to the front of the eatery and I slipped into the back while Billy sat in the passenger seat. Our vehicle joined the traffic heading along the busy Ayr Road in the direction of Prestwick. Billy continued to chat away.
'Did you get everything you needed, Alex?' he asked, thoughtfully.
'Everything's good, Billy,' I replied.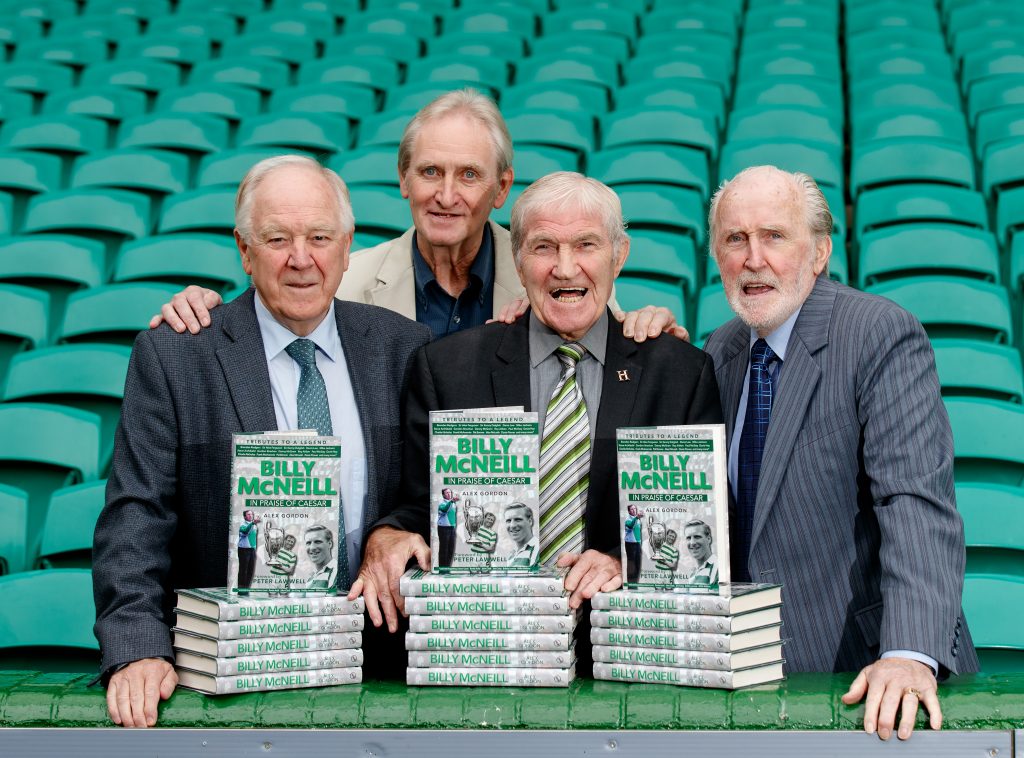 HAIL CAESAR…author Alex Gordon with former Scotland manager Craig Brown and Celtic legends Bertie Auld and Danny McGrain at at the launch of his tribute book to Billy McNeill at Celtic Park in 2018. 
Eventually, Gerda pulled the car in at the side of the road opposite the Parkland Hotel and Country Club. I knew Billy's home was within five minutes walking distance. He eased open the door and said, 'Right, folks, I'm off now. Thanks for lunch. Good luck with the book, Alex.'
'Whoa there, fella,' I said as I scrambled out to follow him. There was no way I was going to allow him to cross the bustling A77 with cars nose to tail, commuters making their way home from work combining with others who had strayed into the chaotic traffic.
We stood side by side, shoulder to shoulder, as we waited for a break in the flow of metal. Suddenly, without warning, Billy slipped his right hand into my left hand. It was a surreal moment. With hands linked, we threaded our way through the sluggish stream of vehicles and reached the opposite pavement without mishap.
Billy turned, looked me straight in the eye and said, 'You were brilliant there.'
I didn't know how to respond. I think I burbled something along the lines of, 'You weren't so bad yourself, Billy.'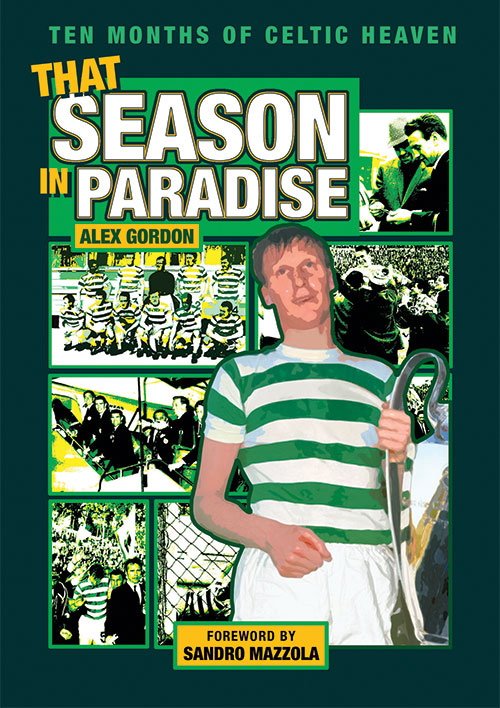 THAT SEASON IN PARADISE…published in 2016.
He practically marched up the driveway of the smart detached family home, didn't bother looking for his keys, rang the doorbell and Liz answered.
'One Lisbon legend returned, as promised,' I said.
'And fed and watered,' added Billy. He looked again at me and said, 'Thanks, I enjoyed that.' And with that he walked up the steps leading to the front door and vanished down the hallway.
'Everything fine, Alex?' asked Liz.
'It couldn't have gone better,' I answered, truthfully.
I never once mentioned to Billy McNeill about the chilly winter's evening in the Saltmarket just over fifty-one years earlier when an eleven-year-old awe-struck novice Celtic fan had been briefly in his extraordinary presence for the first time.
Click Here for Comments >