BILLY McNEILL hated playing against me. He could never cope with skilful centre-forwards.
I faced the Celtic skipper with five different teams during my playing career: St Johnstone, Dunfermline, Rangers, Falkirk and Ayr United. Billy is on record as saying I 'made use of my flailing elbows to great effect'. You could say I played to my strengths!
I loved playing against Billy McNeill. We had a few good ding-dongs over the years, but let me say here and now Big Billy was scrupulously clean. In my playing days, there were at least half-a-dozen brutal defenders who wanted to boot you off the park.
They wouldn't have lost a wink of sleep if they had put you in hospital with a broken leg. Billy, on the other hand, was the fairest of them all. Don't get me wrong, he could be a fierce competitor, but everything was done within the laws of the game.
ME AND MY SHADOW…Alex Ferguson and Billy McNeill duel for the ball in the heat of an Old Firm battle.
So, when we were in direct competition, we could roll up our sleeves and get at it. It was a man's game, after all. But I could go into challenges with Billy safe in the knowledge I wouldn't be visiting the A&E department at some hospital later that day.
Sometimes you wonder how futures would have progressed if you received a different bounce of the ball. Billy McNeill was the man who started Celtic on their silverware trail under the great Jock Stein when he headed in the winner against Dunfermline in the Scottish Cup Final at Hampden in 1965. I was the Fife club's top goal scorer that season and I would have been Billy's direct opponent if I had been playing.
Manager Willie Cunningham dropped me for that game and I was far from happy with his decision. That's putting it mildly. I had missed a late chance against St Johnstone in the previous game that might have won the league championship for the East End Park outfit. Clearly, Cunningham thought I should have scored and I'm convinced that can be the only reason I sat in the Hampden stand that day.
It was 2–2 with the clock ticking down when Charlie Gallagher flighted over the left-wing corner-kick and Billy simply rose to thump in a header and Celtic had won their first trophy in eight years. Don't get the notion I am saying I could have done something to stop Billy getting in that header. The Celtic man was the finest header of a ball I have ever seen, second to none.
He was a big fella, of course, but his timing was close to immaculate. It was rare for anyone to get the better of him in an aerial duel. Maybe our keeper, Jim Herriot, could have come for the cross on that occasion, but if anyone deserved to score a Cup winner for Celtic back then it was Billy McNeill.
HOOP HOOP HOORAY…Billy McNeill jumps for joy after scoring with an early header in the 4-0 Scottish Cup Final triumph over Rangers in 1969. Bertie Auld joins in the celebrations, but Orjan Persson doesn't look quite so elated.
Four years after that game, Billy netted another goal in a Scottish Cup Final and it got me the boot from Rangers. I had moved to Ibrox for £65,000, a Scottish record transfer fee at the time, in the summer of 1967 as the Govan side prepared a determined assault on the newly-crowned European champions. As well as me, they brought in Morton goalkeeper Erik Sorensen, Dundee inside-forward Andy Penman and Dundee United winger Orjan Persson.
I had scored goals against Jock Stein's team for St Johnstone and Dunfermline, but just couldn't get off the mark in the light blue of my boyhood favourites, my local team as I grew up in Govan. I hoped for a change of fortune when we rolled up at the national stadium on a sunny April afternoon four years after I had been denied a Cup Final appearance by the Dunfermline gaffer.
Rangers had hit some excellent form on the way to Hampden and had turned over a very good Aberdeen side 6–1 in the semi-final. We went into the game as favourites in a lot of people's reckoning. Celtic had beaten us twice in the League Cup section back in August, but Rangers had won both league encounters.
We triumphed 4–2 at Parkhead in the opening meeting and it was our opponents' first league defeat in over thirty games. And we took two more points off them in the New Year game at our place with a John Greig penalty-kick after Billy McNeill was judged to have handled a Willie Henderson shot on the hour mark.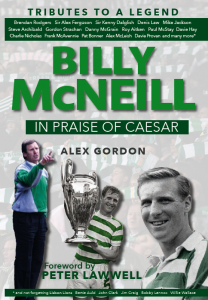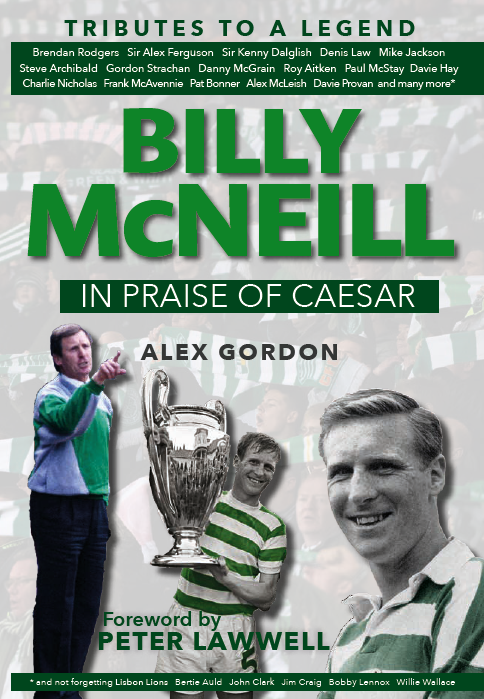 Colin Stein, who overtook my record fee when he arrived from Hibs in November 1968 for £100,000, had been my main rival for the No.9 shirt. However, I knew I would be facing Billy McNeill that afternoon with Stein suspended. You can't help but wonder what might have happened if he had been free to be selected.
In any case, manager Davie White, who had taken over from the man who bought me, Scot Symon, told me I was in and would lead the line. In the countdown to Hampden, we were discussing Big Billy's prowess in the air as we talked tactics and how to deal with his menace. Everybody knew the threat he posed when he came forward for set-pieces, so how were we going to attempt to cope with it?
Ronnie McKinnon was our centre-half, but he admitted he wasn't comfortable in a one-on-one confrontation with the Celtic skipper. Who was?
In the end, it was decided I would man-mark Billy at the deadball situations. I was good enough in the air, but Billy McNeill was easily the best I've ever played against or witnessed. I took the kick-off in the Cup Final and exactly two minutes and twenty seconds later, I was required to re-enact the movement.
As luck would have it, Celtic were awarded an early left-wing corner-kick after Ronnie McKinnon had conceded as Bobby Lennox chased a throw-in from Stevie Chalmers. Lennox elected to take the kick and flighted it high into the box.
COLLISION COURSE…Billy McNeill feels the pain as Alex Ferguson pleads his innocence to Tommy Gemmell and Bobby Murdoch dueing the heat of an Old Firm battle.
I had seen Billy coming forward as he always did in these situations and he took up his usual position that allowed him a run at the ball when it dropped around the penalty spot. I was ready to get in position to make sure he did not get a clear header.
As the ball arced into the danger zone, Billy made his move. I was ready to make my challenge, but Willie Wallace ran across me at that moment and blocked me off. Billy was allowed a free header and he rarely passed up those gifts.
I watched in frustration as he made perfect contact with the ball and sent a header gliding in at goalkeeper Norrie Martin's right-hand post. What a disaster for us. The first-half descended into chaos as we virtually presented Celtic with two more goals, taken by Bobby Lennox and George Connelly, and Stevie Chalmers completed our misery with the fourth after the interval. Rangers had gone into that game with so much hope, but, ninety minutes later, we had been shredded.
I should have anticipated what happened next. I was blamed for the crucial first goal. Billy later publicly said it was unfair I had been made a scapegoat. He made the point I was a centre-forward and did my best work at the other end of the pitch.
Billy also asked, 'Where was their centre-half Ronnie McKinnon when I scored?' Kind words from a good opponent, but no one at Ibrox was listening. The finger of guilt pointed at yours truly and my two years at Rangers were over. Aye, it's a fickle old game, football.
Click Here for Comments >