CQN continues its EXCLUSIVE look at Celtic's biggest day in history – the 2-1 European Cup Final victory over Inter Milan exactly 55 years ago today.
Author Alex Gordon, who has written fifteen Celtic books, spotlights unfussy back-four operator John Clark, one of the unsung heroes of the line-up, in an edited chapter from his tribute publication 'That Season in Paradise', which was published by CQN in 2016.
Please enjoy the walk down memory lane.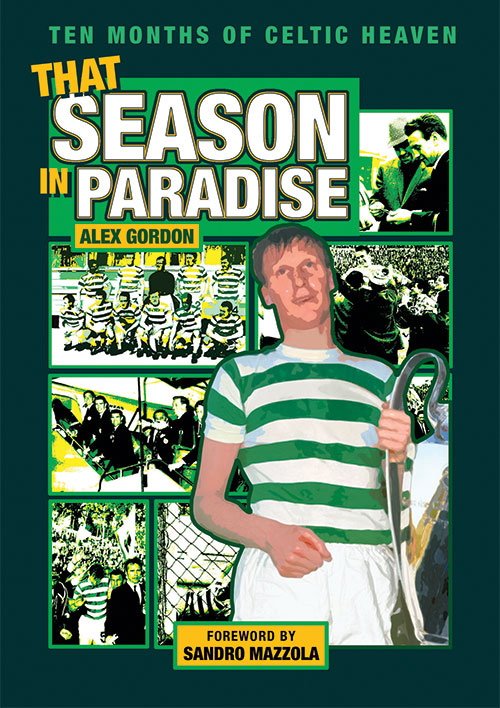 SWEEPER supreme John Clark reflected on taking care of business in Lisbon and commented: "I know Billy McNeill has always stated that he thought the Inter Milan game was the easiest we faced in the European Cup that season.
"Probably we didn't have to work as hard as we did in the goalless draw against Dukla Prague in Czechoslovakia, for instance, but I still thought it was a tough shift. We all knew about the Italians' attitude to football.
"They were superb on the counter attack. They didn't waste time or energy coming forward in waves.
"They were cagey, would keep possession and then suddenly explode into action when they got anywhere near your penalty area.
"They obviously believed in the rapier thrust rather than the almighty bludgeon to get the job done. Thankfully, though, our guys in the middle of the field, Bobby Murdoch and Bertie Auld, and the lads up front kept the Inter back lot occupied throughout huge chunks of the game.
"Yes, I take on board what Big Billy says, but I have to admit I feared Inter on the rare occasions they tried to get forward. It was a game where you knew one lapse of concentration would bring about disaster.
EYES ON THE BALL…John Clark patrols the back line while Bertie Auld tussles with Sandro Mazzola.
"I'll never forget that backheel from Ronnie Simpson, for a start. I still break out in a sweat when I think about it. That came from just one long pass from the edge of their own penalty area. Ronnie, as he often did, saw it coming and was off his line swiftly. Their centre-forward, Renato Cappellini, didn't give up the chase, however.
"He kept on going and, for me, there were danger signals flashing. Ronnie actually turned his back on the Italian and looked as though he was going to run towards his penalty area where he could have picked up the ball. Instead, for absolutely no fathomable reason, he decided to backheel it to me.
"He told me he realised I was there all the time. I'll take his word for it. Anyway, if that had hit the Italian it was goodnight for us. They would have gone 2-0 ahead and I genuinely don't think we would have got three to win in normal time. No-one would have been talking about the Lisbon Lions  decades down the line.
"Or, possibly, I'm just not giving Ronnie the praise he deserves for a bit of off-the-cuff goalkeeping."
Click Here for Comments >