CQN concludes its EXCLUSIVE look at Celtic's biggest day in history – the 2-1 European Cup Final victory over Inter Milan exactly 56 years ago today.
Author Alex Gordon, who has written fifteen Celtic books, including 'Lisbon Lions: The 40th Anniversary Celebration', highlights the most extraordinary moment that changed club history.
Please enjoy the walk down memory lane.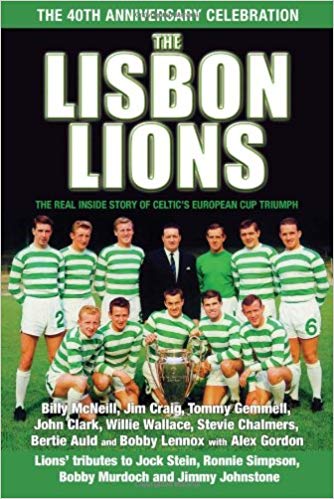 FOR reasons of accuracy, I put a stopwatch on the precise moment Willie Wallace took the shy to the exact second the ball bulged the net behind Giuliano Sarti. Here is how I wrote it in the Lisbon Lions book.
"Thirty-one seconds. One throw-in. Six passes. A thundering shot. That's all it took for Celtic to turn football on its head on that magical, memorable, exhilarating day in Lisbon on May 25 1967.
"For over an hour the marauding green-and-white legions had battered away at the Inter Milan goal without success. Goalkeeper Giuliano Sarti had been seen as a possible weak link in the Inter Milan defensive armoury which was otherwise festooned with seasoned internationals.
DENIED…Inter Milan hero Giuliano Sarti pulls off another miraculous save from a close-range header from Bobby Murdoch as Jimmy Johnstone looks on.
"But his was an extraordinary act of defiance that day; an impressive one-man barricade standing in the way of Celtic and destiny. He repelled raid after raid with one of the most astonishing goalkeeping performances ever witnessed.
"Bertie Auld, sensing a rare opening, clipped the crossbar with a cunning left-foot effort while running at speed. Shots and headers rained down on the black-clad No.1 who dealt with everything with an annoying assurance. Jock Stein ventured to the touchline, his massive left paw pointing the way for his troops. "Keep going," he urged. "Keep moving forward."
"Sixty-one minutes. Still Sarti and Inter were standing firm. Sixty-two minutes. Still nothing doing. Sixty-three minutes. Celtic had a shy thirty yards from the bye-line on the left. Willie Wallace, confronted with the daunting frame of Giacinto Facchetti, was looking for a team-mate in a good position. Facchetti held his ground.
WHAT A BELTER….Tommy Gemmell thunders in the equaliser with Inter Milan captain Armando Picchi getting a good view.
Wallace shaped to throw it and changed his mind. Gemmell loomed into view to offer an option. The ball duly dropped at his right foot. He switched it across the park to Jim Craig on the right.
"Craig rolled it inside for Bobby Murdoch who was crowded out on the edge of the box and the ball was retrieved by Jimmy Johnstone, on the left. He touched it back to John Clark who thrust it foward again to Murdoch, this time in the old inside-left channel thirty yards from goal.
"The Italians, methodical as ever, refused to be put off their stride. They regrouped, covered, picked up a man, shut down space. Celtic continued to show commendable patience as they passed the ball around.
"Murdoch slipped a simple pass in front of the galloping Craig. He controlled the ball as he gathered momentum heading for the danger zone. Another touch – three in all – before he squared it across to Gemmell. There was no break in his stride as he reached the eighteen-yard box with precision timing before clubbing the ball high past Sarti.
"The unbeatable was beaten at last. Hallelujah!
"Thirty-one seconds. A throw-in. Six passes. One thundering shot. That's all it took."
Click Here for Comments >