CQN continues its EXCLUSIVE look at Celtic's biggest day in history – the 2-1 European Cup Final victory over Inter Milan exactly 56 years ago today.
Author Alex Gordon, who has written fifteen books, including 'Lisbon Lions: The 40th Anniversary Celebration', looks back at a momentous week in his life.
Please enjoy the walk down memory lane.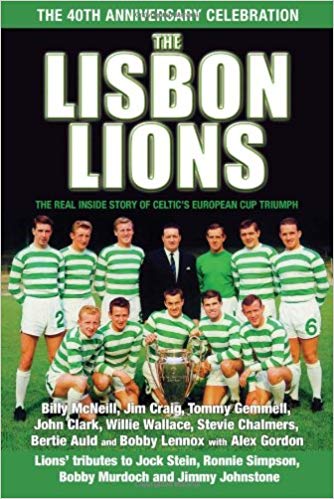 MAY 22, 1967 is a date that will live with me forever. The one three days later is fairly memorable, too!
I started work, at the age of 15, at the Daily Record as a messenger on May 22 all those years ago.
I wanted to get my foot in the door and, hopefully, see where my career would take me. Luckily for me, I was in the right place at the right time and I enjoyed 20 years with the Daily Record and then seven with the Sunday Mail, where I was Sports Editor during that period.
I was in a real quandary, though, on Monday, May 22, 1967 when I turned up at Hope Street, in Glasgow, where the Daily Record offices were situated at the time. My working hours were from 9am to 5.30pm. I knew Celtic would kick off against Inter Milan in Lisbon at 5.30pm three days later. My starting wage of £4-per-week (£3.50 after tax!) would hardly cover the hire of a Learjet to get me from the city centre to my home in the south side of Glasgow.
THE HERO AND THE TROPHY…skipper Billy McNeill with the European Cup.
GAME FOR A LAUGH…Celtic legend Billy McNeill and author Alex Gordon share a joke at Celtic Park.
I wasn't about to throw a 'sickie', either. That wouldn't have looked too impressive in my first week in the job and might have taken a bit of explaining.
My gaffer was a bloke called Robert Melvin, who was sympathetic to my pleas and I will be grateful to him to the end of my days. Robert allowed me to have a half-day on Thursday, May 25 and I was sitting in front of the television well in time for the start of the Lisbon game.
If the Martians had decided to invade Glasgow between 5.30pm and 7.15pm that evening they would have thought they had found a deserted part of the planet. No-one was in sight. Televisions were switched on everywhere with everyone witnessing Celtic Football Club making history against the might of Inter Milan in a truly extraordinary encounter.
They say you should never meet your heroes for fear of being disappointed. Believe me, that is not the case with the Lisbon Lions. They are everything, and more, you would expect them to be.
If I urgently required company in a trench, I know who I would call.
Click Here for Comments >