TOMMY BURNS was riding a rollercoaster of emotions during the turbulent 1996/97 crusade.
The fans' favourite had returned to the club on July 12 1994 and had won the Scottish Cup in his debut campaign. That was followed by a barren term and all eyes were on the boss during a third challenging season.
In another CQN EXCLUSIVE series, we chart Tommy Burns' career as the team's gaffer during testing times on and off the field. Here is the twenty-second instalment from Alex Gordon's tribute book, The Winds of Change, which was published by CQN in 2015.
Please enjoy.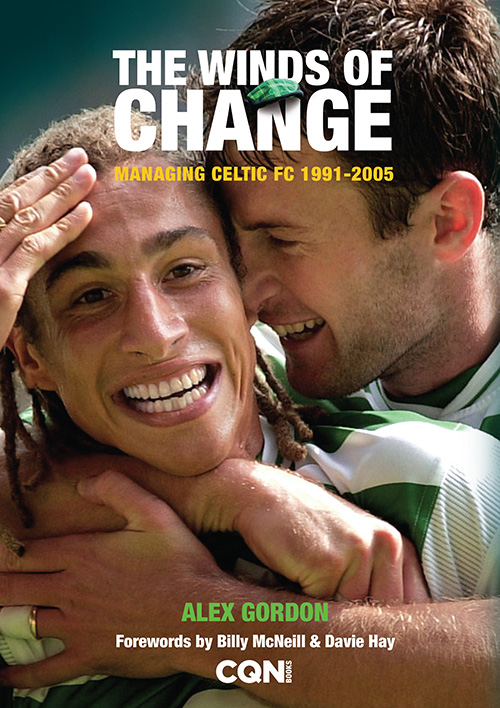 CELTIC landed back to earth with a resounding thud four days after beating Rangers 2-0 in a rollicking Scottish Cup encounter on March 6 1997 when they toppled to a 2-0 defeat against Kilmarnock at Rugby Park.
Twenty-four hours afterwards, for the benefit of television, Rangers took centre stage and went down by the identical scoreline at home to Dundee United.
It was another opportunity carelessly scorned in the pursuit of the league flag and it tells you everything you need to know when the goalkeeper was Celtic's outstanding performer.
Tommy Burns lamented: "It is difficult to understand why our performance should have been as bad as it was. Most of our players seemed to forget that the match which was sandwiched in between two Old Firm games was just as important as playing Rangers. The only success we had was Stewart Kerr and I am deeply disappointed about that.
"The rest never played at all. It was a desperately disappointing result, especially for our supporters. They were up for it and gave us every encouragement, but there was simply no response. We have to live with what has happened, though, and dust ourselves down for Sunday and Rangers at our place.
"It is the perfect game to come back in after a result like this one."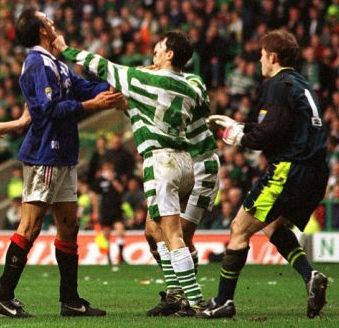 PUSH OFF…Jackie McNamara 'welcomes' Mark Hateley back to the Old Firm derby while keeper Stewart Kerr attempts to intervene.
As a battle cry, it didn't rank with any chest-thumping, bombastic directives from the past, but it was the one the Celtic manager chose as he readied his troops for what had turned out to be a win-or-bust confrontation with Rangers on Sunday, March 16.
"It's time to look out the big nappies," remarked Burns, a rallying call no-one could ever remember being voiced by Jock Stein. However, in its basic fashion, it got the message across.
Burns' team went into the encounter five points behind with six games to play. Clearly, it was a now-or-never situation and it looked as though the advantage had swung decisively in Celtic's way. Walter Smith was lumbered with a massive dilemma when Andy Goram was forced onto the sidelines with a rib injury.
The Ibrox gaffer sent out football's equivalent of an SOS and it was answered by Manchester City reserve Andy Dibble, who was only a few days short of his 34th birthday. He had no future at City and had been loaned out to Aberdeen, Middlesbrough, Bolton, West Brom and Sheffield United over an eight-year period.
Smith enquired originally about a temporary transfer, but the English side obliged by granting the veteran a free transfer. Dibble probably didn't know the names of most of his team-mates as he was rushed straight into an Old Firm confrontation.
THE RACE IS ON…Celtic centre-back Malky Mackay and Rangers striker Mark Hateley in pursuit of the ball.
The Rangers boss was also struggling for forwards and astounded everyone by bringing back Mark Hateley for £400,000 after selling the player to Queens Park Rangers for £1.5million in November 1995.
These were desperate days for the Rangers manager as he scrambled to assemble a team for a game that could propel them to within touching distance of Celtic's historic feat of nine successive championships. Ironic, really, when you consider the money splurged on new players earlier in the campaign.
Tommy Burns, on the other hand, had no such problems. Captain Paul McStay was passed fit to play and the charismatic double-act of Jorge Cadete and Paolo di Canio were also in the starting line-up. Celtic had lost the three previous Glasgow league derbies and history was against the men from Govan achieving a whitewash.
However, with 49,929 watching, a depleted Rangers did just that as they scrambled to a 1-0 win after an ugly, snarling, bad-tempered affair that flared from the first minute to last and would see Malky Mackay and Hateley red-carded, eight players – four from each team – booked while Di Canio was called to referee Hugh Dallas' room at the end to be shown a second yellow card which amounted to a sending-off offence.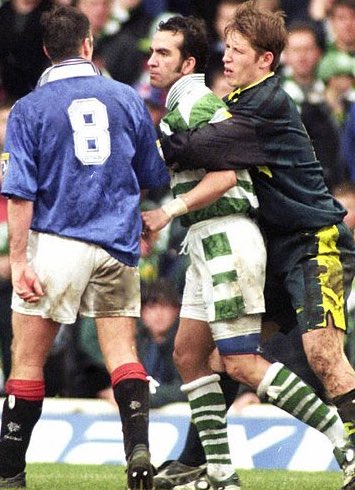 EXPLOSIVE…Stewart Kerr holds back Paolo di Canio after an incident with Rangers' No.8 Iain Ferguson.
The Italian and Rangers' Iain Ferguson were caught up in the general mayhem as the game descended towards the gutter.
Stewart Kerr, Enrico Annoni, Malky Mackay and Peter Grant were the Celts cautioned while Richard Gough, Craig Moore, Charlie Miller and Ian Durrant were yellow-carded for the opponents. Mackay and Grant earned three-game suspensions after crashing the penalty points barrier.
An unseemly episode in the history of two of football's bitterest rivals was topped off by the Rangers players indulging in a provocative mock huddle near the tunnel, supporters from both sides piling onto the pitch and the police reporting almost 40 arrests in the immediate aftermath.
Celtic, it must be admitted, did not rise to the occasion. There was a distinct fear of failure about the team and they appeared to afford Hateley the biggest of compliments with Mackay and Stubbs watching his every move. This, remember, was a player who had performed so poorly at Loftus Road – three goals in 27 appearances – that he was loaned to Leeds United where he drew a total blank in six games.
The play from both sides was as untidy as the windswept, litter-strewn pitch. However, there was an instant of wonderful invention in the 40th minute when Grant lifted a free-kick into the air and Di Canio, from 25 yards, struck the ball sweetly with his right foot on the volley. It skudded off the crossbar and flew over with Dibble a spectator.
HIGH JINKS…Alan Stubbs challenges for the ball with the Motherwell keeper.
On the brink of half-time, some dreadful defending from the home side gifted Rangers the lead and the psychological advantage. The Ibrox side had negotiated eight successive league games over four years without losing at Parkhead and bouts of overwhelming generosity from their hosts had often contributed to the Rangers cause.
Stubbs was the opponents' unwilling benefactor on this occasion. The club's record signing made a hash of an attempted clearance from a Jorg Albertz free-kick and let Durrant squeeze in behind him to lob the ball over the head of the advancing Kerr. Brian Laudrup reacted with a lot more haste and urgency than Mackay as the ball breezed towards goal.
The Celtic man hesitated while the Dane eagerly pursued the opening and knocked the opportunity into the net from virtually under the crossbar. It was a wretched goal to concede and, sadly, it didn't look out of place during this disagreeable rumpus.
Ibrox skipper Richard Gough limped off just after the hour mark to be replaced by midfielder Charlie Miller as Smith was forced into another reshuffle. And he had something else to contend with when Hateley was banished from the field after ludicrously headbutting Kerr during a 66th-minute melee as players from both sides piled in during another explosive disagreement.
Mackay had hauled down Laudrup to give away a free-kick and tensions overflowed as players got involved. Mackay was booked and Kerr came out of his penalty box to throw in his tuppence worth. Hateley took exception, motioned his head into the keeper's face and Dallas flashed red. Kerr was booked for his part. Mackay was living on borrowed time and it was 10 versus 10 shortly afterwards when he was invited to leave proceedings following an awkward challenge on Laudrup.
The game limped to a sorry conclusion with Celtic bereft of the spark of ingenuity that might have furnished an opening to put pressure on a mediocre goalkeeper, who would play only six more games for Rangers. The opportunity to stop their age-old rivals in their tracks had been blown.
UNDER PRESSURE…Tommy Burns feels the strain.
It was a grim-faced and somewhat defensive Burns who said afterwards: "If I'm to be judged. I'll be judged on what I've done here and not all the excess baggage we had to inherit. We're not prepared to accept blame for what happened to this club seven years ago. I'm not prepared to forget the great progress we've made, especially in the last 20 months.
"We've won something like 45 games out of 65 and lost around seven. We've set levels of consistency this club hasn't had for many years.
"Unfortunately, in that time, Rangers got seven titles, so I don't think it's fair for people to say that the current players are to blame. It's unfair to give someone six championships of a start and then we're the ones who have to defend the nine. I don't think anyone in their right mind can look at what we've done and then say that.
"Ultimately, if I am to blame, I'll certainly take that responsibility. I won't walk away from it."
Somehow, those words came across as though they had been only too well rehearsed.
Burns ended the postmatch interview with a verbal assault on his critics. Adopting a scattergun approach, he fired out: "Some people, who should know better, take the short-sighted view.
"You're judged by people who know nothing about football, nothing about management and nothing about coaching, whether it's TV, radio or writers."
* TOMORROW: Don't miss the EXCLUSIVE twenty-third dramatic instalment in The Tommy Burns Story – only in your champion CQN.
Click Here for Comments >