CELTIC great John 'Yogi' Hughes passed away on August 1 2022 at the age of 79 after a short illness.
In a CQN EXCLUSIVE, Alex Gordon, who co-authored the fans' favourite's autobiography, 'Yogi Bare: The Life and Times of a Celtic Legend', which was published in 2014, has selected a few chapters from his friend's best-seller which we will present over the next ten days.
Please enjoy.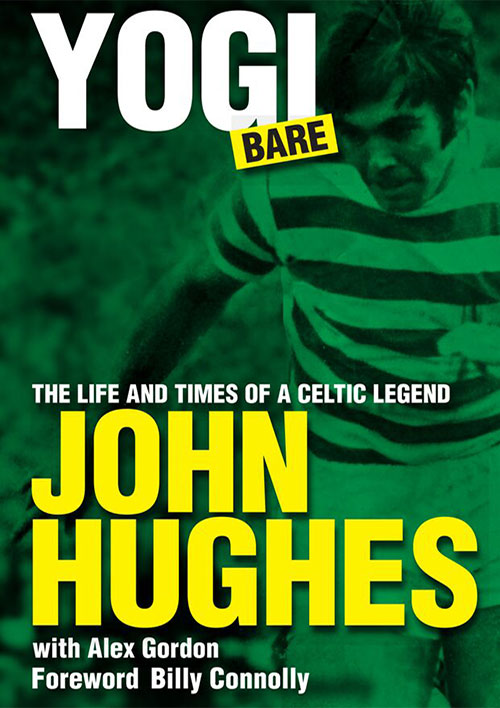 "FIFTY per cent of the supporters swore by him and other fifty per cent swore at him."
That's the sort of criticism I have had to endure for decades as people have given their verdicts on my performances for Celtic.
Apparently, I was either wonderful or woeful with nothing in between. Let me tell you right now that the observation is a load of nonsense. Utter rubbish. I don't accept the inconsistency theory and I've got the facts to back me up.
For a start, Jock Stein would never have chosen a player who was unpredictable. Jock agonised over selecting his line-ups and took everything into consideration before he pinned up his team sheet.
THE BEAR v THE BOSS…John 'Yogi' Hughes leaves Jock Stein grounded during a training routine at Barrowfield.
He would dissect the opposition, where they were weakest and most vulnerable, he would take into account the weather and the underfoot conditions and he was a big fan of horses for courses.
If he thought a player performed outstandingly well at, say, Tannadice, Tynecastle, Pittodrie or wherever, then there was every chance he would get the nod to play in those games on those particular grounds. He left nothing to chance.
So, does anyone really believe for a second Jock Stein would have chosen me as a regular in his team for six years when I couldn't guarantee a reasonable performance? Trust me, there was no chance of that happening.
It didn't take Jock too long to make up his mind about a player's capabilities. For instance, look at Hugh Maxwell, an inside-right the club bought from Falkirk for £15,000 in November 1964, just four months before Jock returned to the club.
HAMPDEN HEROES…John Hughes (second left beside Ian Young) celebrates the 3-2 Scottish Cup Final win over Dunfermline in April 1965.
The boss put Hugh into the team for two league games and, unfortunately for the player, the club lost them both – 4-2 to Hibs at home and 5-1 to Dunfermline away. That was the end of Maxwell's career as a Celt. Jock wasn't impressed and packed him off to St.Johnstone at the end of the campaign.
That seems incredibly harsh, but that was Jock's way, as you will no doubt have picked up by now. He shed no tears when he told players to pack their bags. Hugh Maxwell wasn't alone in getting the heave.
Ian Young played at right-back in the 1965 barrier-breaking Scottish Cup-winning side, but a year later he was toiling for a first team place as Jock moved Tommy Gemmell to right-back before settling on Jim Craig in the No.2 berth. Young was out in the cold and remained there until he was sold to St.Mirren in 1968.
Jim Kennedy was a stuffy left-back who moved to the old left-half position in latter years, but his style of play clearly didn't fit into Jock's plans for the team. He was sold to Morton in the November of the manager's first year. My pal John Divers suffered a similar fate. He did better than Kennedy, though – he lasted a year before being moved onto Partick Thistle.
BY THE RIGHT…John 'Yogi' Hughes is poised to strike with Harry Hood looking on.
And what about the 'now-you-see-me-now-you-don't' situation with Chris Shevlane? He arrived at the club in the summer of 1967 after being surprisingly released by Hearts at the age of 25.
Jock obviously thought there was still some mileage in the right-back and brought him to Parkhead. Shevlane played only three first team games before being freed a year later to join Hibs. It appeared Jock thought he was good enough one minute to don the hoops and the next he was surplus to requirements.
There's an entire list of the players who didn't suit the boss's ideals. He was totally uncompromising and I wouldn't have lasted six minutes never mind six years if he didn't believe I had something to offer on a consistent basis.
Also take into account the fact that Jock selected me for eight Cup Finals and also had me in the team for the so-called World Club Championship play-off against Racing Club in Uruguay.
I wouldn't have got a sniff if he didn't believe I could contribute.
* TOMORROW: Don't miss the EXCLUSIVE Part Two of Big Yogi: Putting The Record Straight.
Click Here for Comments >