TOMMY BURNS was experiencing extreme turbulence during his third year as Celtic manager in an explosive 1996/97 crusade.
The fans' favourite had returned to the club on July 12 1994 and had won the Scottish Cup in his debut campaign. That was followed by a barren term and all eyes were on the boss as a new challenging and testing season arrived.
In another CQN EXCLUSIVE series, we chart Tommy Burns' career as the team's gaffer during turbulent times on and off the field. Here is the sixteenth instalment from Alex Gordon's tribute book, The Winds of Change, which was published by CQN in 2015.
Please enjoy.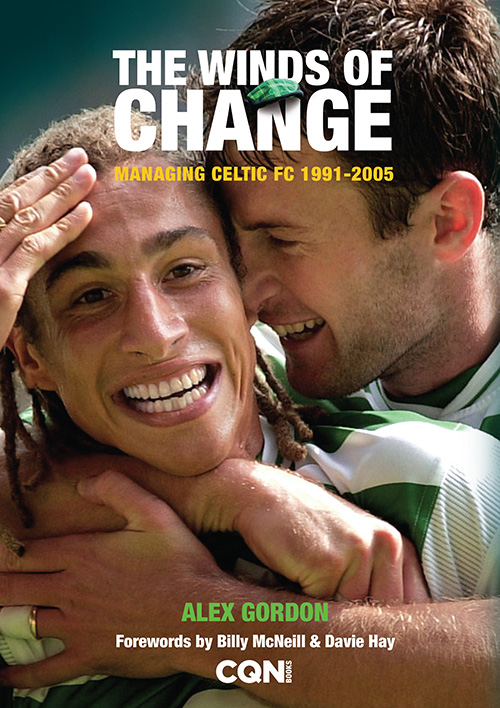 THE Arctic conditions put Celtic in cold storage for more than a fortnight. What transpired on November 30 1996 in a 2-2 stalemate with Hearts at Parkhead will still be scorched into the memory banks of the 50,034 fans who were there to witness it and the watching millions on television.
It was an act of sheer folly that had a fuming Tommy Burns questioning the sanity of one his own players.
Paolo di Canio, who, on occasion, possessed the ability to make an agitating fanatic appear sane, reasonable and rational, took centre stage in the 76th minute after scoring the penalty-kick that would give his side a point.
Before the Edinburgh side had the opportunity to kick off again, Di Canio, arms waving and looking heavenwards for some divine intervention, was heading for the dressing room after picking up a red card from referee Stuart Dougal following an extraordinary flashpoint incident.
SEEING RED…referee Stuart Dougal banishes Paolo Di Canio in the most remarkable circumstances as Peter Grant prepares to plead his volatile team-mate's case. A puzzled Steve Fulton looks on.
The Italian had been brought down by Neil Pointon to earn the spot-kick which he despatched unerringly beyond Gilles Rousset. So far, so good, but what happened next went way beyond comprehension.
Di Canio raced into the net, groped for the ball in the rigging, got into a tangle with the keeper, emerged with the required item under his arm, bawled at anyone wearing a maroon jersey, stopped and looked as though he was going to have a good old-fashioned square-go with ex-Celt Stevie Fulton.
Some venom spewed the match offical's way and Dougal produced a yellow card to match the one the volatile individual had received earlier and banished him from the field.
Di Canio gesticulated in his best Latin manner, pleading with the referee to change his mind. Eventually, he was persuaded to utilise the dressing room facilities, but not before more hand gestures and grabbing his shirt and kissing the badge. Burns, clearly annoyed, got a hold of the player and angrily propelled him in the direction of the tunnel.
BEWILDERED…Tommy Burns has a word with Paolo Di Canio as he is escorted towards the tunnel. A bemused Hearts manager Jim Jefferies looks on from the visitors' dug-out.
One newspaper referred to Di Canio's actions as "lunacy". It went on: "He was pumped up at the start, then obnoxious, then increasingly downright inflammatory, until his behaviour grew so demented he was required to depart the playing field. If we required irony, his leaving occurred within seconds of his equalising goal for Celtic."
A frustrated Burns said: "Di Canio was stupid. That's all it was; sheer stupidity. If he had stayed on, I think we would have won and I've told him that. For an experienced player like him, it was very disappointing. He will definitely be disciplined. We've spoken to him before about his behaviour.
"He earned the penalty-kick and we would have had three points if he had stayed on. There's no defence. The players have been told any semblance of dissent from now on will cost them heavily. We understand their frustrations, but the job is difficult enough without people being suspended."
DUTCH AND GO…Pierre van Hooijdonk demonstrates his finishing ability with a goal against Dunfermline keeper Ian Westwater while defender Hamish French gets a close-up view.
Amidst the furore and controversy, it seemed to be overlooked that Celtic had now dropped five out of a possible six points at home. Colin Cameron gave the visitors the advantage just after the half-hour mark, but Brian O'Neil nullified that effort with a splendid header two minutes from the break. Neil McCann restored Hearts' lead  in the 64th minute before Di Canio made his indelible mark upon the encounter.
Burns, looking at the overall picture, added: "Two-and-a-half years ago, this club had nothing and were going nowhere. The way in which we lose crunch games when they come along tells me that it might be time to invest in a better quality of player."
Celtic went into December with a game against Motherwell at Fir Park to address. Genuine championship aspirations took a severe jolt that chilly afternoon in Lanarkshire; Alex McLeish's team winning 2-1 with a last-minute goal. Burns was left in the knowledge they could now thrash Rangers in their two remaining Old Firm fixtures and it would no longer be enough.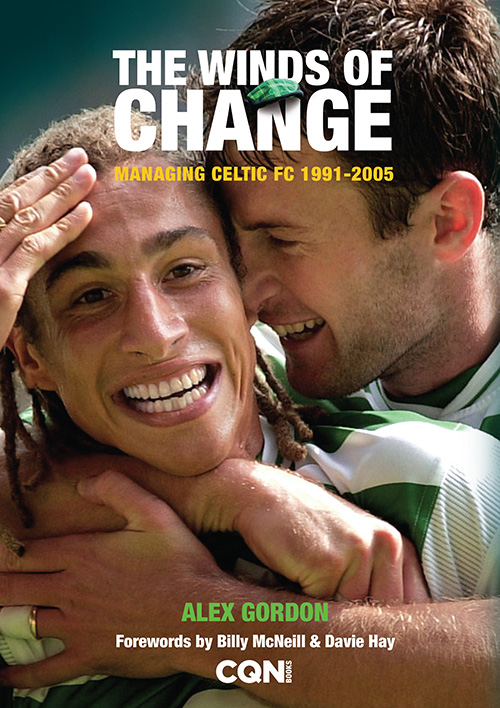 Celtic were now eight points adrift and the bleak conditions mirrored the thoughts of the manager afterwards. He snapped: "It's difficult to find something good to say."
There was no need for him to elaborate.
It was distressing to watch a team of players displaying a collective lack of mental strength. The points were there to be won, but there was little cohesion or eagerness or fire about this line-up. Billy Davies put Motherwell ahead five minutes before the interval and it took Celtic until 10 minutes from the end to force a leveller through young Chris Hay, netting his first goal for the club.
It would have been bad enough to settle for a draw, but in the last minute Stewart Kerr pushed a shot from Andy Roddie straight to substitute Ian Ross and he bundled the rebound into the net from close range. The only thing Burns could add was: "We really should have had enough to beat this Motherwell team."
COMEBACK BHOY…Phil O'Donnell claimed the matchwinner on his return from injury.
Pressure was building on Burns and the strain was showing. He watched his team scramble a 1-0 win over Dundee United two weeks later in front of 46,483 spectators at Parkhead with Phil O'Donnell, returning after his long-term thigh problem, scoring the winner before the break. It was a nervy showing from the home team and the last 20 or so minutes were played out in slow motion as far as the Celtic followers were concerned.
Astonishingly, Burns turned on the club's support afterwards. "The attitude of the fans has disappointed me," he bristled. "Being a Celtic supporter myself, I know that we are one hell of a group for arguing among ourselves. It can be a healthy thing sometimes, but when it becomes abusive, then it de-motivates people. We're doing everything we possibly can to win this league, but if it's not meant to be, then it's not meant to be.
"The players have been low in confidence and, really, I would like a bit more help and for people to show a bit more optimism than they have been doing in recent weeks."
ROARING SUCCESS…Jorge Cadete races away after netting Celtic's equaliser against Aberdeen at Pittodrie on Boxing Day 1996.
Paolo di Canio hit the headlines again on Boxing Day – this time for all the right reasons after scoring a late winner against Aberdeen at Pittodrie to rescue three points. Once again, Celtic made it an uphill struggle by allowing the Dons to take the lead in the 14th minute through Billy Dodds.
However, Jorge Cadete wiped that out with a typical effort in the 40th minute and then came Di Canio's magic moment seven minutes from the end.
Tosh McKinlay launched a long free-kick into enemy territory and the Italian, wearing eye-catching gold boots, brought the ball down with sublime ease, lobbed it over stranded keeper Nicky Walker and nudged it over the goal-line. Thankfully, the Italian's histrionics were confined to running to the fans and blowing kisses to everyone in the vicinity.
Pierre van Hooijdonk, still locked in a very messy public dispute with the club, passed a fitness test, but the nearest he came to the pitch that evening was the substitutes' bench.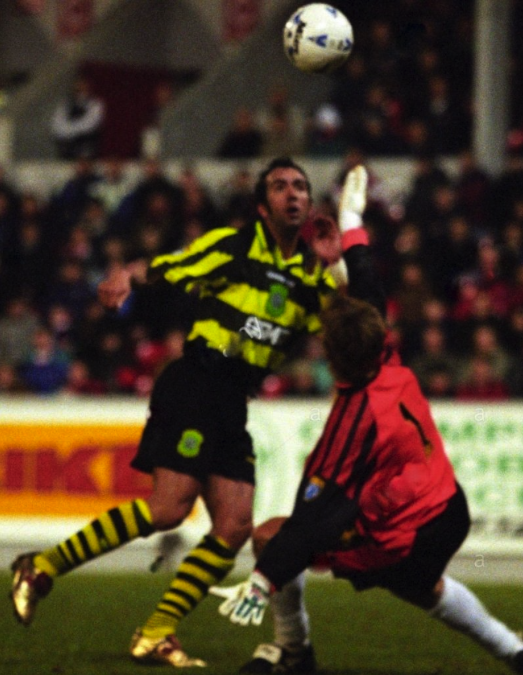 GOLDEN BOOTS FOR A GOAL-DEN BHOY…Paulo Di Canio lobs the ball over the head of stranded Dons keeper Nicky Walker before finishing off the job for the points-clincher at Pittodrie. 
On the game, Burns observed: "We have to get away from the theory that it is Celtic who always have to play the pretty football – and the players are now beginning to realise that."
On the Van Hooijdonk situation, he reported: "The Celtic supporters will make up their own minds about Pierre. They can't be kidded and they see through things and understand the game. But I would hope that when Pierre is playing for us they would support him – he is still a Celtic player, after all.
"One thing I didn't want this season was obstacles like this being put in our way. The time to talk about contract and wage rises should be at the end of the season."
Burns had plenty of time to reflect on the previous four months of the campaign as the Celtic team coach headed for Glasgow that cold, stark night. One inescapable fact remained, though, and that was Celtic were now 14 points adrift of Rangers.
Certainly, they had three games in hand, but even allowing for three straight wins, it still left a little matter of a five-point canyon between the Glasgow rivals.
* TOMORROW: Don't miss the EXCLUSIVE seventeenth dramatic instalment in The Tommy Burns Story – only in your champion CQN.
Click Here for Comments >