MARTIN O'NEILL was obviously of the 'forgive-and-forget' mould and decided to play Rafael Scheidt in cameo roles in four more friendlies before the business kicked off with a 2-1 win over Dundee United at Tannadice on July 30 2000.
There there was no place for the defender who had played a mere 79 minutes of competitive action since arriving at the club seven months earlier.
A loan deal was put in place post-haste to take Scheidt back to Brazil with Corinthians for a year. Celtic, very generously, waived the usual fee for a temporary transfer as long as the club helped with the wages.
There was no haggling, either, when the Brazilian team enquired about extending the deal for another year. After another twelve months, the Sao Paulo outfit wanted to return the player to his parent club.
Pandemonium in Paradise. It was clear O'Neill, after guiding Celtic to two back-to-back championships, was fairly certain his squad did not require the player's special, ahem, characteristics. He did not want the influence of Scheidt anywhere near his successful player pool.
Pernickety red tape decided to play an appropriate part at this stage. Curiously, the defender had not caught the attention of the Brazilian international selectors over his three years of toing and froing between continents. He made no more appearances for his country and, subsequently, no longer qualified for a UK work permit.
Celtic paid off the remainder of his contract, somewhere in the region of £1.5million. The club's annual report in June 2004 noted: 'Last year's exceptional costs mainly reflected the early termination of Rafael Scheidt's contract and registration.'
He joined homeland club Atletico Mineiro. He wasn't quite what they were looking for and a year later he switched to Botafogo. They released him in 2006 and he spent a season in China with Shaanxi Barong. He retired from the game at the age of thirty-two.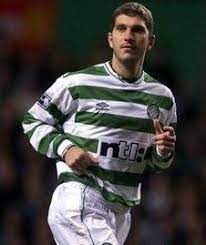 OFF AND RUNNING…Celtic's multi-million pound Brazilian misfit Rafael Scheidt.
Years later, O'Neill admitted to being 'completely baffled' at the thought of anyone spending any sort of dosh on the only Brazilian player he had ever witnessed who couldn't control and pass the ball.
The former manager remains a keen criminologist from his days as a law student in Belfast and is still fixated on the Lord Lucan mystery.
The inquisitive Irishman may even admit he has a better chance of solving who bludgeoned the nanny to death than getting anywhere near a solution to the Scheidt puzzler.
* TOMORROW: Don't miss The Curious Case of Rafael Scheidt (Part Four)
Click Here for Comments >