JOE McBRIDE made his Celtic debut when he lined up for his boyhood idols in a League Cup group game against Dundee at Parkhead on Saturday August 21 1965.
The man who had never hidden his admiration of the Hoops eventually got his great wish to lead the team. Unfortunately, after returning from injury sustained in the 5-0 rout of Sunderland at Roker Park in a pre-season friendly, the burly frontman suffered a defeat in his first competitive appearance when Kenny Cameron snapped up a double in the Tayside outfit's 2-0 victory in Glasgow.
To celebrate the introduction of McBride to Celtic, CQN are publishing an EXCLUSIVE series from author Alex Gordon's book 'That Season In Paradise'.
It starts today with a trip back in time as Jock Stein began to put his stamp on the team – with Joe McBride in his thoughts.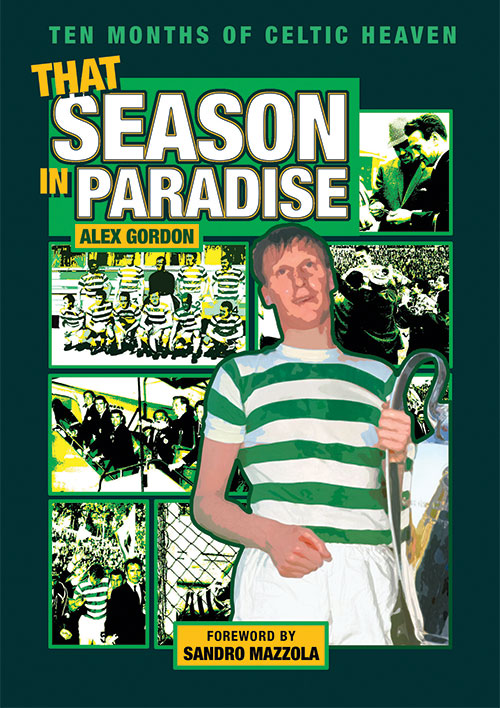 PAIN is a faithful companion. And thousands of Celtic supporters would most assuredly have testified to that solemn sentiment in the dark days of the late fifties and the formative years of the sixties.
Jock Stein marked his magisterial return to Celtic with the 3-2 triumph over Dunfermline following an exhausting Scottish Cup Final on a nerve-wracking afternoon of Saturday April 24 1965 watched by a frantic Hampden audience of 108,800. It was such a crucial breakthrough victory, Stein, in years to come, observed, 'Things might not have gone so well without that win.'
It was the triumph Bertie Auld insisted was more important than lifting the European Cup in Lisbon two years later. 'It proved we could win trophies again,' said the former midfield schemer.
One man, however, who did his utmost to scupper a triumphant comeback for the legendary manager was a robust journeyman centre-forward whose career had begun with Kilmarnock Amateurs and had travelled through the Junior ranks at Shettleston Town and Kirkintilloch Rob Roy before a step up to the seniors with Kilmarnock, Wolves, Luton Town, Partick Thistle and Motherwell. He was born in Govan, 200 yards from Ibrox stadium, home of Celtic's historic rivals.
His name was Joe McBride.
And he came extremely close to being the destroyer of Big Jock's dreams and desires.
MOTHERWELL MENACE…Joe McBride on the ball.
Joe McBride was never anyone's remotest idea of how a typical athlete should be portrayed. He was square-shouldered with a bolted-on neck, the possessor of a solidly-built trunk with sturdy legs and he stood a mere 5ft 8in at a stretch. His meanderings along football's maze saw him fail to settle at clubs on either side of the border. However, his demeanour and presence masked one indisputable fact; he was a goalscorer.
The powerfully-structured character had fired in 31 goals in 59 appearances during his two years at Firhill before moving to Motherwell in 1962 for a modest £5,000. By the time he took his place in the Fir Park selection for the Scottish Cup semi-final against Celtic on the afternoon of March 27 1965, he had notched over half-a-century of goals in three years for the claret-and-amber outfit.
McBride was three months shy of his 27th birthday and the burly forward, never afraid to mix it in packed penalty areas when the boots were flying, realised he was at the peak of his condition.
Although he never hesitated in admitting his affection for the team based in the east end of Glasgow, McBride refused to shirk in his professional task of making life as difficult as possible for Billy McNeill and Co when they were on a collision course.
SIGN HERE, PLEASE…Joe McBride pens the contract that seals his dream move to Celtic with Jock Stein, assistant Sean Fallon and Motherwell boss Bobby Howitt looking on.
And that was the case while grey skies gathered and the wind picked up momentum as Jock Stein took charge of Celtic in a Scottish Cup-tie for the first time. Clearly, it was his most important game after returning from Hibs earlier in the month.
Remarkably, he had already guided the Edinburgh side to a 1-0 win over holders Rangers in the previous round of the competition. On that same day, Celtic, managed for the last time by Jimmy McGrory, ploughed through the mud at Parkhead to overcome an excellent Kilmarnock side who would go on to win the league title that season on goal average, as it was then, from Hearts.
Forty-eight hours after the 3-2 victory over the Ayrshire team, Jock Stein, on Monday March 8, was installed as Celtic's new manager with McGrory taking over the post as the Parkhead side's first Press Relations' Officer. It's doubtful, though, if the club's greatest goalscorer ever got around to preparing a Press Release in his life.
LIGHTNING LENNOX…Celtic hitman Bobby Lennox (third right) lashes the first goal beyond grounded Motherwell keeper Alan Wylie with Stevie Chalmers and Bertie Auld getting a good view.
Big Jock watched Bertie Auld, with the assistance of two penalties, score five goals in a 6-0 victory over Airdrie at Broomfield two evenings later. Amazingly, Celtic prepared for their semi-final against Motherwell with three league games against St Johnstone, Dundee and Hibs – and weren't good enough to be successful in even one of them.
Into the bargain, keeper John Fallon had conceded eight goals and the defence had looked far from secure. The Perth Saints won 1-0 in Glasgow, there was a 3-3 stalemate at Dens Park and then Stein's former team travelled through from Edinburgh and trounced the home side 4-2 on a Monday evening, the game played throughout in driving sleet and rain.
Stein, alarmed at the deficiencies in his defence, had dropped Tommy Gemmell after the defeat against St Johnstone and reinstated stalwart Jim Kennedy, who hadn't played at left-back for two years.
I'M IN CHARGE…Jock Stein supervises training at Celtic Park.
'Thankfully, it was a return to the drawing board for Big Jock after conceding those seven goals in back-to-back fixtures against Dundee and Hibs,' recalled Gemmell. 'He never bothered giving me any reason why I was being left out. I discovered that was Jock's style over our years together.
'Possibly, he wanted to bolt the back door because The Pres, as Kennedy was known to everyone at the park, was never going to become famous for crossing the halfway line when he wore the No.3 shorts.
'He used to joke he would get a nosebleed if he ever ventured into our opponents' half. I realised the new manager actively encouraged his players to get forward, but he also made it clear it was our responsibility to be in place whenever the other team was on the offensive.
'So, without preamble, I was out and The Pres was in. Clearly, I hadn't made much of an early impression on Big Jock.'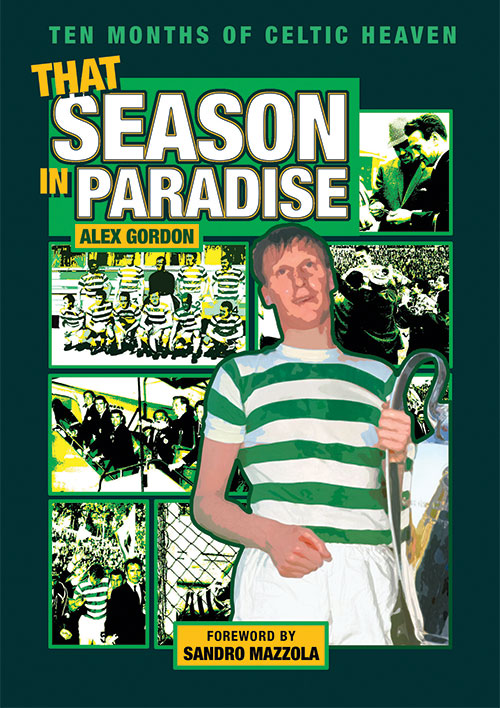 There was a smirr of rain as Celtic arrived at the national stadium an hour-and-a-half before kick-off against Motherwell and Stein, very clearly, realised this was a confrontation he and his team could not even contemplating losing.
The league had long been blown before his arrival after a sequence of dreadful results and awful performances and the Scottish Cup presented itself as the solitary opportunity for the team to pick up its first piece of silverware following eight years in a wilderness of embarrassment and torment for the support.
After a mere four games in the Celtic dug-out, an encounter of gargantuan proportions had presented itself to Stein, who realised he had to prove equal to the task of navigating the team to a place in the Scottish Cup Final. The launch pad to a new era in a proud club's history was so temptingly near and yet so agonisingly far away.
Stein had to get his team selection absolutely spot on or face the consequences against dangerous opponents who were free of any relegation worries and had everything to play for.
And they had a centre-forward who knew his way to goal in Joe McBride.
'I had played against Joe several times before this game, of course,' remembered Billy McNeill. 'I have to say I never had much pleasure in facing up to him. Joe was like a bull, charging around everywhere. If the ball was in the air, you knew you were about to be dunted.
'I don't mean to even infer he was a dirty player, but he was just so strong and courageous; a particularly lethal combination. He was completely single-minded when he went onto that pitch. Joe wasn't the tallest, but he was spring-heeled and his timing in the air was nigh on immaculate.
AIR RAID…Joe McBride puts pressure on the St Mirren defence shortly after his move from Motherwell in 1965.
'If my recollection is correct, we had already beaten Motherwell home and away in the league that season and Joe hadn't managed to get on the scoresheet. That meant I was doing my job because Joe would have been my immediate opponent in both those meetings.
'But I also realised that would mean absolutely nothing at Hampden in the Cup semi-final. No centre-half could be complacent with a guy such as Joe McBride around. Take your eye off him for a split second and – bang! – your keeper's in trouble and so is the team.'
As was normal, Stein named his line-up shortly after arriving at the stadium; Tommy Gemmell was in, Jim Kennedy was out. John Hughes – Big Yogi to everyone – was chosen to lead the attack and Charlie Gallagher came into midfield alongside Bertie Auld. Stevie Chalmers made way for Jimmy Johnstone on the right wing.
Gemmell recollected, 'It was a bit of a relief to get the nod to play against my hometown team and, admittedly, my boyhood favourites. If I had been left out and Celtic had won, there was every chance Big Jock would have gone with the same formation again for the Cup Final. It was imperative I got the chance to show the Boss what I could do on the big occasion.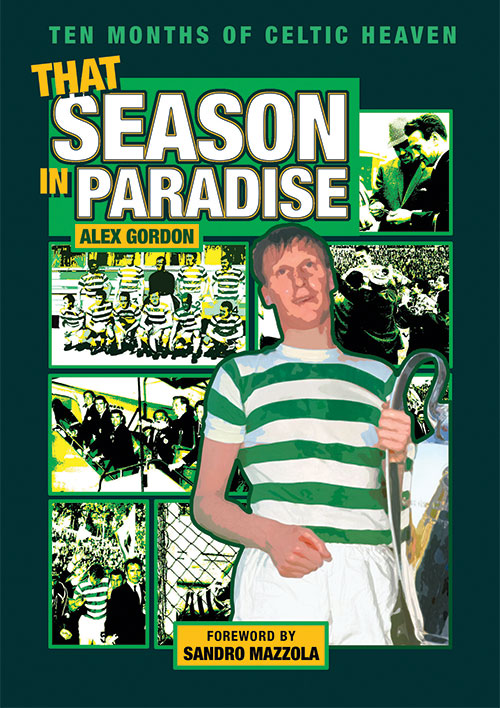 'Motherwell weren't doing particularly well in the league that season, but I knew they still had some excellent players in Bert McCann, Willie Hunter, Pat Delaney and, of course, Joe McBride. We realised we were in for a real fight that afternoon.'
And so it proved. Two goals from the lively, bustling McBride, making life extremely uncomfortable for Billy McNeill, propelled Motherwell to a 2-1 advantage at the interval. The Celtic skipper owned up, 'The first goal came in the tenth minute and I have to confess it was all down to a moment of hesitation from myself. Once again, though, it showed how deadly Joe McBride could be.
'I mistimed a clearance as the ball came straight down the middle and that was all Joe needed. He wasn't the fastest over a distance, but he was quick to anticipate and seize on situations. He could put on a burst that gave him daylight between defenders and the goalkeeper. I looked round to see him gather the ball and go directly towards John Fallon.
'My heart was in my mouth and I thought he had passed up the opportunity when it appeared our keeper had managed to divert the ball as Joe attempted to slide a shot under his body. As luck would have it, the momentum of the effort kept the ball rolling towards goal and, unfortunately, there was no-one there to get back and boot it to safety. Hands up, it was my mistake.'
THE EQUALISER…Bertie Auld sweeps a penalty-kick past Alan Wylie to make it 2-2 at Hampden.
It took 18 excruciating minutes before the bulk of the crowd, fast approaching 60,000 with the arrival of latecomers delayed by the adverse weather conditions, could sigh with relief. Jimmy Johnstone scampered along the right touchline before slinging over a cross which was pushed away by anxious goalkeeper Alan Wylie.
The ball dropped to the feet of the unmarked Bobby Lennox who fired it towards the gaping net. Defender Matt Thomson, making a desperate attempt to clear, only succeeded in helping it on its way. All-square – for four minutes, anyway.
The Celtic defence failed to deal with a swirling, awkward corner-kick and, unfortunately, the ball dropped at the feet of the last person Billy McNeill wanted to see left unattended. McBride smashed a vicious left-foot drive at goal which hammered against the chest of the flailing Fallon. His effort broke clear, but once again the penalty-box predator reacted more quickly than anyone else to batter the rebound into the roof of the net.
Jock Stein, sitting in the sunken dug-out, grimaced. It remained that way until referee Archie Webster blew his whistle to bring an eventful and fraught first-half to a halt. There was much work to be done by the new Celtic manager in the next 10 minutes as he prepared his players for a rousing second-half.
'I recall Big Jock actually being quite calm,' said Bertie Auld. 'The man had a presence, even back in the early days, and when he spoke it was normally in a matter-of-fact manner. There was no gobbledygook, there was no time for that. He had to get his message across and he never wasted a moment during these interval observations.
'People have said all sorts of things about the so-called psychology of Big Jock. Call it what you like, but he was shrewd. He instinctively knew when he had to put an arm around a player's shoulders to give him a wee gee-up. He also knew when it was time to give someone a rollicking.
'There was little point in him shouting at someone and leaving them without a shred of confidence for the remaining 45 minutes. He just seemed to know which buttons to press.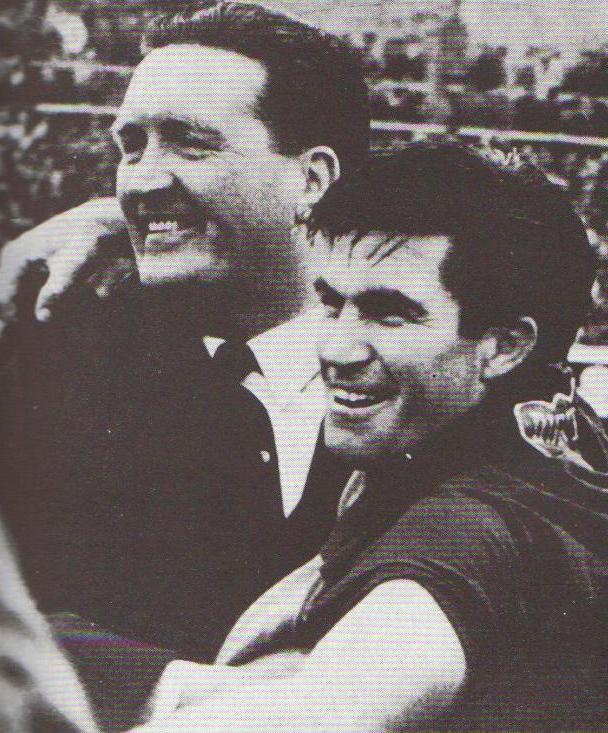 THE BOSS AND BERTIE…Jock Stein and his midfield playmaker Bertie Auld celebrate the goalless draw in Czechoslovakia against Dukla Prague in April 1967 that saw Celtic through on a 3-1 aggregate to the European Cup Final in Lisbon the following month.
'I've said it before and, undoubtedly, I'll say it again, but the Boss was never interested in winning popularity contests among his players. His ambition was to win football games – and win them well while entertaining our supporters.
'He wanted his Celtic team to be a blend of winners. If you didn't match up, you were out the door. It really was as simple as that. So, you can be sure he would have got us pumped up for that second-half against Motherwell.
'He was also the master of saying something devastatingly simple just as the bell went to let you know your presence was required in the tunnel. As you prepared to go out again, he would offer, "We've got 45 minutes to score just one goal. You lot should be able to score three or four in that time against this lot."
'Or. "One goal will change this game. Watch them try to come back after that. They'll throw in the towel." He always managed to inject confidence into his players. By the time the referee restarted the game, our sleeves were rolled up and we were ready to go.'
It took Celtic until the hour mark to get the required equaliser and it was Auld, who had just returned to his spiritual home from Birmingham City two months before Stein's comeback, who seized the opportunity to keep the plan on track. The clever, astute playmaker had started his senior career at Parkhead as an outside-left where, by his own admission, his sole job was 'to get down the wing and deliver crosses into the box'.
However, during his four-year spell in the English top-flight, Auld was encouraged to come inside by his manager Gil Merrick. 'Suddenly, things were opening up for me,' said Auld. 'I could switch play from left to right, I could play balls to feet and take return passes in dangerous areas. I've no doubt my stint across the border enhanced my game. I think Celtic got a better player when they bought me than the one they sold. And they made a £3,000 profit!'
JOY BHOYS…Bertie Auld celebrates with Billy McNeill and Stevie Chalmers.
Auld's experiences as a touchline operator worked for him when he decided to venture inside. He had an electrifying burst of pace to get away from flat-footed defenders and he demonstrated that skill against Motherwell on that fateful afternoon at the national stadium.
Celtic had dominated in the first 15 minutes of the turnaround with Billy McNeill showing signs of things to come by menacing Alan Wylie on two occasions with his aerial ability at corner-kicks.
The Fir Park side survived until Auld took a touch and sped away from three startled opponents. Defender Cameron Murray was late with a crude challenge and Auld went sprawling in the penalty box.
The match official, who had earlier enraged the Celtic following by waving away their howls of appeals after Jimmy Johnstone had been decked in similar circumstances, had no hesitation, though, on this occasion to point to the spot.
'After hitting two against Airdrie a few games earlier, I was the designated penalty-taker,' said Auld. 'I was happy to take the responsibility and I was always certain I could score from 12 yards. If you can't hit the target from that range, you're in the wrong game.
'I realised it was such an important kick. If I missed, it would give Motherwell a helluva boost and goodness only knows what might have transpired. However, if I scored, well, we were on the front foot, weren't we? I knew there was still something like half-an-hour still to play and, on top of that, we had a fairly stiff wind at our backs.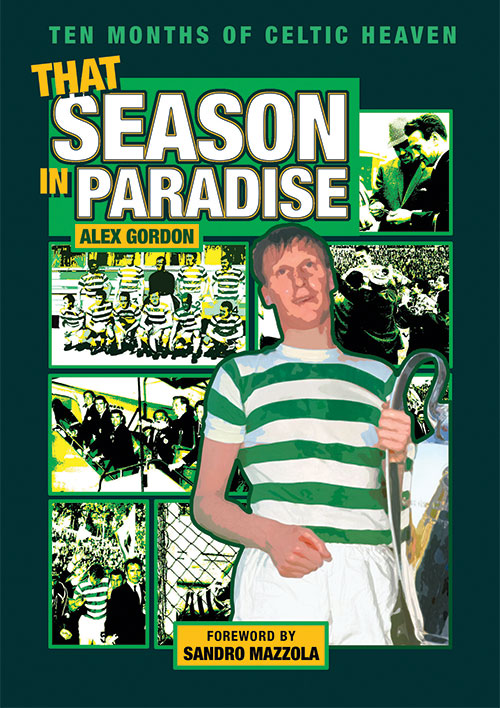 'On those occasions, I liked to let the opposing keeper know he had no chance of saving my shot. Gamesmanship, kidology, whatever you choose to label it, but I admit I would get involved if I thought it gave Celtic an edge.
'I would point to the goalie's left or right and say, "Hey, keeper, that's where the ball is going, straight into that corner." It gave them something else to think about as I began my run up to the ball. I tucked that one away and we didn't need to look over at Big Jock on the touchline.
'He wanted a winner and everyone representing the club that day totally agreed. We had Motherwell on the ropes and we were looking for the knock-out punch.
'I remember cracking a shot past the keeper in the final minute. Wee Jinky Johnstone picked me out with one of his wonderful, inch-perfect crosses and I hit it sweetly. Can you imagine my joy when I saw the effort fly into the net? Can you imagine my annoyance when the referee ruled it out? I was fuming because I knew I was onside.
'Again, all my years as a winger taught me to always look along the line, to make sure I didn't drift ahead of the last defender before the ball was delivered. The ref was having none of it. Eventually, we discovered the goal was ruled out because Jinky had been in an offside position when he crossed the ball. I doubt that, too.
'However, we didn't have the technology in the sixties that is readily available today. And, back then, that was certainly a good thing for a lot of the match officials who made some dodgy decisions without fear of reprisals or recriminations. Still, being positive, we had a Scottish Cup semi-final replay to look forward to after being out of the competition forty-five minutes earlier.'
'Keep an eye on McBride,' was Jock Stein's final words to Billy McNeill as he filed past his manager on the way out of the Hampden dressing room four days later. The Celtic skipper smiled and reflected, 'Big Jock rarely wasted his breath with needless remarks. After the way Joe McBride had played against me in the previous encounter, I didn't really need any reminding to watch him like a hawk.'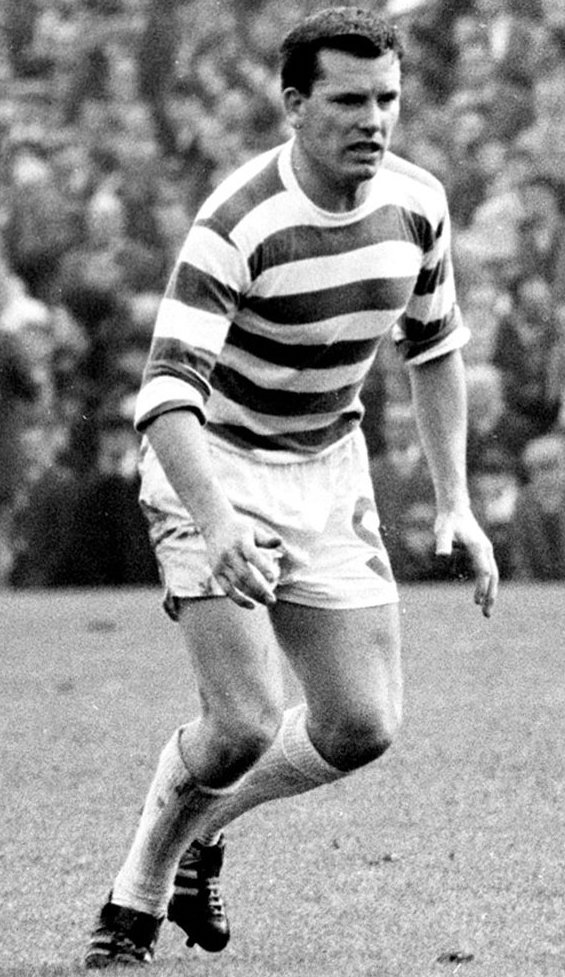 ACTION MAN…Joe McBride on the prowl for goals.
As it turned out, the Motherwell attack-leader was starved of service throughout a one-sided affair. Prior to the tie, Stein had talked about how important Jimmy Johnstone would be to his game-plan for the replay and, even in the mid-sixties, he was psyching out his opponents.
His opposite number, Bobby Ancell, may well have structured the left-hand side of his team to deal with the menace of the mesmeric winger, but he would have realised he had made an error of judgement as soon as he was handed the Celtic team line-up 30 minutes before the game.
There would be no sign of Jimmy Johnstone on the right wing. There would be no sign of Jimmy Johnstone anywhere except in a seat in the stand. Stevie Chalmers wore the No.7 shorts and, although he, too, kicked off his career as an outside-right, utilising his exceptional pace, he wasn't in the same mould as his diminutive team-mate.
Chalmers preferred to come inside and that's exactly what he did all evening against Motherwell – and to great effect.
With a crowd of 58,959 looking on, Celtic, all power and aggression right from the first whistle, stormed their way to a 3-0 triumph with an opener from the roaming Chalmers, just before the half-hour mark, and two in a six-minute second-half burst from John Hughes and Bobby Lennox.
Motherwell may have been dismantled and dismissed, but Joe McBride remained in Jock Stein's thoughts. The fourth manager in Celtic's history had already selected his first transfer target for the club.
* TOMORROW: A Bhoy Called Joe (Part Two)
Click Here for Comments >