CELTIC legend Jock Stein made an extraordinary immediate impact on the Parkhead club when he returned as manager in March 1965.
In another CQN EXCLUSIVE series, author Alex Gordon, who has written fifteen publications on Celtic, has opened his book files on the Parkhead great.
Today, in Part Five of our fascinating look back at these landmark times in the annals of fame at a momentous football club, we continue as Big Jock leads the club towards their first-ever treble when they were due to play Aberdeen in the Scottish Cup Final at Hampden on Saturday, April 29, 1967.
CELTIC 2 ABERDEEN 0 (April 29, 1967)
WILLIE WALLACE kicked off the season wondering what the future held in store. He was unhappy at his club Hearts and had refused the offer of a new contract. Newcastle United and Stoke City were monitoring his situation and a move across the border looked imminent.
The chunky forward recalled: "I was in dispute with Hearts and just wanted a transfer. English clubs were showing an interest and it looked as though I would be packing my bags.
"Then Jock Stein came on the scene and he didn't have to try too hard to sell Celtic to me. As soon as I realised there was a chance of me going to Celtic Park and working alongside Big Jock, there was no choice to make. Newcastle United and Stoke City, with all due respect, had no chance of getting my signature on transfer forms when Celtic became an option."
NUMBER ONE…Willie Wallace (right) fires the ball beyond Aberdeen keeper Bobby Clark with Stevie Chalmers getting a close-up view.
HAMPDEN HOORAYS…Billy McNeill and Jimmy Johnstone rush to congratulate Bobby Lennox who set up the opener for Willie Wallace.
The Parkhead manager made his move for the versatile Wallace after his team had drawn a blank for the first time during the season in a goalless draw against Kilmarnock at Rugby Park on December 3, 1966.
Three days later, Stein parted with £30,000 to sign the twenty-six-year-old attacker who had won three full international caps with the Tynecastle club.
However, there was no quickfire debut for Wallace. Stein was far from satisfied with his level of fitness and ordered trainer Neilly Mochan to get him up to the required standard he expected of his Celtic players. Wallace was in the Parkhead stand on December 10 to watch his new team-mates overwhelm Motherwell 4-2 with Stevie Chalmers thumping a hat-trick past Peter McCloy.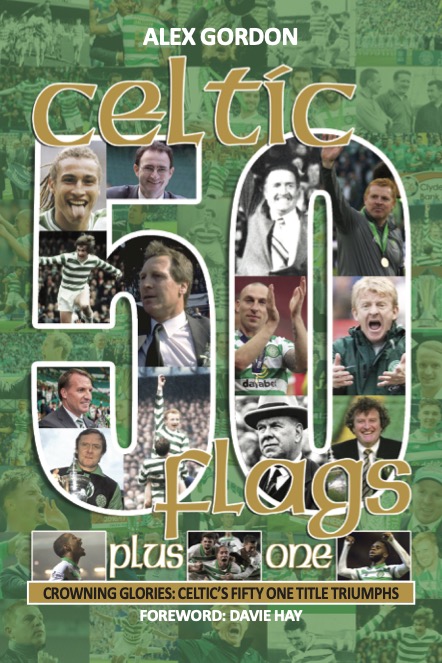 The following week, Wallace netted two in a 6-2 victory over Partick Thistle and his career in the east end of Glasgow was up and running.
Hollywood, even at its most far-fetched, couldn't have written a more fascinating script for the likeable Wallace. Unfortunately, because of a registration mix-up, he was forced to miss the dramatic and compelling European Cup quarter-final ties against Vojvodina Novi Sad, a team of genuine quality from Yugoslavia.
A last-minute trademark headed goal from Billy McNeill propelled Celtic through to the semi-finals of Europe's elite tournament and Wallace made his debut at the highest level against Dukla Prague, the worthy champions of Czechoslovakia.
There was no way the player would take stage fright; this was the platform made for Willie Wallace.
NUMBER TWO…Willie Wallace leaves Bobby Clark helpless with defender Jim Whyte on the goal-line.
On a still Glasgow evening on April 12, 1967, he thundered in two second-half goals to give Celtic a 3-1 advantage to take to the home of their Czech opponents. Surprisingly, Stein removed his goal threat in the Julaska Stadium and ordered Wallace to shadow Dukla's most accomplished performer, captain and midfielder Jozef Masopust, a former European Footballer of the Year.
The Czech's threat was nullified such was the diligence displayed by Wallace in an unusual role and the encounter ended scoreless. Thus, Celtic had a European Cup Final date to look forward to in Lisbon against mighty Inter Milan on May 25, 1967.
Four days after the semi-final stalemate, Wallace was restored to his place in attack as Billy McNeill led out his Celtic team to face Aberdeen in the Scottish Cup Final at Hampden on a bright and sunny afternoon with a remarkable attendance of 126,102 waiting to be entertained.
Those of a Parkhead persuasion among the vast numbers were not to be disappointed. Willie Wallace scored two superbly-timed goals – one in each half – and trophy number two, following the League Cup, was heading back across Glasgow after an absence of twelve months.
WELL DONE, MY BHOY…Jock Stein congratulates John Clark at the end of the 2-0 silverware success.
JOY BHOYS…two-goal Willie Wallace (left) with his happy team-mates in the Hampden dressing room.
The first goal arrived three minutes before the interval when Bobby Lennox, with his usual breathtaking burst of electrifying acceleration, latched onto a diagonal pass from Bertie Auld and burst into the Dons penalty area on the left. He hit a pass on the run and Wallace materialised at the near post to nonchalantly sidefoot the ball past the static Bobby Clark, clearly bemused at the speed of the move.
Four minutes after the turnaround, with Celtic swarming all over their crimson-clad opponents, Wallace doubled their advantage. Jimmy Johnstone worked wonder as he chased a long pass to the bye-line that looked to be heading out of play. However, the little winger managed to twist his body in mid-air and hook a cross into the danger zone.
Wallace was ideally positioned to strike the ball on the half-volley and the ball whizzed high past the helpless Bobby Calrk for the killer second goal. They could have bedecked the famous old old trophy in green and white ribbons at that precise moment – there was no way back for Aberdeen.
Willie Wallace went up the famous Hampden steps to collect his first Scottish Cup winners' medal. The Peter Pan of goalkeepers, Ronnie Simpson, at thirty-six years of age, was also getting his hands on a badge from the competition for the first time.
These were happy times at Celtic. And they were about to get even better.
Simpson; Craig, Gemmell; Murdoch, McNeill, Clark; Johnstone, Wallace, Chalmers, Auld and Lennox.
* TOMORROW:  THE JOCK STEIN YEARS (PART SIX): Salute to the manager and players who became Lisbon Lions and made history in the splendour of the Portuguese capital. 
Click Here for Comments >