A FAIR percentage of Joe Hart's critics wouldn't know a goalkeeper from a goldfish.
The netminder who is immune from the odd clanger has yet to be born. It's the last line of defence in which an error or a moment's aberration will usually prove fatal.
Hart has made a mistake or two, that comes with the job description. All it takes is one person to attempt to pick through some phantasmal or perceived character flaws and it's the snowball that starts the avalanche.
Suddenly, it's open season on an unfortunate individual and his previous good work and solid reliability vanish into the ether.
Some of the stuff being spouted at the moment about Hart's quality simply borders on the hysterical.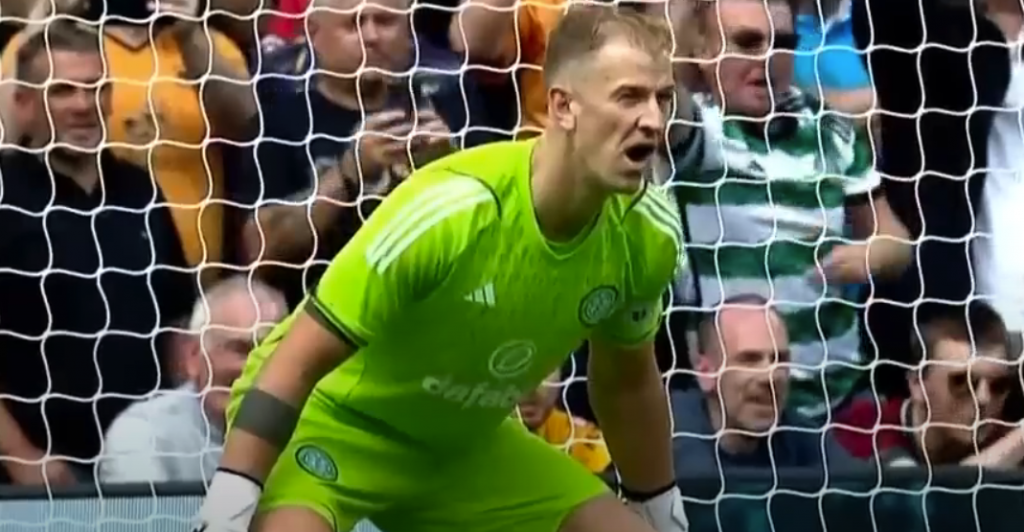 LAST LINE OF DEFENCE…Joe Hart at the ready – as usual.
There appears to be an element among the support and the so-called expert media pundits who are imploring Brendan Rodgers to bring in a new shotstopper as a priority signing before the transfer window closes at midnight on September 1.
Don't be overly-surprised if those unenlightened pleas fall on deaf ears.
I understand the Celtic manager should be exploring the goalkeeping market. That makes sound sense. The second time-around manager inherited three netminders who are all on the wrong side of thirty.
Hart is 36 while back-up pair Benji Siegrist and Scott Bain are 31. I don't subscribe to the view footballers should be dragged off and turned into a pot of glue when they pass the magical thirty mark. However, it is sensible to look to the future.
Goalkeepers are probably at their peak around the 28-year-old stage when their game craft should be honed to near-perfection. I've watched custodians who have been lauded for their spectacular athleticism which would be welcomed in the Olympics or a circus.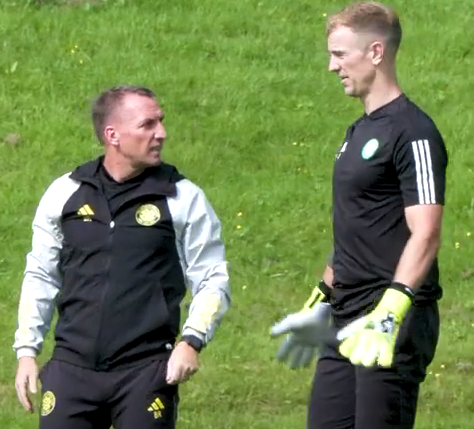 TALL STORY…Brendan Rodgers and Joe Hart have a chat before a training session at Lennoxtown. 
As time goes by, they can no longer rely on their spryness and it shows. A lack of anticipation or all-round awareness will be flagged up for all to see. It's around that time they are told not to bother investing in another season's supply of gloves.
A former Celtic No. 1 of my acquaintance remains a massive fan of old Wild West movies with John Wayne his unmatchable Hollywood legend. He has an interesting take on the art of keeping the ball out of the rigging.
"Goalkeepers and gunslingers have a lot in common when you think about it," he insists.
"They both have a split-second to get it right. One moment of hesitation and it's normally terminal. There's usually no way back if they stall or waver.
"A keeper can't dither when a ball is dropping into a packed penalty box. Does he come into traffic to try to claim the cross? Or does he remain on his line?
"He has to make up his mind in an instant. It's just like the gunfighter when he goes for his gun. His timing has to be absolute perfection or he'll face the consequences."
It's an interesting analogy if possibly a tad dramatic.
ONE…danger threatens as Duk slides a pass through for Bojan Miovski. 

TWO…Joe Hart arrives on time at the edge of the penalty area.
THREE…Hart safely gathers the ball as Miovski hurdles the keeper.

FOUR…safe hands from Hart and the danger is averted.
Joe Hart has a presence on and off the pitch. Thousands at the game on matchday and millions watching on TV will not be aware of his bearing and personality in the dressing room. The eagerness of a well-travelled professional to utilise his experience to the benefit of younger colleagues and players who have just been introduced to the club.
He is not afraid of responsibility and that was evident against Aberdeen at Pittodrie on Sunday. The hosts curled every deadball-kick down on top of the keeper. There was no variation. A left-footed player delivered the corner-kicks from the right and, likewise, a right-footed player from the opposite flank.
The Celt had to knock players, colleagues and opponents alike, aside to get a fist to the cross to propel the ball away from the danger zone. He took the weight off the defenders and especially so in the second period when Cameron Carter-Vickers, the back-four's rock, was missing with a hamstring problem.
Hart's reading of play was exemplary and that was emphasised in a moment in the second-half with the visitors leading 2-1 and coming under the cosh. Duk hit a precision pass which split Stephen Welsh and Maik Nawrocki to send the unmarked Bojan Miovski scampering clear.
SAFE HANDS…Joe Hart prepares to start another Celtic attack.
The immediate danger was repelled when Hart, on high alert, raced to snatch the ball off the Dons striker's toe. A second too late and the opponent would surely have had an open goal and a certain equaliser.
It was all part of the job for a sportsman who will continue to deliver during another exciting and intriguing chapter in the history of a great football club.
Whether or not Joe Hart's contribution throughout the crusade is appreciated is unlikely to cause the 75 times-capped England international any sleepless nights.
It's the mark of a meticulous professional.
No-one can take that mantle away from the Celtic goalkeeper.
Click Here for Comments >