BIG Jock Stein waited at the mouth of the tunnel at the end of a game to have a quiet word with the referee.
After a series of bewildering decisions, the Celtic manager thought he should mention how he rated the performance of the match official.
As the whistler walked past the club's legendary gaffer he made certain there was no eye contact with an obviously agitated Big Jock.
"Aye, your dad would be proud of you," said the boss in tones loud enough to carry to the ref's ears.
The target of scorn was Davie Syme, whose father Willie had been an SFA Grade One referee throughout the sixties.
PUZZLED…Jock Stein looks a little bemused, possibly watching the antics of another bewildering match official.
It would be fair to surmise that Willie Syme was not on Big Jock's Christmas card list. You may remember the name Davie Syme. I mentioned him a couple of weeks ago in CQN as the ref who apologised to Davie Hay 25 years after gifting Rangers a League Cup Final-winning penalty-kick in 1986.
Old Willie would regularly have Jock's blood pressure hurtling towards the solar system with some decisions that belied any explanations.
He wasn't the worst, however, and I'll discuss that particular odious character in a future column.
I recall sibling Davie officiating in more Celtic games than is good for my mental health. That guy could have you searching your vocabulary for words that didn't exist as you attempted to express your rage at some of his illogical displays.
There was a run-of-the-mill league match against Motherwell at Parkhead on January 2 1978. Celtic were in turmoil in what would be Jock's last season as manager. I was in the stand that temperature-plummeting afternoon and my eye fell on an incident that I could clearly see had been witnessed by Syme.
It was just moments after a Celtic left-wing corner-kick had been cleared. Tom McAdam had been in the mix and he was turning to get back up the park.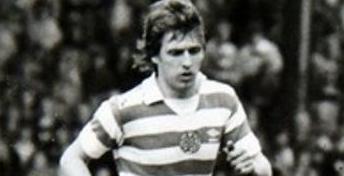 VICTIM…Tom McAdam was the recipient of a dull one in a match against Motherwell in January 1978.
The Fir Park side had a bloke by the name of Willie McVie playing at centre-half that day. Older Celtic fans may remember that name; he was the Clyde player who hastened the premature conclusion to the promising career of a teenage Brian McLaughlin with a reckless challenge in September 1973.
On this occasion, Willie was content to simply administer a fist into the face of McAdam. It wasn't a simple slap, it was a full-blooded punch.
Most eyes, of course, were on the clearance with the ball now soaring towards the Celtic half. For no reason, I kept my eye on the penalty box. I witnessed the assault and so, too, did the referee.
He had turned in that precise moment to get a close-up view of the occurrence. I doubt if the match official was four yards from the incident. Penalty-kick? Red card? Nope, Davie ignored the flashpoint completely. "Play on…nothing to see here."
For the statistically-inclined, Celtic lost 1-0 to a Jimmy O'Rourke 24th-minute strike with 23,000 suffering fans in the glacial, frosty Celtic Park bowl 48 hours into a New Year.
BY THE LEFT…Reo Hatate fires a shot at goal watched by Hearts defender Toby Sibbick.
There were no cameras festooned around the stadiums back in those unenlightened days. This may surprise younger readers, but not every Celtic game was televised back then. There were two TV channels – BBC and STV – and they often selected two games each to cover most Saturdays.
Heartbreaking though it may be, the Hoops were involved in far too many inconsequential matches in the late fifties and early sixties. Jock Stein's arrival in March 1965 put an end to that sorry state of affairs.
Rangers, Kilmarnock, Dunfermline, Hearts and Hibs would often be involved in more meaningful events and Celtic would be shunned.
You won't see images of the impromptu McVie's sickening attack on McAdam, but it most assuredly happened and, just as certain, Davie Syme witnessed it and decided to turn a blind eye.
Since that bitterly cold and grey afternoon in the east end of Glasgow, Celtic have been involved in countless skirmishes where the man with the whistle has conjured up decisions that are ludicrous and laughable in equal portions.
You have to wonder about nonsensical comments from ex-ref Steve Conroy during the week where he advocated Reo Hatate being hit with a retrospective red card and a ban that would rule him out of the Scottish Cup semi-final meeting with Michael Beale's Ibrox side at the end of next month.
YELLOW PERIL..Liel Abada is sent flying by a wayward assault from Orestis Kiomourtzoglou with Ange Postecoglou getting a close-up view. Kevin Clancy yellow-carded the Hearts midfielder.
He was discussing so-called simulation by the midfielder in the 3-0 quarter-final victory over Hearts at Tynecastle last weekend.
I understand Conroy will be looking for publicity for a certain podcast and controversial statements will attract attention. Some of the mainstream media and fan media, too, took the bait. CQN ignored the inane remarks, treating such preposterous comments with the disdain they most assuredly warranted.
However, it is fair game to examine the statement in the cold light of day. Two points emerge.
When did any player ever earn a red card for diving? What would the 'culprit' be guilty of – malicious disturbance and endangerment of purefied air?
Secondly, there is every possibility Hatate, having just seen team-mate Kyogo Furuhashi flattened by a wild challenge from the same player, merely took evasive action.
Display his renowned swift reflexes, the astute Japanese midfielder may have decided to swerve another swipe from Orestis Kiomourtzoglou as he lunged in for a second time.
Referee Kevin Clancy correctly awarded the visitors a free-kick and that was the end of it until eagled-eyed Conroy spotted a fictional infringement.
TOO LATE…Alistair Johnston makes his pass before Orestis Kiomourtzoglor – or Kio – makes his challenge.
It may be worth noting that the aforementioned Kiomourtzoglou was eventually booked for a full-length plunge on Liel Abada only moments after the Israeli winger had entered the fray in the 78th minute.
On this occasion, Robbie Neilson took an attack of brains and withdrew the wayward offender a minute or so later before an inevitable red card would have been produced if his player had continued with his full-head-of-steam theme.
The antics of Kiomourtzoglou, yet another of football's so-called hard men, hardly rated a mention from any media observer.
Hatate, it seems, was a far easier target.
There appears to be no end to the farcical and absurd as the carnival, complete with its clowns, rolls into town just about every match day.
Click Here for Comments >