AUTHOR Alex Gordon, who has penned fifteen Celtic books, insists it's time to explode a Lisbon myth for ever.
In another CQN EXCLUSIVE, Alex sets the record straight to ensure Jock Stein's All-Stars receive the accolades they so richly deserve following their unforgettable and historic 2-1 triumph in the Portuguese capital.
Billy McNeill and his team-mates, of course, became the first British club to conquer Europe after battling back from the loss of an early goal via Sandro Mazzola's expertly-taken penalty-kick to overcome the famed Italian outfit with second-half strikes from Tommy Gemmell and Stevie Chalmers.
But did Celtic get enough praise for their mighty efforts? Alex rights the wrongs in this article.
Please enjoy.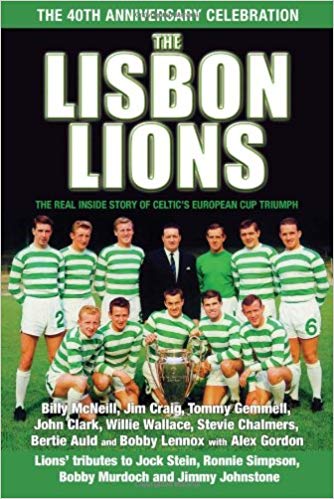 READ ALL ABOUT IT…Alex's tribute publication, 'Lisbon Lions: The 40th Anniversary Celebration'.
OVER the years, I have read several irresponsible stories and heard far too many inaccurate tales of Celtic taking advantage of an ageing Inter Milan team to lift the European Cup in Lisbon on May 25 1967.
This is a monumental fallacy and, I believe, it's a misrepresentation that is long overdue being corrected once and for all.
If the myth was ever designed to take the gloss off Celtic's marvellous accomplishment, I think it's had a boomerang effect and, if anything, attracts attention to the historic feat of Jock Stein's team.
Four of the Inter Milan players who faced Celtic in the Portuguese capital were so 'over the hill' they were still deemed good enough to represent Italy in the memorable World Cup Final against Brazil in Mexico – THREE years after the European Cup spectacle.
Tarcisio Burgnich had sufficiently recovered from his exertions against Jimmy Johnstone at the Estadio Nacional to line up against Jairzinho in the Azteca Stadium in front of 107,412 spectators on Sunday June 21 1970. He was thirty-one years old.
HISTORY BECKONS…Billy McNeill shakes hands with Inter Milan captain Armando Picchi before the European Cup Final. West German referee Kurt Tschenscher looks on.
On the left defensive flank was Giacinto Facchetti, his nation's captain. He was twenty-seven years old. On the right wing was Tommy Gemmell's old mate Angelo Domenghini. He was twenty-eight years old.
Lending  assistance in the midfield and attack was Inter's astute penalty-kick expert Sandro Mazzola, who, of course, netted from the spot in the Portuguese capital. He was twenty-seven.
So, no-one needs a degree in maths to realise they were all three years younger in Lisbon! And yet that quartet provided the backbone of their national team in Mexico. By the way, it was a team good enough to beat West Germany, Franz Beckenbauer, Gerd Muller et al, in the semi-final after extra-time.
Of course, the history books will show the Brazilians claimed the old Jules Rimet trophy by dint of their 4-1 triumph over the Italians in Mexico City, but, remember, Pele and his pals were in their pomp at the time. It was no disgrace to be turned over by this mesmerising mixture of skills and talents.
And just to keep the observation going, Burgnich, Facchetti and Mazzola were all in the Italian World Cup Finals squad for the tournament in West Germany in 1974. Before that competition, the Inter trio had amassed over two hundred caps among them. Not bad for has-beens.
On May 25 1967, Burgnich was twenty-eight, Domenghini twenty-six and Facchetti and Mazzola both twenty-four.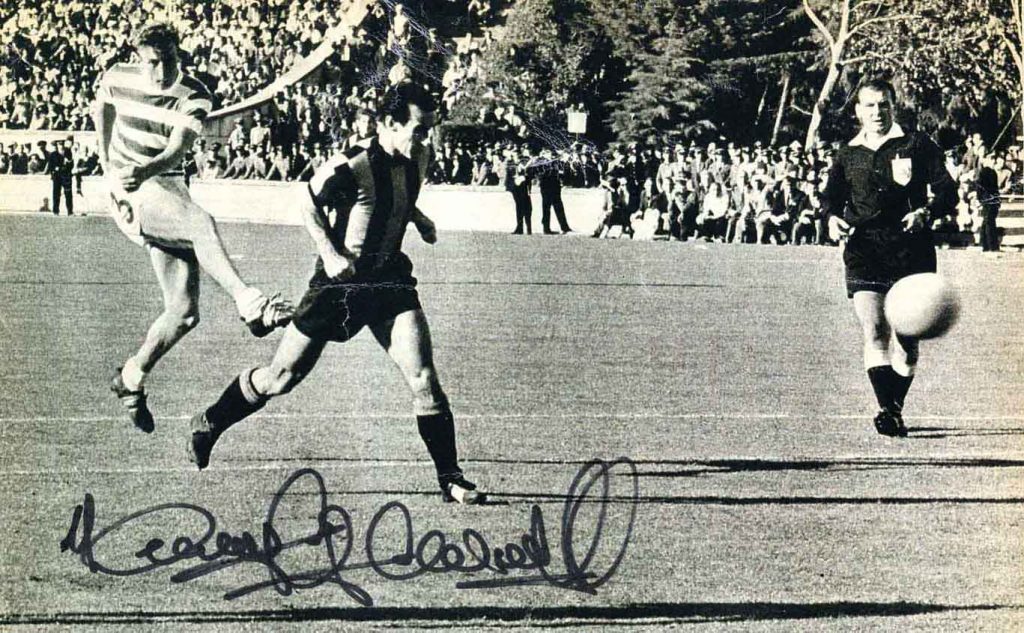 THE EQUALISER…Tommy Gemmell powers in an unstoppable right-foot first-timer to make it 1-1.
Goalkeeper Guiliano Sarti was the oldest Inter player in Lisbon at the age of thirty-three – three years younger than Ronnie Simpson. Second oldest was defensive midfielder Mauro Bicicli at thirty-two. The only other player in his thirties was captain Armando Picchi at thirty-one.
Central defender Aristide Guarneri was twenty-nine, Mario Corso twenty-five, Renato Cappellini twenty-three and Gianfranco Bedin was the youngest at twenty-one.
The average age, therefore, was a shade under twenty-seven. Hardly ancient. World-class midfielder Luis Suarez would have played against Jock Stein's team had he been fit. I've been assured he had reached veteran status. Just for the record, he celebrated his thirty-second birthday twenty-three days before Lisbon.
Contrast that with the ages of the Celtic performers. The most senior member of the Lions was, of course, goalkeeper Ronnie Simpson at thirty-six.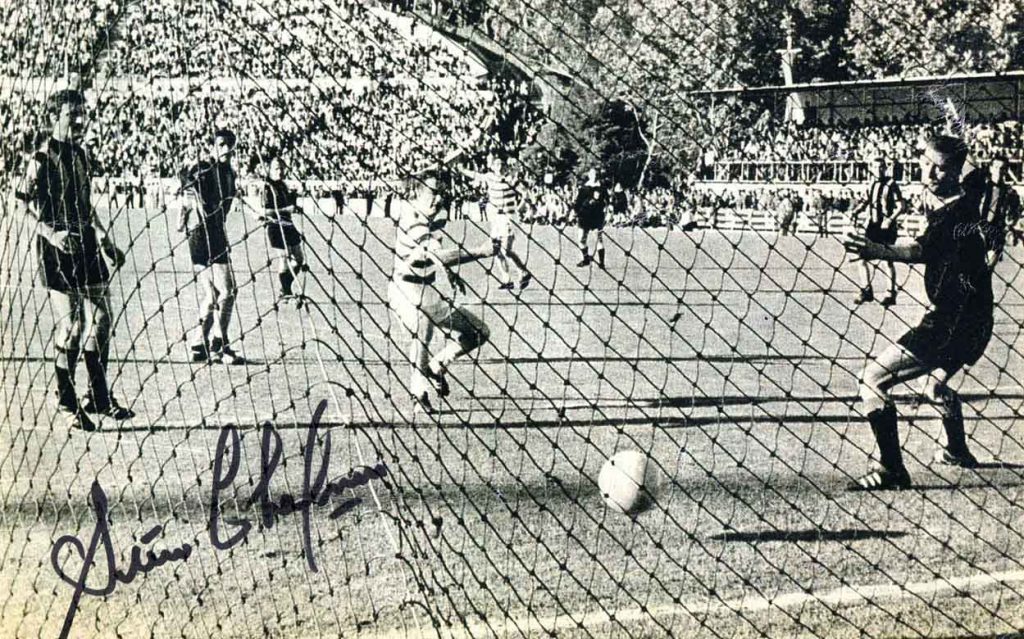 THE WINNER…Stevie Chalmers turns the ball beyond the helpless Guiliano Sarti for the goal that conquered Europe.
Then came winning goal hero Stevie Chalmers at thirty-one, Bertie Auld twenty-nine, Billy McNeill twenty-seven, John Clark and Willie Wallace, both twenty-six, Jim Craig, Tommy Gemmell, who clobbered in the equaliser, and Bobby Lennox, all twenty-three, and Bobby Murdoch and Jimmy Johnstone, both twenty-two.
The youngest of the iconic Celts was Murdoch, forty-four days the junior of Johnstone. The average age was a mere fraction over twenty-six.
So, arithmetically, there wasn't much in it. In footballing terms, though, the teams were worlds apart.
So, please, let's have no more erroneous histrionics about Celtic walking all over a pitiful collection of decrepit football geriatrics in Lisbon. No more dastardly slurs and outrageous innuendo. Give credit where credit is due.
Celtic were crowed the Kings of Europe on May 25 1967 in Lisbon purely on merit.
End of story for all time.
Click Here for Comments >